7 inspiring bedroom decorating ideas
Are you daydreaming of a peaceful haven to rest and re-energise? The right furniture and styling can transform your bedroom from a place where you lay your head at the end of a long day to a destination where you can't wait to retreat and rejuvenate. That's why we've put together seven of our best bedroom decorating ideas to turn your daydreams into sweet dreams. From the latest interior design trends to simple, classic looks that you can update with the seasons. Your stunning new sleeping quarters await at Amart.
Nature-inspired design to bring the outside in
This season it's all about nature-inspired design. The outdoors is coming indoors with plants, wall art, and lots of glorious green, ocean blues and warm browns.
The good news is that it's easy to adapt this interior design trend to most modern bedroom furniture. That's because it's all in the small touches. A green feature wall in one of this season's favourite shades of eucalyptus, sage or olive adds the wow factor and sets a calm mood for the space.
Wood furniture brings nature indoors in a tangible way. A reclaimed timber floating shelf could become the platform for a row of indoor plants. And the wood grain of timber side tables or an end-of-bed bench helps replicate the tranquillity of the outdoors. Other finishes to keep in mind include rattan, ceramic, and stone, all intended to ground and calm you.
Earthy-toned bed linen in natural fibres of cotton or bamboo can be paired with a chunky knit throw and cushions in shades of white, green, and rusty oranges to create a bed that beckons you to sink in and relax.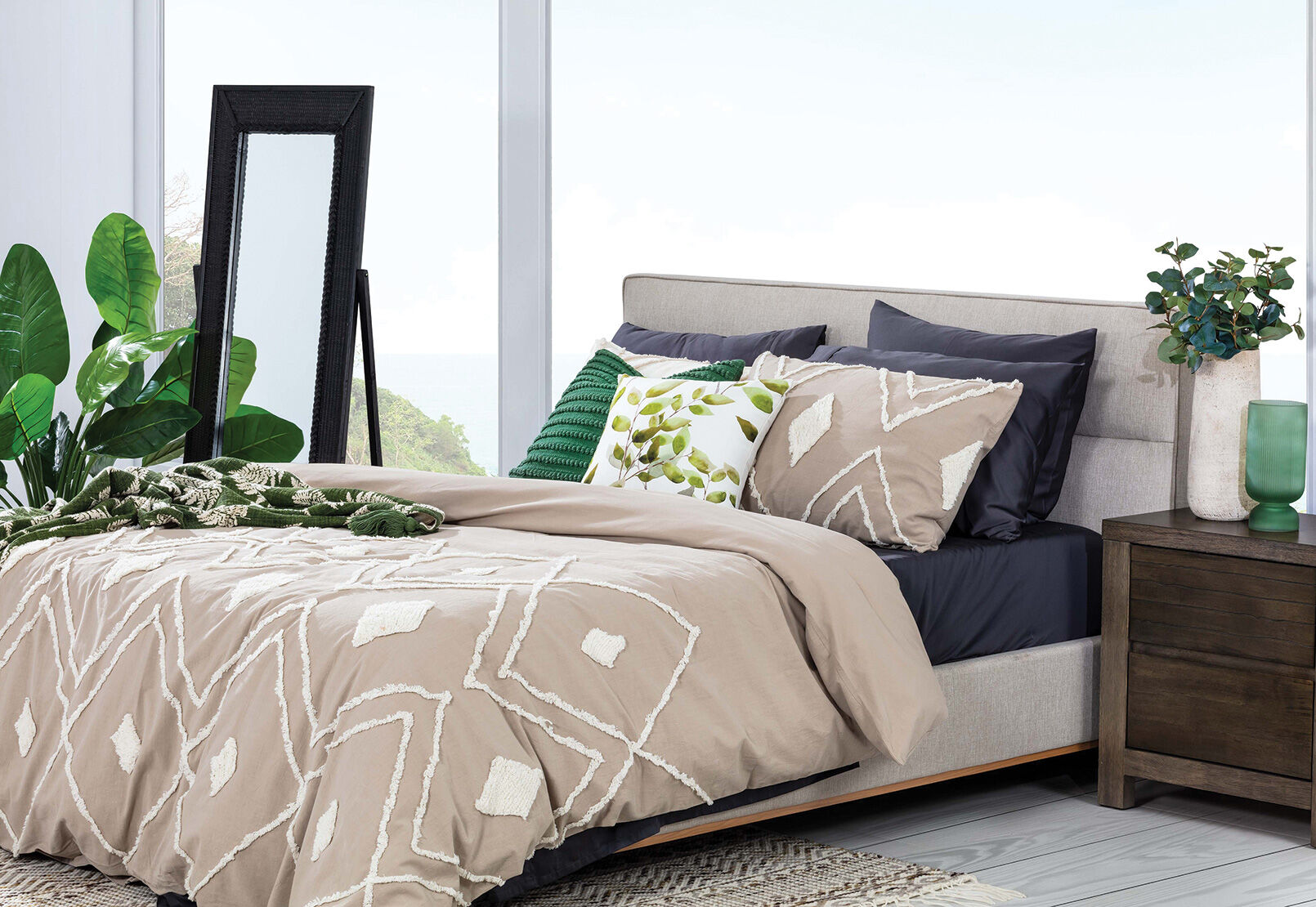 Light and bright simple bedrooms
Sometimes less is more. But it's knowing when to hold back on your styling that can be difficult. Too little can be too stark. Too much – too cluttered! An abundance of natural light is a great start for master bedrooms. A good dose of daylight helps regulate circadian rhythm, priming you for fresh morning starts after a peaceful night's sleep.
Therefore, your mantra for a bright bedroom is to incorporate finishes and surfaces that reflect the available light coming from your window. A roller blind can be fully retracted to maximise available sunlight. While a wall and floor colour palette in light shades and light-coloured furniture will bounce daylight back into the room.
Ensemble beds have a fuss-free, quality look and could be set against a wall with a floating timber shelf instead of a bedhead. And a large wall mirror will create a sense of space and depth.
One of the best parts about simple, well-lit bedrooms is that their timeless, neutral base lends itself beautifully to home decorating according to the latest look. Whether it's modern farmhouse or boho eclectic, you're merely a floor rug and cushions away from a fresh new theme.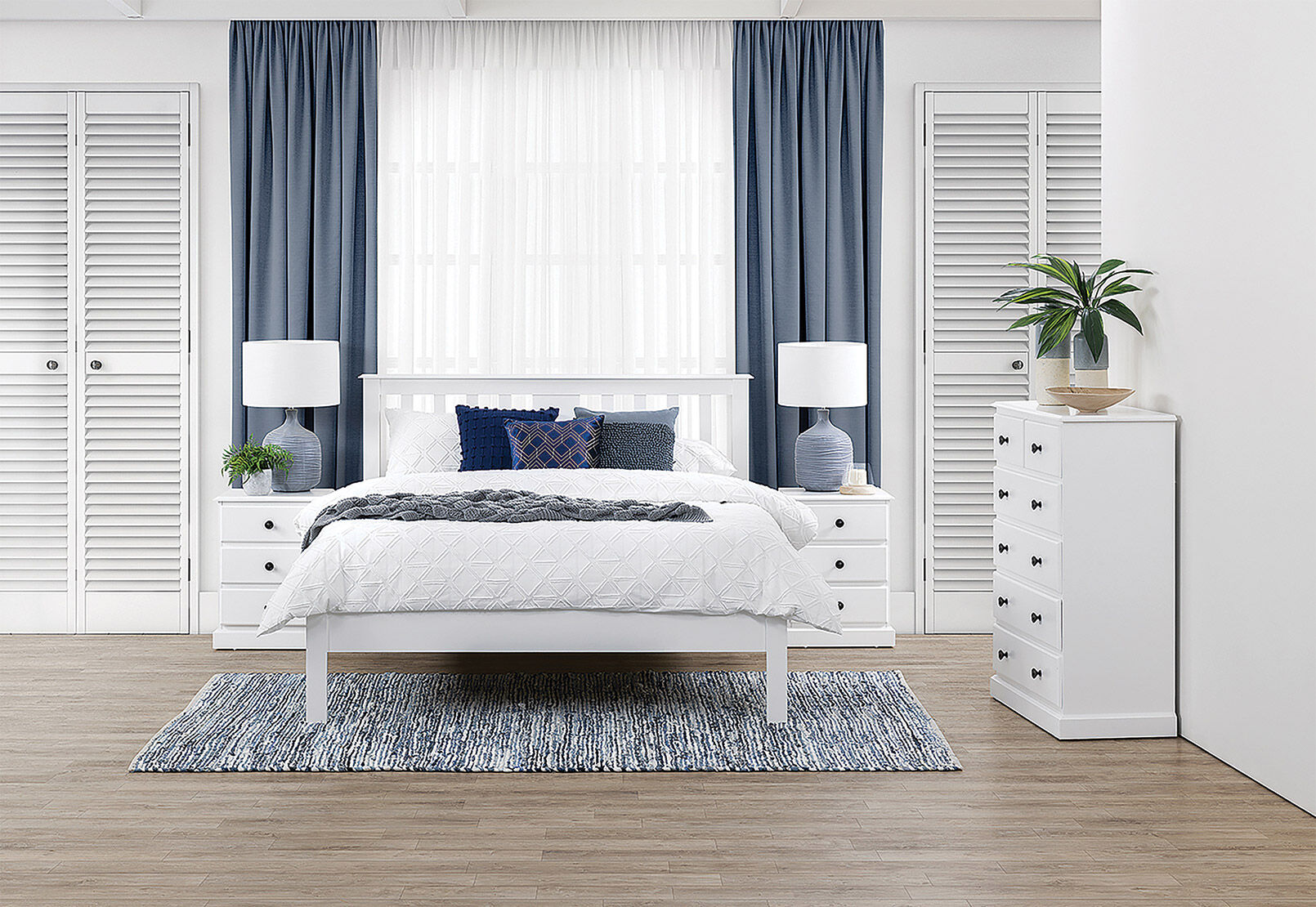 Go Glam!
Moody. Bold. Luxe. Dramatic. Elevate your master retreat to Hollywood status with some glam luxe styling. You'll be living it up quicker than we can say Sunset Strip.
Glam luxe style is all in the textiles – velvet, leather, furs, and gold detailing. It's a fun style for a bedroom space and Amart has plenty of furniture and home décor to perfect this look.
A plush, upholstered bedhead like the blue velvet Alphonso Queen Headboard with an ensemble bed is an excellent starting point for your glam bedroom. Add an Alava side table with a gold frame and black top on either side of the bed and a Hobbs Black/Marble 6 Drawer Dresser.
Now it's time for the textures. A monochrome floor rug, Higgins White Accent chair in soft boucle fabric, lamps with gold trim, bold artwork, fur throw for the bed, and some textured cushions in bold colours will complete your glam pad, making it worthy of the Hollywood hills.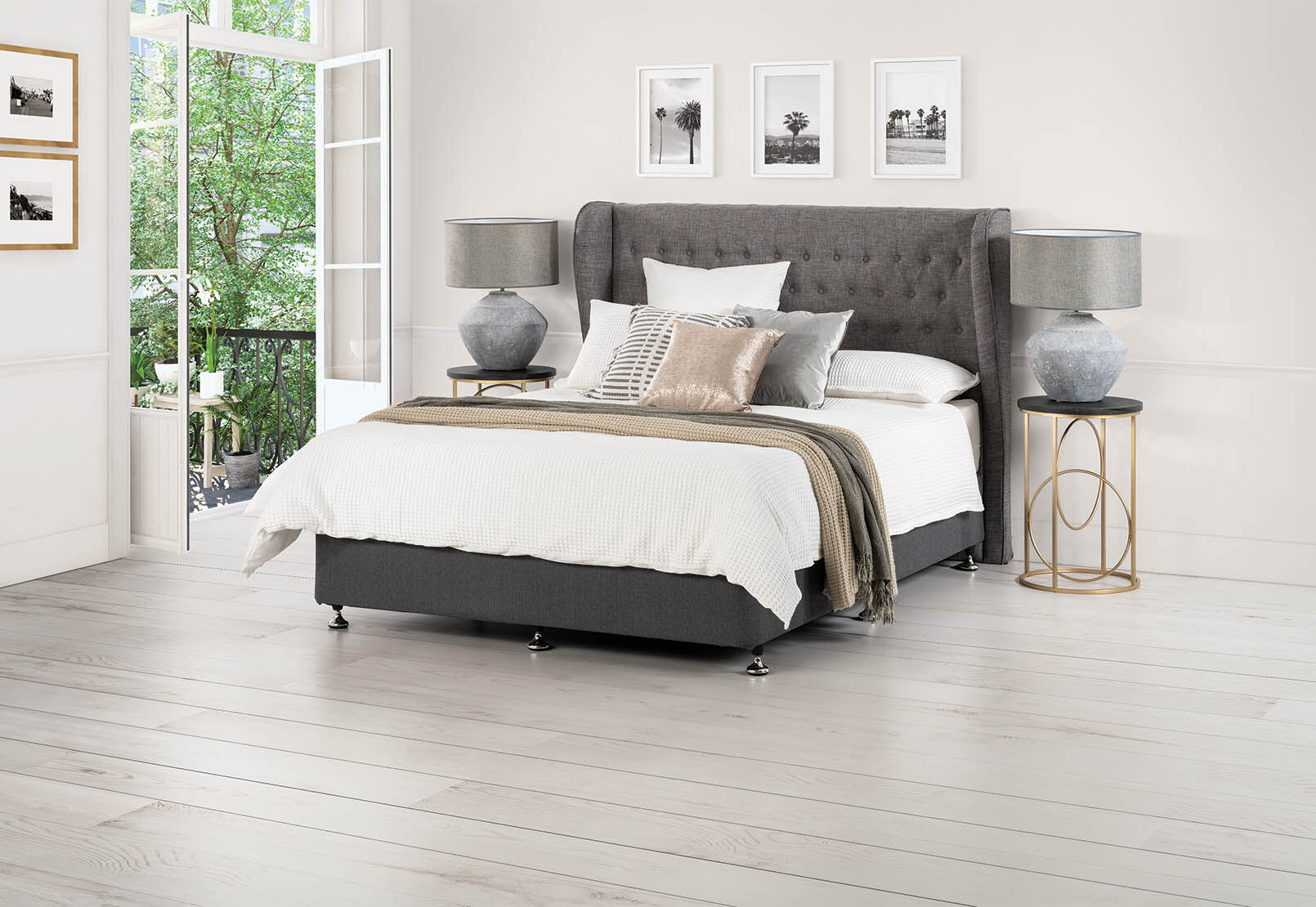 Calm and casual coastal bedroom
It's hard to feel stressed at the beach. That's why coastal-inspired interior design is about creating calm and casual spaces. And what better place to feel calm and relaxed than your bedroom?
Coastal style brings in natural elements like timber furniture and floors and jute or wool rugs set against white walls and window furnishings. Colour is brought in through soft furnishings and home décor in light tones of blue, green, and beige.
To create your coastal escape, start with your bedroom furniture. A bed and bedroom storage furniture in natural tones is perfectly on theme. The Nara 4 Piece Queen Bedroom Suite features rattan panels and beautiful light timber tones.
With your furniture chosen, you can bring in coastal colour and texture. The Sanluri Natural Hand-Woven Rug is made from 100% wool so it's comfortable and warm underfoot – the perfect thing to step onto first thing in the morning.
Bed linen is one of the easiest ways to add (and regularly refresh) your favourite colours. Go for natural tones like beige and white in cotton or linen and add colour with cushions in varying shades and textures of light blue. Finish off the look with lamps, some ocean-inspired wall art, and any other coastal pieces you've collected over time such as driftwood bowls or vases, seagrass baskets and shells.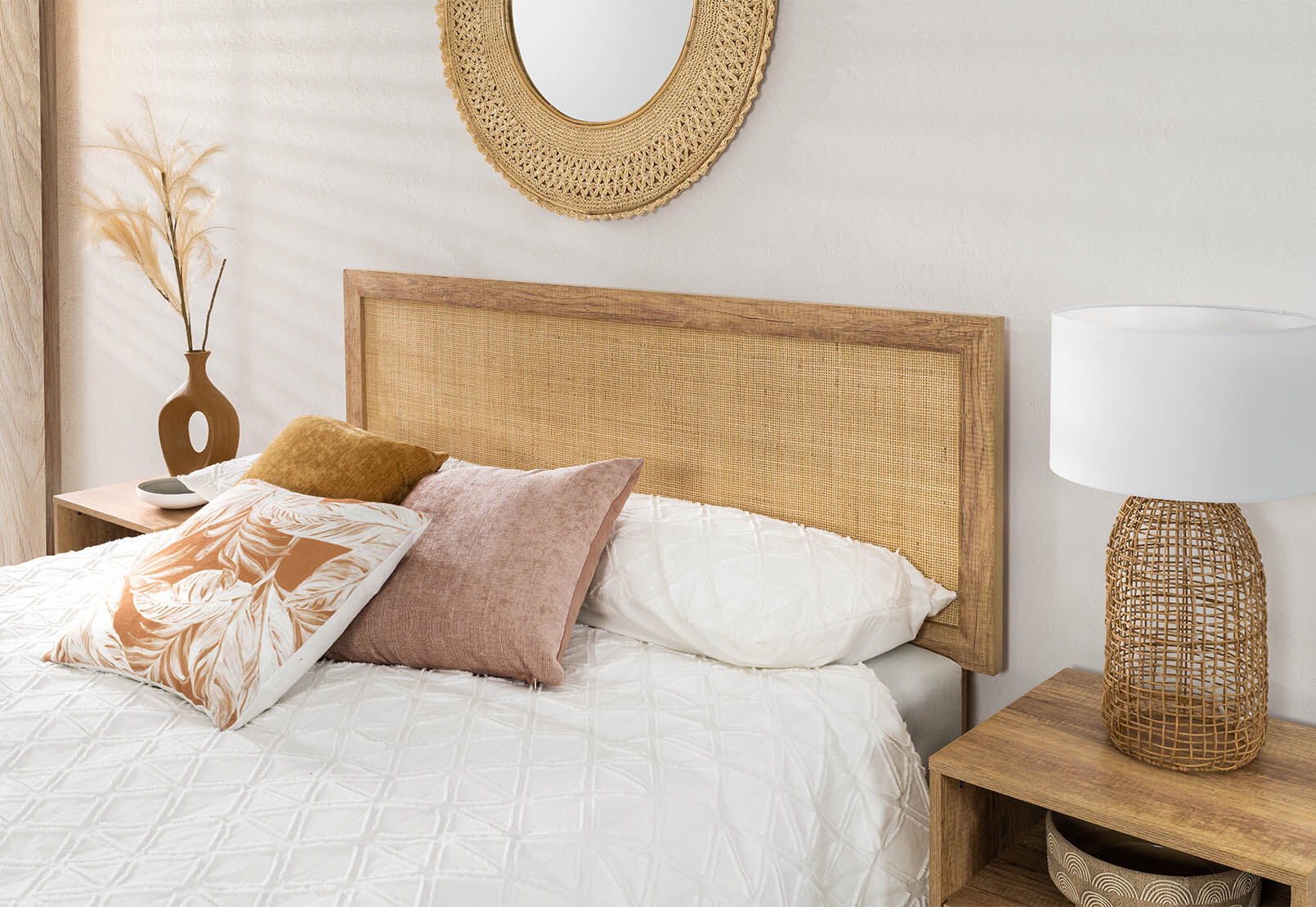 Small bedroom, big ideas
Your small bedroom doesn't have to limit your scope for building a soothing sleep sanctuary. You just need to get clever with your furniture choices and décor ideas. Create flow by keeping your colour palette light. Paint your walls and skirting in a colour that is similar in tone to your floors.
Next, it's time to make careful furniture selections. Instead of trying to fit as much as possible into your room, let the room determine the bed size and furniture, making each piece you choose do some extra work. Storage beds or gas lift beds give you concealed, dust-free storage for clothes, bedding, toys or whatever you like. A narrow bedside table/s with storage is the next essential. If the room will have a single bed or is sleeping only one person, consider buying only one bedside table. If you also need a desk or dresser in this room, look for light-coloured materials that won't dominate the space, and a minimal desk chair or backless stool.
Of course, the well-known design trick of adding a mirror will do wonders for bringing in extra light and space. You could also add light-coloured full-length curtains to give a perception of height.
Key ingredients for an inviting guest bedroom
Think about the key elements you expect to find in a hotel room. Aside from a bed, you want somewhere to put your bag, as well as a place to sit and a nightstand for a clock and a glass of water. These are the essentials to put on your list when DIY decorating your guest bedroom. Because there's nothing more welcoming as a guest than to walk into your room and feel as though there is space for you and your belongings.
So, to create a comfortable stay that your guest will remember for the right reasons, buy the most comfortable mattress your budget will allow. Add a storage bench to the end of the bed or along the wall so they have somewhere to rest their suitcase. A storage bench can also double as a spot to keep the bed cushions overnight or even somewhere that your guest can keep their belongings. A side table or bedside table provides a dedicated space for a book, drink and watch, and an accent chair provides a private place to sit and unwind.
With the guest room basics covered, it's time to add some style. Let your interests and creativity come to the fore. Floating shelves could showcase a mix of pictures, books and décor that are meaningful to you and interesting to your guests. And don't forget to add some layers of comfort with luxury bedding like plush, inviting cushions and a throw rug in complementary shades and varying textures.
The perfect teen retreat
Gone are the days of race car doona covers and fairy cushions. Your little baby is getting bigger so it's time to create a room that fits this next stage of their life - the one where their room is more of a retreat where they'll spend a lot of their time. At a minimum it will need what it has likely always had – a bed, a chest of drawers and a wardrobe. But a teenager will also need a desk, storage for their stuff, and space permitting, a chill-out zone.
Before you get to the decorating part of your teenager's room, decide on the furniture you can include:
Bed – The bed size you choose will depend on available space. From single up to queen, there is a variety of Amart Kids Beds that will fit the bill. There's classic and timeless like the Captain Jack Single Bed to something ready-made for sleepovers like bunk beds or trundle beds. If you really have space to spare and a teen who wants a little luxury, there's the Roseville 4 Post Queen Bed which would look pretty amazing with string lights wrapped around it.
Desk – A office chair will support their posture while studying.
Storage & organisation – Not that your teenager's room is likely to stay orderly, but drawers and storage baskets that allow for quick and easy tidying are a good idea.
Extras – Bean bags or large floor cushions for lounging around with friends.
With the big-ticket items in place, you now have a good opportunity to team up with your teen to choose some finishing touches customised to their tastes. Shop together for quilt covers, lamps, wall art and cushions that put their personal stamp on the space, completing their teen room transformation.