Bedroom Decorating Ideas
STYLE INSPIRATION
A bedroom is a place to relax, retreat and restore your energy. Your bedroom is the one place in the home where you can truly let go and find total peace, so it should be a space that feels both welcoming and relaxing to you.
Discover our simple bedroom decorating ideas to help you create a guest bedroom, teenage bedroom or master bedroom that reflects your personal style whether that's rustic, Scandi, modern or ultra-plush!
The things to consider when planning how you will create totally dreamy bedrooms are:
Bedroom size
Bedroom themes
Current interior design trends
Colours and textures
Bedroom accessories
Whatever your preferences, you'll find plenty of modern decorating ideas and stylish bedroom inspo right here! But before we get to the pretty stuff, there are a few key things you need to consider.
Bedroom Essentials
Your super snooze-worthy sleep sanctuary should be primed for sleeping so check that these essentials are included in your bedroom transformation:
A comfy mattress
All the best bedroom decorating ideas in the world won't make your bedroom the ultimate haven for deep sleep if your mattress isn't up to scratch.
Did you know the average lifespan of a mattress is 8-10 years? That's pretty good for something we use for 7-8 hours every single day! If yours is showing its age it's time to splash out on the most comfortable mattress you can afford.
Your mattress needs to be both comfortable and supportive. Explore the different mattress types and comfort levels, from extra firm right through to ultra plush.
Ditch the distractions
Your bedroom is for sleeping and relaxing. TVs, computers, and exercise equipment can affect the energy and ramp up the room feel, not calm it down.
Studies show that the light emitted from electronic devices can even increase alertness, so keep them out of your bedroom.
Improve your sleep environment
Light, sound, and temperature all play a part in maintaining a healthy sleep cycle. Ensure your bedroom is as sleep-friendly as it can be by finding ways to make it dark, quiet and cool.
Ideas For Decorating a Small Bedroom
If your bedroom is best described as "cosy" aka small – don't stress! Just because your bedroom is small doesn't mean it can't be big on style! These decorating ideas for small bedrooms will have your space looking and feeling bigger than it really is.
Beds
Ensemble beds with a freestanding bedhead add fabulous style without taking up too much space.
If you don't have room for a chest of drawers choose a bed with built-in storage drawers instead.
Gas lift beds provide significant extra storage space without taking up extra floorspace!
Décor
To make a small bedroom feel bigger choose a light colour palette, smooth lines and sleek finishes.
With respect to window coverings, blinds are less obtrusive in a small bedroom than curtains.
Light paint and floor coverings will create the impression of a larger room, and fewer pillows and cushions on the bed will create a more spacious vibe.
Furniture
When your floorspace is limited every piece of furniture has to count. Choose tall, sleek bedside tables with drawers and use your wardrobe space efficiently. If it's a single bedroom, just one side table is enough.
Master Bedroom Ideas
Whether you're sleeping solo or sharing your bedroom, embrace your sleep space with master bedroom decorating ideas such as:
Take a seat
An accent chair creates the perfect place for reading, tying up your shoelaces, or simply taking a load off after a long day, especially if your bedroom has a nice garden outlook.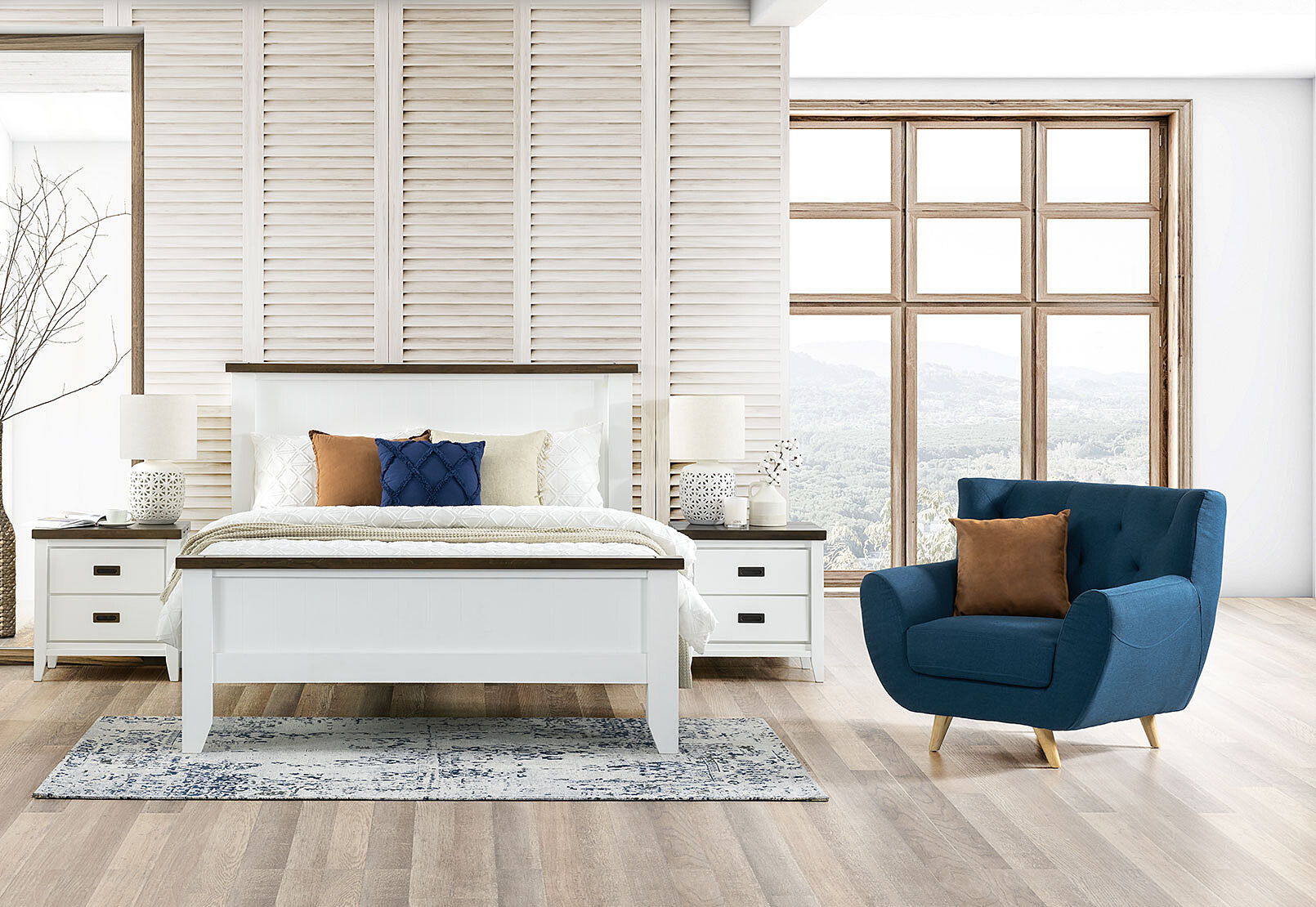 Let there be light
Decorating ideas with lights are a great way to add wow-factor to a master bedroom. To really make a statement opt for:
a chandelier – sure to create a glam feel
big, bold and beautiful bedside lamps
on-trend pendant lighting
Rug up
Floor rugs and throw rugs are easy ways to express your style and create a cosy environment. Whether you go for sophisticated neutral tones or a playful pattern with interesting textures, there are endless designs available to add eye candy to bare floors and bedcovers.
Double or nothing
Bedroom ideas for couples do allow for individual comfort and style.
Choose the perfect bedside lamp for your needs – they don't have to be matchy-matchy! Same lamp shade but different base, or same colours and materials but different styles all work.
Mix and match decorative accessories such as cushions to suit your individual style – just tie elements of each such as colour or texture to the bed linen or other features in the room.
Bedroom Themes
Looking for a bedroom theme that reflects your personal style? From minimalist bedrooms to plush bedrooms with French Provincial fuss, these bedroom themes are sure to have you looking forward to bedtime.
Luxurious bedrooms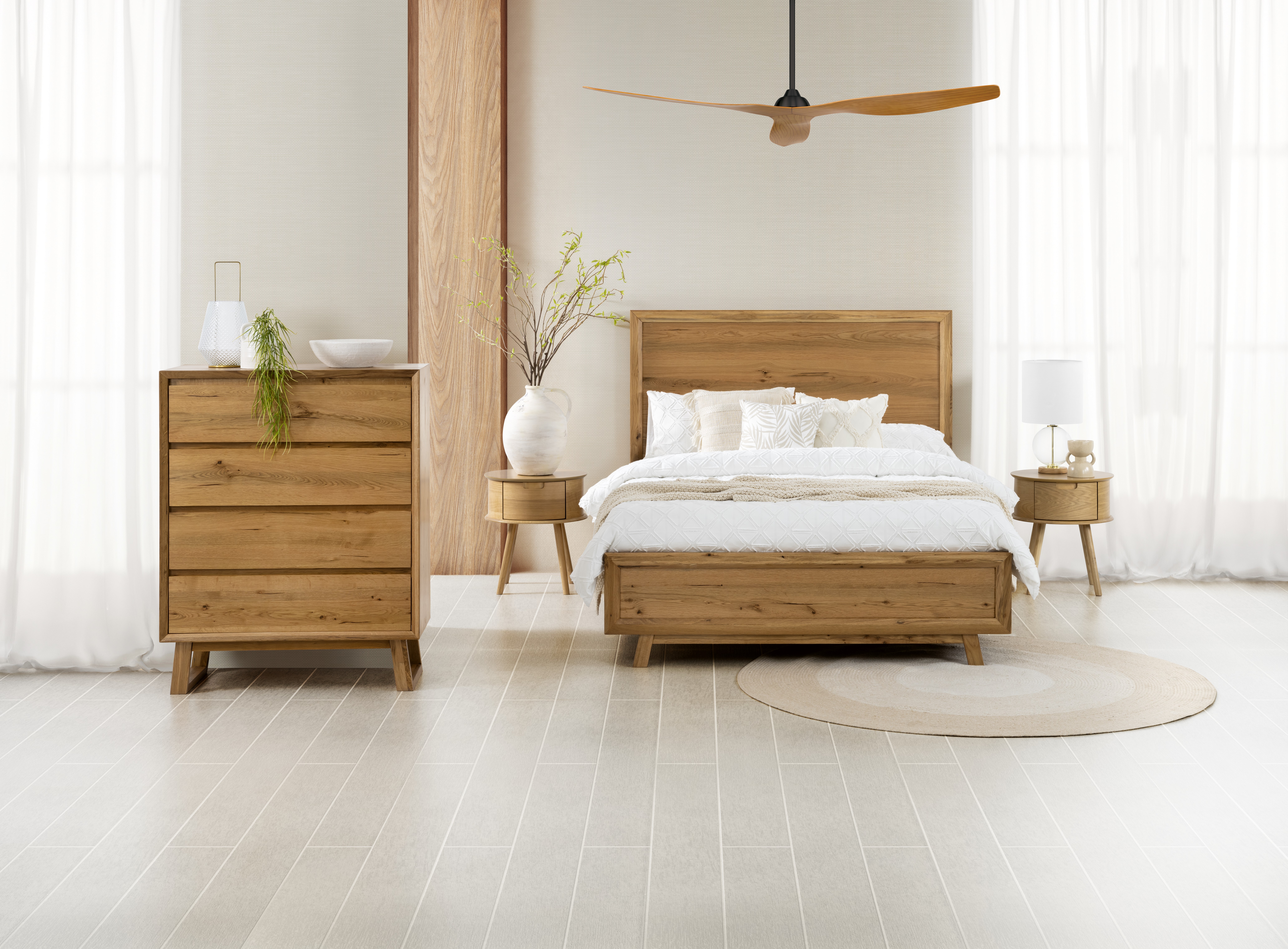 Who doesn't love a luxuriously decadent bedroom? Luxe bedrooms are all about the finer details – plush pillows, comfy cushions and snuggly throw rugs. By using textures such as silk, faux fur, chunky wool and velvet you can create a sophisticated space with an indulgent vibe.
Modern bedrooms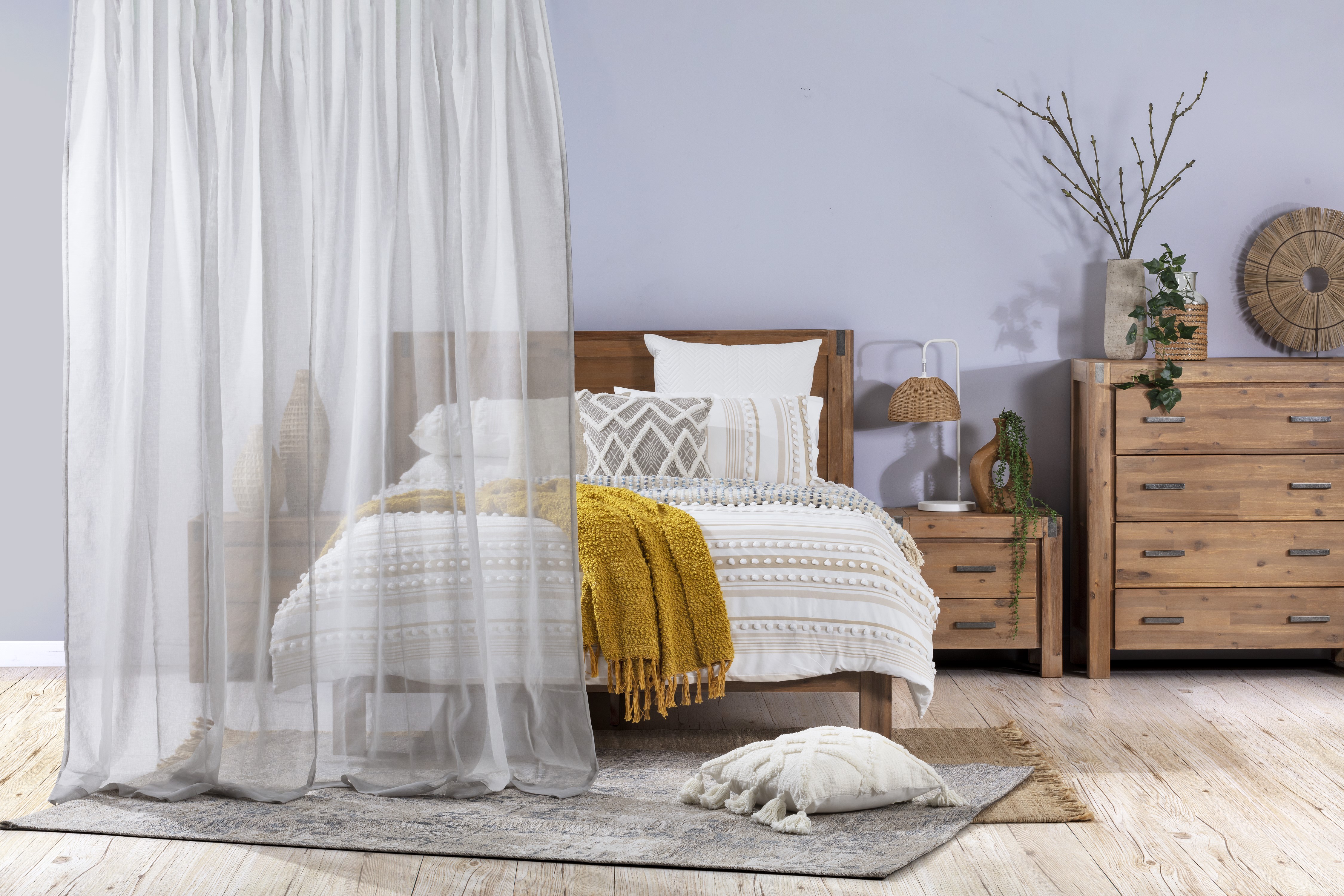 Modern bedrooms are all about functionality and sleek design; think clean lines and zero clutter. Colour palettes consist of contrasts – white walls and black furniture softened by earthy contrasts and chunky textures - or soft grey walls, neutral tones and pops of colour.
Simple bedrooms
Providing a truly peaceful and serene space, simple bedrooms have the cool, crisp and clean features needed for a good night's sleep. A simple bedroom style is perfect for anyone who wants to ditch bedroom fuss, floof and flounce.
Bedroom Trends
Stay ahead of the style curve with the latest bedroom trends. These hot looks will have your bedroom looking Pinterest-worthy in no time!
Bedroom feature wall
Wallpaper is back in a big way, and a funky bedroom feature wall has become the go-to way to express yourself and make a statement. Feature walls are an easy way to add interest to your bedroom, and gallery walls with all your favourite pics can be the perfect touch! From bold paints and textures to wild wallpaper, there are endless options for your bedroom feature wall.
Bed frames
Of all the bed designs, low bed frames are the winner for tranquil zen vibes as championed by many cultures around the world. Particularly popular in timber styles, low bed frames are a hot favourite in bedroom designs.
Bedroom greenery
Who says indoor plants should be reserved for your living areas? A popular inclusion in bedrooms today, indoor plants improve air quality while artificial plants add a splash of zero-maintenance greenery.
Colours and Textures
The colours in your bedroom have a huge impact on the atmosphere. If you want to create a light, fresh feel without being dull, choose a variety of light neutral tones and add pops of colour and varying textures. For a cosy vibe, choose warm shades contrasted with rich, bold tones.
Light bedroom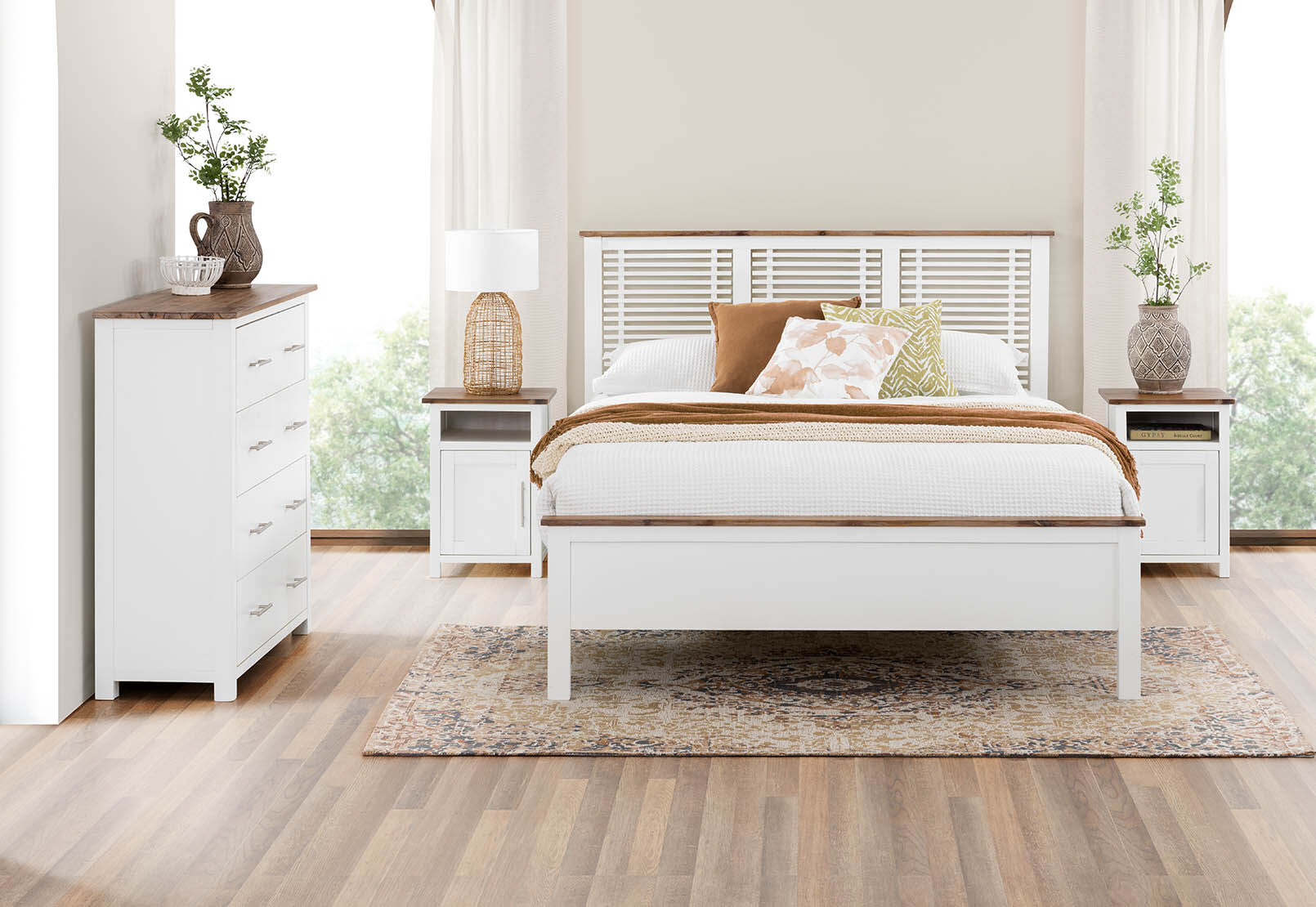 Fresh and breezy, there's nothing boring about a white bedroom. This light and inspiring colour evokes feelings of new beginnings, and what better way to wake up to a new day? Try using different shades of white – of which there are many – to create depth and mix up the textures in your linen, floor rugs and curtains for added interest.
Dark bedroom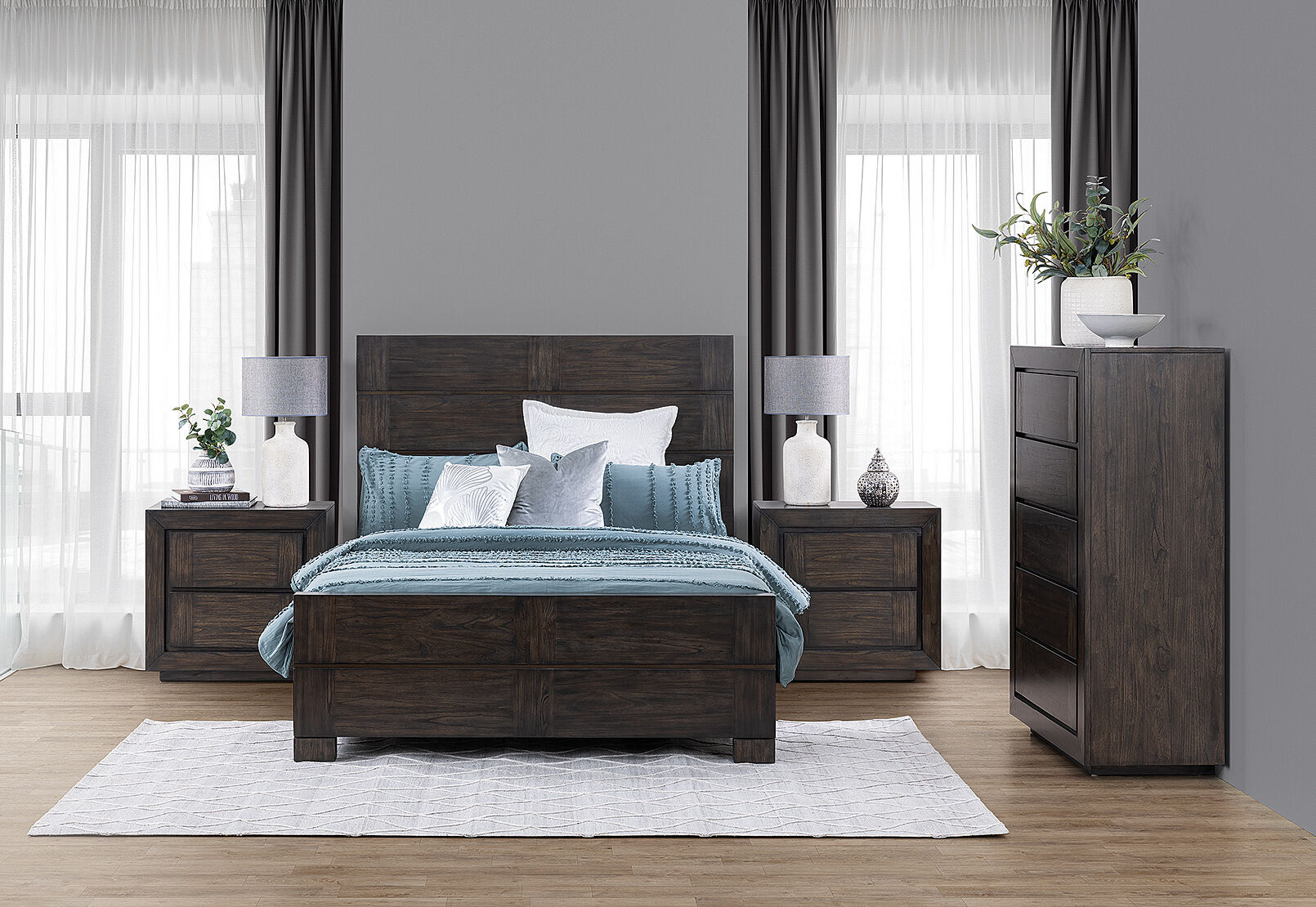 For a moody and romantic bedroom, go bold with rich shades of jewel colours like sapphire, ruby and emerald. These deep tones create a dark bedroom with a hint of old-world charm. Or for a more modern and edgy look, choose different shades of charcoal using bedroom accessories to lift the mood.
Bedroom Accessories
Add character, charm, flair and interest with using bedroom accessories for the final touches. Bedroom accessories are the little things that will take your bedroom design to the next level.
Bedroom art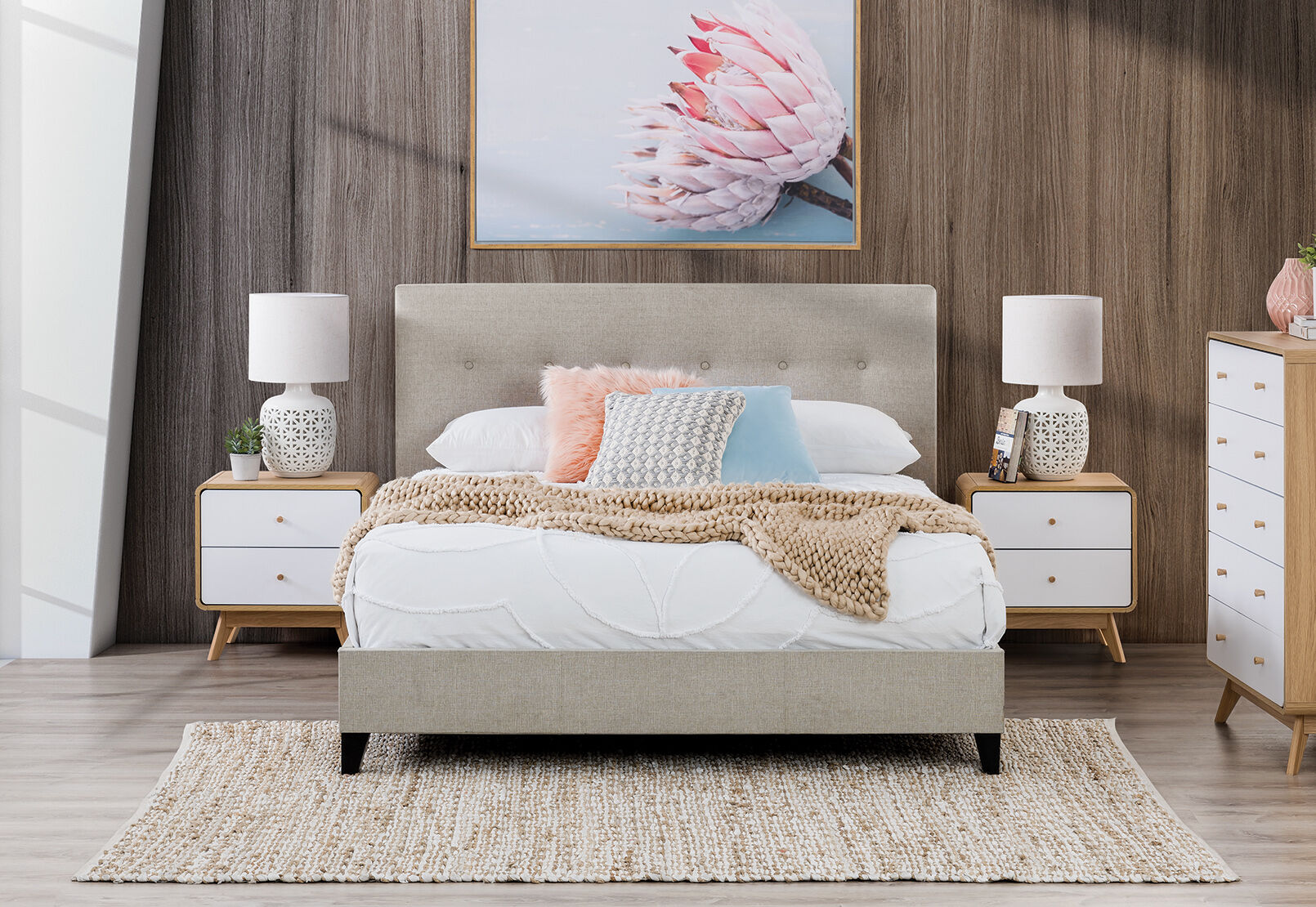 Your eyes aren't always closed in your bedroom, so give them something nice to look at with some bedroom Wall Art & Mirrors. From canvases to framed quotes and your favourite photos, there are endless ways to liven up a bare wall in your bedroom.
Bedroom floor rug
Bedroom rugs add colour, texture, and style to a space. Not to mention, your toes will love you for it! Position a big bedroom floor rug so that it encompasses at least some of the bed and the bedside tables.
How to dress a bed
The bed is the focal point of the bedroom. Dress it up to make a statement while creating a simply sumptuous and inviting sleep zone.
Manchester
Choose a quilt cover set and set of sheets that reflects your style. From classic neutrals to bold and beautiful patterns and colours, there are lots of gorgeous designs to choose from.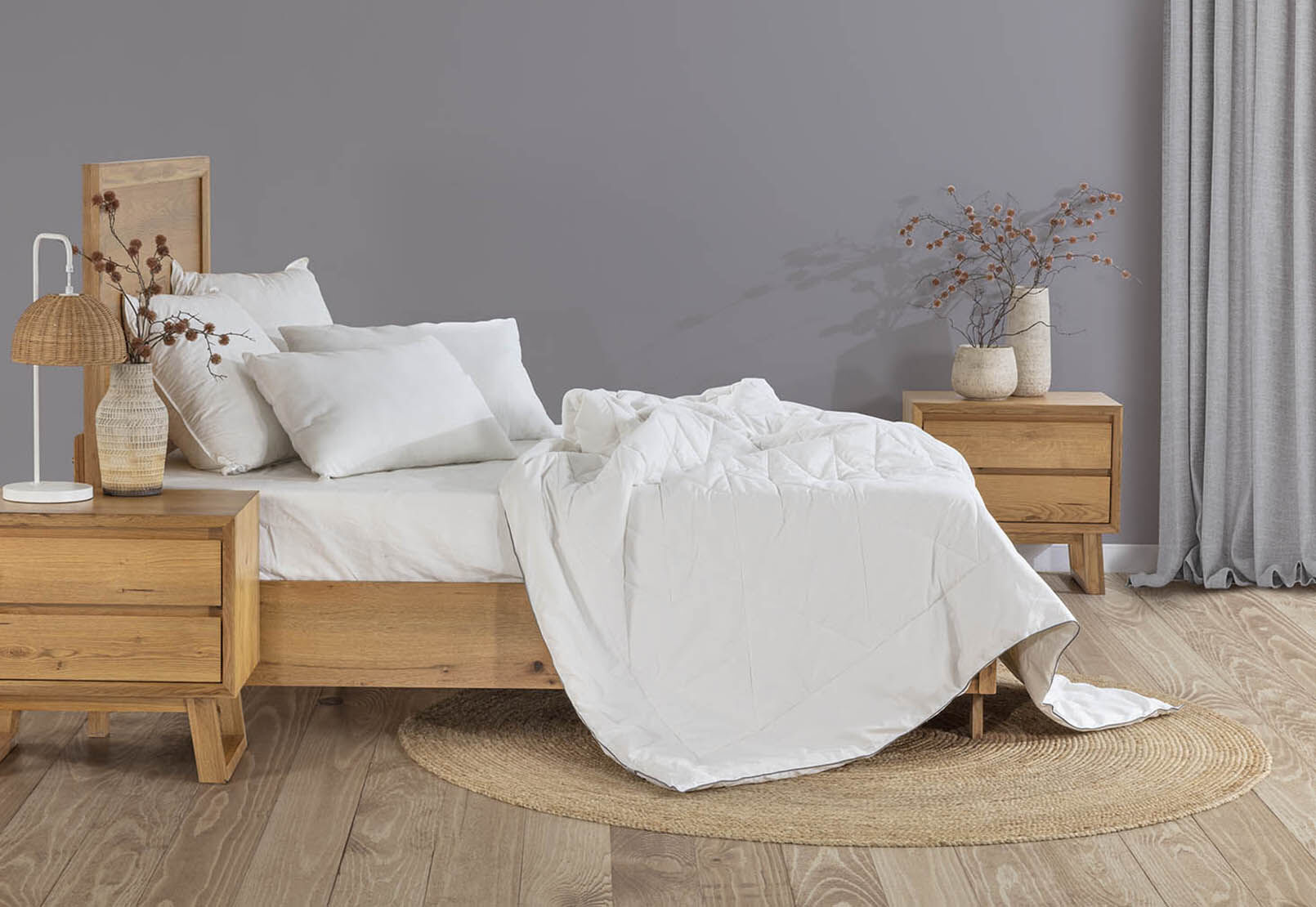 Pillows and cushions
What bed is complete without one too many cushions? Bed cushions and pillows add that snuggly, dreamy vibe we all want in our bedroom. Choose a few in different sizes, fabrics and textures with common elements for added interest.
These are simple bedroom decorating ideas diy-ers can easily take on, so what are you waiting for?