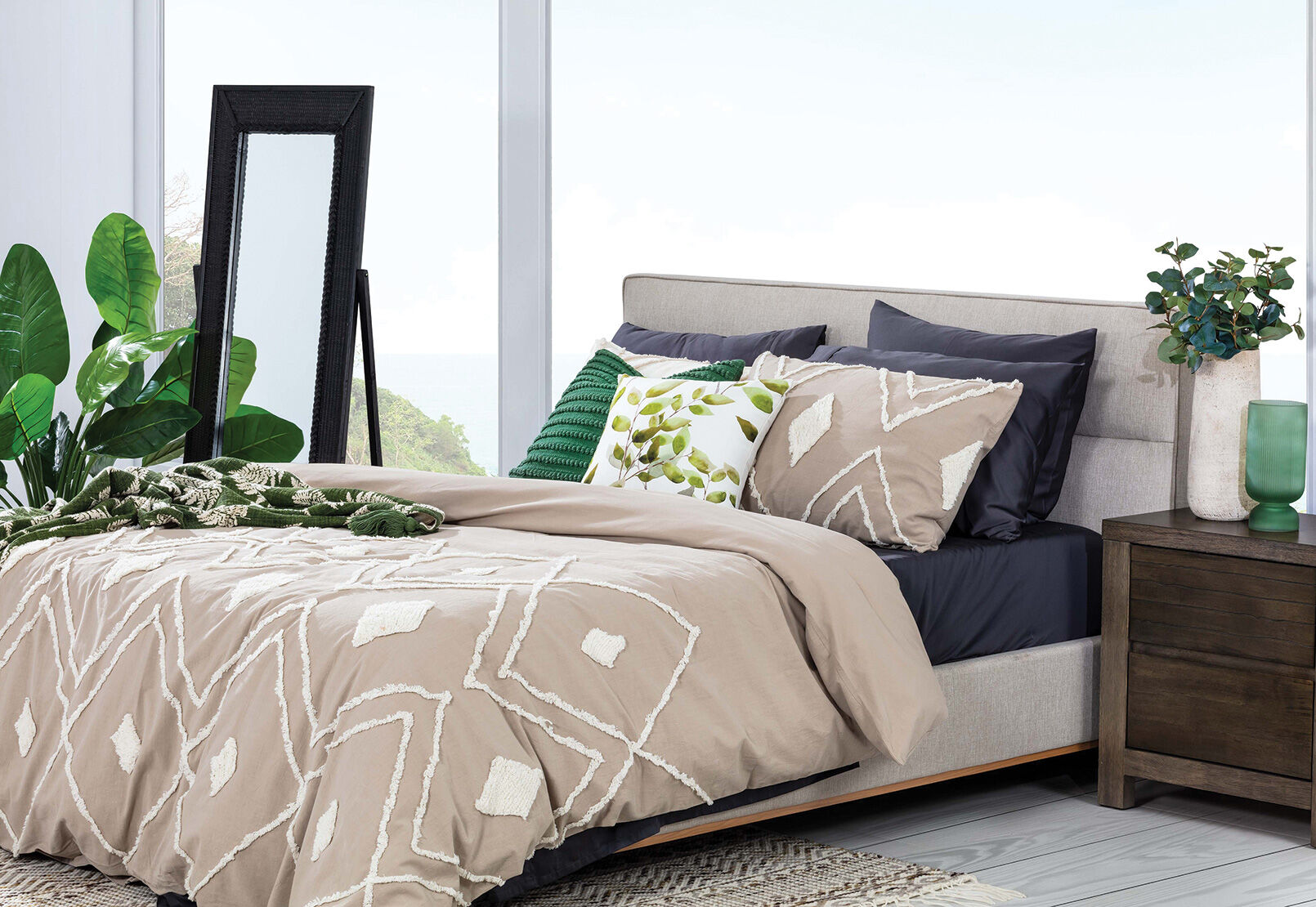 Bedding & Manchester
Browse our range of high-quality manchester bedding
Say hello to a good night's sleep every night with our stunning range of bedding! We've got everything you need to create a stylish and comfortable bedroom using the highest quality materials designed for optimal comfort, from trending sheets and quilt covers to pillows, pillowcases, toppers, underlays and much more. Settle in for the sweetest dreams at Amart with affordable prices you can shop online or in-store.
Absorbent products for the best protection
Protect your mattress, quilt and pillows from stains and spills by covering them with absorbent products that repel moisture. We have mattress protectors crafted from bamboo and plush terry that are waterproof and highly absorbent to protect against all liquids while preventing dust mites from entering the mattress and causing allergies.
Keep cool and dry during summer with a cotton, bamboo blend or microfibre sheets and quilt covers that are moisture-wicking and absorbent. Super soft and lightweight, these products regulate your body temperature to keep you cool in summer and warm in winter.
Sleep like royalty in ultimate comfort
From plush quilt cover sets and coverlets to silky smooth sheet sets, discover luxurious bedding that make cloud-like comfort a top priority. We're talking about:
Bamboo blend doona covers with a 500 thread count
Plush comforter sets
Thick wool quilts that are machine-washable
Breathable cotton sheet sets with a 300 thread count
100% certified French linen sheet sets
Mattress toppers for enhanced comfort and support
Waterproof mattress protectors to ensure longevity
Mattress protectors and pillow protectors cover your mattress or pillows and protect it against liquids and stains that can cause damage and reduce its lifespan. Shop natural bamboo protectors for beds, pillows and cots that are highly absorbent for ultimate waterproof protection. Fully fitted and machine-washable, it also prevents dust mites to reduce allergies. You can also find plush terry options.
Relax and rejuvenate in soft and smooth bed sheets
Bamboo blend sheets are luxuriously soft with a silky smooth texture that feels divine against the skin. Slip into bamboo blend sheet sets from Amart in contemporary colours to match every bedroom decor that are lightweight, breathable, absorbent and temperature-regulating for year-round use. We also have microfibre sheets and cotton sateen sheets with a super smooth weave that'll send you off into sweet dreams and have you bright and refreshed in the morning.
Reduce allergy symptoms for family and friends
If allergies are a problem, the best bedding options are natural and hypoallergenic. Memory foam pillows and mattresses are excellent for allergy-sufferers as they're breathable to keep allergens at bay. Bamboo and plush terry protectors for mattresses also help to prevent dust mites from entering the mattress and triggering allergies.
For bed linen, go for 100% cotton, French linen or bamboo blend sheets that are naturally hypoallergenic and highly breathable. Microfibre bedding is also hypoallergenic while also being wrinkle-resistant and very easy to keep clean.
Feel certain that your bedding will look and feel brand new
There's nothing like the crisp, fresh feel of French linen sheets in the morning or the luxe smoothness of a bamboo blend quilt cover to take your bedroom to the next level. At Amart, shop with confidence knowing that your quality bedding will retain its just-washed look and stay as soft and comfy as it's always been wash after wash.
Coordinate or contrast your bedding to your home decor to create the bedroom you want, from cushions and throws to lamps, rugs and bedroom furniture.
Invest in comfort and support you can count on
We spend around 1/3 of our lives in bed so it pays to invest in quality bedding to ensure every sleep is a good one! We have luxurious sheets, quilt cover sets and pillowcases with 300 and 500 thread counts for warmth and comfort in durable fabrics like cotton and French linen. Sat snug in winter with wool quilts and cool in summer with lightweight cotton quilts.
Mattress toppers add support to mattresses while protectors will prevent liquids from entering your mattress and damaging it. A good pillow is essential for supporting the head while sleeping and relaxing. We have memory foam pillows that mould to your head to provide customised support and comfort as well as European pillows that can layer with your standard pillows for a stylish look. Match your European pillowcases to your quilt cover, sheets and cushions.
Ensure (sweet) dreams with the finest bedding products
Whether you have a new bed or want to refresh your existing bed, Amart has everything you need to create a comfortable abode for sweet dreams. Find bedding for single and king single mattresses as well as double size, queen size, king size and super king size.
Kick back in a timeless cotton quilt set queen cover with trending prints like florals and textured geometric patterns or transform your super king bed into a stylish statement with a super king quilt cover in a moody neutral to contrast with white furniture. Put a pop of colour into the kids bedroom with fun themed single quilt cover sets featuring adorable dinosaurs, machines and flowers that match cushions and rugs.
Purchase bedding online at Amart
Discover our best sellers when you shop online with amazing prices that are lower than regular price to suit every budget. Save your favourites into a wishlist or checkout with Afterpay to own now, pay later with no interest. All of our bedding comes with a warranty for total peace of mind. You can also use the Store Locator to shop in-store at your nearest Amart showroom.
Is linen the same as manchester?
In Australia, manchester and bed linen are basically the same thing. Both terms refer to any household goods that are made with fabric and intended for daily use. This includes bed linen, such as cotton fitted sheets and flannelette quilt covers, but can also include bathroom items like bath mats, bath sheets, bath towels, hand towels and face washers as well as tea towels for the kitchen.
Why is bedding called manchester?
Australians call bedding manchester because the British city of Manchester was once the industrial centre of cotton spinning. Cotton was the main material that early settlers in Australia used for bedding so the name stuck!
Contact details
Get in touch and let us know how we can help.