Make the most out of your nursery space with kids furniture that is practical as well as super stylish. Tallboys are storage superstars, able to hold all of your baby clothes, nappies, toys, changing essentials and more while taking up minimal space. A tallboy in the nursery is a wise investment - but how do you narrow down the choices? We've put together nursery tallboys buyer's guide to help you make the right decision. Let's get stuck into it!
To start, consider these factors:
Size - To figure out what size tallboy you should buy, consider how much bedroom storage you have. If you have a lot of clothes, toys, linen, books and other knick-knacks, you will need a tallboy with at least 3 drawers to hold everything. Also, think about floor space. Tallboys may be tall, but some are wider than others. Measure your available space first to know exactly what measurements your tallboy needs to be to fit it.
Type - Tallboys come in different types. Some tallboys feature a 2 over 3 design which means 3 larger drawers for holding clothes and 2 smaller drawers on top for socks and undergarments. You can also find larger 4 over 3 designs plus 3 and 3 designs which is a low tallboy featuring 3 deep drawers for plenty of storage.
Material - You have a lot of choice when it comes to materials and finishes. Wooden tallboys are the most common. They're timeless, sturdy and can fit seamlessly into both contemporary and traditional interiors. Other materials include metal, plastic, MDF board and a combination of materials. You also have different finishes, from varnish to wax finish. Amart nursery tallboys feature a water-based paint finish to make them friendly for babies and safe to place in the nursery.
Style - The style of your tallboy determines its overall look and feel. A two-toned style with warm hues looks stunning in Scandinavian nurseries, white tallboys are minimal and fresh, a tallboy in a dark hue is moody and cosy while washed out hues are rustic and look beautiful in farmhouse and Hamptons style nurseries. The design itself can be elegant, modern, sleek, mid-century and much more.
Budget - Lastly, consider your budget. Tallboys range in price depending on the quality, size, material and features. Amart tallboys range from $349 to $799 with amazing deals and special offers that can help you pick up the perfect piece for less than RRP!
What is a tallboy?
A tallboy is a piece of furniture that is typically placed in bedrooms and nurseries. It's a chest of drawers that is generally taller than other units and it's used for holding storage without taking up much floor space. Tallboys are fantastic for small homes as they use vertical space, rather than horizontal space, and can hold a large amount of storage to keep your space looking clean and tidy. Put them in the master bedroom, the kids bedroom or the nursery and match them to your existing interior design for a stylish and cohesive home that flows from room to room.
What is stored in a nursery tallboy?
As an essential item of bedroom furniture, tallboys offer loads of storage space without using too much valuable floor space. Storage baskets and boxes are small and won't hold many items while a tallboy features deep drawers that store all of the essentials while keeping the contents hidden for a room that's organised and clutter-free.
You can put anything you want in a nursery tallboy. The most common items you will likely put in them are baby clothes, but you can also use them to store nappies, wipes and other changing products to ensure they're always close-at-hand. Other items you may wish to store include security blankets, swaddles, soft toys, feeding products and bedtime books.
Tallboys are multi-functional as you can also make use of their surface. Lay down a changing mat to turn the top of your tallboy into a handy change table to save money. You can also use the surface to display your nursery decor, including cute ornaments, artificial plants and photos.
Amart has tallboys and nursery furniture to meet every need and budget. Shop online and put your favourites into a wishlist for later or checkout with multiple delivery options and a 3 year warranty for complete peace of mind. Tallboys also make thoughtful baby shower gifts for new parents. Choose a style you know they'll love or surprise them with an Amart gift card and let them pick out their own tallboy for the nursery.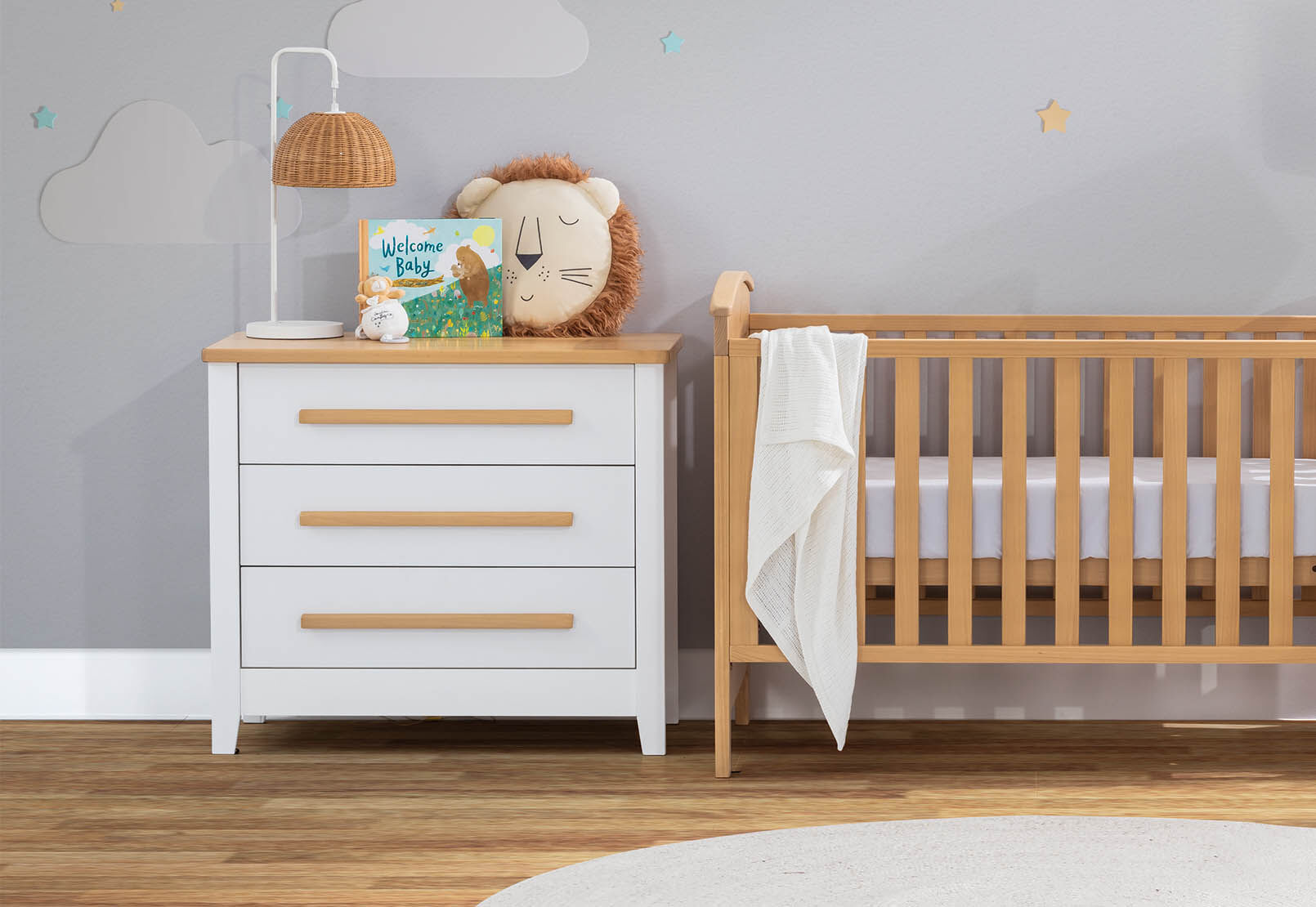 Features to look out for
The right features will make your tallboy a worthwhile investment that you'll be able to use for years to come. Before you buy, consider these features:
Measurements - You can find the right size tallboy by first taking measurements. Plan where you want the piece of furniture in the nursery and measure the space it will be placed. When browsing for tallboys, take note of their measurements to ensure that you choose one that will comfortably fit into the available space.
Style - From modern and minimal to elegant and traditional, the style of your tallboy helps to set the look and mood of the whole nursery. To narrow down the options, consider the rest of your home. Do you have a mid-century modern style, a minimalist style, a coastal style or perhaps a bohemian style? Match your tallboy to your existing style and colour palette to create design unison. Amart has white nursery tallboys with straight or curved lines for a minimal look as well as adorable two-toned tallboys with a Scandi look to add warmth to any nursery space.
Assembly - Look for a tallboy that is easy to assemble at home. Amart nursery tallboys all come ready to assemble with clear instructions and all of the parts you need to build your own tallboy for the nursery. Have it sent straight to your address or pick it up at your nearest Amart store in Australia.
Storage - Tallboys are an excellent storage solution for nurseries that will help you to keep the space free from clutter. Think about how much storage you have. Will a 3 drawer tallboy be enough or do you need space for extra storage, such as 2 smaller drawers on top to hold smaller items?
Baby-safe - With little ones in the home, you can never be too careful. Make sure the tallboy you choose is friendly for babies. Our tallboys feature a non-toxic water-based paint finish that is safe for children and the environment as well as soft close drawers that won't wake sleeping babies when you open or close them.
Tallboys vs chest of drawers vs dressers
With so many options when it comes to bedroom storage furniture, it can be difficult to know which one will best meet your storage and space needs. While a tallboy, a chest of drawers and a dresser may all seem similar at first, there are some differences:
Tallboys - A tallboy is basically a taller version of a chest of drawers. They have a vertical design which goes upwards and takes up more wall space than floor space, making them an ideal choice for small nurseries and bedrooms where space is more valuable.
Chest of drawers - A standard chest of drawers is a storage unit with any number and combination of drawers used for holding clothes and more. They are shorter in height than a tallboy and can be wide, depending on the type you choose.
Dressers - A dresser has a horizontal design that makes them shorter and wider than a tallboy or standard chest of drawers. They also typically feature a mirrored hutch on top which makes them perfect for doing your hair and makeup in the morning. Dressers come with drawers for storing clothes and other items and come in a diverse range of styles and finishes to suit every interior.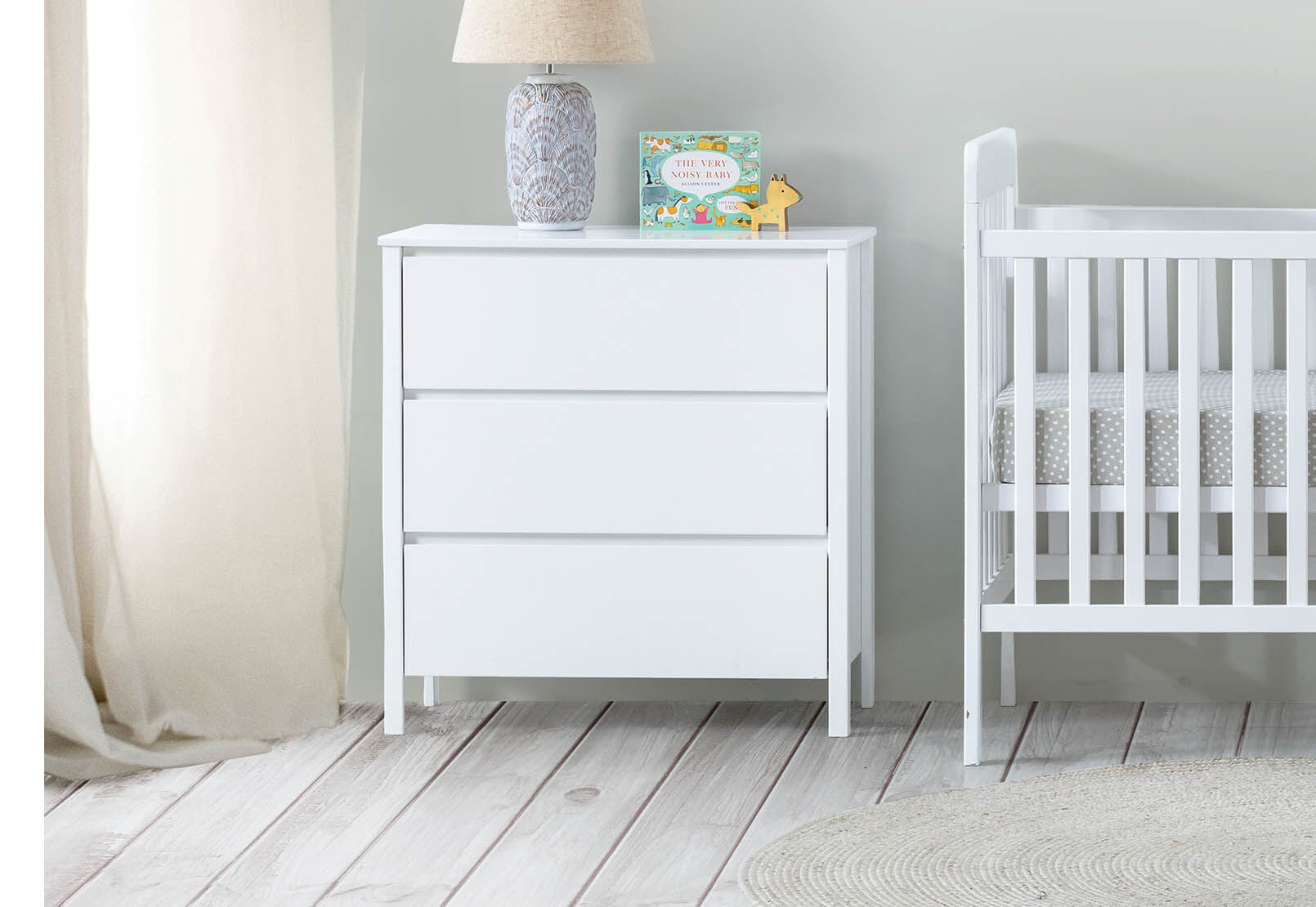 Matching your tallboy to your nursery furniture
Make your nursery the most stylish room in the house by ensuring your tallboy matches the rest of the furniture. Our nursery tallboys come in fresh white or two-toned hues with a simple design that will fit beautifully into any modern space. Match them to the cot or toddler bed, the bedside table, the change table and the nursing chair before adding home decor accents like wall art, rugs and cuddly cushions for pops of colour and textural interest.
The key to a stylish home is making sure that everything works well together. Extend your style and colour palette out of the nursery and into the other rooms in the home. Consider the bed bases and bed frames of your bunk beds, double beds and single beds as well as the quilt covers, pillowcases and accessories. Take it into the living room and match your choices with the coffee table, the side tables and the bookcases in the home office.