Find The Perfect Fit
Depth, height, width, and weight are more than just numbers on the bedside sale board – they can make or break your sleep.
Here in Australia, mattress lengths and depth remain relatively consistent across manufacturers.
At Amart Furniture, our mattresses use the following approximate dimensions, but may differ slightly by brand: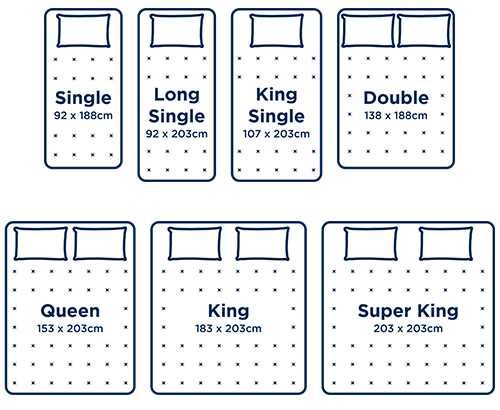 | Mattress Size | Metric | Imperial |
| --- | --- | --- |
| Single | 92 x 188cm | 3'0 x 6'2" |
| Long Single | 92 x 203cm | 3'0" x 6'8" |
| King Single | 107 x 203cm | 3'6" x 6'8" |
| Double | 138 x 188cm | 4'6" x 6'2" |
| Queen | 153 x 203cm | 5'0" x 6'8" |
| King | 183 x 203cm | 6'0" x 6'8" |
| Super King | 203 x 203cm | 6'8" x 6'8" |
The thickness of the mattress can change depending on the support, make, and features of that specific mattress.
For example, extra comfort layers, toppers, and spring variations can mean a thicker or thinner mattress.
To find out more information on finding the right support and make mattress for you, read our Mattress Buying Guide.
Body weight and height is also a consideration. As a general rule, retail and manufactures recommend buying a mattress that's at least 10-15 cm longer than the tallest sleeper, and a thickness based on the comfort of the heaviest person and specific bedframe. Speak to one of our friendly team members to discuss the right option to suit your frame.
If you're choosing a mattress for a child, opt for larger sizes to allow for room to grow. This will save you money in the long run too.
When it comes to the room-to-mattress ratio, most interior designers recommend at least a 60cm clearance around the sides of your bed.
If your room is a little cosier, you might need to get creative with storage options. Bed frames with built-in storage such as the Sorvino is a great solution for people who want more bed but have less room.
Below, we break down the pros and cons of mattress sizes to help you find your dream bed.
Single Mattress
(92 cm x 188 cm)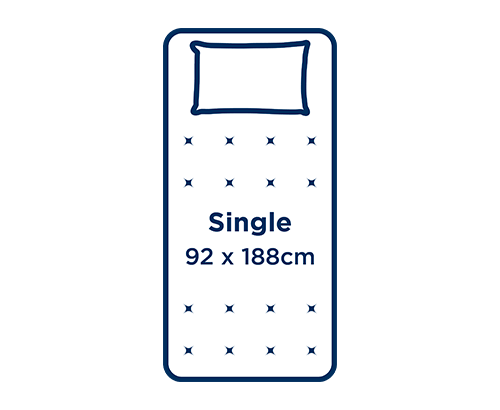 Single mattresses are the jack of all trades of bed sizing. They're awesome for kids, sleep overs, small spaces, and travelling.
Did you know that 200,000 Aussie couples sleep in separate beds? Maybe your partner is FIFO, a bed hog, or worse… snores. Yes, Single mattresses could be the solution. Why do you think hotels use them so often? Push them together, pull them apart – they are the perfect multi-function size.
Shop all Single mattresses
---
King Single Mattress
(107 cm x 203 cm)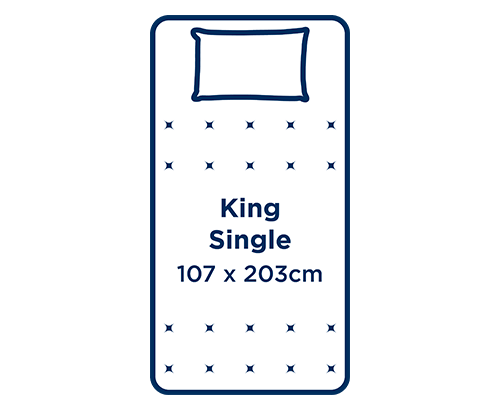 If you're looking for something slightly bigger, the King Single is your answer.
All the benefits of the Single bed size but with a little more wiggle room in every direction – particularly from head-to-toe, which is the same as a Queen bed.
Shop all King Single mattresses
---
Long Single Mattress
(92 cm x 203 cm)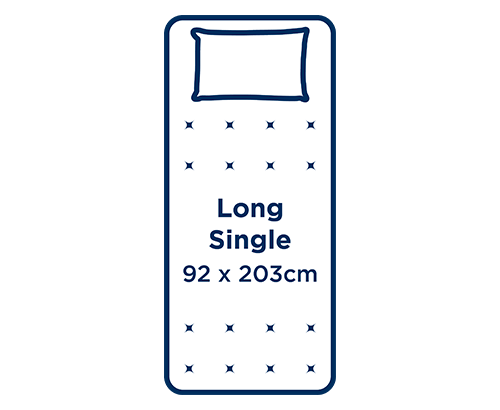 If you find you need that extra length on your Single Mattress, Amart now offers Long Single mattresses. A Long Single is perfect for smaller rooms, with a not-so-small human sleeping on it.
Long single mattresses, when placed side by side also create a split king. Perfect for when you require versatility in the bedroom which is great for Airbnb or other holiday accommodation needs.
Shop all Long Single mattresses
---
Double Mattress
(138 cm x 188 cm)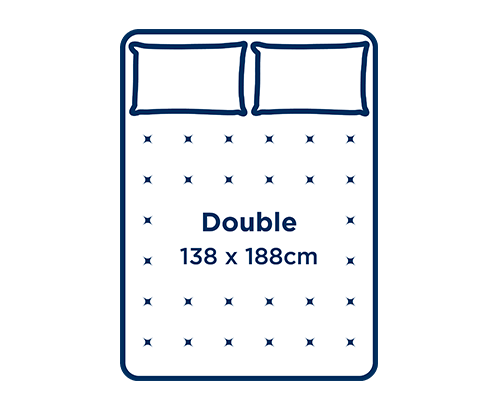 Ready to move up a level? Then start looking at a Double mattress. With a wide availability and lightweight design, Double bed sizes are great for growing teens, moving out of home, or when the dog loves to snuggle.
The downside? They're on the slightly smaller side for couples. They are also the same length head-to-toe as Single mattresses. So if you're a taller person, you may need to keep scrolling to the Queen mattress section.
Shop all Double mattresses
---
Queen Mattress
(153 cm x 203 cm)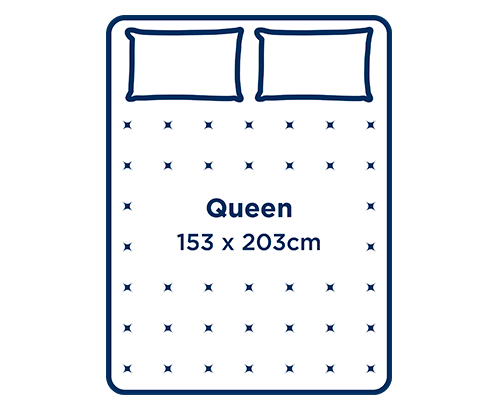 Easily the most popular size on the market, Queen bed sizes account for almost 40% of all mattress sales.
This size is where we also start hitting couple territory. Comfortable for two adults, but not taking up your entire room like a King bed size, Queen Mattresses are a great size for most bedrooms and are a happy medium for many sleepers.
Shop all Queen mattresses
---
King Mattress
(183 cm x 203 cm)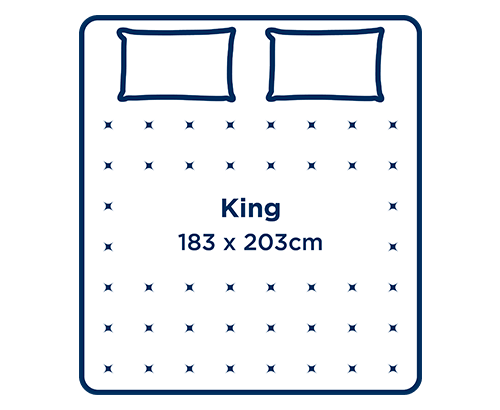 A King sized mattress is all about space and has space for you, your partner, two kids, the dog, and maybe the cat too.
Be sure to check that a King size bed will sit comfortably in your bedroom space using the suggested 60cm clearance guideline.
If luxury is what you're looking for, you can't go past a mattress fit for a king.
Shop all King mattresses
---
Super King Mattress
(1203 cm x 203 cm)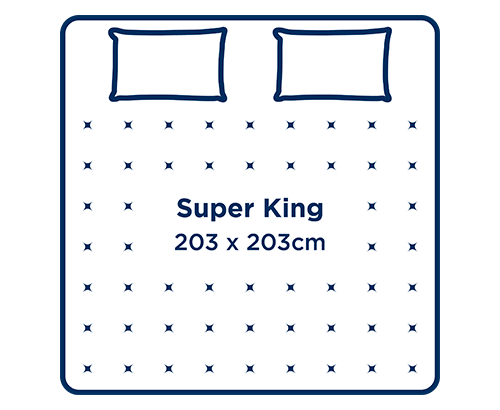 Finally we have the Super King, which is the largest mattress we stock. The Super King mattress is perfect for filling the largest of bedrooms, master retreats, and creating sleeping sanctuaries.
As the name suggests, Super King beds also take up a lot of space, and requires a generously sized room to be placed in.
Shop all Super King mattresses