Never underestimate the power of getting a good night's sleep. Now more than ever, from the hectic lifestyle most of us lead, to the incessant need to be constantly on the go, the only down time we allow ourselves is when our head literally hits the bed, or in this case, our trusted pillow. We know this all too well. A recipe for a successful sleep stems from the right support, which means having the ideal bedding, mattresses and pillows.
Your pillow is more than a bedroom accessory, it's your gateway to a good night's sleep. So we should be dedicating some time to proper care and maintenance of this wonderful head support to ensure we're getting the most out of it. So the question remains, how often should you be changing your pillow?
Most experts recommend having your pillow replaced every 1 to 2 years. This is, however, just a general rule of thumb. There are many other contributing factors that determine how to care for your pillow, to how often you should be replacing them.
But before we delve into when your pillow should be replaced, let's talk about why it is so important to have your pillows replaced at the right time. To put it simply, the two main reasons we should be replacing our pillows are hygiene and support.
Why You Need to Replace Your Pillow
Whether you're sleeping on a polyester pillow, bamboo pillow or memory foam, the fact remains, pillow replacement is a must. Overtime, the filling in the pillow will eventually deteriorate causing loss of support and accumulation of debris.
Hygiene
This is a major reason for replacing your pillows. Take into consideration the number of hours a day we rest our head on our pillows. If we are getting the recommended number of hours of sleep a day that's close to 3000 hours a year. During this sleep time, your pillow continues to accumulate different allergens like dust mites, fungus and mould. For many, the sleep quality can be compromised by sleeping near such allergens. They cause runny or stuffy nose, itchy skin and irritated eyes. It pays to replace your pillows frequently to prevent such issues from occurring. It's also worthwhile to invest in antimicrobial and breathable pillows that may reduce such issues.
To add to the equation, while we sleep, our body oils, sweat, dead skin cells and other debris slowly get trapped into our pillows causing them to stain. A dirty pillow contributes to acne causing oil and sweat especially for people with sensitive skin, not to mention illness causing bacteria that can lead to a host of other health problems. Washing your pillow cases frequently can prevent such a buildup while replacing your pillows in a timely fashion will ensure a fresh sleep that won't agitate your skin.
Our top tip: Wash your pillowcases with a mixture of hot water, vinegar and hydrogen peroxide to freshen, whiten and disinfect your sheets to ensure a clean restful slumber. Follow your pillow's care instructions for optimum results.
Some pillows are machine washable, which is a great option to having them replaced on a regular basis. Others like the memory foam pillows are made of different materials and will get misshapen in the washing machine. For the best care, spot cleaning is recommended for these types of pillows. This is particularly handy as memory foam pillows are estimated to last for 2 to 3 years so they are more of a long term investment in the world of pillow hierarchy.
Take note of these important tell tale signs to help you decide when to replace your pillows. If you notice your pillow has stains or is beginning to smell it's worthwhile looking for a replacement. Don't forget your skin is the largest organ on the human body. Listen to your body. If you're showing symptoms of a new allergy or seeing a recurrence of acne on your face, don't hesitate to change your pillow. And if your pillow still isn't smelling fresh after a good old fashioned washing, then it's definitely time to have it replaced for sure.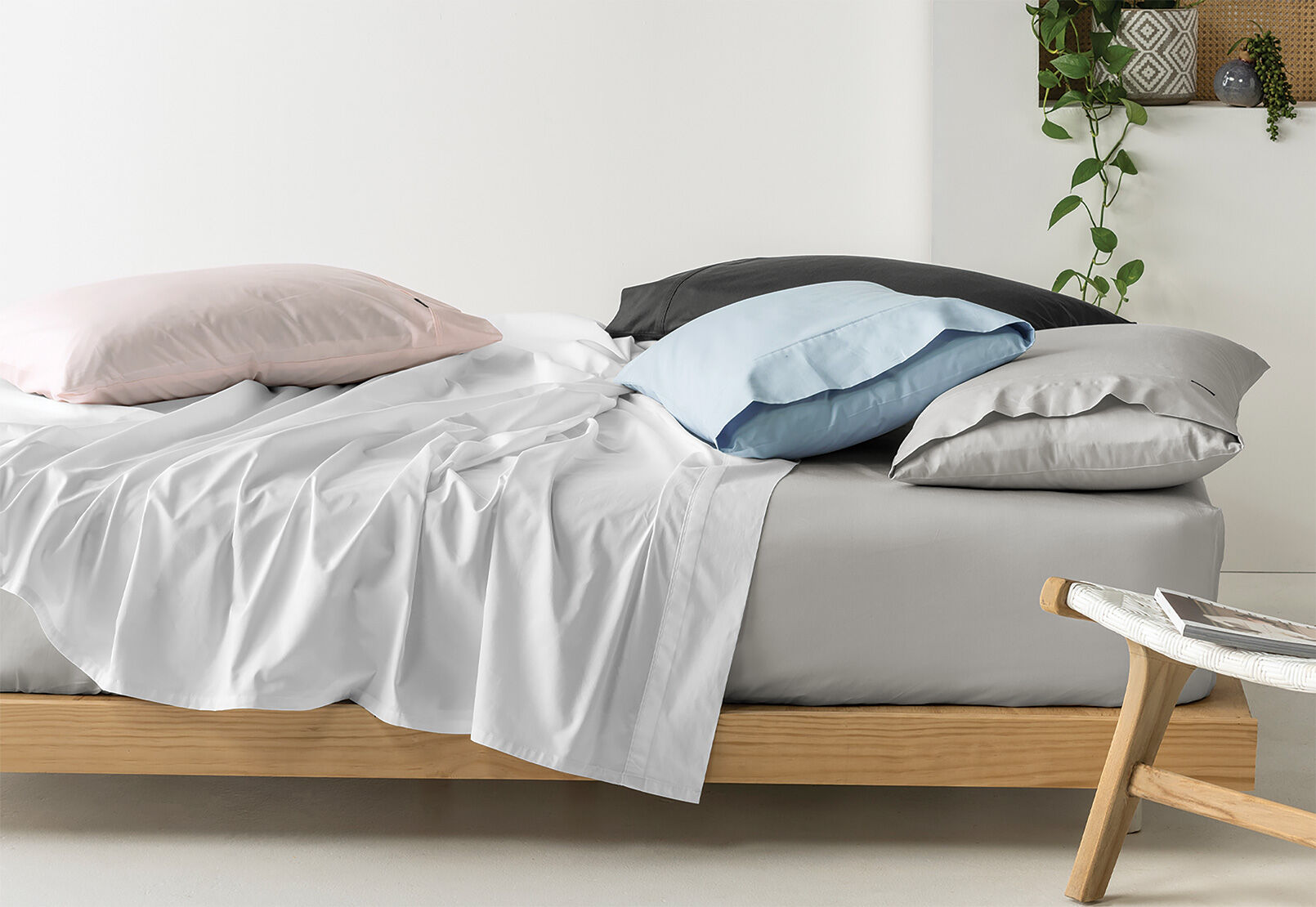 Support
This brings us to our next major contributing factor: Support. A good pillow is meant to support your neck and head as you sleep. It's purpose is to provide you with the right support, relieving you of muscle tension and in turn providing you with healthy spinal alignment so you wake up feeling well rested, refreshed and ready for a new day.
While this is true of a brand new pillow, as time goes on, and your pillow ages, it will tend to lose its shape. Overtime, as your pillow sags or flattens, it stops providing you with the support you need resulting in unrestful sleep. You wake up tired, or worse, with neck pain or stiffness that will not go away. In some cases, people who sleep on their side will experience sore shoulders from a saggy pillow.
So when is it time for a new pillow? To test how good your pillow is, try this simple trick for polyester pillows. Simply fold it in half and let go. A good pillow will easily spring back into its original shape. If it doesn't, time to get a new one.
A flat pillow is a bad pillow that is due for a replacement. Another key sign your pillow needs changing is when you start feeling lumps forming. A lumpy pillow is no one's friend. If you find your pillow starting to lose shape and the filling forming bunched up uneven balls of fluff, it's time to start looking for a replacement. It's a major obstacle to a good night's sleep and we don't want that.
Some of these changes do tend to occur over a long period of time so they won't always be obvious. It pays to do the fold test or keep in mind the guarantees that pillows come with, when you made your purchase so you can keep track of things. The timeline of support is different with other types of pillows, like memory foam, which often comes with several years of guarantee. Do remember, a good pillow is one that is thick, fluffy and smooth, free of lumps while providing ample support for optimal sleep quality.
Top tip: Make sure you're regularly changing your kids' pillows, too. Their growing bodies need constant and effective support.
Our Guide to Pillow Care and Replacement Timeline
The right care and maintenance goes a long way to extending your pillow's lifespan and ensuring you get a restful comfortable sleep. How you clean and look after your pillow depends on its make and the type of pillow so we're presented a simple guide to understanding the right care instructions for your pillow type.
Memory Foam
These pillows are longer lasting than most. For the best care, do not machine wash. A simple spot cleaning when needed will suffice. You are recommended to hand wash memory foam pillow every 2 months, with a mild detergent and let dry completely before placing it back on the bed. In terms of pillow replacement, memory foam pillows, like the best selling Manchester Pillows only need replacing every 2 to 3 years.
Polyester
These pillows are probably the most affordable pillow option for most. While they often don't last more than a couple of years, they are machine washable. Run them on a gentle cold water cycle with mild detergent every 3 to 6 months for best results. They can even be dried in a dryer on a low setting making them fuss free. They are, however, the least durable of the pillows and should be replaced every month to a year.
Feather and Down
Feather pillows have provided exceptional comfort for centuries. Their super soft filling is unbeatable, and the shape can be fluffed to a preferred shape, making them the ideal choice for stomach and back sleepers. Most feather and down pillows can be machine washed making them an ideal choice for many. Some are not suitable and should be dry cleaned. Wash them on a gentle warm water cycle with mild detergent. Air dry these pillows or place them in the dryer on the low setting for about 20 minutes. These pillows should be washed every 4 to months. When it comes to replacing feather and down pillows, every 2 years is the optimum time frame. Like the polyester pillow, you can do the simple fold test to determine if your pillow needs replacing.
Pillowcases
The all important pillowcase is your point of first contact between your head and pillow so it is vital that your pillow case as with the rest of your bedding, from mattress protectors, sheets, and quilt cover sets get the regular wash that it needs. A pillow protector is a great way to prolong the lifespan of your pillowcases. This protective covering is a simple barrier to all the dust and allergens present, and it also adds another layer of comfort and support. Once a week is the recommended wash care instruction for your pillowcases. Depending on the different fabric composition, check your labels for care instructions for best results.
So there you have it. A guide to how often your pillow needs changing as well as the care involved to achieving the sleep of your dreams. A good night's sleep goes a long way to a healthier and productive life. It's a much needed investment with almost instantaneous results to show for itself. Don't delay any further and get yourself a new pillow if the occasion calls for it. For more sleep inspiration and slumber ideas, check out Amart now.