Zoe Gilpin is a Perth based, qualified interior decorator who over the years has worked as a visual merchandiser and property stylist. These days as a mother of two, she owns and operates The DIY Decorator, an e-design decorating studio which means all of her work is carried out via online consultations and mood boards.
"I am very fortunate to be able to work from home as an e-designer, whilst also sharing my own home decorating photos and bargain finds with my followers. I love working with clients with smaller budgets, showing them that you can get the look for less. I often say that we live in the age of affordable living. Meaning that now everyone, even those with smaller budgets, can have their homes looking magazine worthy" - Zoe Gilpin
How would you describe your personal interior style?
My own personal style is very neutral. I tend to use a lot of colour in client's homes which I love, but in my own home I like a calm and relaxing vibe without the use of colour. I love using natural timbers with white and natural tones. In my home I combine affordable furniture and homeware pieces with second hand finds to create my own personal style. Because I use such a neutral palette, I like to use plenty of textured pieces as well as indoor plants.
If you had to choose 1 item from the Amart Furniture product range, what would it be?
The Penny fabric accent chair. A piece which suits so many interior styles from Scandi to Mid Century.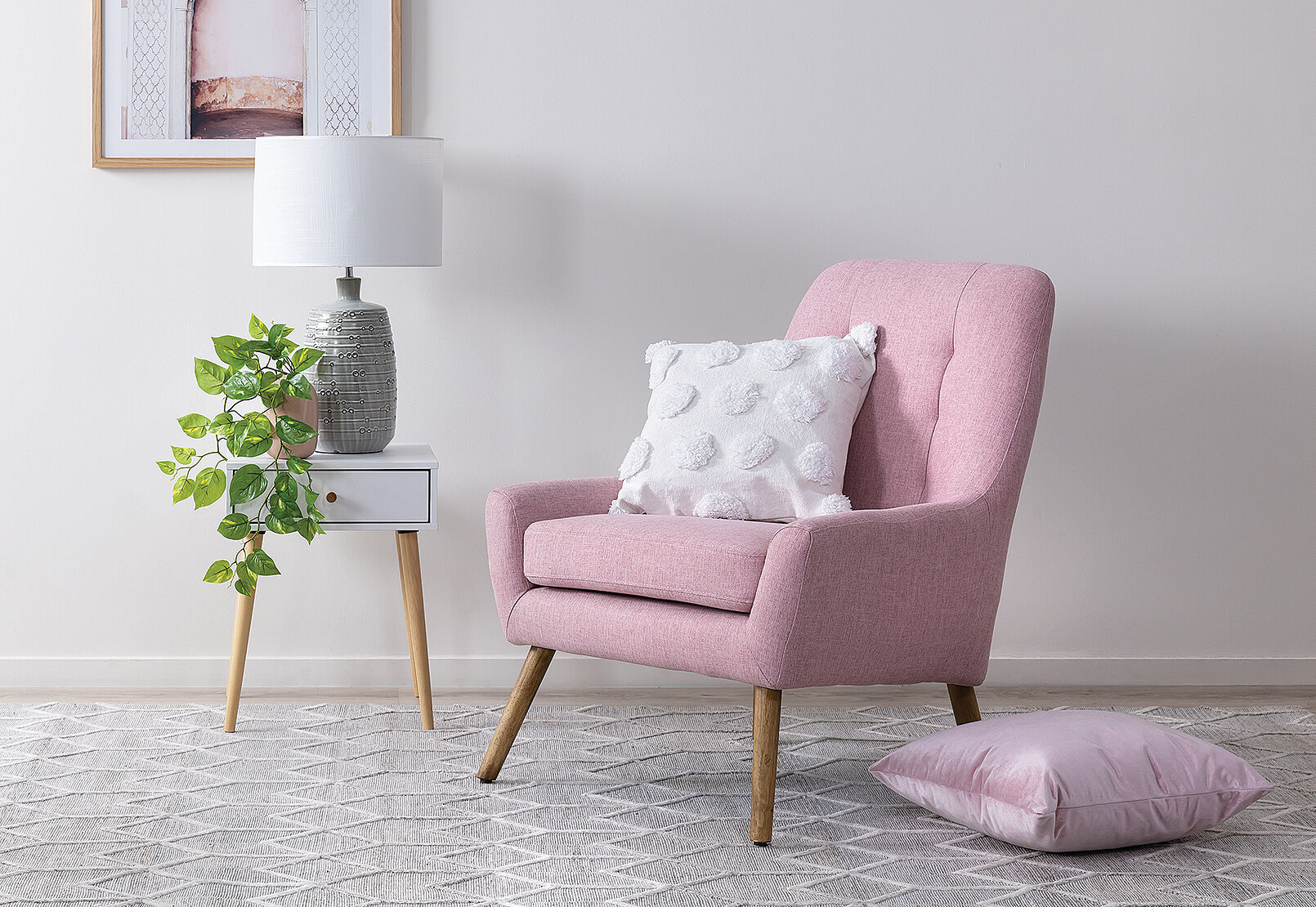 How would you style this item in your own home?
I would style the Penny accent chair with a darker timber side table to create a small sitting area. Perfect for a living area, bedroom or study. To complement the furniture pieces and to add in some warmth and texture, I would add two scatter cushions to the chair, as well as a table lamp and decorative coral piece. Add in a real or artificial large plant in a basket and you've created the perfect relax zone for your home.
What accent colours are you loving this season?
I am loving sage green and dusty pink tones at the moment. They are colours that work well on their own and also together. They are tones suited to many styles of interior whilst also working well for both summer and winter decorating. I love the use of these colours as a bold statement via wall colour or feature tiles. Or also in a more subtle way via soft furnishings and textiles.
And lastly, if you could give our readers 3 tips to create their own beautiful interior styling, what would they be?
You don't need to follow trends. Take inspiration from them, but remember to stay true to yourself and what you want in your home. That way you'll always love it.
When selecting your larger furniture pieces, stick to neutral tones such as black, white, grey or beige and bring in colour via art, decor and soft furnishings. This makes it easier to change up the scheme of a room easily in future if needed.
Less is more. When decorating a space, I always take one item out at the end. We tend to try and fit in as many items as we can in to our homes which often leads to a cluttered look and feel. Quite often a space can be transformed not with the addition of more items, but by taking some away.