Be inspired by our slice of paradise that is Perago Home: Tuscan Wedding. Immerse yourself in the charm of modern Tuscan interior design, specially crafted to fulfill your desire for exquisite European style living.
What is Tuscan Style Interior Design?
Modern Tuscan interior design ideas draw inspiration from elements of nature. The essence of beautiful Italy is captured in Tuscan interior design style, from the breath-taking countryside to the magnificent wine valley regions to the abundant marble and stone features. Perago Home:Tuscan Style Australia brings Tuscany to you. It's appeal lies in its unrivaled rustic simplicity which has captured the hearts of romantics all over the world.
What are the main features of Tuscan interior design?
The roots of Tuscan design stem from the idyllic central region of Italy named Tuscany. Not only is Tuscany known as the birthplace of the Italian Renaissance, but it is also highly revered for its art history, architecture and gorgeous landscapes. With a plethora of history and grandeur, combined with exquisite design elements and fine architecture it's no wonder Tuscan style decor is much highly sought after. In fact, it has survived the test of time and evolved to become the contemporary Tuscan interior design for the modern age.
Key features of Tuscan Interior Design:
Tuscan Style Materials: Tuscan inspired interior designs draw inspiration from the elements and natural materials of the region. As such, there is a delightful marriage between beautiful natural stones and dark stained woods native to Tuscany. Immerse yourself in a home, made sturdy by terracotta floors. Granite kitchen tops, along with sandstone walls and hardwood flooring add style and flair to Tuscan kitchen interior design. Quite often left unglazed, these stones offer an unfinished look, on par with crumbling stone look, that blend perfectly with open ceiling beams of dark wood and striking hand-painted mosaics.
Colour Palette: Another key feature of Tuscan living room interior design is the warm and inviting colour palette like no other. The Tuscan colour palette is a grounding mix of natural earth tones, sandy brown, neutrals and dark browns. The clever use of bold colours on your bed make for a welcoming atmosphere much like the Coral Kalia King Quilt Set include striking terracotta reds, cypress and olive. The colour palette is further distinguished by black wrought iron on window grills, amongst other things, to create a striking feature. Wrought iron spiral staircase accent the beautiful tones while hanging wrought iron chandeliers, lamps and other fixtures create an inviting atmosphere to relax in.
Design Elements: Tuscan house interior design has magnificent architecture and design elements. High ceilings are a main feature of living rooms while curtains consist of light natural fabric to allow abundant natural light in. Other fanciful architectural elements such as ceilings and interior walls are left exposed for a rustic feel. In summertime, enjoy the soft caress of comfortable linen bedding much like the French Linen King Sheet Set.
Quality Craftsmanship: Modern Tuscan interior design captures the essence of Tuscan style. Aged pieces are another key feature of Tuscan style decor. Furniture pieces are elegant, ornate and beautifully carved to showcase expert craftsmanship and superb quality to stand the test of time. Modern Tuscan style furniture such as the Killarney Table Lamp encompasses that elegance while creating pieces which are simpler and more streamlined without compromising on the old world charm.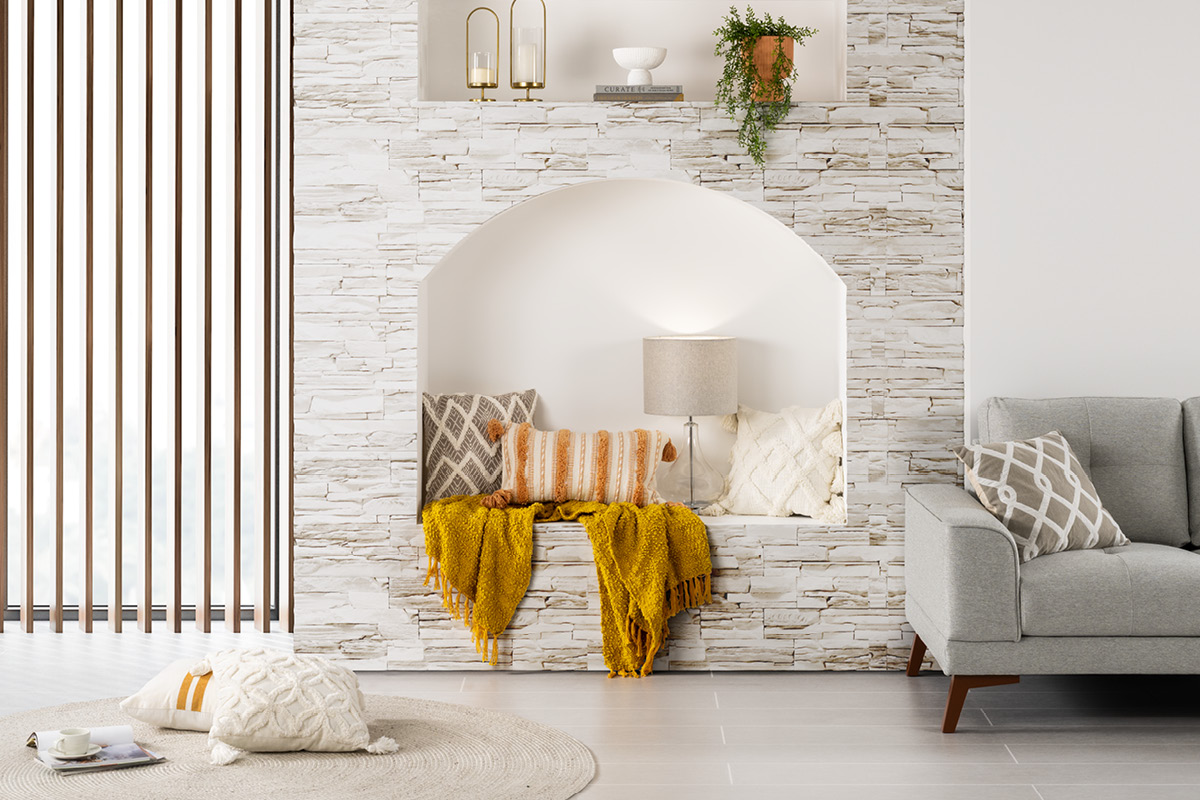 How do I make my house look Tuscan?
The Tuscan inspired interior design is a sophisticated and eclectic look that is guaranteed to be a timeless classic. With a little creativity, and interior decorating, recreating this inspired design is easier than you may think.
Your Guide to Creating a Tuscan Inspired Home Interior:
Colour Palette: It goes without saying that the colours of a Tuscan home are a wonderful blend of warm colours, think sunsets in wine country. We aim for gorgeous hues of golden yellow as your backdrop in your bedroom. Brighten up the ambience with an assortment of cushions and pillows like the Somerset. Perhaps a nice beige or cream for the living room areas and an understated dusting of terracotta in the kitchen for a nice fiery touch. Other colour choices include darker tones of cypress or olive. Tones of green, like sage are ideal options of colours to match the Tuscan theme.
Textured Wall: When it comes to modern Tuscan home interior designs, plastered walls are a key traditional feature. Originally made of thick plaster, modern methods of recreating this look is achieved through the use of faux paint technique. This method is as simple as using sponges to create impressions on the wall for a textured apperance.
Furnishings: Beautifully crafted and ornate wooden furnishings are a staple in any Tuscan interior. Heavy wood furnishings, especially those that have been stained dark like the Winslow Lamp Table, create a contrast against the light tones of the living room. You could almost say they are the piece de resistance of Tuscan interior design homes.
Wrought Iron: The wrought iron is quite simply, the masterstroke in the world of Tuscan design. It's rustic charm lends itself to creating an aged elegance to the modern Tuscan interior design. Decorate your home with home decor pieces such as wrought iron lamps, curtain rods, window railings, light fixtures, delightful accessories like the Lanto Candle Holder and not to be forgotten, the celebrated stair railing for a striking conversation piece for years to come.
Flooring: You could say that quite possibly the best feature of Tuscan interior design is the flooring. Originally crafted to withstand the hot summers of Italy, Tuscan flooring has typically been manufactured from stone or marble for a much desired cooling effect. Other natural materials include hardwood, wood and tile for a consistent theme. Floors are kept bare to create a wider surround amidst beautiful ornate wooden furnishings.
With these guides in mind, you are one step closer to achieving your dream of living in the much anticipated Perago Home: Tuscan style homes Australia.