Introducing the new and exciting Perago Home range for the ultimate dream living space. This modern coastal interior design is specially crafted to fulfil your every wish. When it comes to creating an inner sanctum, choose pieces from the Perago Home Modern Coastal range. The modern coastal style embraces modern sophistication combined with a beach atmosphere right in your own home.
The Perago Home: Modern Coastal range is a classic union of sleek minimalist home decor with coastal design resulting in an inviting space filled with clean lines, coastal colours and understated beachy surroundings.
What is contemporary coastal style?
Contemporary house designs highlight a connection between indoor and outdoor living for a more open plan concept. Common design elements such as tall, irregularly shaped windows, bold geometric shapes and floor space spring to mind when it comes to contemporary homes.
With contemporary coastal decor, from lamps to cushions and throws, the emphasis is on clean lines, textures, and natural materials including bamboo. When it comes to creating contemporary and modern coastal interiors, go bold but stick to simple lines and basic finishes such as the Kalia Quilt Cover Set in white. Creating a light space that is both bright with an airy feel is essential in the contemporary coastal interior.
What is the difference between Modern Coastal and Modern City?
There are a number of differences between the modern coastal interior as compared to modern city living. Here are the main 3 differences:
Design: Modern Coastal design ideas revolve around a mix of contemporary style coupled with a light and airy living space while urban city interior is sleek, modern, and places emphasis on a fuss free living space.
Decor: Modern coastal decor ideas consist of natural fibres, earthy tones, and linen fabrics. Modern city decor is minimal, materials quite often are industrial and patterns are hardly a feature at all.
Colour Palette. Modern coastal veers towards the cool ocean tones of blue with pops colour using decorative cushions such as the boho Riri or Jessa cotton Cushions, along with a tremendous amount of white for a bright feel. Urban colour palette ranges from tones of grey, granite and earth for a more industrial inner city atmosphere.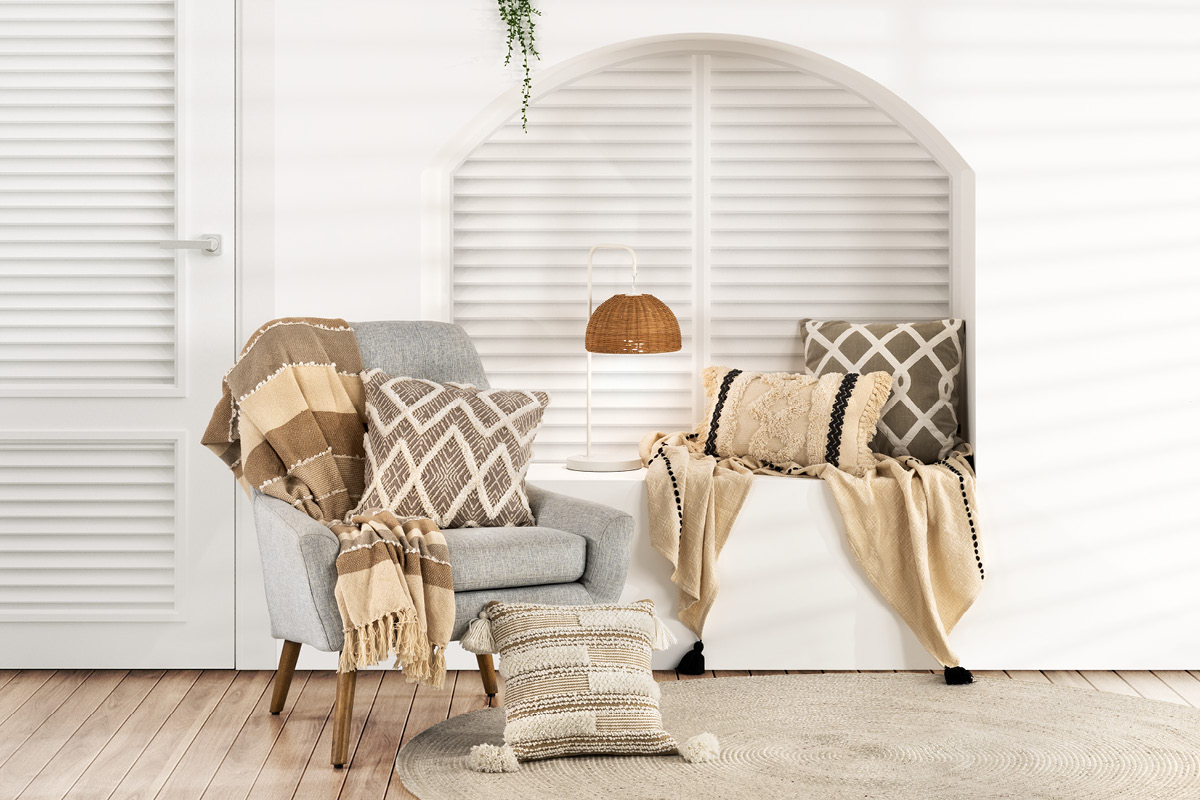 The Highlights of Modern Coastal Style
With the modern Australian coastal style, it goes without mention that the biggest draw of a modern coastal home design is the fact that you're lulled into a sense of summer all year long. Perago Homes is crafted such that you can enjoy the summertime atmosphere in your living space without having to leave home.
What is coastal interior design style?
Enjoy the scenic oasis that is coastal interior design. Characterised by the reflection of natural seaside elements, the sun, sand and the surf, the Perago Home range in Modern Coastal helps you achieve your dream of living in a modern coastal interior. Whether you choose a classic nautical design or gravitate towards a more minimalist home decor with a bohemian coastal vibe, the modern coastal interior encompasses the element of open and airy home design.
Modern Coastal Interior design draws its influence from 3 main genres:
Minimalist Beach Feel. This simplistic cool and coastal style lends itself to creating a minimalist modern coastal interior with all the trimmings of being at the beach.Open floor plans with neutral tones and white walls, accompanied by natural light and soft linen furnishings complete the beach house style.
Mediterranean Delight: When it comes to modern coastal interior design ideas, no one does it better than the people of Spain and Greece. Mediterranean interiors embrace the quintessential modern coastal colour palette of whites and blues while incorporating the warm hues of rust, terracotta and yellow. Bathe in the welcoming warmth of Mediterranean living with the Kalia Quilt Cover Set in Coral. Exposed beams and arches in your home provide a rustic flair signature to the Mediterranean modern coastal interior design.
Island paradise: Fulfil your dream of living in an island paradise with modern coastal interior design. Often more bohemian in nature, this style of modern coastal interior is a classic design style for many homes by the beach. A combination of warm and light colours act a backdrop against crisp white shiplap walls and soft window treatments to create an island feel.
What is the Difference Between Beach and Coastal Décor?
Simply put, there is hardly any difference between Beach and Coastal decor. Both beach decor and modern coastal home designs celebrate an emphasis on abundant light, and spacious living to create a home with an airy feel like no other.
With a modern coastal home design to boot, this is the best of both worlds. You'll honestly feel like it's summer all year round.
How can I make my house look more coastal?
Modern coastal home interior design has come a long way since nailing a boat ornament onto the living room wall of your summer beach house. Achieving the modern coastal interior design style of your dreams is simpler than you think.
Your guide to modern beach house interior design ideas:
Clean Your Colour Palette: Opt for a light colour palette when it comes to a coastal theme. Shades of blue and white such as the Mollie Quilt Cover Set mimic the sky and ocean, thus are an essential coastal design feature. White creates a light, bright and airy feel to your home for a more spacious living or bedroom area.
Choose Natural Decor: Traditional coastal design incorporates natural elements from the sun, sand and sea. These include natural wood for the living space such as rattan furnishings. Opt for jute woven baskets in the laundry hamper. And for modern coastal bedroom ideas, choose linen fabrics in crisp white. Blue and white stripes on decorative pieces such as the Lailar Table Lamp and loose linen upholstery make exquisite coastal theme bedding.
Open Living Area: Modern Australian coastal style highlights the concept of a smooth flowing living space. Much importance is placed on ensuring an unhindered transition, from indoor living to outdoor living, from the kitchen to the living area to the bedroom. The coastal home creates a home of breezy satisfaction and relaxing comfort all in one. Trust in Perago Home: Modern Coastal for your summer haven dreams come true.