Be inspired and transform your living room with a beautiful rug. A great rug is the centerpiece of any living space. Interspersed with colour, life and texture, a rug is the glue that holds everything together to form a cohesive appearance that works in aesthetic harmony with the rest of your living space.
We want you to choose the right rug for your home, one that complements your home designer sense of style while providing functionality and purpose. With the numerous styles, colours, sizes and materials available on the market, choosing a rug can be a daunting task. We're here to make it as simple as possible. With in-depth knowledge and helpful tips from our experts here at Amart, we present our guide on living room rug style ideas and how to choose the right rug for your space.
Choosing the Right Rug Material
When deciding on the kind of indoor rug for your living room design, one of the first things to take into consideration is the material of the rug. From cleaning tips to fading and general wear and tear, the quality and durability of your rug comes back to the material it is made from. Here are some of our top picks of suitable rugs for the lounge room:
Wool Rugs
Wool rugs are on top of the list of excellent rugs and for good reason too. These best selling rugs are crafted from high durability wool coupled with colour-retention qualities making them the ideal choice for high traffic areas like your living room. With a little tender loving care, your wool rug will last you a lifetime. Thanks to high resistance fibers, your rug will hardly look worn out. It's the perfect choice for cozying up your home in the winter months.
Natural Fibers Rugs
For an organic feel that is both functional and aesthetically pleasing, select a rug made from natural fibers. These rugs are primarily made from sisal, jute and seagrass. They instantly transform your living space by bringing a sense of warmth combined with a cool seaside vibe. Sisal and seagrass are both highly durable making them ideal for high traffic areas like your living room.
Synthetic Fabric Rugs
Possibly the most durable rugs of choice, synthetic rugs manufactured from nylon and polypropylene are made to last. They're stain resistant while being resilient against moisture and mildew. Because they also don't fade, they're just the thing for a home with pets or if you simply prefer a little low maintenance for a home with high humidity.
What Size Rug to Choose
When it comes to choosing your new rug, size does matter. After all, it is the focal point of your living room. Depending on your living room and space, carefully plan out the area you would like covered. The rule of thumb is go as big as possible in the living room. This automatically makes your room look larger while cohesively connecting all your furniture together.
Typical rug sizes include:
160 x 230cm
180 x 230cm
180 x 270cm
A simple tip is to mark out the size of your ideal rug with masking tape on your living room floor, so you can see exactly how large the rug needs to be for your space. Or, if you already have your eye on the rug of your dreams, mark out its size so you can see exactly how it'll look from all angles once you've brought it home.
Living Room with Rug Ideas
Home decor is a showcase of personal sense of style. We love the array of colourful rugs with gorgeous patterns available on the market today. Selecting the rug of your choice is a reflection of your home interior design.
Whatever your style, preference and colour palette, here are just some of the stand out trends and styles to inspire your new choice of rug for living room ideas.
Au Natural – Embrace laid-back style and organic design with a natural theme. Complement this seaside look with a flatwoven rug crafted from jute or cotton.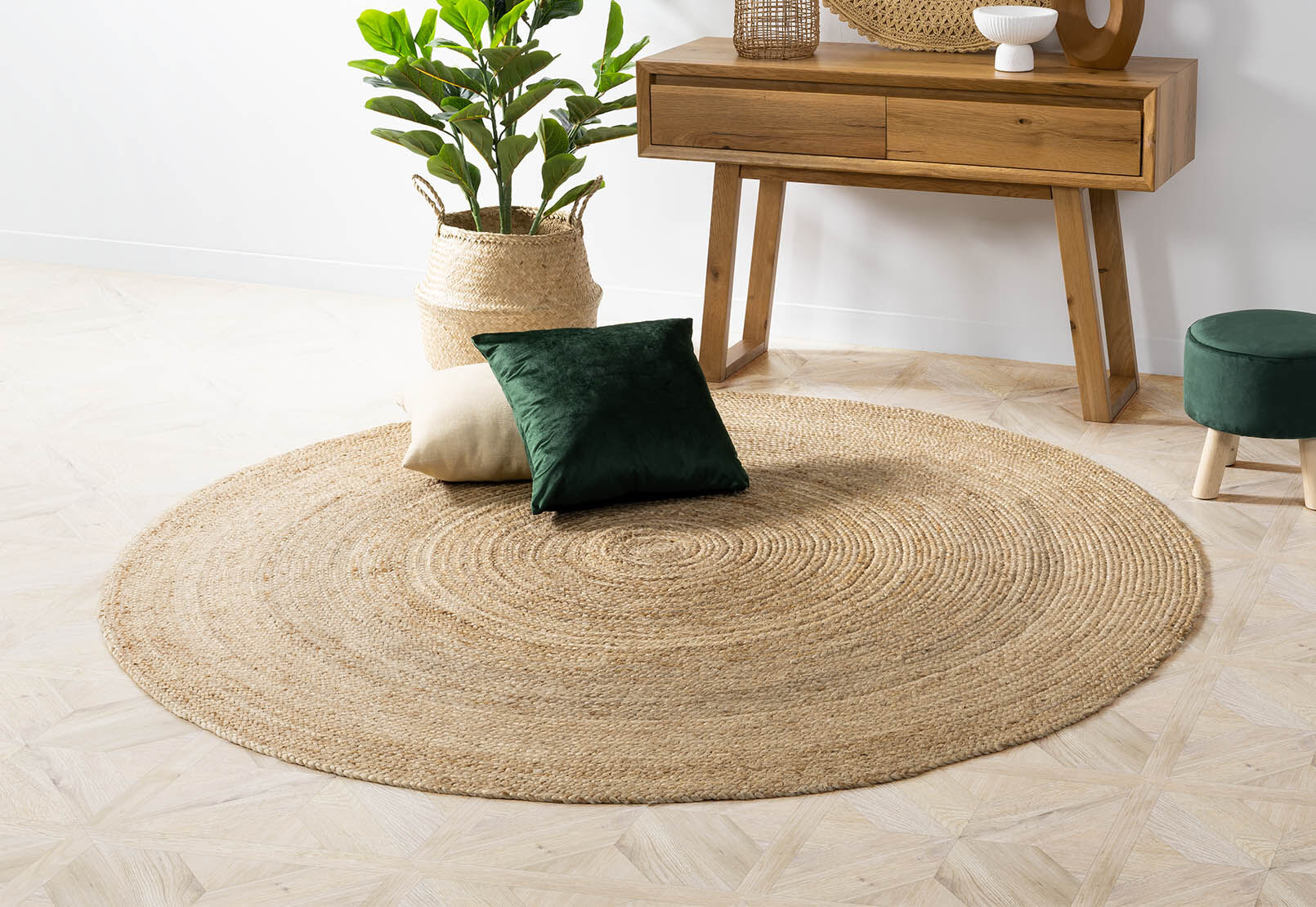 The Retro – Bring the classics back with seriously cool retro vibes. We recommend a colourful rug with a vibrant pattern, or try a high pile rug for a shaggy retro look
The Minimalist – We love the sleek minimalistic look that neutral colours, shades of black and white and clean lines bring to the table. Choose a plain coloured rug in a light or dark shade to create a fuss free backdrop.
The Rainbow – For those who love a splash of colour, choose a statement rug as your focal point. Layer on furniture in colours of the same spectrum, or dial it up with a riot of clashing colours.
The Globetrotter – Show off the treasures you've brought home from international adventures by embracing an eclectic style. A bold tribal print or persian rug livens up your living space while adding a layer of cultural diversity.
How to Style a Rug for Living Room
Timing is Key. For a real outstanding showpiece of a living room, we recommend choosing a stand out rug for your living space and then building your room around it. If, like most, you have existing pieces of furniture you love like a coffee table or family dining table, then purchase a rug that will complement your palette and design style so it's a supporting element to the end result.
There are numerous ways to position a rug in your living room, depending on the size and layout of the room, existing furniture and functionality. We look at three main design styles that take precedence in the world of rug styling for a living space.
The Expansive Style. Fashion this highly popular style at home to recreate the feel and look of carpeted flooring. If you prefer shaggy rugs on hardwood flooring, this is the one for you. The expansive style aims to cover most of your living area with carpet, leaving a significant border around the furniture in your living room so it doesn't appear cramped. Your lounge, coffee table and other bits and pieces should comfortably fit within the sphere of your rug for a nice comfy feel.
The Statement Rug Style. This method of styling rugs aims to showcase your rug as a centerpiece. Choose a rug of vibrant colour and pattern but also one which fits your surroundings.Apart from having a large rug in the middle of your room, you could opt for a small circular rug in between the sofa and the armchair. For a more outlandish idea, hang your rug on the wall as a statement piece. The only rule of thumb? Nothing is placed on the rug itself. It is, after all, the focal point of the room.
The Accent Style. With this style of rug placement, your lounge or furniture is the star of the show. The rug merely aims to accent your furniture. If you have a gorgeous lounge suite or sofa that you wish to showcase, then the accent rug styling is for you. The only prerequisite? You will need your rug to be at least 10-15% smaller than the furniture in place so it doesn't supersede your living room furniture pieces.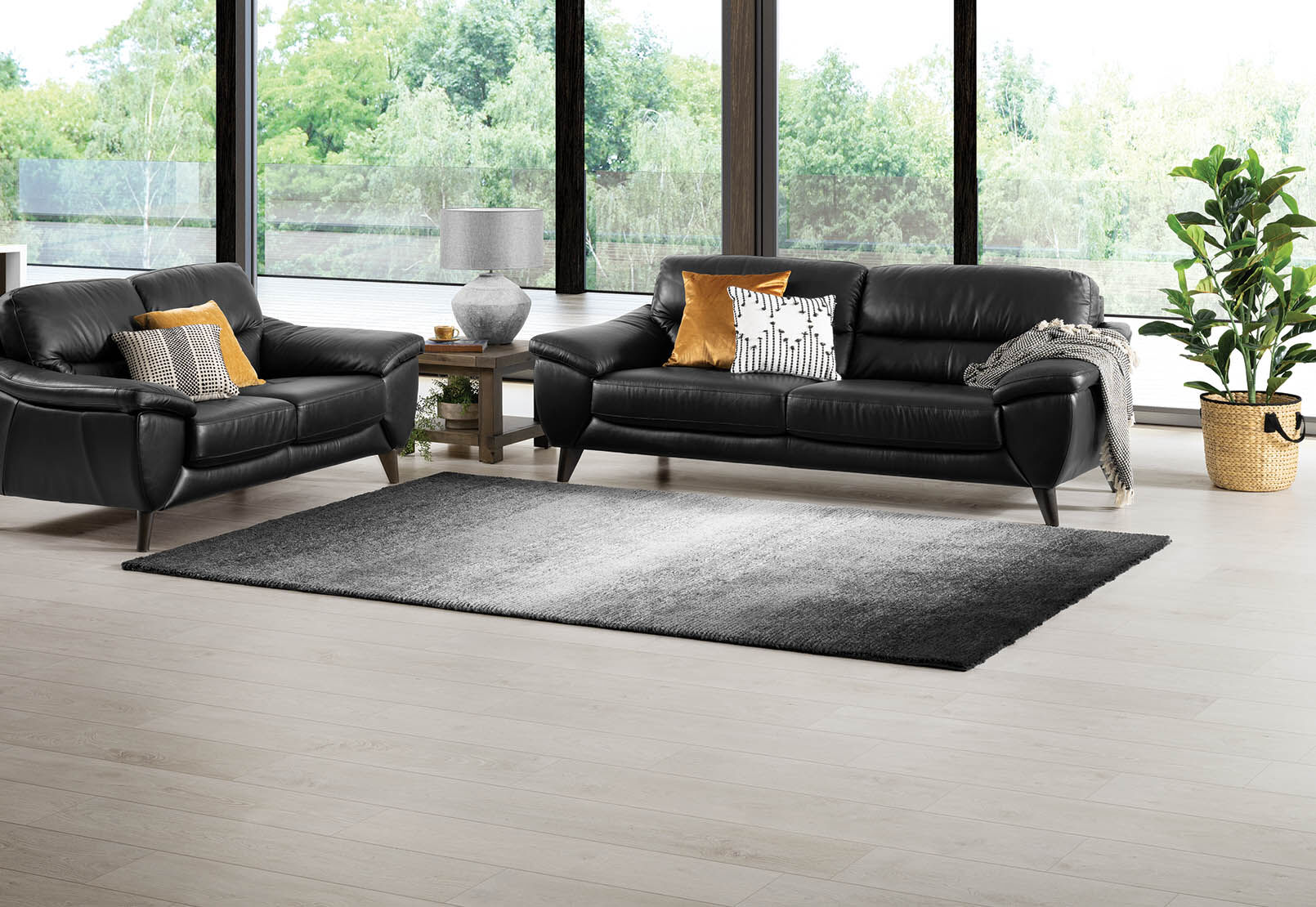 Dining Room Rug Ideas
The dining room is the place where everyone gathers for meals at the table, family feastings, kids projects and other DIY, the list goes on. It conjures up images of messy meal times, crumbs on the floor, drinks spilling amongst other things. As contrary as it may seem to have a rug, it's also ideal for a rug for the very same reasons. Having a rug or two in the dining area, protects your floors from scraping chairs and other messes. A rug also absorbs sounds and of course, they complete the room and add to the aesthetic grandeur of a dining room.
With the right choice of rug for your dining room, cleaning and maintenance is a cinch.
So how do you choose a rug for your dining room?
Material. We recommend a low pile rug. High pile rugs trap dirt and crumbs. A flatweave rug is easy to vacuum and your chairs will slide more easily too. Wool and synthetic materials are your friend as they are more stain resistant and easy to clean.
Colour and Pattern. Remember that dirt shows up more easily on a lighter rug so pick a neutral colour that compliments the colour scheme of the room. A darker and more ornate pattern will suit a simpler dining set and vice versa.
Shape of Rug. Simply put, pair similar shapes together. A rectangle or square rug will suit a rectangular dining set. A round table suits a round rug. Although a little mixing and matching doesn't hurt anyone and if it feels right for you, go for it.
Bedroom Rug Ideas
When it comes to rug styling in your bedroom, the options are plenty. The general rule of thumb for a rug under your bed? The area rug should extend at least three feet from all sides of the bed. The bedroom is a place of solace, for rest and recuperation. We want to create an inviting space and the right rug will help achieve that. Choose rugs with character to add colour and vibrancy to your bedroom. Shaggy rugs like the Seville complement throw pillows, cushions like the Jewel and are great options for creating a warm and cozy ambience especially in the winter months. Smaller sized and uneven shaped rugs are ideal for layering or creating interest in a small space or reading nook. These go great under a floor lamp or bedside table to break up the room into smaller spaces.
With a wide selection of rugs from modern graphic design, traditional weave patterns and eclectic tribal designs, choosing a rug from Amart to suit your style and preferences is a breeze. Check out Amart Furniture for more rug inspiration.