Creating a sophisticated outdoor area not only extends your available living and entertaining space, it enhances your quality of life. Why would you not want to spend more time relaxing in the great outdoors when Australia boasts such natural beauty and the perfect climate to enjoy it?
Many ways to enjoy a stylish outdoor space
From sunrise to sunset, there are many ways to enjoy all your indoor comforts in the great outdoors when you choose the best outdoor furniture from Amart:
A comfortably-furnished alfresco or pergola is the ideal spot for easing into the day with your morning cup of coffee.
After a long, hard day in the office, where better to sink into a comfy outdoor lounge chair and wind down with a refreshing beverage?
A modern outdoor space provides the perfect setting for firing up the BBQ and gathering your friends and family to enjoy a relaxed meal together.
When you style with exciting outdoor furniture pieces such as daybeds and sunlounges, firepits and hanging chairs, your outdoor space can continue the flair and inspiration showcased in your interior design
Furnished with the best outdoor furniture Australia wide, a stunning outdoor sanctuary delivers that all-important 'me-time' peaceful place in a natural setting.
What to look for when choosing outdoor furniture
Outdoor Furniture Options:
So you want to create a magazine-worthy outdoor space that makes you feel like one of the rich and famous? Here are pieces of outdoor furniture you should consider adding to your outdoor space:
Outdoor lounges offer a truly relaxing place to lie about and look ravishingly glam in your oversized sun hat and sunglasses.
Outdoor coffee tables and side tables are must-have accessories to your outdoor lounge – your cocktail has to sit somewhere!
Outdoor dining sets bring the formality of your dining room into your casual garden space – add a few candles and discover the ultimate way to dine!
Outdoor umbrellas are essential poolside perks or garden accessories in areas with no cover from the sun. Being a deeper shade of red than the lobster being served isn't cool!
Luxurious daybeds and sunlounges add interest and designer flair to outdoor spaces and poolside areas.
Bar tables and bar stools are perfect for balconies and small alfresco areas. Bar tables and bar stools let you add trendy beer-garden feels to your outdoor entertaining area.
Finish the look with outdoor cushions like the gorgeous Daintree UV and water-resistant cushion, and define designated outdoor lounge and outdoor dining spaces with trendy, UV resistant outdoor floor rugs.
The Size of Outdoor Furniture vs Available Space:
To create a relaxed mood in your outdoor space, choose outdoor furniture pieces which fit comfortably within your alfresco, pergola or paved outdoor entertaining area.
In big pergolas or paved outdoor entertaining areas, small 4 seater outdoor dining sets will fit easily but they will look lost and lonely! Choose the right size dining table and chairs for your needs but also for the available space – easy to do when you browse the extensive range of 2, 4, 6, 8 and 10 seater outdoor dining tables at Amart.
Conversely, a big outdoor dining set and outdoor lounge crammed into a small alfresco is not going to create a comfortable, relaxed vibe in your garden area. Leave enough room to move easily around the furniture pieces when they are being used.
Do you have a big family and lots of friends but you're pushed for space in your outdoor area? Choose an 8 or 10 seater with a compact design such as the 11-piece NOBBY outdoor dining set with space-saving chairs.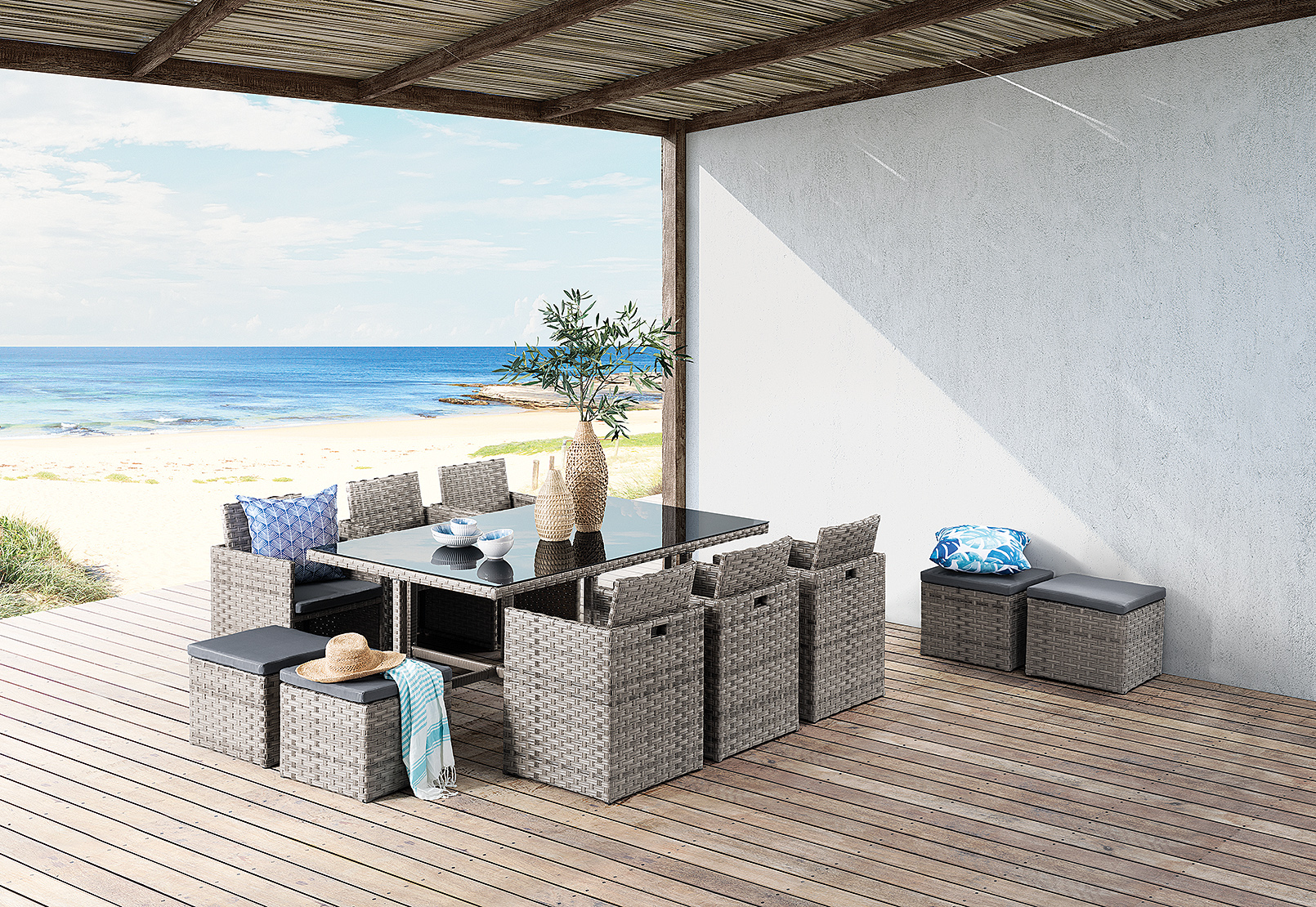 Pictured: NOBBY11 piece Outdoor Dining Package
Outdoor Furniture Materials:
The best outdoor furniture materials to suit different environments and lifestyles include:
100% powder coated steel
Steel frames with tempered glass tops
High quality timber outdoor settings
UV resistant PE wicker with aluminium or galvanised steel framing
Aluminium outdoor settings
Timeless and low-maintenance powder coated steel and tempered glass is a popular combo for no-fuss contemporary style in your outdoor area. Boasting sleek finishes and tasteful simplicity, there's no need to worry about spills when you have easy to clean surfaces like glass and steel. Check out the Sailor 7 piece outdoor dining set designed for easy comfort.
Effortlessly stylish, wicker has that chilled, outdoorsy vibe that blends easily with outdoor accessories and décor for a perfectly harmonious look. It's also easy to clean – natural wicker can be vacuumed, while synthetic wicker can be hosed down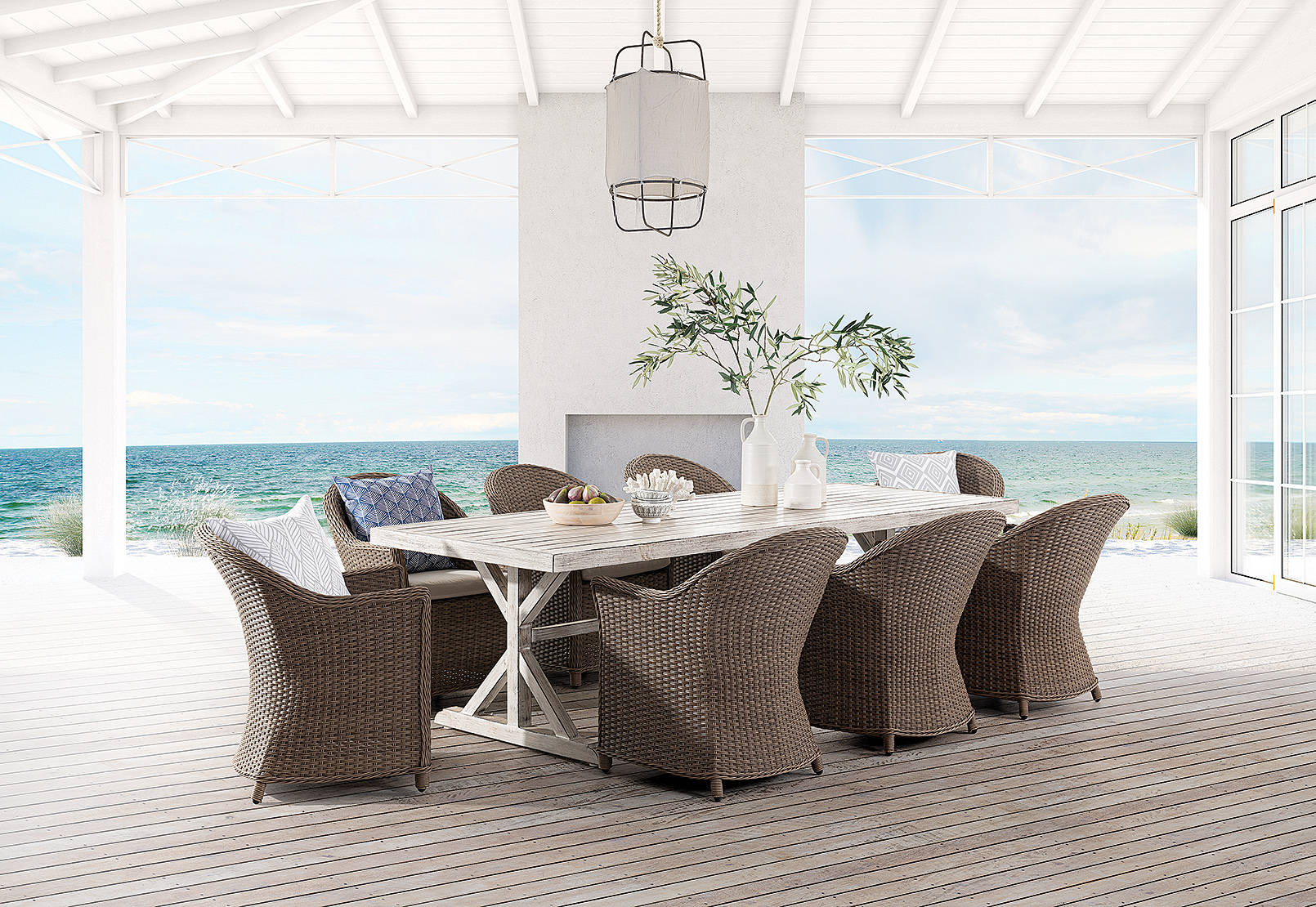 Pictured: MIAMI Wicker Collection
Timber outdoor furniture is a firm favourite if you want a solid, traditional and classic look, and it's a great choice in windy conditions! The best outdoor furniture Perth pergolas display is made of timber, because that "Fremantle Doctor" afternoon sea breeze can blow pretty hard!
For a sustainable option you can combine the look of natural timber with green credentials using acacia wood. Acacia is a very dense hardwood which looks attractive and is hard wearing. In the LILLIAN Collection high quality acacia timber is paired with high density foam cushions for an extra comfortable and durable outdoor lounge.
Pictured: LILLIAN 4 piece lounge
Outdoor types who like to switch up settings from intimate dinners to fun-in-the-sun pool parties, will find chic and sleek lightweight aluminium furniture easy to store and move about.
A popular choice for poolside and coastal settings, aluminium outdoor settings are also ideal for locations with high humidity and rainfall because of its rust-resistant properties. Even better, aluminium needs very little maintenance other than an occasional wash with soapy water.
If you're chasing a tan or your vitamin D quota from the sun, a stylish aluminium sun lounge such as the AMARI, is the perfect poolside partner. Just add your favourite summer cocktail and get ready to binge the latest show on your iPad or smart tablet.
If you like the look of timber but want the lightweight versatility of aluminium, look no further than the timber-inspired Mornington lounge/dining combo crafted from easy-care rust-proof aluminium. This clever and functional design lets you lounge about in true A-lister style while the elevated table means you can enjoy a meal without moving a muscle!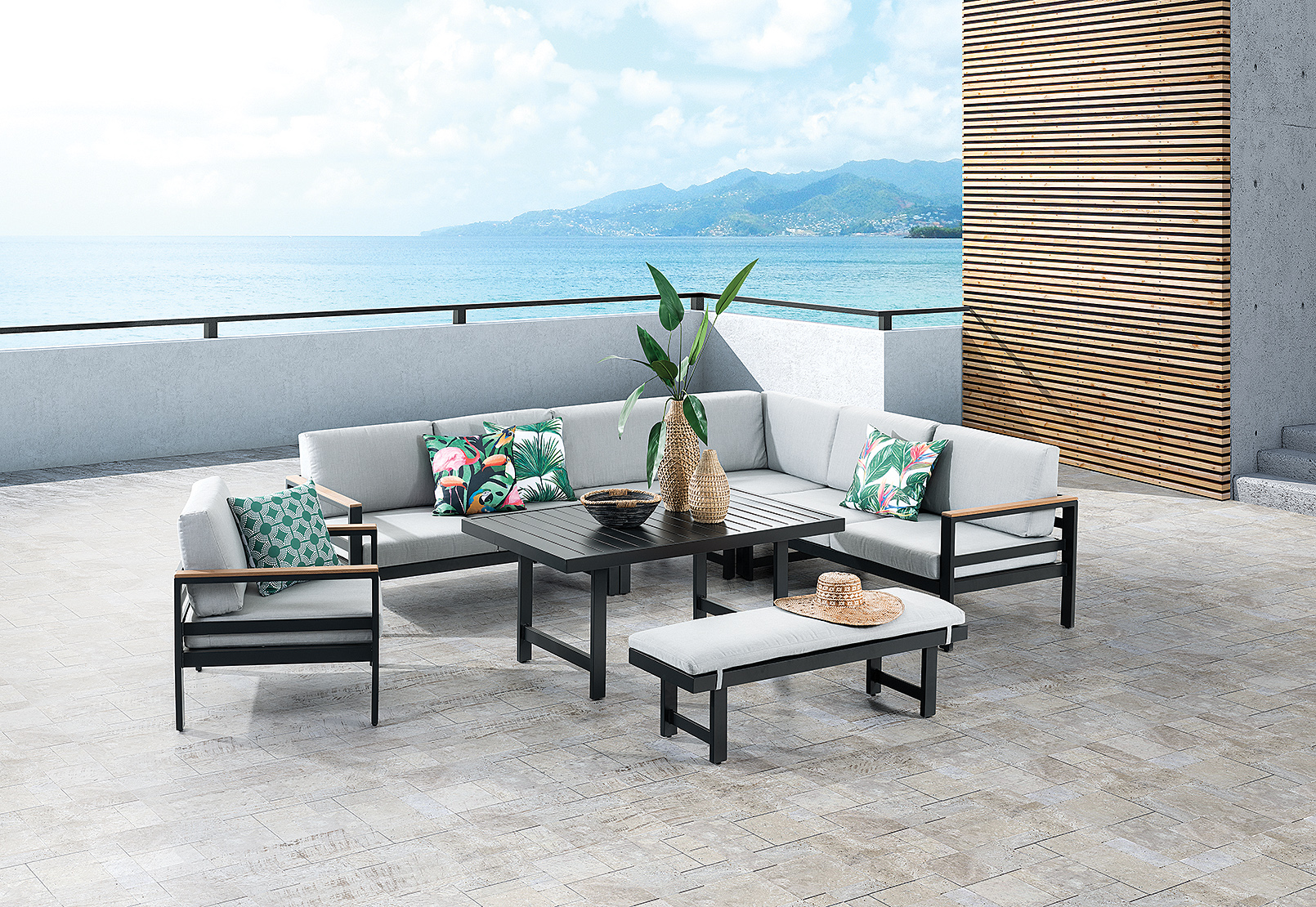 Pictured: MORNINGTON Lounge/Dining Setting
Outdoor Furniture Maintenance:
If you want to spend more time relaxing in your outdoor space than maintaining it, choose the best outdoor furniture for the environmental conditions and a maintenance level to suit your lifestyle.
Tips for easy maintenance include:
Choose a covered outdoor living area for your outdoor furniture, protecting both you and your furniture from the harsh elements.
Regular staining using the best oil for outdoor timber furniture will be less intensive than if you only do it occasionally.
Cover your outdoor furniture with specially designed waterproof covers during the wet winter months.
Choose heavy outdoor furniture for windy locations and rust-proof outdoor furniture for wet climates or seaside locations.
Mix and match outdoor furniture to create a unique setting
Hey – it's the great Australian outdoors, you can afford to be a little wild!
If you want to create a unique look that expresses effortless individual style, the trick is to combine outdoor furniture pieces in a way that looks relaxed but coordinated by finding some common elements in different outdoor furniture pieces.
You may even discover the best outdoor furniture designs include outdoor lounge suites and outdoor dining sets that are different but work well together using colours and outdoor accessories to unify the look.
If you want to combine materials such as timber, aluminium or wicker – you can, using what stylists call the "rule of three". Simply put that means repeating the use of the material three times throughout your grouping.
You'll get many years of enjoyment out of your outdoor furniture. If you want the best outdoor furniture in Brisbane for sunny conditions, the best outdoor furniture in Melbourne for inner city living, or the best outdoor furniture in Sydney for balconies or courtyards – pop into your local Amart Furniture store.