How many times have you said to yourself "I really need to get a spare bed so we can have overnight guests"? Maybe your kids have been asking you for sleepovers. Or you need somewhere for visiting friends or family to sleep. If a lack of space is holding you back from putting in a spare bed, consider a pull-out sofa bed. Also called a futon style bed or click clack bed, they all refer to the same thing – a lounge that houses a mattress and features a folding mechanism that turns it into a bed. It's time to ditch the air mattress and gather some sofa bed inspiration that will have you inviting your friends for an overdue stay at your place. Let us walk you through eight ways to master the look, from clever storage in guest rooms to multi-purpose living areas and styling your cushions like a design boss.
Current interior design trends and how to use them
Interior designers are predicting that nature will be taking centre stage in our homes through colours, prints and even biophilic design – think plant-covered walls and hanging installations. While you may not wish to take the biophilic factor further than the addition of some indoor plants, you can definitely bring the outside in to achieve the latest look.
Start with a neutral-coloured sofa bed or futon. Then choose an on-trend colour. Perhaps it's shades of sage or eucalypt green, ocean blues, or gumnut browns. Team your chosen colour with some nature-inspired neutrals like cream or light grey to select a throw and some cushions in varying sizes and textures like knits, nubs, and tufts.
To continue the calm nature theme, consider a recycled timber floating shelf above your sofa to house some nature-inspired artwork. lamp and book – perfect for daily use or when guests come to stay.
How to style your sofa bed for a retro rumpus room
If you have a rumpus room that embraces all the fine things from the 50s, 60s, 70s and 80s, here are a few ideas of how to add a futon or stylish sofa bed while keeping to your theme. Retro interior design is a mix of old styles and new forms and, in the tradition of everything old becoming new again, many modern sofa designs draw from the simpler styles of a previous era. So, you're likely to find that some modern and modern contemporary-style furniture will also fit this theme.
There are a few sofa beds in the Amart range that will work with retro style. The Woolwich Grey Sofa Bed has a mid-century look to it. Or you could take inspiration from the bright colour palette of the 70s with the Madeline Sofa Bed in golden yellow.
The curved shape of the Olten Nest of Tables or gold bling and glass top of the Croix Lamp Table will give you somewhere to rest your drink. Complete the look with some bright, vintage-inspired wall art, or get creative and frame a bunch of your favourite records, posters, or bands. Groovy, baby!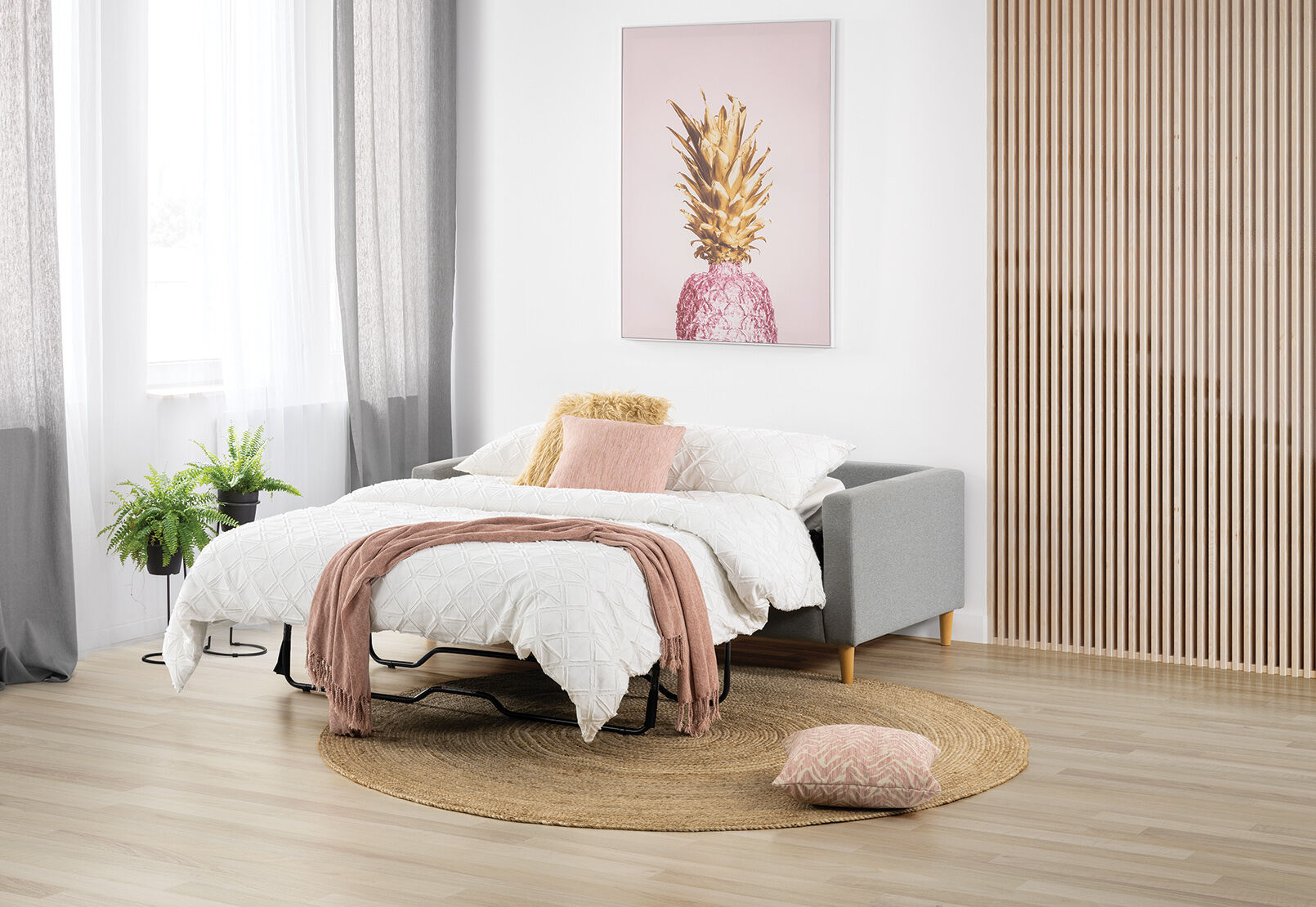 Never out-of-date traditional décor
At the heart of traditional styling are symmetry, flow, comfort, functionality (particularly for family living) and an understated look that transcends what is popular or current.
The beauty of sofa beds is that they look and perform just like a sofa. So, it's easy to tie them in with a traditional style (or any style you like!). Lounges like the Kirby 3-seater Sofa Bed can be teamed with its 2-seater counterpart or an accent chair and a lamp table. This gives you living space for daily use with the handy bonus of having somewhere to sleep your overnight guests or even pull out for a fun movie night with the kids.
Look for a neutral, earth-toned fabric choice for your traditional lounge because this colour palette doesn't date. You can freshen up your look according to the season whenever you like by changing your cushions, throws and rugs.
Multi-purpose furniture for overnight guests
Your beautiful new sofa sleeper will be set up as a lounge most of the time, so it will need some of the living room furniture pieces you'd expect to see paired with it, such as a side table, coffee table, and ottoman. But what if those furniture pieces doubled as sneaky storage to go with your sneaky bed? A storage ottoman or bench and storage tables are the perfect places to keep bedding and pillows for your overnight guests and are a valuable way to keep things tidy in smaller spaces. Once the bed is set up, your guests could use them to store their belongings or tuck away sofa cushions while they're not in use.
Unique wall art ideas in your guest room
Here's a chance to let your tastes and interests shine. Maybe you're mad for macrame. Or perhaps you really like hats. Or you have a passion for travel. Let's look at some fun ways to work with your passion. Here are a few ideas:
Picture ledges above your sofa sleeper allow you to create your own eclectic mix of meaningful photos, artwork and even artefacts.
A large, framed map could provide hours of fun reminiscing about the places you've been and planning where you're off to next.
A hanging planter will bring the relaxing greens of nature into your space.
A statement mirror can set the mood for the theme you're creating. Add some sparkle with a gold-rimmed mirror for a glam look teamed with hints of gold in your cushion choices.
Hats on hooks – straw beach hats for the coastal vibe and Akubra or felt hats for a farmhouse cottage.
The sky is the limit with projecting your personality onto your walls. Even a (securely mounted) bike can become wall art.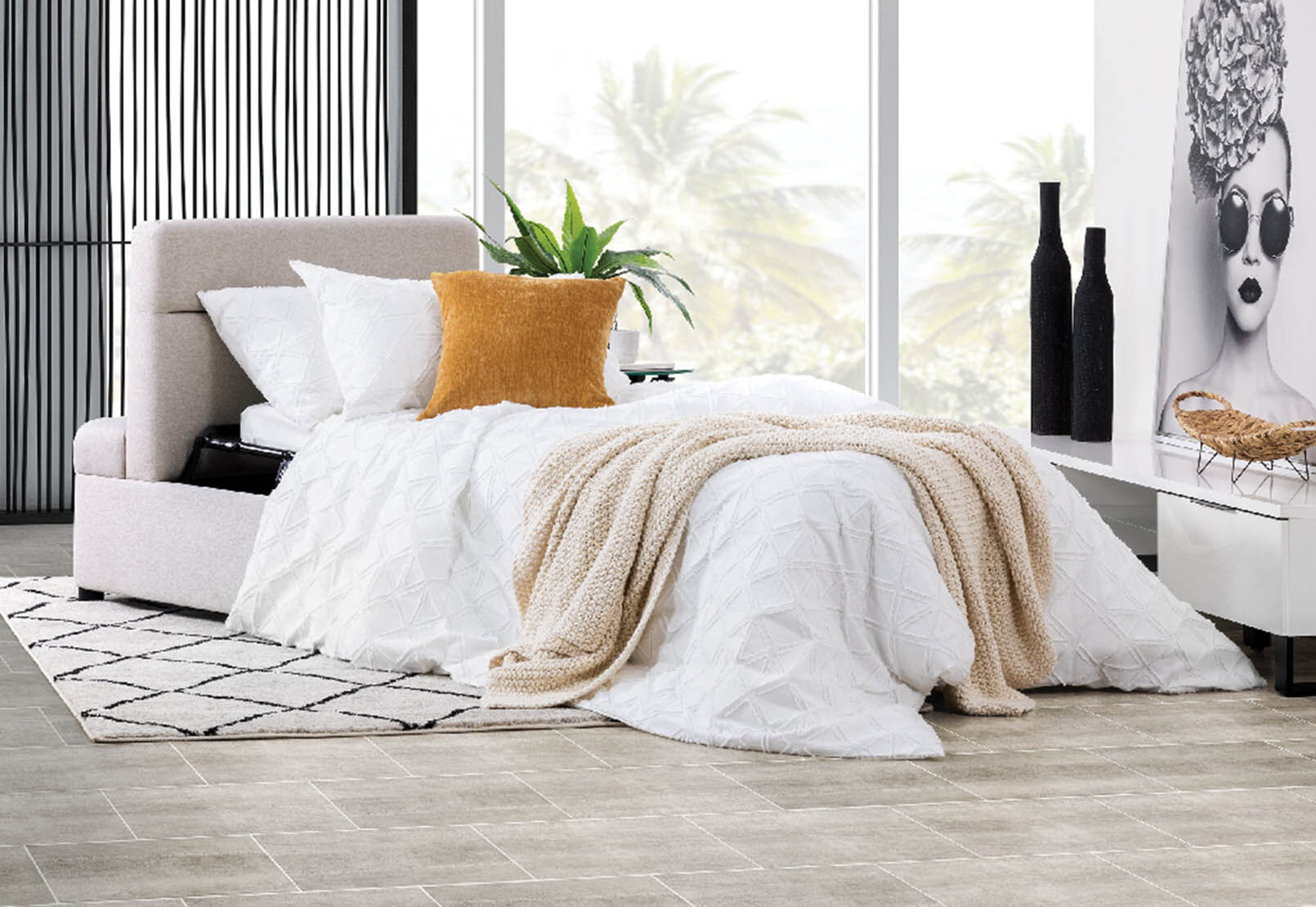 How to get a rustic look for your sleeper sofa
Do you love the rustic industrial look? So do we! Whether the rest of your home is already decorated in this style, or you're wanting to create this look in one part of your home, like a guest room or home office with a convertible bed, we have what you need.
The signature look of industrial style is metal, rustic wood, and leather. It has a masculine feel that is softened by finishing details in earthy neutral-coloured throws and cushions of various textures, as well as floor rugs and curtains.
A leather/leather look sofa bed or futon would work nicely as your starting piece for this theme. Build on it with some shelving. The Alan bookcase in a timber and metal finish features storage shelves behind cupboard doors for your guest's belongings with display shelves on top to display home décor pieces. An Arka nest of tables gives you options to use one as a lamp table and one as a small coffee table that can be tucked away when not in use.
Complete the look with wall art and a floor rug in warm, earthy tones, and finish it off with a neutral-coloured throw and cushions in varying sizes and textures.
Introducing colour with floor rugs and throws
Floor rugs are brilliant for defining a space, injecting warmth, and helping to cement your chosen style for a room. To choose the right size of rug to pair with your sofa sleeper, it's a good idea to mark out your intended rug space with tape for a firm idea of the size you'll need. We recommend it is large enough to leave a minimum of 15cm on both sides of your sofa bed. This means that your rug needs to cover the intended space or footprint needed to define the area around your sofa, plus 15cm (minimum) beyond its edges. The colour, pattern and detailing of your rug should work within your chosen colour palette for the room, so consider the sofa bed colour, paint and wall art when making your choice.
A throw or scatter rug will not only add colour and texture to your sofa bed but will also give it an inviting look, beckoning to be sat on. A carefully chosen throw is like the icing on a cake. It's a backdrop for the sprinkles – your cushions! So, either drape your throw over the sofa back or arm or fold it neatly (whatever you prefer) and get ready to add cushions.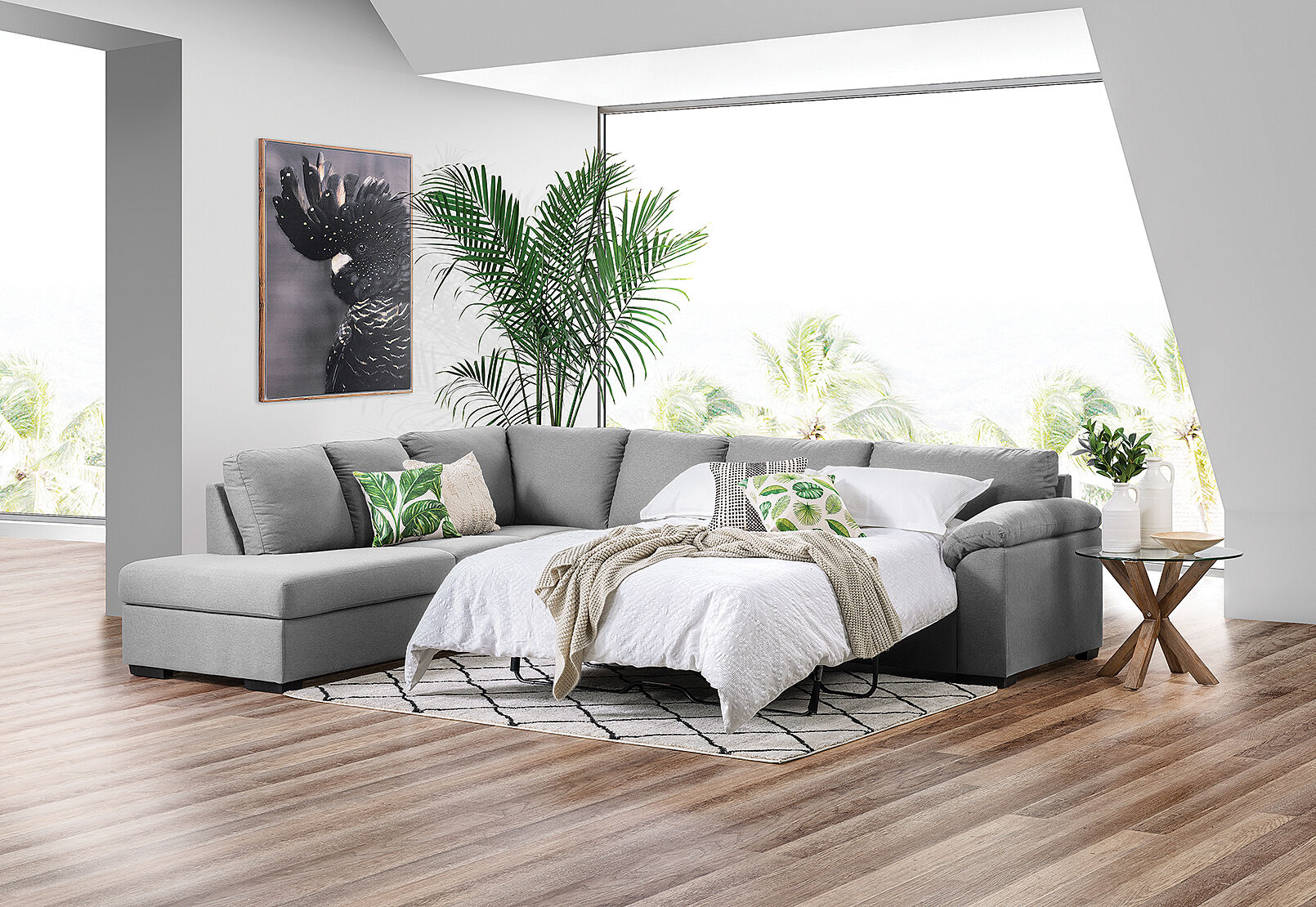 Arrange your cushions like a pro
Have you ever wondered how to make your lounge look like something you see on an interior design show? It's all in the cushions! Let's get started. This formula works for styling any cushions in your chosen theme, from Scandinavian to Glam Luxe.
We recommend using odd numbers of cushions. So, depending on the size of your lounge, go for three, five, or even more for something large like a big corner suite sofa bed.
Choose two or three accent colours for your cushions taking inspiration from your floor rug, artwork, and home décor. Try to stick to either cool colours (greens, blues, and purples) or warm colours (yellows, oranges, and reds) because blending the two palettes may clash. You can contrast any of these colours with something from the monochrome palette – black, grey, or white.
Now for textures and placement. First place a large (50cm) cushion with a bold print in your accent colour, then add a smaller cushion (around 45cm) with a different texture like a chunky knit, followed by a cushion of a different shape and texture like nubs or tufting. That's it! Now you've created a comfy, designer-worthy sitting space that no one would know is a bed.