Are you wondering if you need a home office or looking for an excuse to turn those glam home office ideas on Pinterest into a reality? Well, working from home is one excuse but not the only reason to transform your spare bedroom into a stylish workspace.
If you're thinking of incorporating a stylish office nook into your open plan living room, or transforming a dining room or bedroom into a modern home office, you'll discover there are plenty of lifestyle advantages to having a functional and stylish work-from-home space.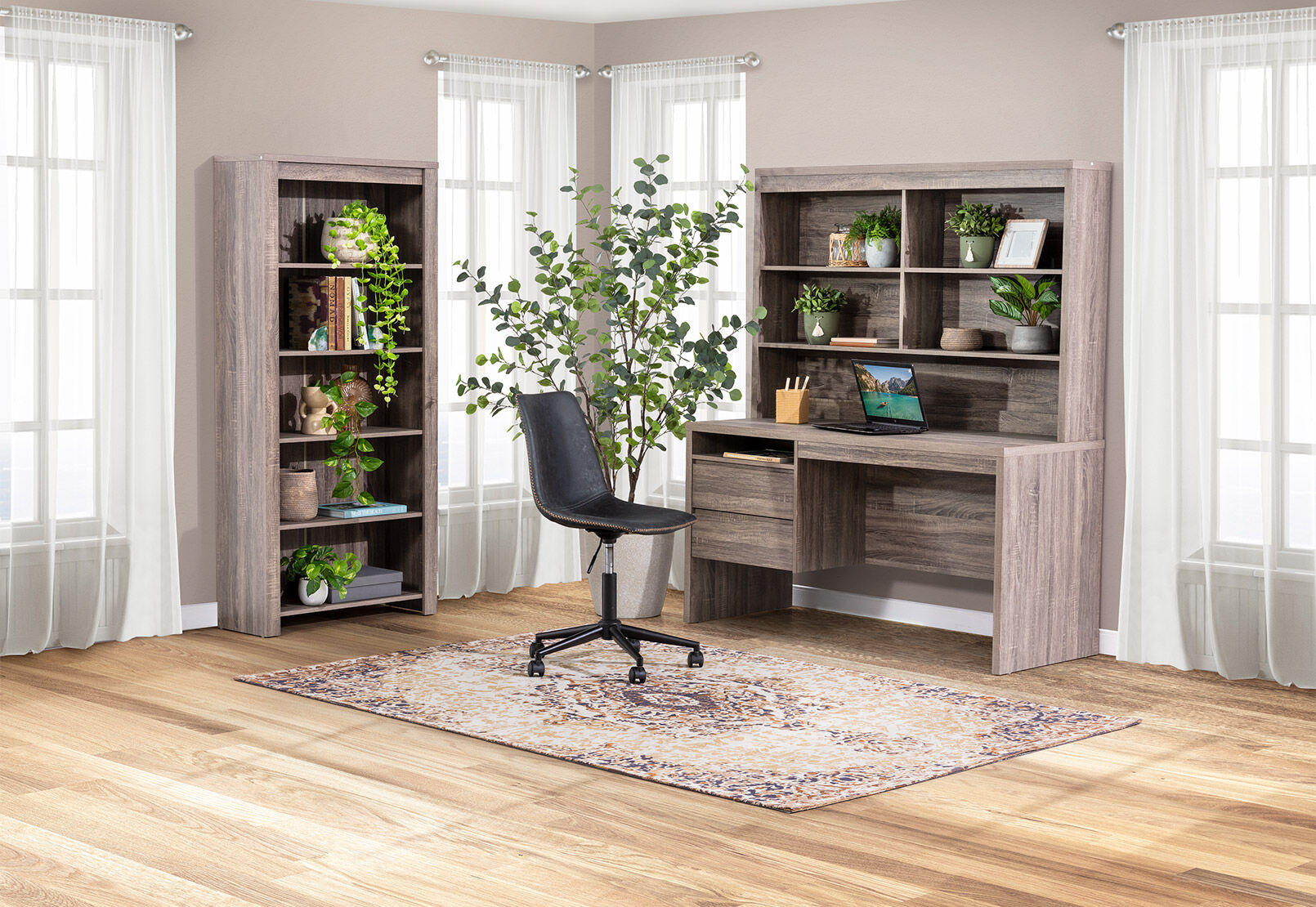 It can improve your quality of life
Avoid the daily commute
Working from home eliminates those wasted hours spent commuting, saving you not just significant time every day but also the cost of fuel, parking fees and public transport costs. Turning home office ideas into reality can save you time and money – it's a win-win.
More time to spend with the family
With daily commuting eliminated, working from home lets you work more productively and with the more time available to balance family life and work life. Stress less as you factor those parent-teacher meetings, school sport, and even your family pet's needs easily into your day when your home-to-work commute is a 5 second walk to your home office space.
Flexibility for yourself, your family, and your pets!
Juggling work and family life can be stressful at times, especially when one of the troops is sick. Another great advantage to working from home when you have a family (or a treasured pet) is that you're always on hand if they need you.
Bonus tip: You can wear your pyjamas and ugg boots to work, unless you have Skype meetings scheduled of course!
The financial benefits
Claim deductions at tax time
You might be eligible to claim deductions for your home office expenses, such as:
Running costs such as heating, cooling and lighting
Equipment such as computers, printers and office furniture
Work-related phone calls and internet
Cleaning expenses
Tax tip: In order to claim deductions, your home office needs to be a space where you conduct work to gain an income – not just where you pay your bills online or the kids do their homework.
Lower overhead costs for home-based businesses
Renting an office space, buying office equipment and supplies (hello, coffee pods) and paying for utilities can really add up.
Running your business from a home office reduces overhead costs and gives you the freedom to easily run your business without significant expenses.
You can create a space that works for you
Prefer working in an office with natural light? More productive when your work space is quiet? Have visions of an office decorated to inspire and motivate? When you have home office décor tailored to your personal style, chances are you'll be happier, more positive and more productive.
Not sure what your perfect home office might look like? That's ok, you'll find exciting home office ideas at your local Amart Furniture store and online too!
Home office ideas
When creating your own work space, you're limited only by your imagination – and of course the available space, your specific work requirements, and your budget… ok, so there are a few things to consider. First up, you'll need an office desk, an ergonomic desk chair and some form of office storage space. Then to the fun part…
How to decorate a home office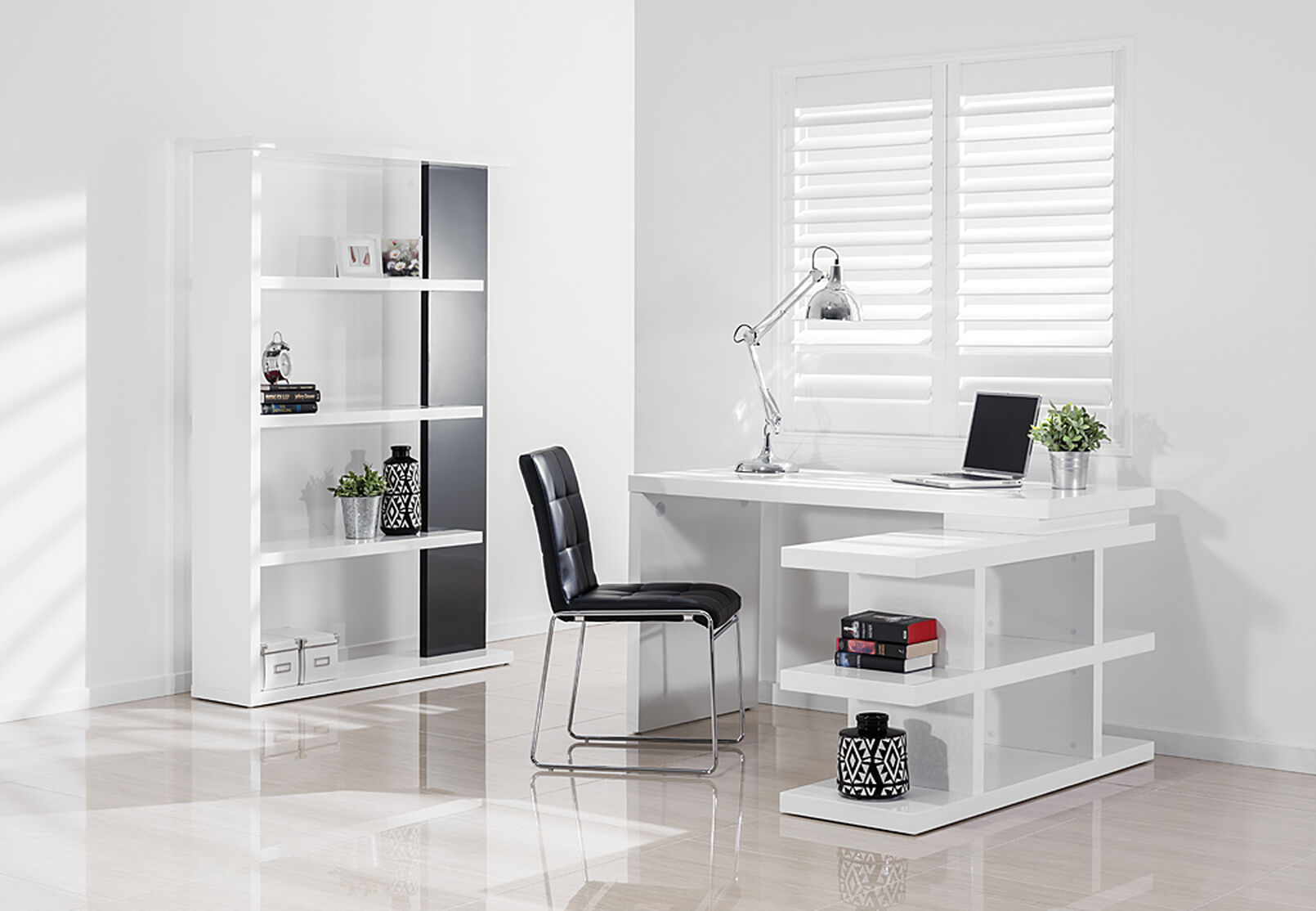 To get you started here are some exciting home office ideas on a budget to transform big and small spaces into the perfect home office space!
Office desks with shelves and drawers ensure you have a place for everything, while standing desks take a load off your back! Choose the perfect desk to provide a sufficient desktop surface for your needs while fitting comfortably within your available floorspace.
A desk chair with adjustable ergonomic features is a must-have. An office chair can also add a pop of colour and bring serious style to complement office furniture pieces.
Table lamps or floor lamps provide essential light when you're burning the midnight oil.
Office storage furniture makes for a tidy and functional workspace. Add a 3 drawer filing cabinet or display cabinet to your list of must-have office furniture pieces.
Office bookshelves are good for more than just storing books and binders. They're also the perfect spot for those finishing touches – the stylishhome office accessories like photo frames, sculptures, vases and indoor plants.
Ready to get started turning your grand home office ideas into a productive, comfortable and seriously stylish work space? Browse the exciting range of office furniture including desks, chairs, office storage items and even accessories at Amart Furniture to turn your home office ideas into reality!