Embrace the beauty that is all rattan and wicker furniture to transform your outdoor space effortlessly into a coastal oasis with relaxing boho vibes. Your outdoor space is a tranquil sphere of personal relaxation as much as it is a place to have fun, bond with family and friends while creating lifelong memories.
Beautify Your Outdoor Space with Rattan Furniture
Be inspired and beautify your outdoor surroundings with rattan look furniture from Amart Furniture. Rattan has long been used to create fine-looking furniture, handicrafts and building materials. Its natural look is warm and inviting, creating a coastal vibe in any home. Rattan outdoor decor and furniture is highly versatile, combining elements of traditional and modern chic making it an ideal choice for your outdoor space. Create the outdoor oasis of your dreams with our exquisite range of wicker furniture settings and rattan look outdoor furniture to suit any home.
Outdoor Seating
When it comes to creating a space that is pleasantly inviting, comfortable outdoor chairs are quintessential in providing a warm and cosy ambience. Find the perfect set and choose from our enormous range of outdoor wicker furniture to suit your preferences and home decor style, from petite decks for sunset viewings to larger suites where all the family gather around to enjoy summer barbecues with the grandkids.
Simple Sets That Go on The Deck
The Julia 3 piece balcony setting is an ideal seating option where space is at a premium. Enjoy your morning coffee in the rustic charm that the balcony set has to offer. It sits perfectly on your patio, balcony and by the pool. This Hamptons style inspired balcony set comes in white wicket detailing over a galvanised metal frame so it's sturdy and weather resistant. Other 3 piece sets include the Lacy 3 piece outdoor setting. This 1960s inspired set features a timeless retro look in a simple natural finish that never goes out of style.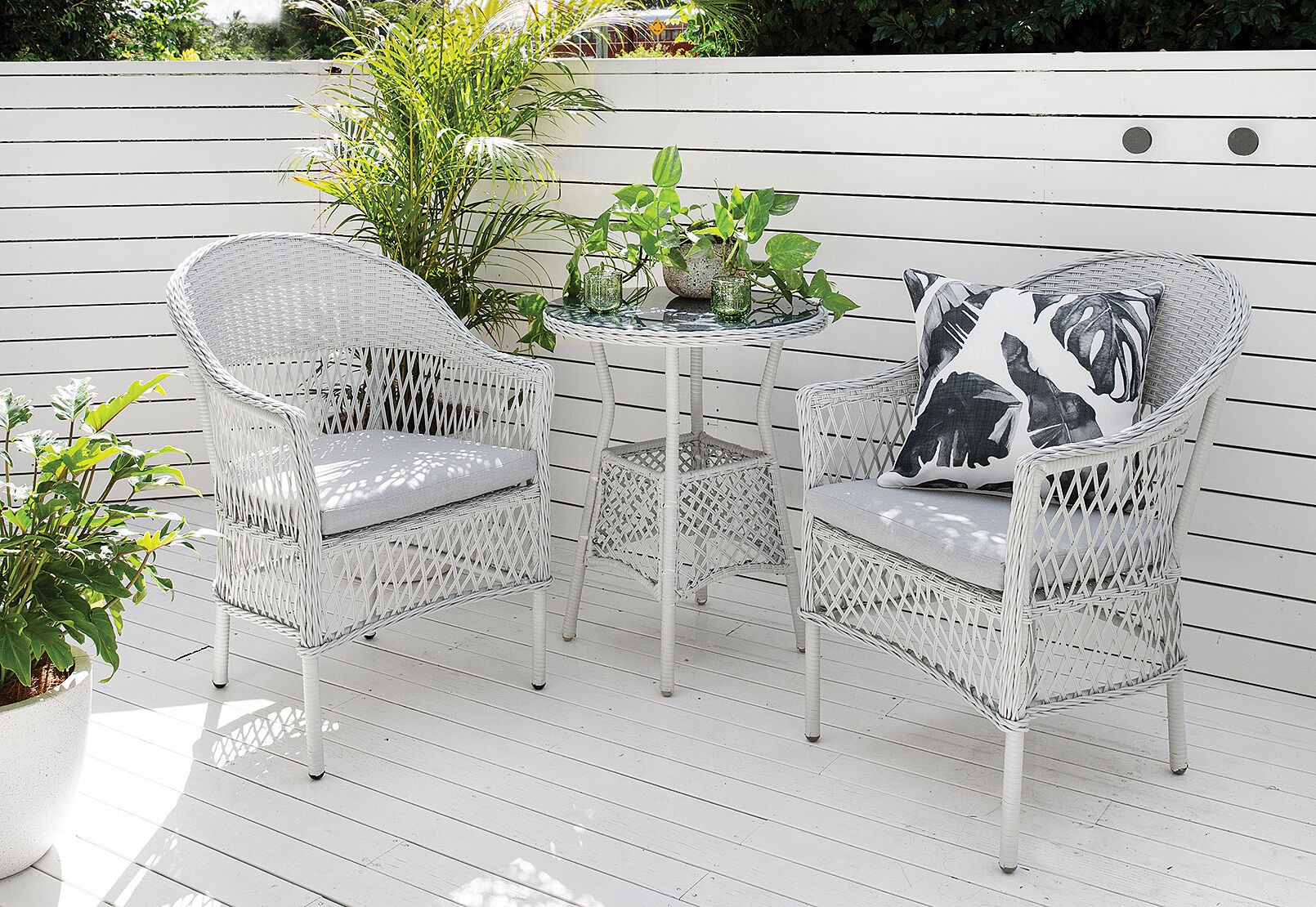 For a space saving option with a little more comfort and stretch we recommend the 2 seater modular in grey. This rattan look modular lounge comes with 2 corner sofas, 2 ottomans and a glass top coffee table and it's stackable so you can configure it to your liking. It's an absolute must for small spaces.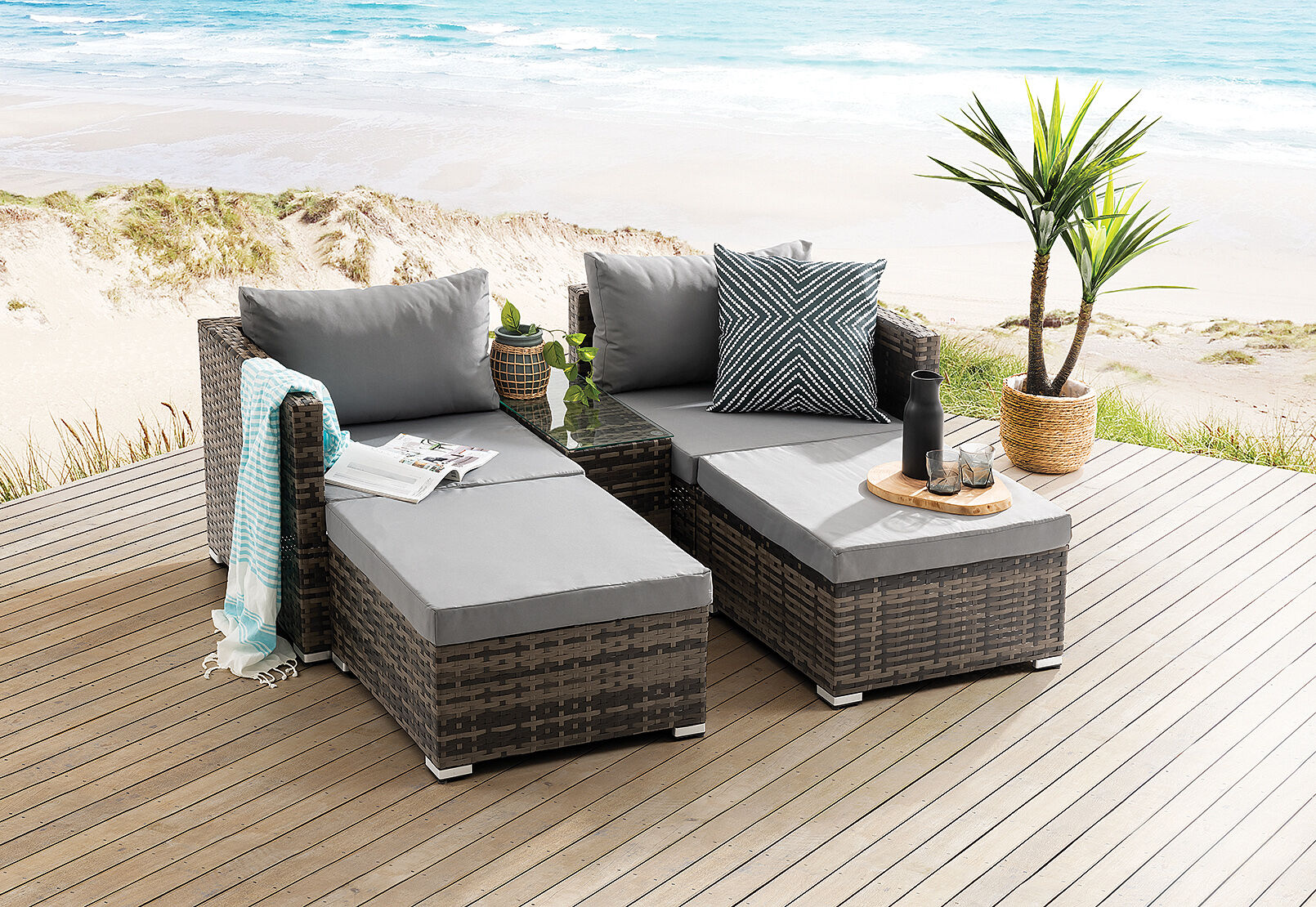 There's nothing quite like a burst of vibrant colour to add some life to your outdoor space. Rattan decor has evolved to more than just the natural cane look. Choose from our selection of yellow and orange rattan sets to bring the colours of the rainbow to your relaxing space.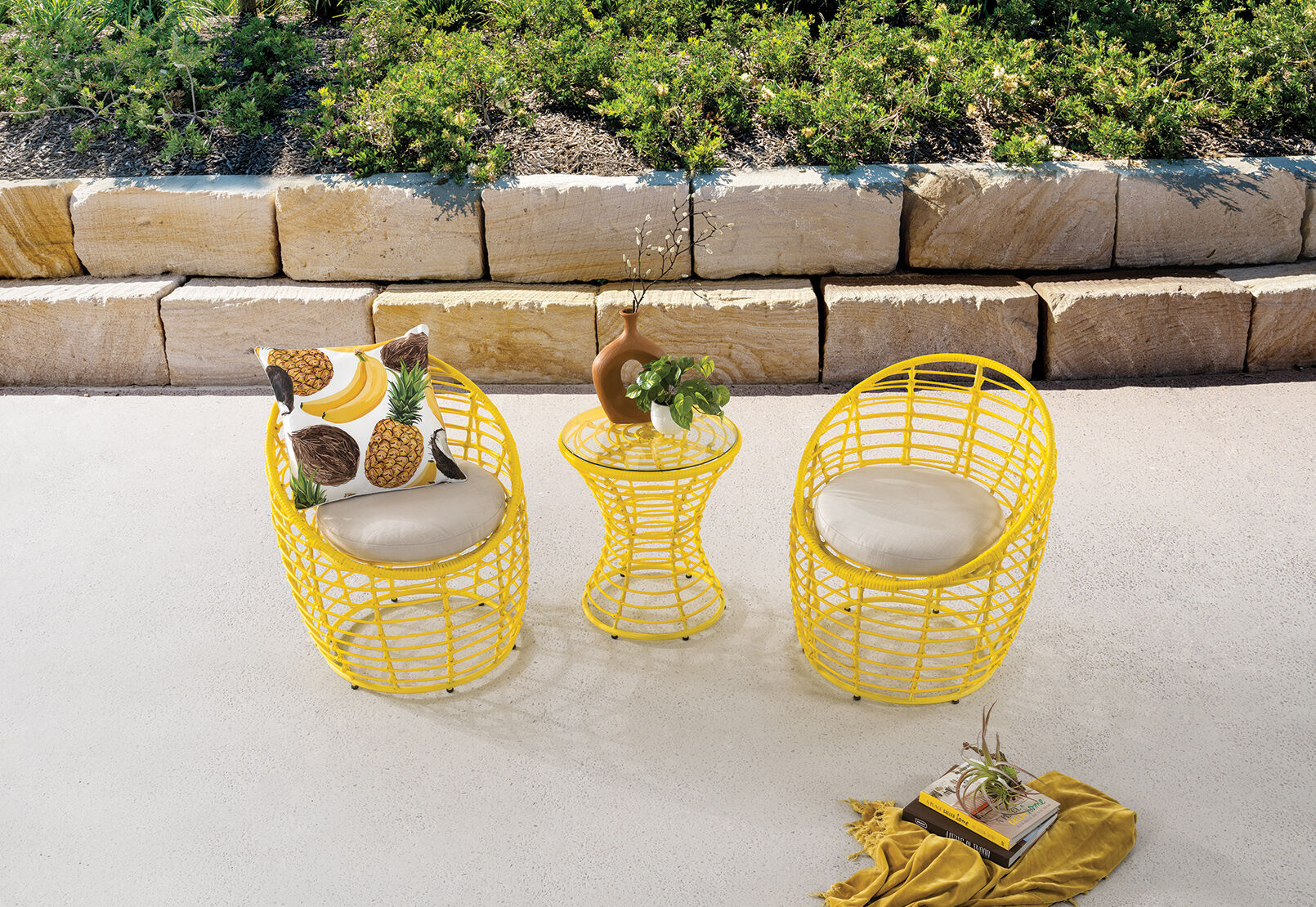 Outdoor Sets with More Room to Relax
Rest easy in lounge sets that are designed for the families with a smaller demographic. These include the single parents, the working couple or the nuclear family. These sets are beautifully made as a space to cosy up with your loved one, perhaps to relax after a long day at work or simply to have a nap during the day. Enjoy your long awaited glass of wine on the deck in an Asbury 4 piece setting with canopy. This set comes with a collapsible canopy that easily transforms to suit your needs. Bring on the resort lifestyle with a Cove sunbed, specially designed with UV resistant wicker rattan complete with a sunshade so you can simultaneously lay in the sun while being in bed all day. Who says dreams don't come true?
Entertain your guests in a delightful outdoor day Bed Pod that boasts comfy cushions set in sturdy and durable wicker. This stylish ensemble will be the talking point of many gatherings to come. Whichever way you choose to enjoy your canopy set, we know it'll be much loved and very well utilised.
Wicker Chairs
When a lounge set is a set too many, wicker chairs are the optimum choice for chairs in smaller spaces. We have a gorgeous array of wicker chairs that have been masterfully crafted to suit the complex nuances of the present day. The wicker look itself is a natural classic. Combine that with the industrial elements of steel and galvanised metal and you have yourself a modern day piece of art that will beautifully enhance any room or living space
We bring you our top picks of wicker chairs to suit your every need: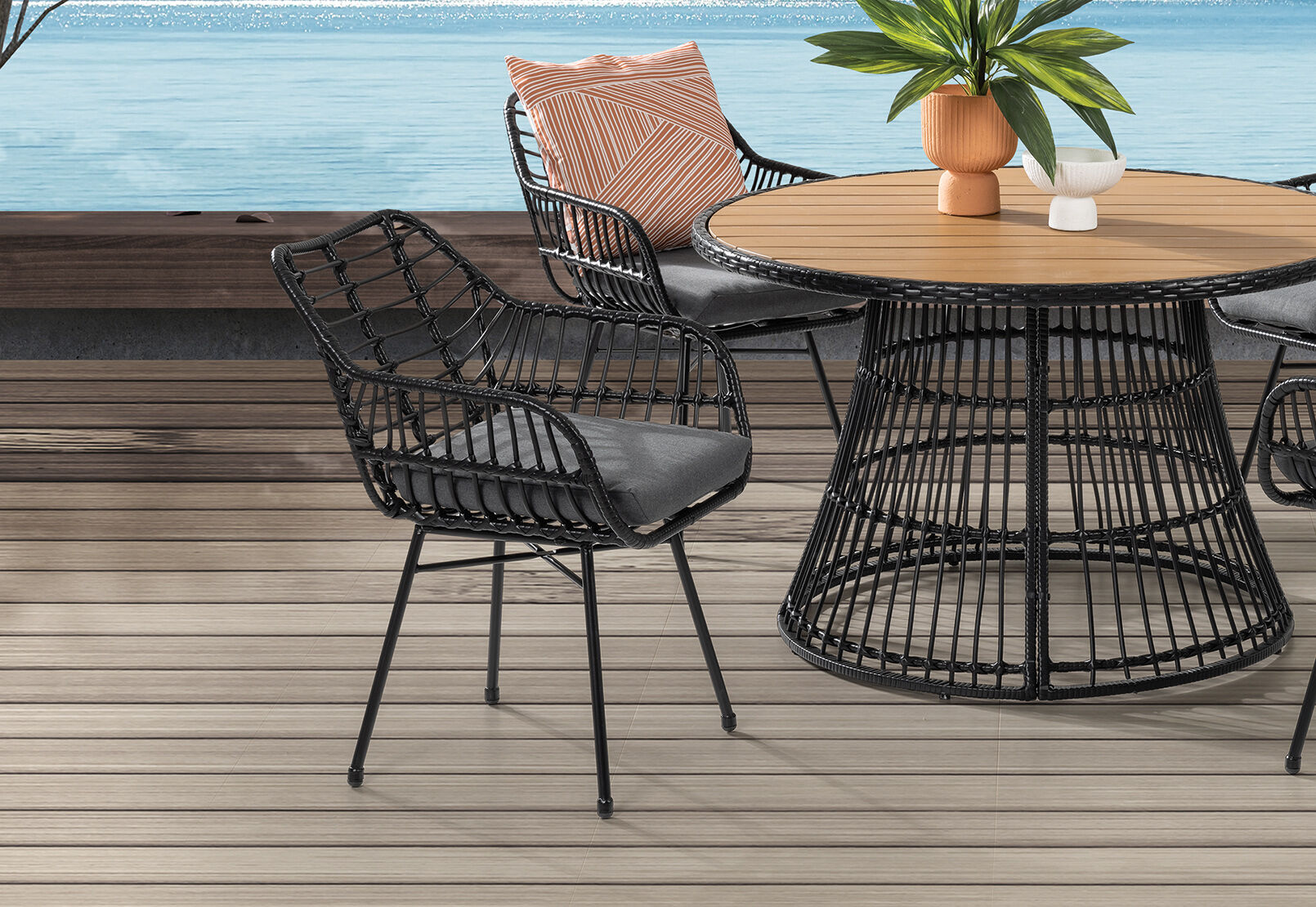 This retro inspired sun chair is simplicity at its best. It's functional, practical and an absolute must-have for small spaces. The sun chair is perfect for both indoors and outdoors making it ideal for so many occasions.
Created in the late sixties, this post-modernist chair has taken the world by storm since it was first introduced to the masses. Since then, a hanging chair has adorned many homes and for good reason too. This cute egg shaped chair nestles one comfortably, so you can enjoy lounging, reading or napping in your floating contraption to be quite literally, just hanging out.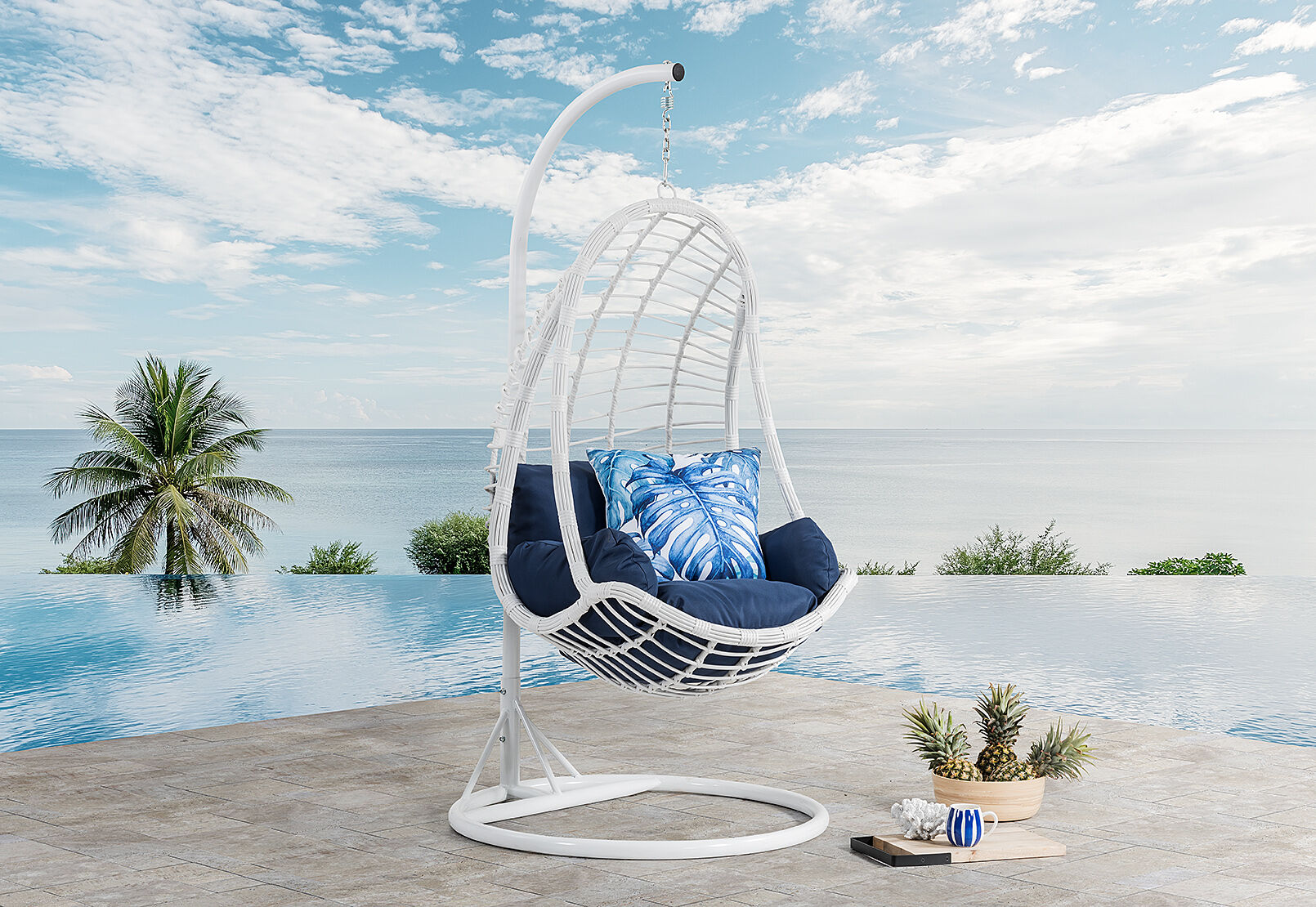 Much like the hanging chair, the outdoor nest chair is hugely popular. Similar in shape, the nest chair comes with 4 sturdy legs so it's firmly rooted to the ground. Its overhead nest feature is reminiscent of a coastal resort vibe so you'll always feel like you're by the ocean when you're resting in one of these.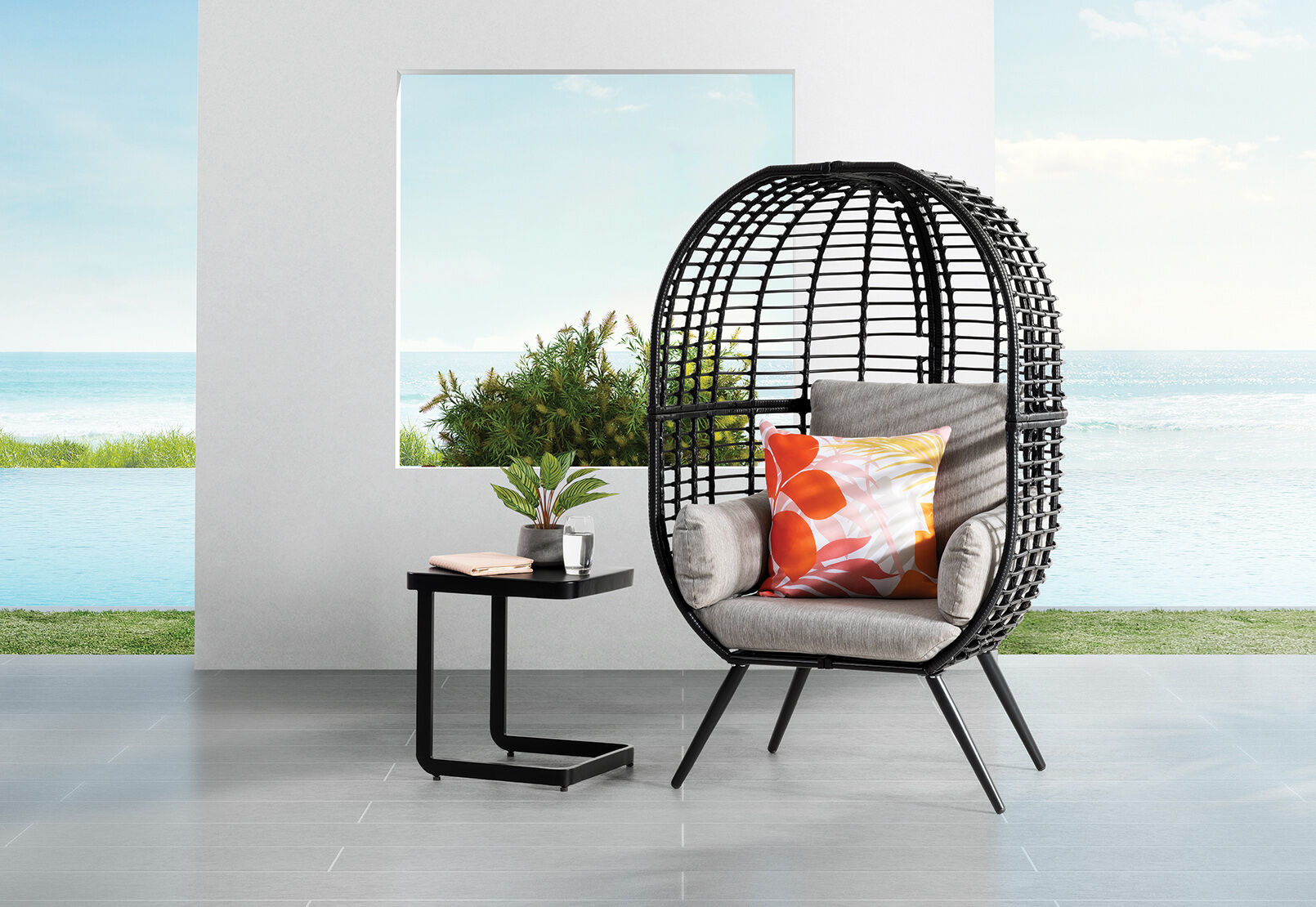 Enjoy your afternoon in an elegant and simple tub chair. The simplistic design with generous wide seating is a must-have wicker chair that will enhance your outdoor space. The low comfortable seating and high armchair-like arms and back add a touch of elegance to this luxury piece.
Dining Lounge Sets
Enjoy the outdoors in style with beautiful dining lounge sets in rattan look that have been masterfully crafted to withstand the elements. We bring you the dining sets suited for small families, big families, mini parties to large gatherings.
Advantages of the Dining Lounge Sets
The outdoor lounge sets are specially made to be used for outdoor dining. They are made to bear the elements. This means less worry for you and more down time in comfort and style.
Outdoor Lounge Sets Are:
Durable. These rattan look lounge sets are made to withstand the harsh elements. They are hard wearing UV treated resin that will last a lifetime. As well as being UV resistant, they are also water resistant and frost resistant. They dry up quickly so moisture build up is practically non-existent. The wicker covers over a galvanised frame so your lounge set is sturdy as can be making it an ideal choice for your outdoors.
Versatile. Along with the hard wearing features, lounge sets are easy to style with decorative pieces that will suit many homes with existing outdoor furnishings. Wicker and rattan outdoor settings are timeless pieces of decor that add to your home ambience. Match that with tempered glass table tops, large deep set interchangeable cushions and you have a versatility that is unmatched.
Affordability. Possibly the biggest advantage of owning an outdoor lounge set is the price factor. The availability of different designs and styles cater to many individuals preferences and there's something for everyone to enjoy no matter your budget. This makes rattan decor outdoor sofa a much preferred choice for many.
The Outdoor Lounge Setting
When space is plenty and entertaining is the name of the game, revel in the joy that is the outdoor lounge setting. The Miami 4 piece outdoor lounge setting is a natural looking wicker outdoor set that's perfect for entertaining. Place this casual beach beauty by the backyard as you enjoy drinks while watching the sunset. This gorgeous set comes with a vintage looking coffee table to complete the look.
For those Sunday afternoons hanging out with the kids, the Sirena 5 piece Modular lounge set is an ideal family favourite. Not only does it fit all of the family, the versatility of the design allows you to change its table settings to suit your styling preferences.
Australians just love a good barbie, and summertime is not complete without the backyard barbie, coupled with the big family gathering by the pool. Indulge in the 9 piece dining set, perfectly constructed to house all the family while making sure no one misses out on the fun. This wicker outdoor dining set is made for entertaining. It's the one to have for the outdoor dining experience without the fuss.
And for the times you have your mates over or a cocktail party is a must, the Rimini 7 piece Outdoor Bar Setting with Bar Stool is just the thing you need for the occasion. This beauty comes with everything you need to host the perfect poolside party.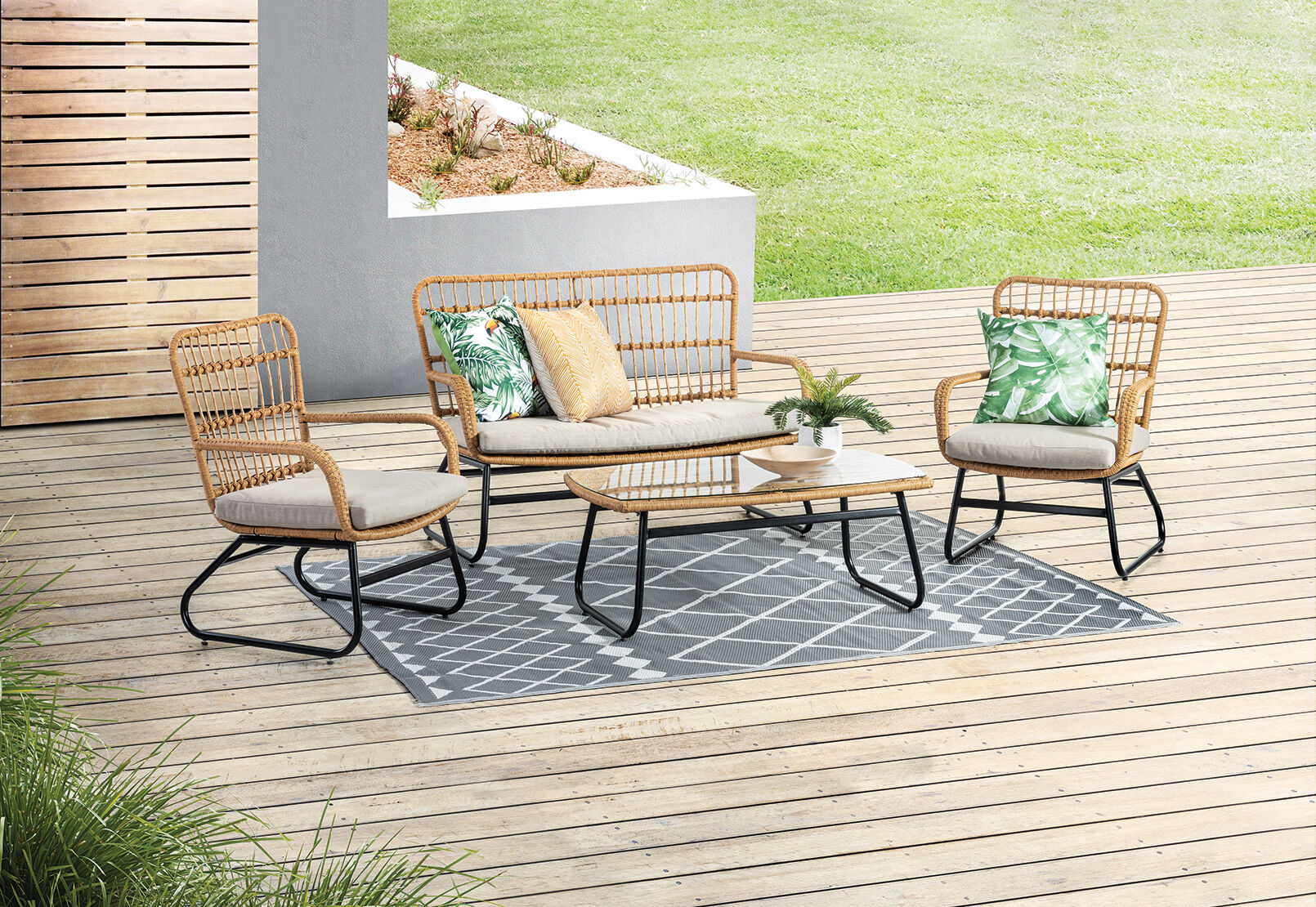 Rattan Accessories
Enhance your outdoor space with some exquisite rattan accessories that will complete your boho beach vibe. Choose from ornate lamps with rattan finish to add a beach feel to your lounge set. Select beautiful Wall and Mirror Art pieces for that artistic flair. A couple of vases with rattan and wicker add an element of a natural finish to any indoor and outdoor living space.
With so many options to choose from Amart Furniture, elevating your outdoor space with rattan furniture is a breeze.