What is Coffee Table Styling?
The coffee table, a focal point that lives at the heart of every family room. It's a beautiful functional piece that ties the rest of the furniture together while drawing your eye to the center of the living room. As a trusty furniture piece that serves many purposes while being strategically positioned in the middle of the living space, deciding how your coffee table is styled can significantly impact the look of your room design.
We look at how decorating coffee tables in your living and dining space is a great way to infuse some personality and style into your home. With a little help from us, discover how to create tables that are practical and stylish with some inspired ideas. Whether you're adding interest with one striking feature, creating a stunning vignette, or simply wishing to match your existing buffet table, these coffee table décor ideas are guaranteed to add a little sunshine to any space.
Types of Coffee Tables
The humble coffee table has greatly evolved with the times, from its initial introduction into the modern world way back in 1920. Since that time, it has drastically carved its way from being a little wooden table with short stumpy legs to a myriad of elegant, sophisticated furniture pieces of stunning composition and excellent craftsmanship. The materials used in coffee tables have been varied to say the least and along with it, has emerged an explosion of ideas expertly translated into a flurry of coffee table designs.
Coffee tables have come a long way since its inception. We look at the types of coffee tables to choose from for that perfect finishing touch to any family room.
A masterpiece of the coffee table world. A much loved design that has stood the test of time and for good reason too. This classic style of coffee table is a great addition to many family rooms over the generations. Wood is a versatile material that compliments many designs and looks. It's traditional, sturdy and the solid wood adds warm and inviting tones to any living space.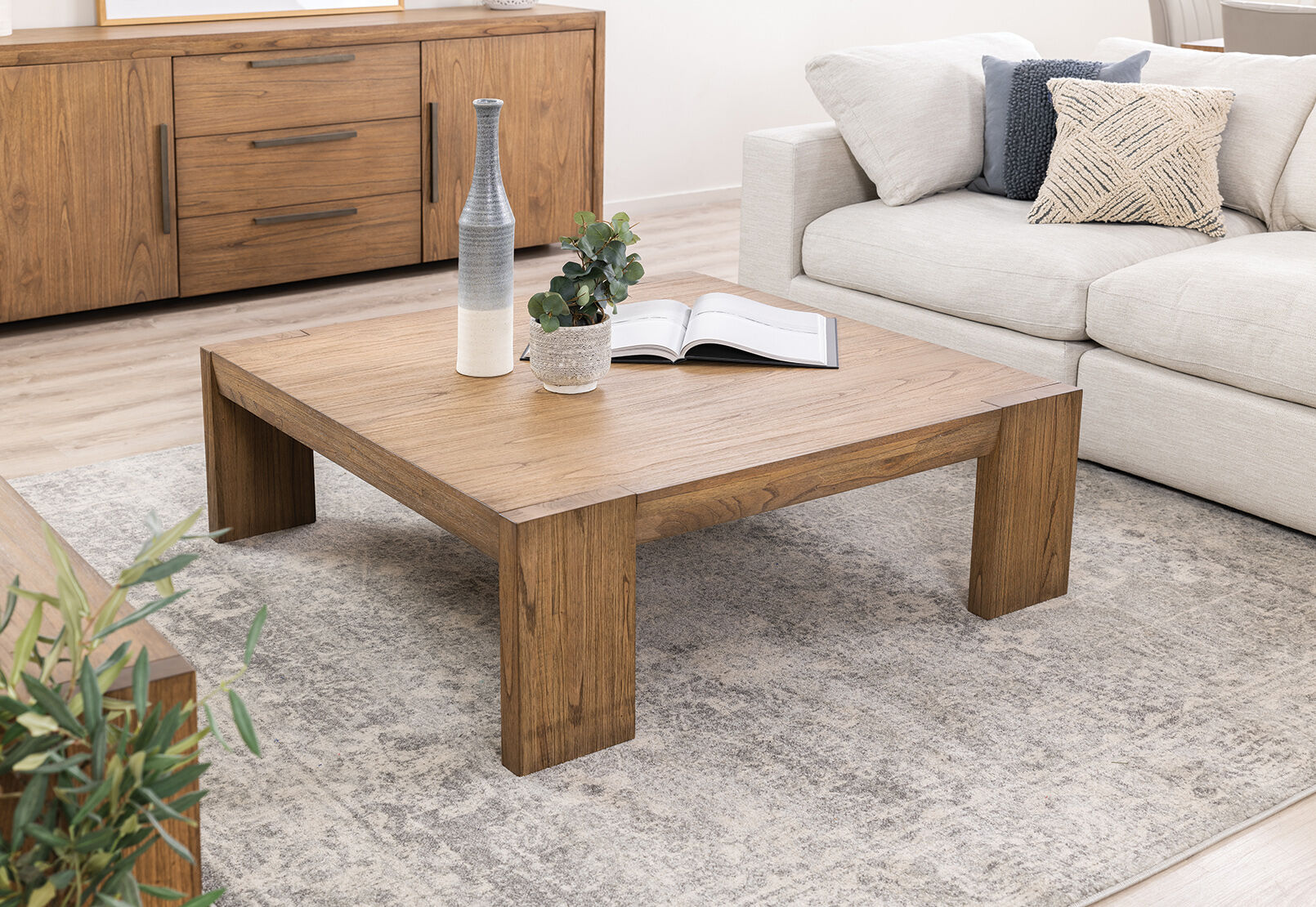 This eye-catching timeless piece of furniture is luxurious, solid and never goes out of style. A much loved piece by all interior designers, the marble look coffee table has a clean polished finish to suit modern homes. It might be a weighty piece of furniture, but it certainly adds a flair of sophistication to any living space.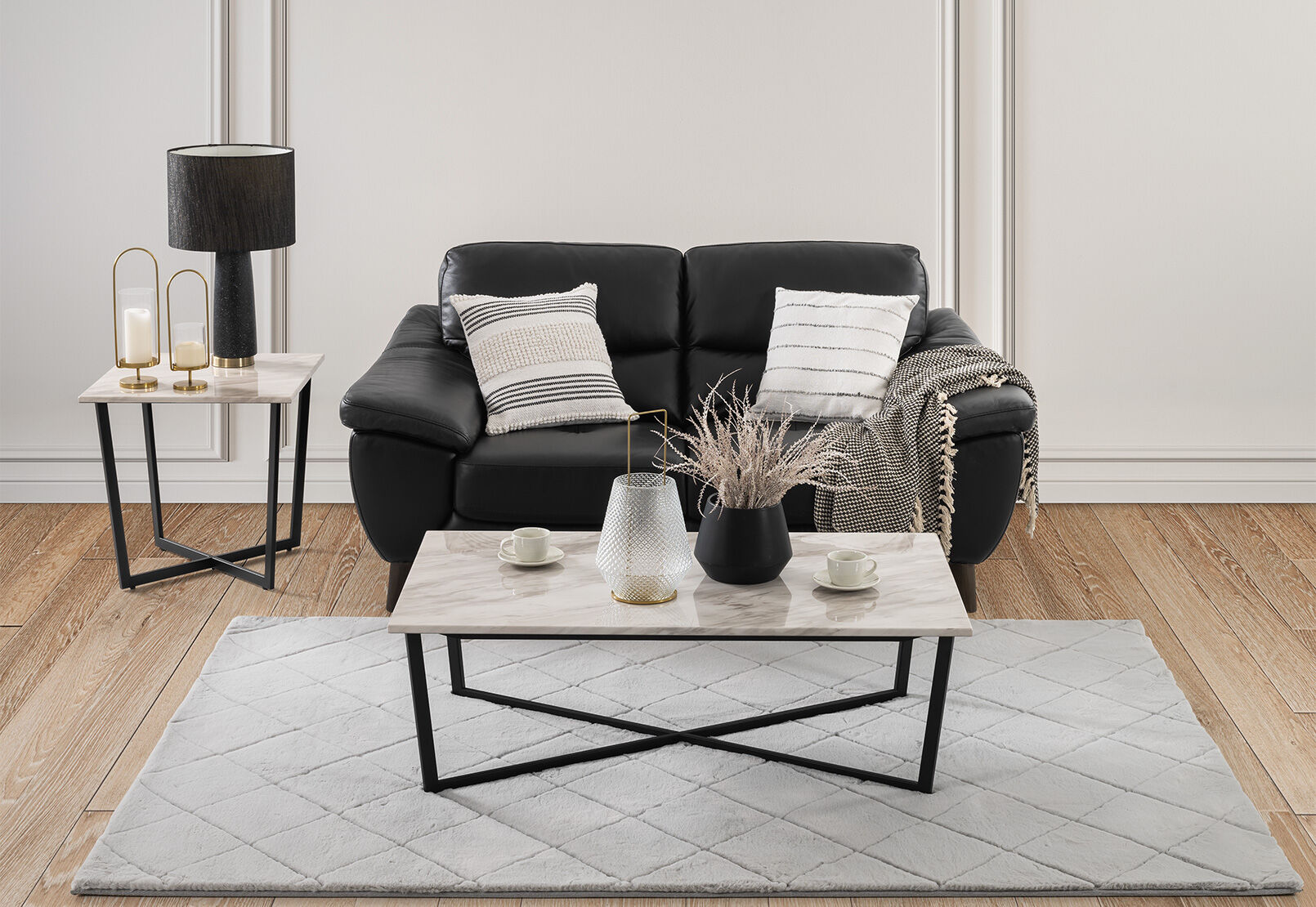 This modern take on the coffee table has resulted in an array of stylish options that incorporate the use of different materials from wood, to granite and tile. The contemporary designs come in numerous sizes to suit all types of family rooms. While rectangular and oblong coffee tables are the predominant choice, round and square coffee tables are highly popular.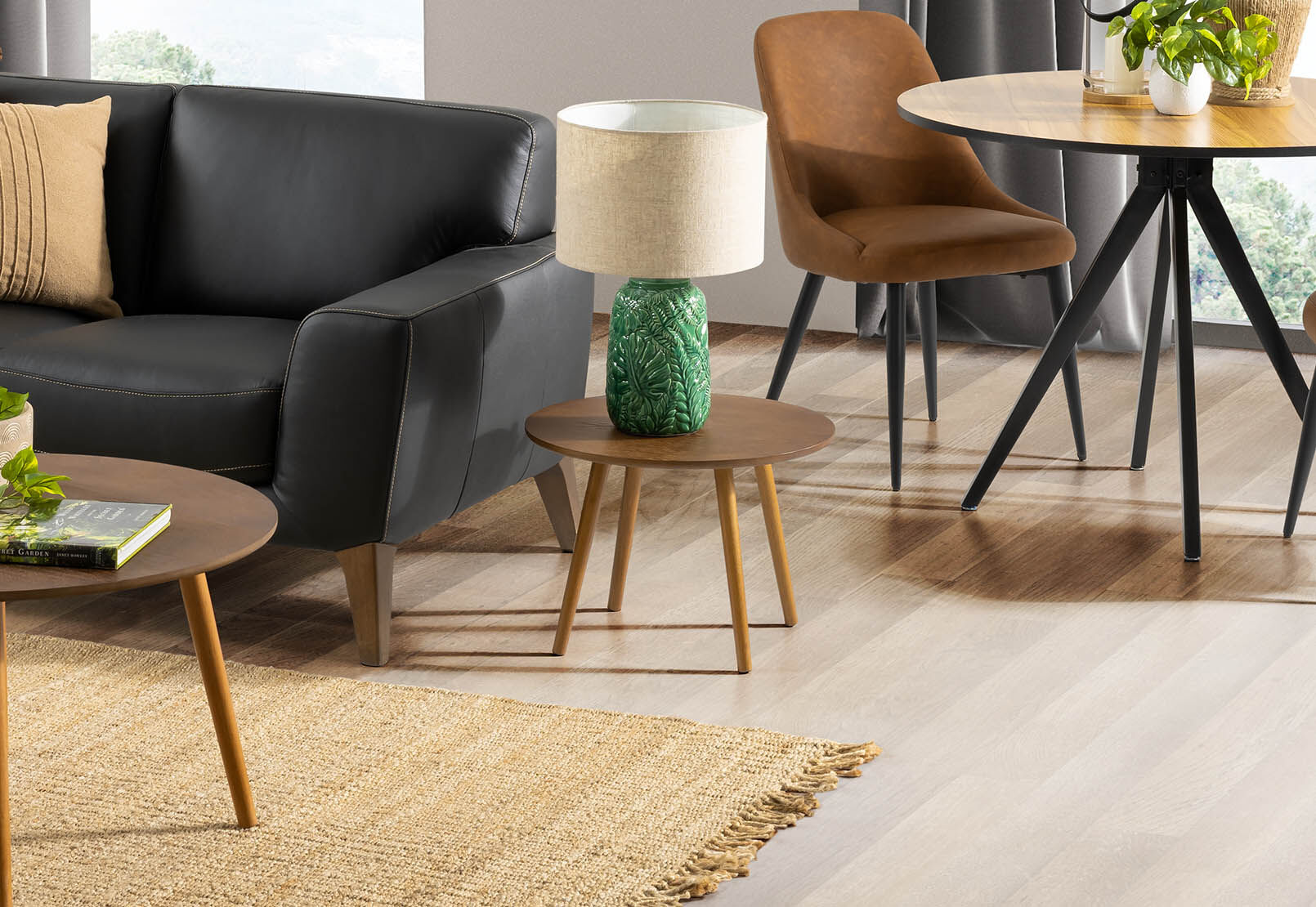 The Scandi Coffee table epitomizes all that is Scandinavian in decor. The focus is on clean, simple lines, minimalism, and functionality while utilizing natural materials like wood. It's a light, modern and aesthetically pleasing look that suits the minimalistic feel. Accent your Scandinavian table with a modern side lamp to complete the look. The scandi style coffee table is a timeless addition to a home without the clutter.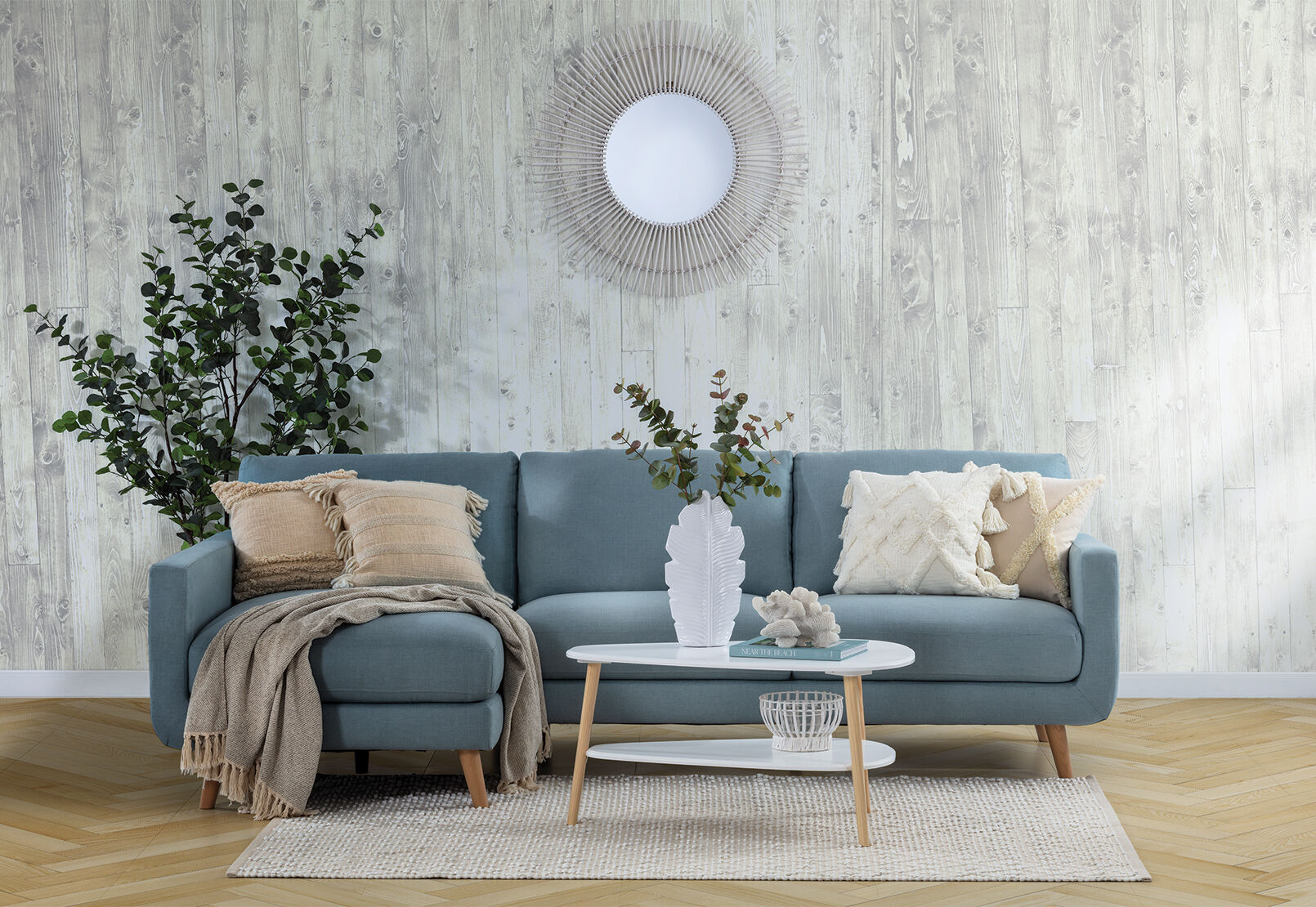 Featuring clean-lined edges and sturdy legs, the industrial look coffee table has seen a surge in popularity especially in modern homes. Often topped with glass for a clean smooth top finish and reinforced with timber or iron, the industrial coffee table is highly popular for its versatility to elevate any living space and prized for its durability. Some industrial style coffee tables are equipped with steel frame and castor wheels for maneuverability. It might not be the lightest table around but there is no doubt, the industrial coffee table is made to last.
Quite possibly the most radical design to emerge from the world of coffee tables, the nest of tables is a clever and inspired way to not only bring a focal point to your living space but a level of complexity like no other. The very idea of placing a number of differently sized tables within it each other, breaks down the room in a playful manner. Think of it as the Russian nesting dolls of coffee tables. The smaller tables fit beneath the biggest table for space saving measure. And when you have extra guests, out comes the smaller tables for instant added space. They make suitable side tables too. A masterful idea indeed.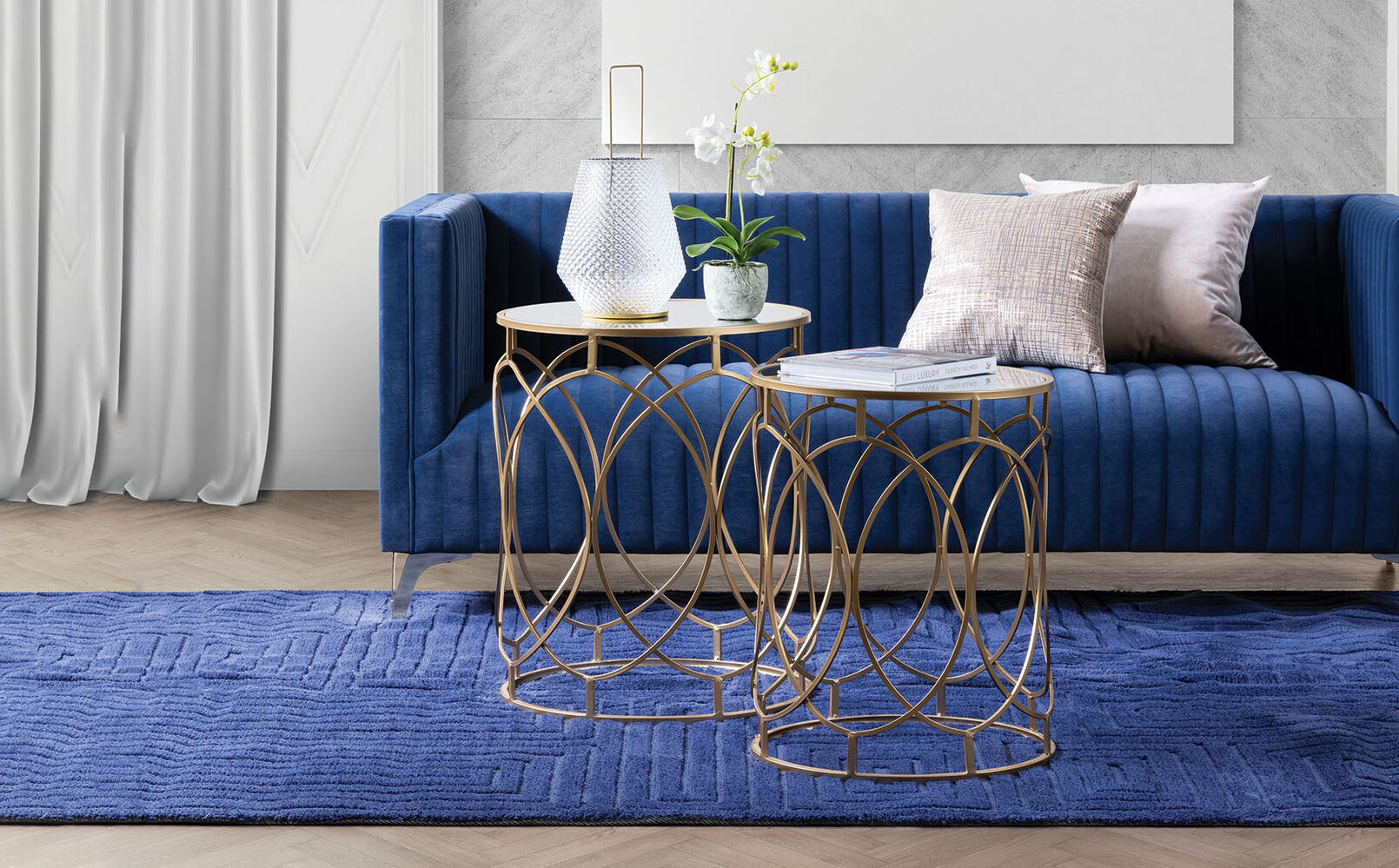 This particular coffee table is a must-have for most households. Storage space is a prized commodity that often disappears too quickly in every household. Having a coffee table with extra compartments for hidden storage capacity is a welcome relief to any family room. Many storage coffee tables have pull out table features to reveal a hidden compartment for storing newspapers, books, the TV remote controls, board games and numerous other knick knacks. Or perhaps, choose a modern twist with a rotating style coffee table with pull out drawers for easy storage.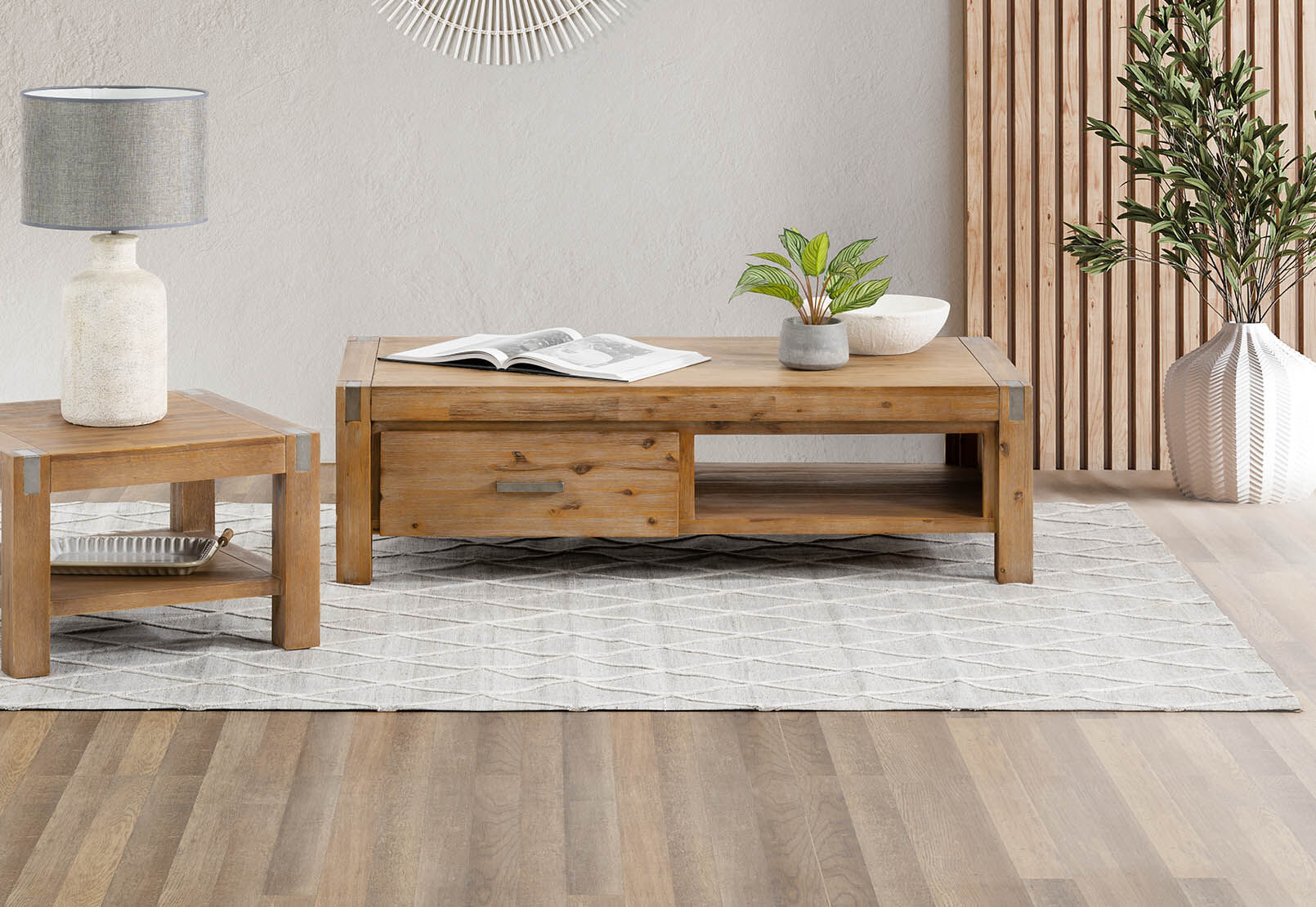 The Classic Solid Wood.
The Marble Look.
The Contemporary Coffee Table.
The Scandinavian Style.
The Industrial Coffee Table.
The Nest of Tables.
Storage Coffee Table.
How to Style a Coffee Table?
While it's a functional piece of living room decor that serves many purposes, ever so often, the coffee table does succumb to the occasional pile up of newspapers, magazines, junk mail, tv remotes, kids's toys and knick knacks, just to name a few. Styling a coffee table keeps your centerpiece organized and inhibits the build up of clutter ensuring your gorgeous room stays just that, gorgeous.
We present some of our top tips on how to style a coffee table
Introduce some Plant Life
An indoor plant is a great way to inject some life into your living area. Adding an indoor plant, or a number of small potted succulents onto your coffee table, instantly makes your living area come alive. It introduces an element of organic freshness with minimal effort.
Keep it Simple
Less is more and this is so true when it comes to coffee tables. Keep your decorative items to a bare minimum for a clean and minimalistic look. Not only does this help you consciously declutter your space, the rest of your coffee table is free to be used as you like during the day.
Place a Table Runner
A table runner is especially great on rectangular coffee tables to give the illusion of added length. Use colorful fabric table runners for some lovely visuals and added texture for another layer of element to your decor. This makes for a striking feast for the senses!
Coffee Table Tray
Styling your coffee table with a tray is an ingenious way to elevate your coffee table look. Choose a rectangular tray to store books, liner items and tv remotes. This keeps the smaller items contained for a clean finish. Round coffee table decor trays are just perfect for housing little bowls, a small vase and round coasters. They add another texture to the style which makes for a more appealing aesthetic.
Books and Magazines
Now's the time to fish out all those coffee table books you've been dying to showcase. Placing a stack of books into a nice pile on the corner of your table adds an element of varying height. This also makes for interesting reading for guests. Finish the look with a small vase or top off with a bowl of potpourri. You can even keep your favorite page open with a nice decorative paperweight, making for a conversation starter.
Statement Pieces: Bowl, Candles
It doesn't take more than a couple of bold decorative objects to add some pizazz and flair to your coffee table. Choose a gorgeous textured bowl as a great centerpiece or three visually striking candles as your eye-catching styling statement pieces. A few of your favorite things are all you need to complete the look.
Fresh Florals
A vase of beautifully scented flowers is a surefire way to spruce up your coffee table. Fresh florals are not only aesthetically pleasing but they also leave your family room smelling fresh. Take it up a notch with a giant vase to introduce some height and structure to your coffee table ensemble.
Interesting Ideas on How to Style Your Coffee Table
When styling your coffee table, it doesn't hurt to fashion your design after tried and tested styles that have stood the test of time.
We have compiled our top 3 Styles for the Best in Coffee Table Styling.
Coffee Table Hamptons Style
Achieve the modern coastal look that is true to the Hamptons style with white iron and oak coffee tables. Elevate the Hampton beachy-chic with accents of ocean blue walls, crisp white linens and warm timbers. It pays to purchase a high quality, well constructed coffee table with beautiful carved trimmings for that authentic Hamptons Style.
Coffee Table French Style
Nothing is quite as elegant as French Style decor. The French styling ideas combine the rustic charm and refined decor of the French countryside. The simplest way to replicate the French Style on your coffee table? Opt for casual elegance. A number of gold candlesticks will add an old world charm. Stack a number of books with lovely bookends to your display. Perhaps a farmhouse tea tray with elegant gold trimmings, dotted with wild flowers complete the look.
Coffee Table Japanese Style
One word comes to mind with a Japanese Style of Coffee Table decoration. Zen. Often constructed to be lower in height than regular coffee tables, Japanese Style coffee tables double up as dining tables and are suitable for eating whilst sitting on the floor. They are refined and elegant. Some coffee tables are coated in black lacquer for a vintage appearance. Minimal styling is required for a Japanese Style decoration. A little bonsai plant in a ceramic vase takes center stage for a Zen look. Decor is kept to a minimum to make space for elaborate Japanese tea sets.
Whatever room design you are drawn to, styling a coffee table for your home is a perfect way to add a personalized touch to your living room.