When it comes to functional window treatments, blinds are at the top of the list. Window blinds instantly add exquisite style and sophistication with their sleek modern design and customisable features to create the perfect ambience of light control, shade, and privacy. While they bring life to any room decor, cleaning them is a task some find a little daunting.
There are so many varieties of blinds available on the market today, like the highly popular Dusk duo roller blind. We tackle the two most common types of blinds found in homes all over. Possibly the most popular window blind variety, the roller blinds come in PVC, wood and fabric. With our expert know-how, we bring you our step by step guide on how to clean blinds easily.
Cleaning Roller Blinds
Roller blinds are not only functional and stylish especially in the bedroom, but they're also easy to clean. Cleaning your blinds are as important as cleaning your windows. We begin by removing the roller blind from the window mounts. Once you roll the blinds up completely, making sure it no longer covers the window, gently remove the blind roll from the fixed bracket.
With PVC roller blinds, cleaning is a breeze as you can fully submerge your heavily soiled blinds into a tub of warm soapy water giving them a thorough wash to effectively remove grime and stains.
Fill your bath or a tub big enough to hold your blinds with warm soapy water. A couple of spoonfuls of detergent or dishwashing liquid should suffice.
Unroll your blinds and remove excess dust with a duster or a microfiber cloth.
Remove the blinds roll from its brackets.
Very slowly and carefully, submerge your blinds in a folding pleating fashion into the tub of soapy water.
With a clean cloth gently wipe off any grime or marks on the front and back of the blind.
Discard the soapy water and refresh the tub with clean water to rinse the blinds of any soapy residue.
Be careful not to leave any excess residue as this can not only damage the blinds, it will also leave stain marks.
You can now drape your blind outside on a clothesline or on a rod out of direct sunlight until it is completely dry before hanging them back up.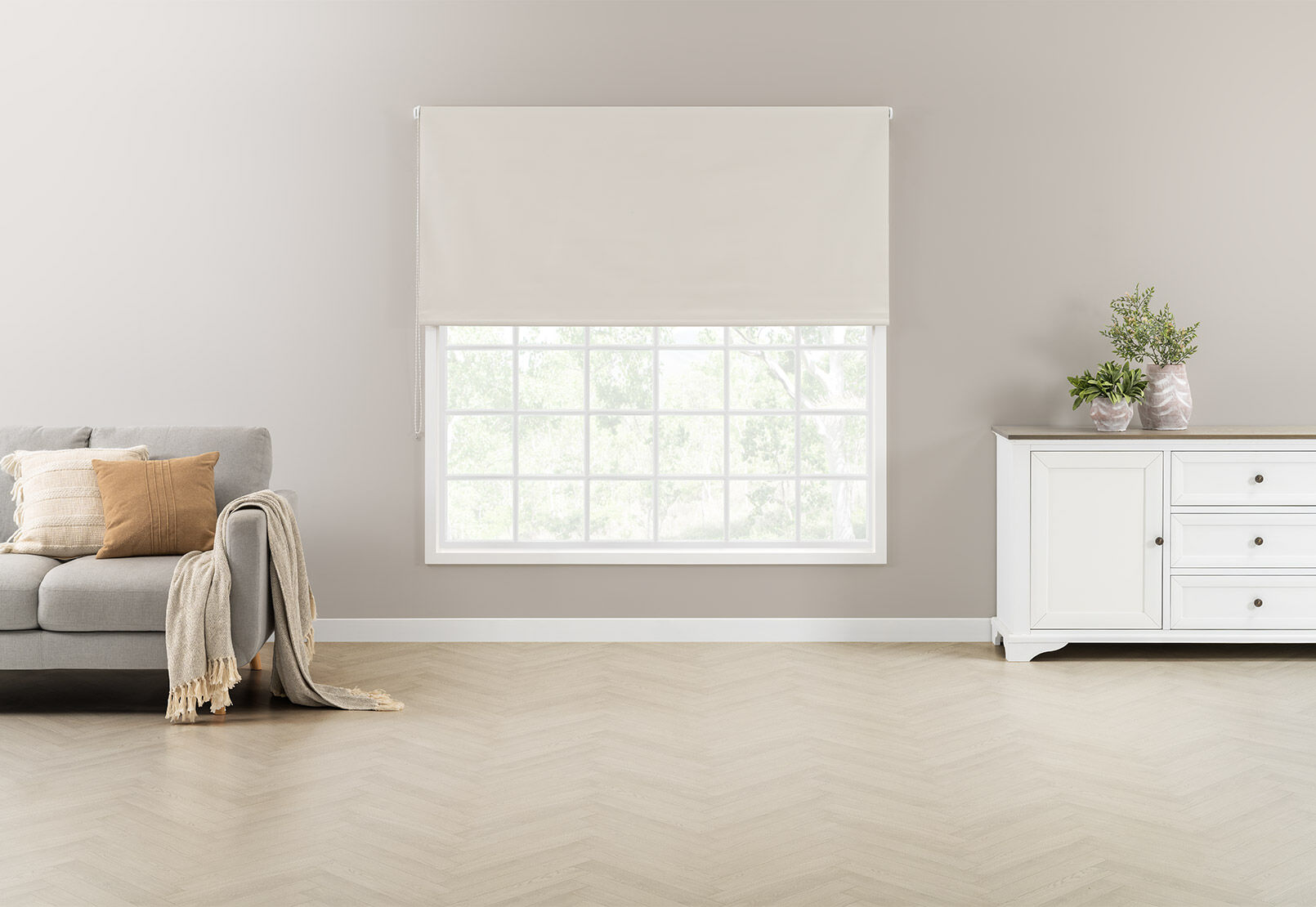 Cleaning Fabric Blinds
Not all blinds are created equal, so it is highly essential that a little care goes into cleaning fabric blinds. Unlike PVC blinds which can be fully submerged into a tub of soapy water, fabric blinds need extra care. Fabric blinds come in many forms.They are available both as the highly popular roller blinds and the vertical blinds. Vertical blinds are extremely tasteful especially when utilized in the office space. They attract less dust than other varieties of blinds but it's pertinent that they get a thorough clean every now and then. Here are our easy to follow steps when giving your blinds a deep clean:
After removing your fabric blinds from its brackets, spread them onto a clean surface.
Mix a small amount of general dish detergent in a small bowl of water and dampen a microfiber cloth or sponge with the soapy water. Be careful not to have a dripping wet cloth with excess water. If you are not keen on using soap, a diluted solution of water and vinegar does the trick.
With your damp cloth, start with spot cleaning any areas that are dirty by blotting and using soft rubbing motions. If there are tough stains, a stain remover is highly recommended.
As far as possible, do not rub or scratch at the fabric too hard as you risk damaging the blinds.
When in doubt, test the solution in an unseen spot beforehand to ensure the soapy or vinegar solution doesn't cause unforeseen damage. Once completed, lay the blinds flat until thoroughly dried before handing them back up.
Cleaning Venetian Blinds
Venetian blinds are a classic style of blinds that has stood the test of time. While this highly popular blind is an elegant piece, it does attract more dust than the vertical blinds. Cleaning the horizontal slats is not a hard task but it is one that requires a little more time and slightly extra effort.
When it comes to cleaning Venetian Blinds, the general rule is simple. For aluminum, PVC, and other waterproof Venetian Blinds like the Bali Faux Wood, warm water and the trusty wet cloth is all you need to remove dust and grime. For wooden blinds, too much moisture will damage the wooden slats so a blind cleaner specially formulated for wood blinds is a must.
Cleaning application is simple for synthetic Venetian Blinds:
Start with a feather duster, dry cloth of old sock. Working your way from top to bottom, begin with cleaning each slat individually from one end to the other, covering the entire slat. Do not forget to clean both sides. A vacuum cleaner with upholstery or brush attachment also does the trick.
For a deeper clean to remove dirt and grime, remove the Venetian Blinds from the wall bracket. You want to fill a bowl with soapy water and in the same manner, using your soapy microfiber cloth, clean each slat individually. Rinse off with cold water and let dry before hanging up your blinds.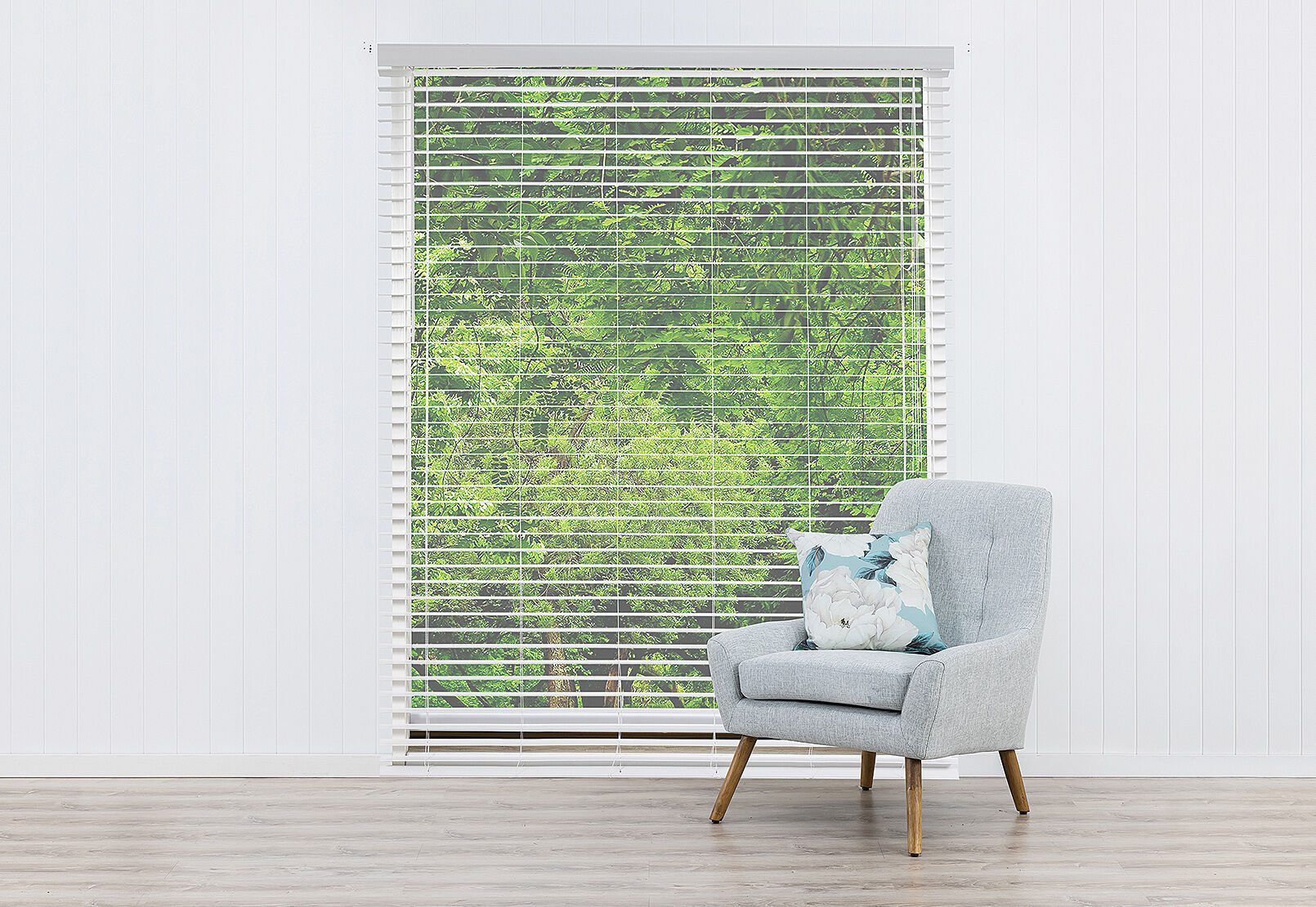 How to Clean Blinds without removing them
For regular light cleaning, you do not have to remove blinds from the wall bracket. A vacuum with brush attachment works wonders when it comes to cleaning blinds. Make sure your blinds are fully unrolled before vacuuming. A feather duster or dry cloth is handy in cleaning venetian blinds. For a more thorough clean after vacuuming, finish off with a damp cloth dipped in soapy water, moving in a top to bottom motion. This hassle free cleaning application works a treat.
How to Clean Mold Off Blinds
Mold thrives in warm and damp environments so blinds in the kitchen and bathroom may develop mold if the blinds are not dried out properly. Leaving the window open for ventilation is important to prevent mold buildup. In the case of mold growing on blinds, you can use a solution of lemon juice and white vinegar to kill off the mold spores. For severe mold buildup, use a fabric safe cleaning agent to target mold spores. If that doesn't do the trick, a trip to the dry cleaners is the best option.
How to Clean Lampshades
Lamps are quintessentially one of the most exquisite lighting features to date. Like any decorative item, they bring light, ambience and atmosphere to any living room or dining room area. Cleaning a lampshade like the Kalapana is easier than you may think. Here's a few simple steps to achieving a bright new lampshade:
For silken and linen lampshade, start by removing dust either with a feather duster, cloth or gentle vacuum.
Fill a tub or sink with light soapy water. Place your lampshade into the soapy water for a good wash.
Rinse it gently with warm water and let dry before placing it back on the stand.
With our easy to follow steps from Amart, cleaning your blinds is a breeze.