Flat pack furniture has become an integral part of the world of today. It's a beautiful, hassle free concept. You choose the furniture of your choice, take it home in a ready-to-assemble kit form, and with the aid of a couple of tools, a set of instructions and a little hands on effort, you're now the proud owner of a new furniture piece that adorns a permanent place in your beautiful home. What's not to love?
What is Flat Pack Furniture?
As the name suggests, flat pack furniture is furniture that is manufactured in flat parts and then self assembled. It's also known as ready-to-assemble furniture. It might not be such a new concept to most people of today but flat pack furniture is part of modern history. Flat pack furniture is said to have been invented in 1956 by Mr Gillis Lundgren, a Swedish draftsman. Mr Lundgren was struggling to load a table into his car for delivery. The idea then came to mind, to unscrew the table's legs and place them on top of the table before successfully loading it into the car. And thus, the concept of manufacturing furniture in kit form was borne. A relatively new concept, especially to furniture companies at the time, flat pack furniture has since boomed into a world wide, multi million dollar industry that it is today.
What are the advantages?
The popularity for flat-pack furniture has grown immensely since the time of its inception. It's safe to say that the majority of people's homes today have at least one piece of furnishing that came home in a box, ready to assemble. Flat-pack furniture is loved by people from all walks of life and for good reason too. If you have yet to succumb to the innovative style that is flat-pack furniture, here's our list of the many advantages as to why you should buy a flat pack:
The Advantages of Flat-Pack Furniture
Affordability. Probably the biggest reason for its popularity, the majority of people purchase flat pack furniture for its affordability. Due to its manufacturing process, the flat pack furniture is produced in mass quantities in their specified warehouse using CNC milling technology, thus reducing labor costs. Add to that the fact that the furniture is stacked into boxes allowing for larger quantities of product to be shipped at once, hence reducing transport costs. This makes flat-pack furniture a very economical option for both the manufacturing company and the consumer.
Easy to Assemble. The essence of all flat pack furniture. Self assembling furniture is easy to put together and dismantle, making it a viable option for all people. You don't need a giant tool box or any previous know-how when it comes to piecing together one of these fine kits. Because it's easily assembled, a handy tool and your reading glasses are your best friends when it comes to a flat pack.
Easy Transportation. The flat pack furniture is easier to carry and transport, as it's lighter and able to fit into smaller vehicles, unlike pre-built pieces of furniture. So you can essentially go from purchasing your flat pack, taking it home in your car and having it assembled and ready to use by the time everyone's home for dinner. And for those who move homes a number of times, having flat pack furniture is ideal, as it's easy dismantling and adaptability means you won't be lugging around heavy, bulky pieces of furniture into giant removal trucks when it's moving time.
Selection of colours, design and size. Most flat pack furniture come in an array of colours, designs and sizes. The contemporary style of modern flat pack is highly appealing to the younger generation of buyers who prefer the clean lines, and minimalistic style flat pack furniture has to offer. Coupled with a selection of colours and designs to choose from, flat pack is most irresistible to people of all walks of life. With the incorporation of high quality solid wood and metal parts to the flat pack, you can now create a home with an assortment of furnishings dovetailed to your personal style and taste.
Eco Friendly and Sustainable. Modern designers are consciously creating furniture with both solid wood and other sustainable materials. These materials are both green and friendly to the environment, from conception, to manufacturing right up to the point that it arrives at your doorstep. With increasing awareness of sustainable practices in manufacturing, flat pack furniture is solidly becoming a much preferred greener option for your home.
Types of Flat Pack Furniture
Flat Pack furniture design has tremendously evolved since the time of its invention. One may be pleasantly surprised to know, despite flat pack furniture often being mass produced, furniture designers have been working hard to create gorgeous top notch furniture styles to suit the modern palate while meeting the standards and convenience of flat pack furniture that we have come to know and love.
If you are hard pressed for furniture solutions, explore our range of flat pack furniture designs available for both indoor and outdoor living.
Living Room Furniture
Adorn your living room, with beautifully crafted storage solutions that come in ready to assemble fashion.Take your pick from mid century style Scandinavian dining tables in natural finish, to country style Normandy Oak look entertainment units. Complete your living room ensemble with a coffee table of the same design or mix it up with a combination of light and dark solid woods for a contemporary look. Flat pack furniture is available in a multitude of furnishings from TV stands to cabinets, hallway tables and side tables, even the shoe rack.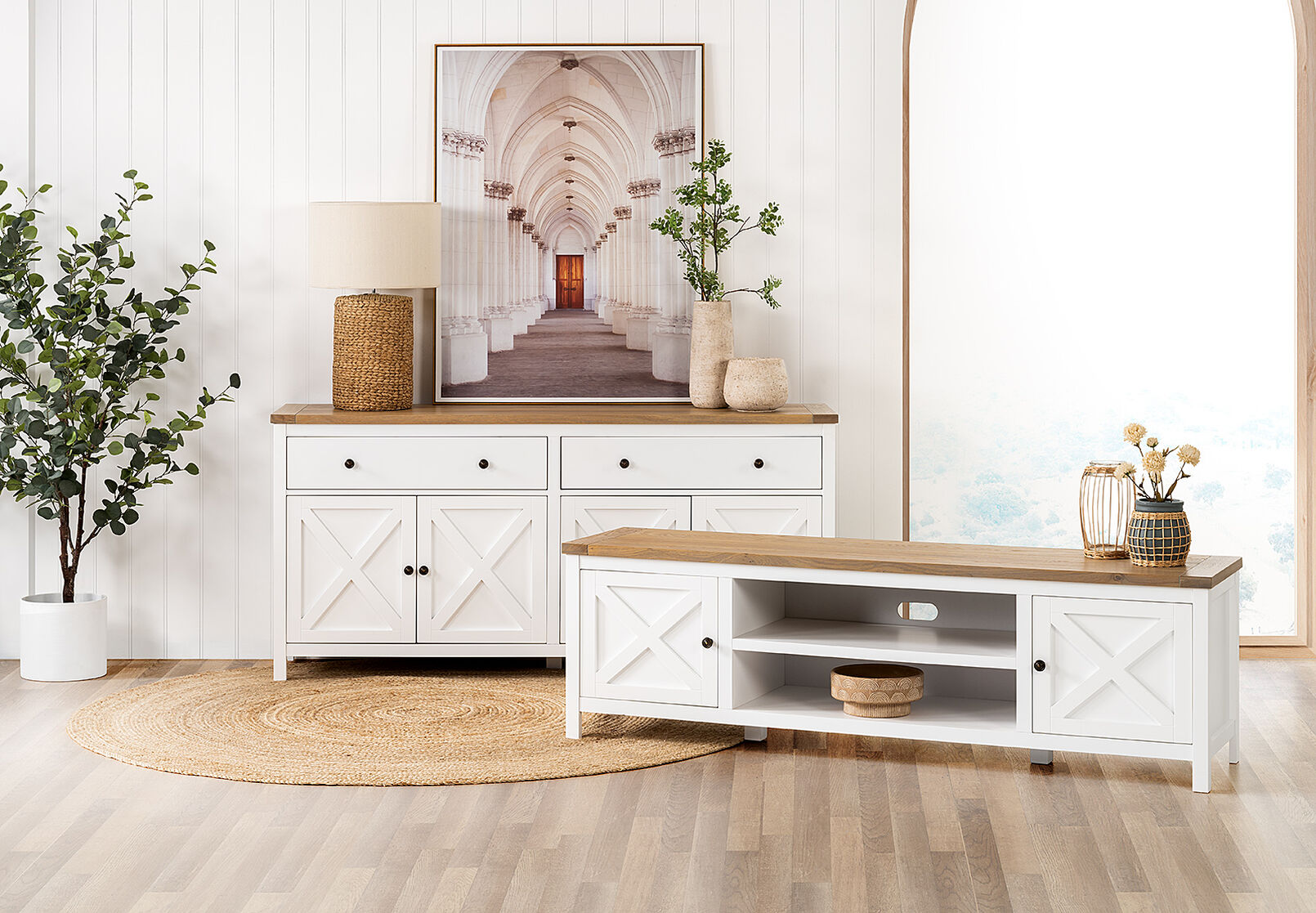 Bedroom Furniture
The bedroom benefits the most from a ready to assemble furniture kit. Explore the beds, bedside tables, wardrobe solutions and dressing tables in flat pack style. Having your bed arrive in a flat pack is the smartest invention since sliced bread. In the past, you'd have needed the help of ten men or a mechanical crane or both, in order to haul the giant bed base up 7 flights of stairs before collapsing into a heap. With the flat pack, all that hassle is put to rest. Your bed is assembled in your bedroom itself, so it's ready to give you a well deserved rest.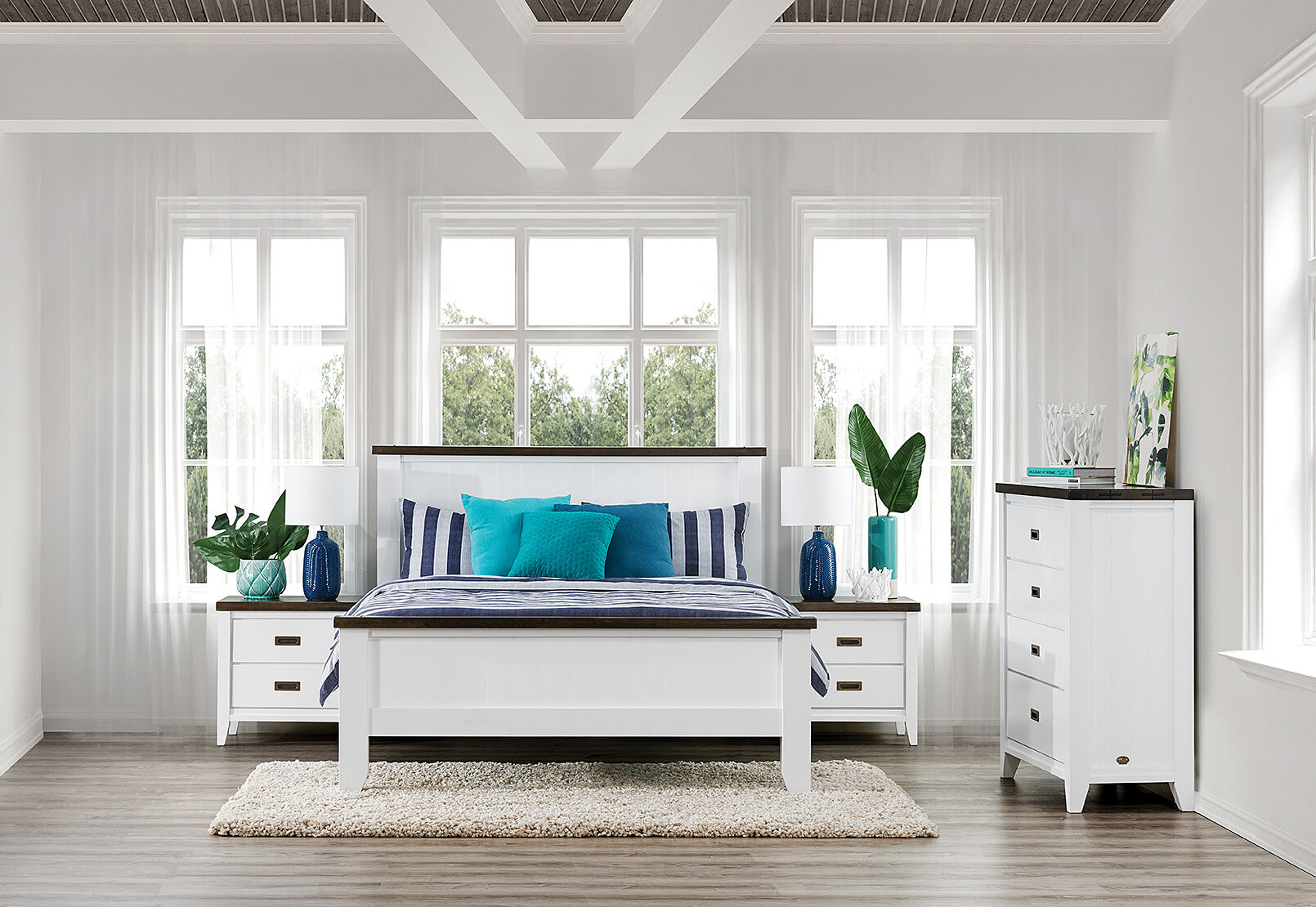 Office Furniture
Furniture designers have put a lot of time and energy into creating flat pack furniture specially crafted for the office storage solutions. They're practical, efficient, smart looking and lightweight while at the same time being durable and easy to manage. We offer the Park City desk, with metal legs for the industrial look. Select a traditional look display cabinet with the Le Franschhoek, crafted in dark wood with white finish. We have bookcases and plenty more storage solutions for all your needs.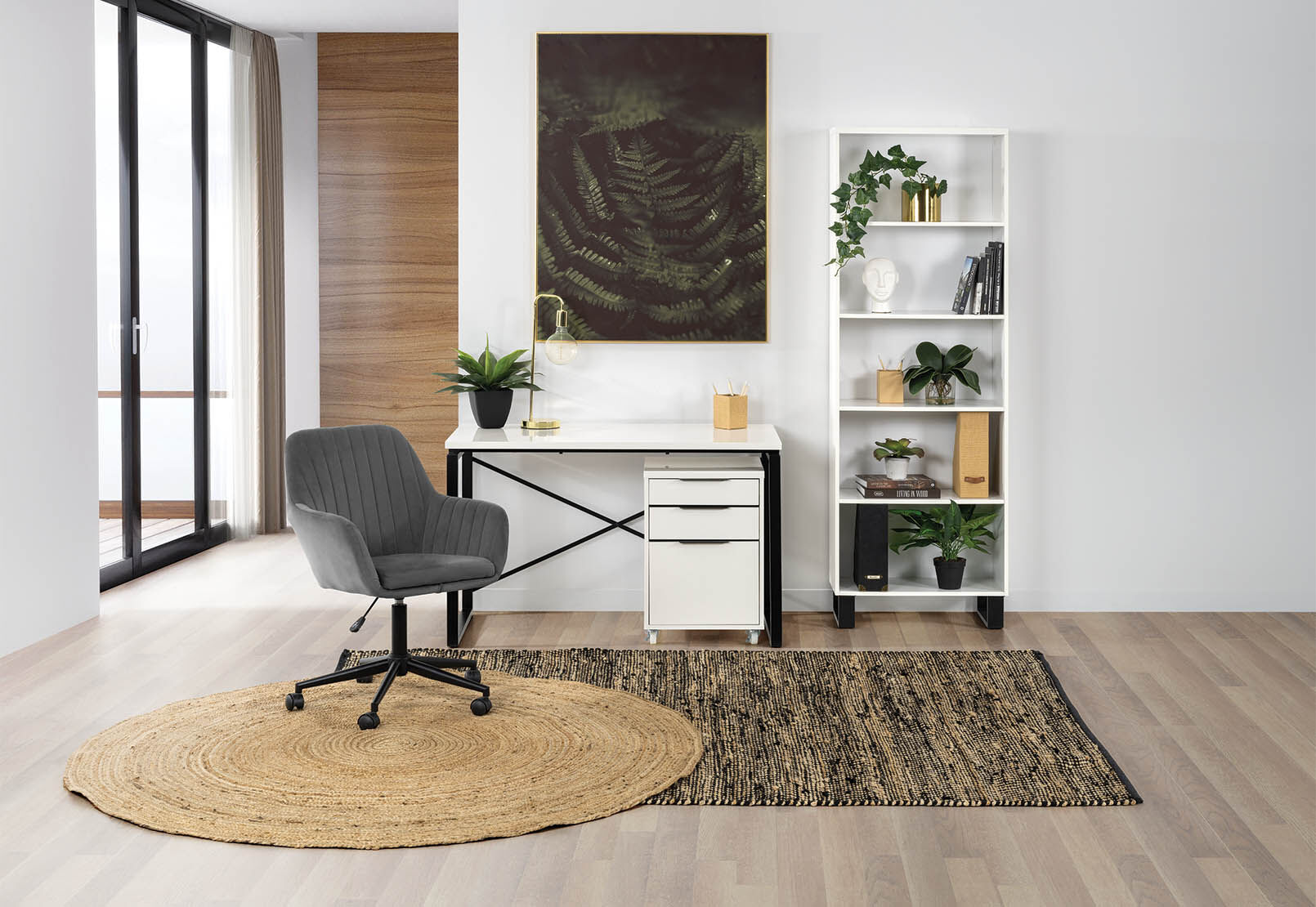 Outdoor Furniture
Flat pack furniture designs don't just compliment the interior of your home. Explore the exciting range of ready to assemble pieces that will make your outdoor space a masterpiece. Choose from impressive outdoor furniture, like the Shadow2 outdoor bar table for a magnificent stand out piece. Complement your outdoor dining table with the Amarillo bar stool. The flat pack is available in so many outdoor furniture sets, or separately in a range of colours and materials to suit your style.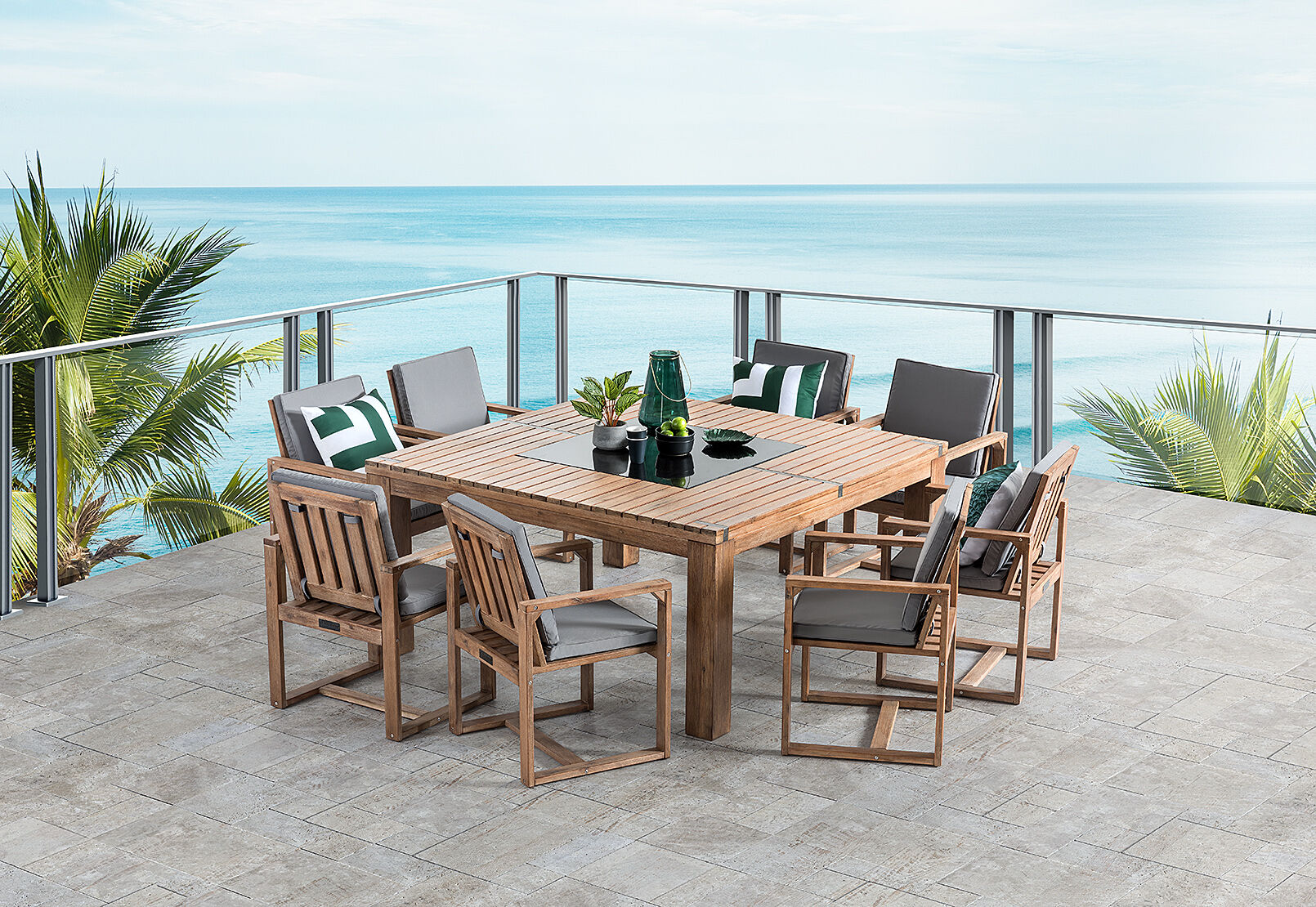 Helpful Tips To Assemble Your Furniture
While assembling flat pack furniture is a cinch for some people, it's a little tricker for others. If DIY isn't your cup of tea, creating a piece of furniture from a box of wooden boards, tiny screws and bits of obscure pieces, may prove to be an overwhelming task for some. With the right knowledge, a little preparation and a few handy tips, it can be quite a simple and rewarding experience.
Here's our top tips on how best to build your flat pack furniture:
Before you unbox and start to build flat pack furniture, ensure you make a space to work on in the room where the furniture will eventually end up. The worst thing you can do is build your bed in the living room only to struggle to fit it through the bedroom door afterwards. Lay out all your pieces of furnishings, fixings and tools on your floor so you can see everything clearly. This way, you have a chance to check there are no missing parts before you begin.
We cannot emphasize this enough. Too often, people skim through the instructions quickly, thinking they know better only to find themselves in a fix halfway through constructing their table. Read through the instructions and scrutinize them carefully. The more you understand the steps ahead, the better prepared you are, and the less likely you'll be to make mistakes that could be very difficult to undo.
As the saying goes, patience is a virtue and for good reason too. It pays to be patient when assembling furniture. Quite often, the job may be more time consuming than expected but rushing through is not advisable. Keep a steady pace and hand, and you'll be pleasantly surprised at the finished product.
Two hands are better than one. Especially if you're trying to assemble a large piece of furniture. Having a friend help is a great asset. One person can hold the piece of furniture up while the other secures it into place. Teamwork is the building blocks of the flat pack furniture.
Once you've finished assembling your furniture, it's highly recommended that you check your work and finish thoroughly, especially for any missing screws or unused bits and bobs that were forgotten in the process. Make sure all the screws are tightened and the furniture is sturdy and safe before lifting and repositioning. There's nothing quite like a sense of accomplishment on successfully assembling your flat pack furniture.
Preparation is Essential.
Heed the Instructions Very Carefully.
Be Patient.
Ask a friend to help.
Assess your work.
5 Essential Tools for Assembling Your Furniture
Most ready to assemble furniture come equipped with their own Allen key for ease of construction but in some instances, having a few additional tools makes it all that much easier to piece your furniture together.
Here's our 5 Essential Tools for Assembling Your Furniture:
A Multi Head Screwdriver. If having a giant tool box is not practical, one power tool that will make a difference is the multi head screwdriver.
Small Hammer. Great for knocking in nails securely. A hammer with a rubber attachment doubles as a mallet.
Power screwdriver. Very useful for securing your shelves and wardrobes to the wall.
A Stanley knife. It's sharp and very useful for DIY projects while at the same time, sparing your kitchen knives from damage.
Combination Pliers. These pliers are just the tools you need to grip small bits and pieces.
With our top tips and guide on flat pack furniture, assembling your next piece of furniture from Amart is a breeze.