Home is where the heart is and while some of our homes have large backyards set against scenic countryside, others might be enjoying a beautiful sunset view from their deck in the suburbs. In other parts, some people host parties atop their rooftop balcony against the backdrop of their city skyline. No matter the size of your outdoor space or the view, one thing is for sure. Enjoying the outdoors is an entertainment luxury especially in the warmer months so we want you to create an inspired outdoor living area that everyone will enjoy.
Creating the outdoor living room of your dreams is easier than you may think. Envision your outdoor area to be as simple or detailed as you wish and with the easy addition of a few key elements, you can recreate your outdoor living sanctuary in no time at all.
Furniture Styling
Possibly the most important feature when creating your outdoor oasis, your choice of outdoor furniture will set the tone and ambience of your space. This outdoor living room is an extension of the indoor living space so it is important to get the layout right and to create a continuous and smooth indoor outdoor flow. And like most spaces, it's best to begin styling with the largest items – your furniture – before introducing decorative pieces. If you are lucky enough to have a gorgeous view from your backyard, position your furniture to face in the direction of the view, after all it is the highlight of any outdoor space. Do keep in mind not to have your outdoor furniture blocking your view from inside your home so as to create one continuous flow.
Comfortable Seating
When it comes to outdoor furniture, we do want one thing, comfortable seating. It is after all, a place to relax and unwind with a glass of wine after a long day at work. Your seating area is your lounging focal point. So depending on the size of your outdoor area, your lounge can be anything from the simple and highly popular Mathilda 3 piece outdoor setting for the working couple to a stunning 7 piece Modular Lounge Set like the Sirena that will easily house your extended family for those weekend barbecues.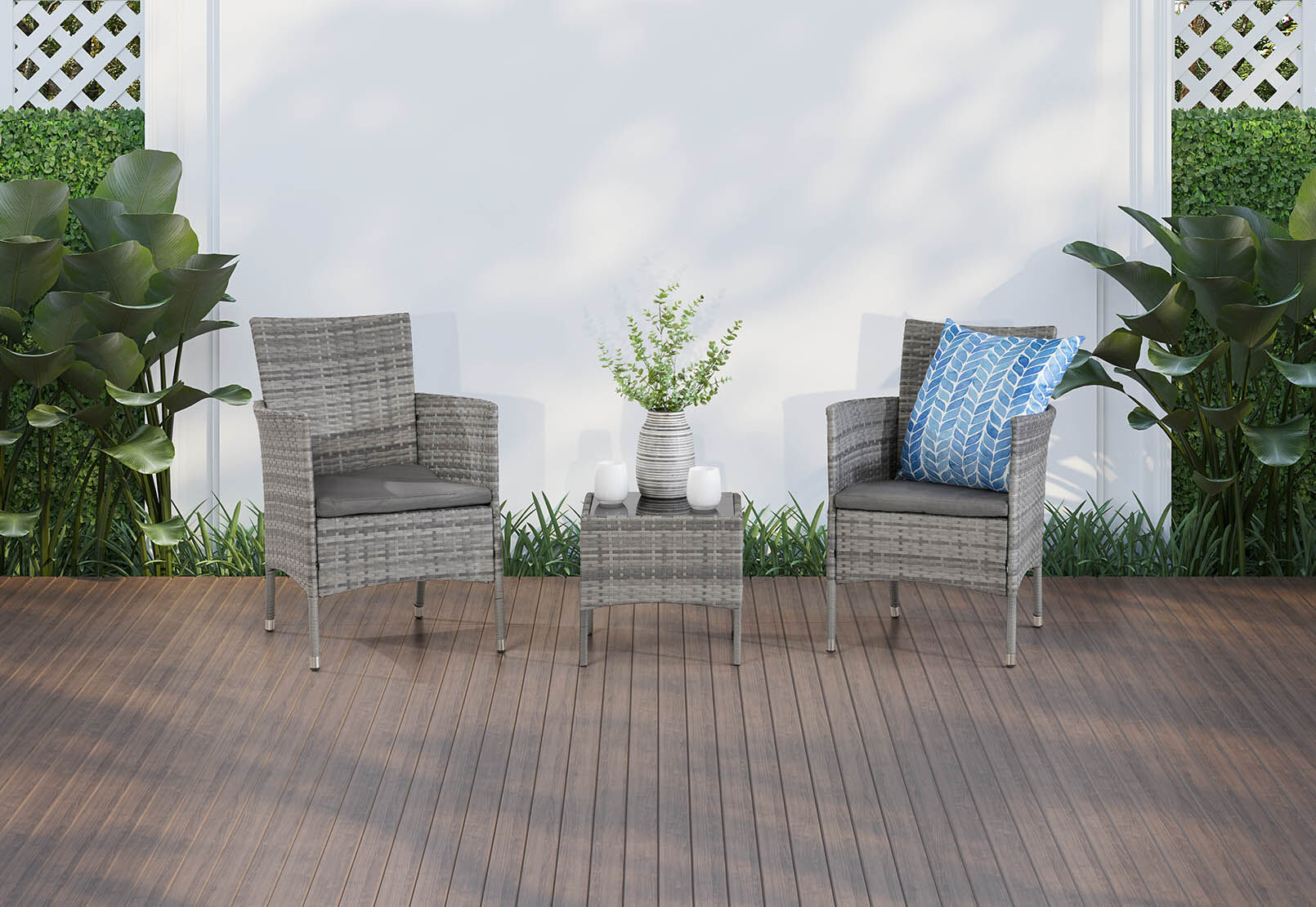 Outdoor Dining
At Amart, our stunning outdoor dining sets instantly adds function and style to your outdoor rooms.Transform your patio into a beautiful and relaxing alfresco dining area that will have you looking forward to dinner time every night. The 5 piece Sailor is a gorgeous addition to any patio as a functional dining table set for the family. For larger families, weekend parties or for those who just love to entertain, we recommend the 9 piece Barbosa dining setting. It does the trick to comfortably house everyone during those big gatherings.
If a dining set isn't your cup of tea, get those creative juices flowing and invest in an outdoor table like the Miami 2600 outdoor table. For a country farmhouse feel, this vintage style table will have your guests swooning over its rustic charm. Complete your dining set with either chairs of the same finish or go crazy and have some fun with mismatched dining chairs which are all the rage at the moment. For a hassle free option, bench seats are highly practical seating solutions to your outdoor living space. Whichever direction you choose, you'll be adding your personal touch to your outdoor space and making it your own.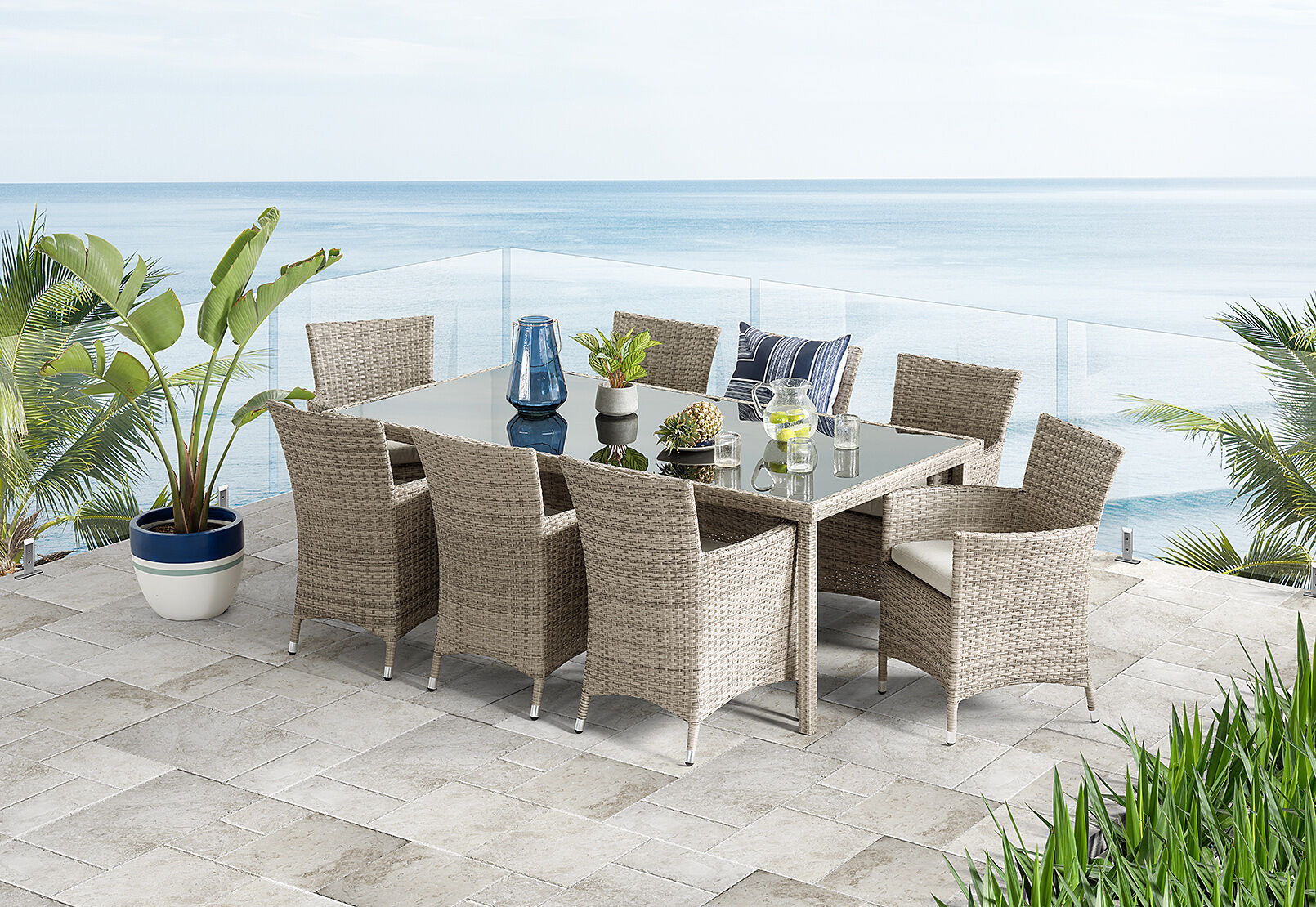 Lounge Sets
We know the backyard is your sanctuary. As far as outdoor spaces are concerned, we take our lounging very seriously. Relaxation is key and we have top choices of lounge sets in all shapes and sizes that will satisfy your every need. Select from a classic, the Amari, your trusty single sunlounger, perfect for tanning by the poolside. For a family vibe, you will definitely fall in love with the Miami 4 Piece Lounge. This classy Hamptons style sofa and lounger is beautifully crafted and visually stunning.
For even more stylish lounge pieces that will elevate your outdoor space, look no further than our eye-catching Sun bed, Day Beds and Outdoor Nest chairs. These functional chair lounger outdoor pieces are not only visually striking, they're extremely comfortable and yet so sturdy they weather the elements perfectly, so caring for these pieces is a dream. Egg chair cushions are easily washable making them effortless to maintain.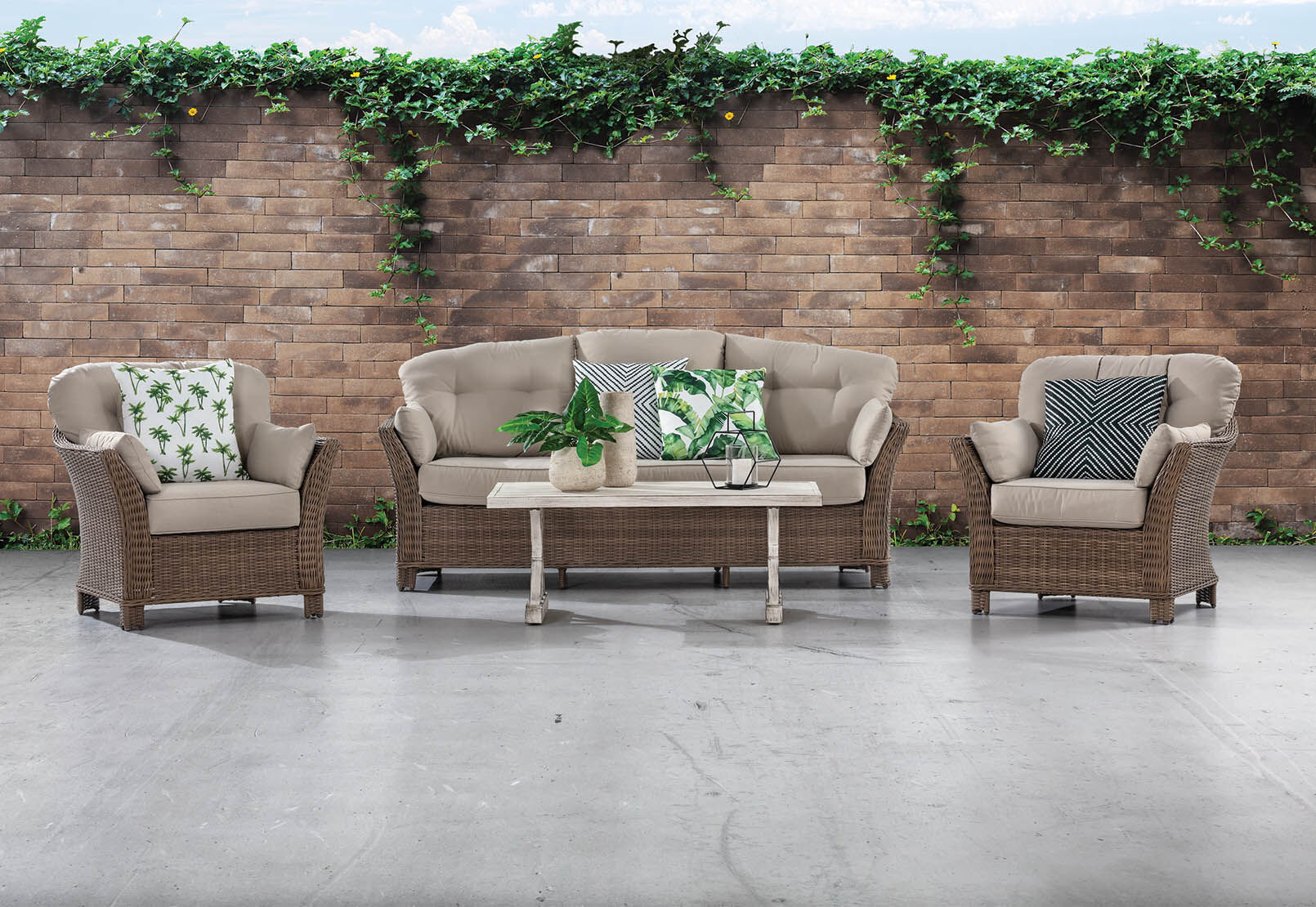 Storage
Cleverly made furniture doubles as storage so you can store some outdoor essentials saving your trips back and forth to your indoor living room. An outdoor kitchen is a masterstroke for the backyard. Think of all the family barbecues, the birthday gatherings and poolside parties you can enjoy by setting up a simple outdoor kitchen to take care of your cooking needs. When you're outdoors with family and guests, the last thing you want is to be going back and forth for the little things. Having an outdoor kitchen set up complete with the barbecue, grill, sink and shelving, just to name a few, is a life saver! Shelving doubles up as storage for outdoor cutlery, utensils and so much more.
If space is a premium, fret not. Invest in smart furniture that will double up as storage. Ottomans for outdoors are a great way to stash away items that are not often used. Use them to store blankets, outdoor utensils and other items handy for the deck.
Landscape Architecture
A beautiful outdoor space is a reflection of harmonious marriage between man-made elements and nature. We're talking about landscape architecture. No outdoor setting is complete without some sort of landscape design. A simple lawn is easy to maintain but adding elements that beautify your garden's design while complementing your outdoor living area will further enhance your outdoor space.
Water Features
While many of us may not have the luxury of living next to a natural waterfall, it doesn't mean we can't recreate the features of a tropical oasis. Invest in an outdoor water fountain. Let your mind drift to the relaxing sounds of the trickling water fountain. It adds a level of serenity and calm to your outdoor living area. And with so many options available on the market today, from stone to resin, a solar powered water fountain is power efficient as it is beautiful.
Potted Plants
Outdoor pot plants are a quick way to add greenery to your patio. If space is limited and a full size garden isn't an option, potted plants are a simple but effective way to add lush greenery to your relaxation corner.
Outdoor Fireplace
Whether it's freestanding or part of a built-in structure, adding a fireplace to your outdoor living room is integral to creating a cozy and inviting ambience. They automatically bring the indoors out. As the cooler months set in, enjoy nature by the glowing embers of your outdoor fireplace. A fire pit can also double up as a simple rustic barbecue pit for those cooler nights.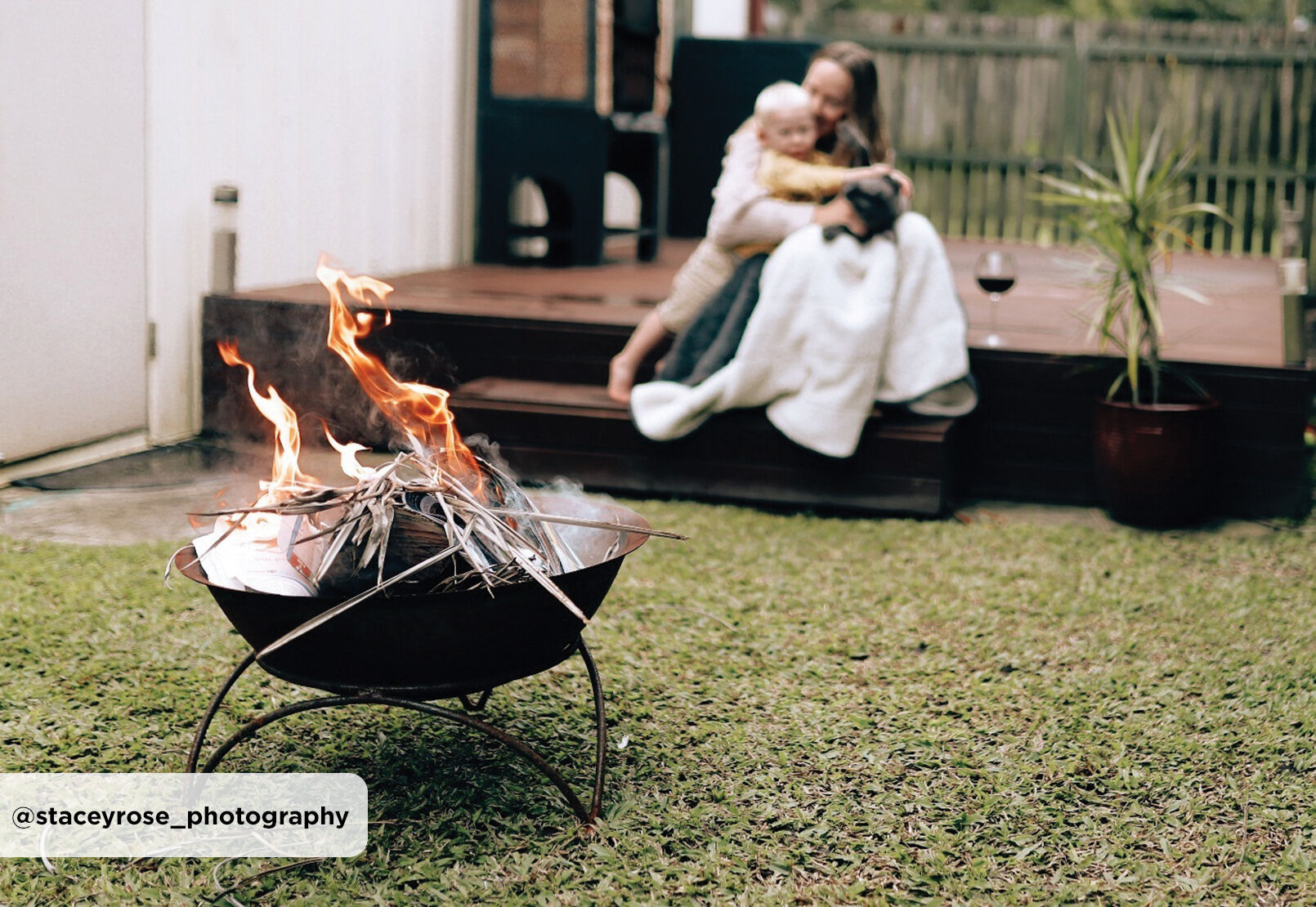 Enhance your Space with A Rug
As with indoor living rooms, your outdoor space will benefit from the addition of a well crafted outdoor rug. They not only enhance your outdoors but they help to define the space, creating a sense of a zone, if you will, tying your look together cohesively. Placing your rug under your dining area or coffee table cleverly draws your eye to the focal point for a visual feast.
Invest in Lighting
String lights are a simple and effective way to add warm subtle nuances to your deck. Visually striking against wooden furniture, they are an affordable way to add a festive mood to any deck or patio. Perfect to light up any backyard party, string lights, or other light fixtures are great additions to any outdoor space. They create a welcoming atmosphere that is warm and inviting.
Cushions and Throws
Add bursts of colour to your outdoor living room with cushions and throws. Have fun with your cushion styling and select bold prints or striking colours. Take a walk on the wild side and mix it up a little with an assortment of cushions of different shapes and sizes. With so many options available, you'll have plenty to choose from. Create a theme or purchase numerous colours and set designs to rotate them all year round.
Accessories
For a softer touch, you can't have too many blankets and throws to decorate your outdoor lounge sets. They're perfect to have on those cooler nights. And once you're done, store them back in the ottomans for the next time you need them.
Complete your outdoor living room with personal decorative touches. Add your flair to your living space with a colourful selection of decorative pieces from stunning vases, intricate table runners, beautifully crafted statues and stone fixtures. They introduce colour and texture to your living room for an ideal cozy ambience. One key addition are curtains. Floor to ceiling curtains are wonderfully exquisite and add an air of elegance to your backyard oasis. They're useful to have for those times when you want a little privacy too.
So wait no longer and let our team here at Amart be your inspiration to create the outdoor living room of your dreams.