Revel in the rich tapestry of luxury beachside living that is Hampton style interior design. The Hamptons design style has long been associated with the rich communities who lived along the far east side of Long Island. While not everyone has the advantage of residing along an idyllic beachfront, with a little expert know-how we present our guide to recreating this ever popular style of interior design to bring the favoured elements of light, breezy luxury coastal style living to your doorstep.
Hamptons Interior Design Style
What is Hamptons Interior Design Style? Its signature look is classic sophistication coupled with coastal themes. Think French influences, Baroque style furnishings upon a spacious clean white palate. It's open, airy and spacious while simultaneously dotted with large pieces of high quality furniture of natural materials specially chosen for both durability and elegance. The Hamptons style has a luxurious feel to it and yet it is laid back so it feels inviting. The Hamptons Style home Australia combines the classic Hamptons style with traits of Australian beachside living to create a beautiful design structure.
Design Style, Classic Style
When it comes to Hamptons interior style design, the 3 main types come to mind. We take a brief look at the traits of each style.
The Nautical Theme
Possibly the most well known Hampton style to date, the nautical theme is more popular than ever with much emphasis on using natural materials to adorn the modern home. Bring a piece of the ocean into your living space with this fresh, casual and coastal look inspired by the fishermen and the sea. If you love nautical decor, this style is for you.
Create the Look:
Use maritime-themed decorative pieces to adorn your home. Rope hangings and boat bookcases are a must. We love the look of our Shell Lamp for a bit of the sea.
Incorporate the use of natural timber furnishings to create the light and airy feel. Driftwood coffee tables and bookcases create an ambience of seaside living.
Colour palettes are inspired by the ocean waters. Blue and white stripes cleverly present a classic nautical theme to your living space, from striped towels to wallpaper design.
The Modern Coastal
This contemporary look is all about recreating that beach house atmosphere. It's simplistic and cool, combining open floor plans with neutral tones and white walls. Modern coastal home design never goes out of style. It's timeless elegance.
Create the Look:
Use exposed timber to emphasize the laid back nature that is modern coastal.
Allow for plenty of natural light and soft linen furnishings against hard timber floors.
Ocean blue and crisp white are a hot favorite in terms of colour palettes.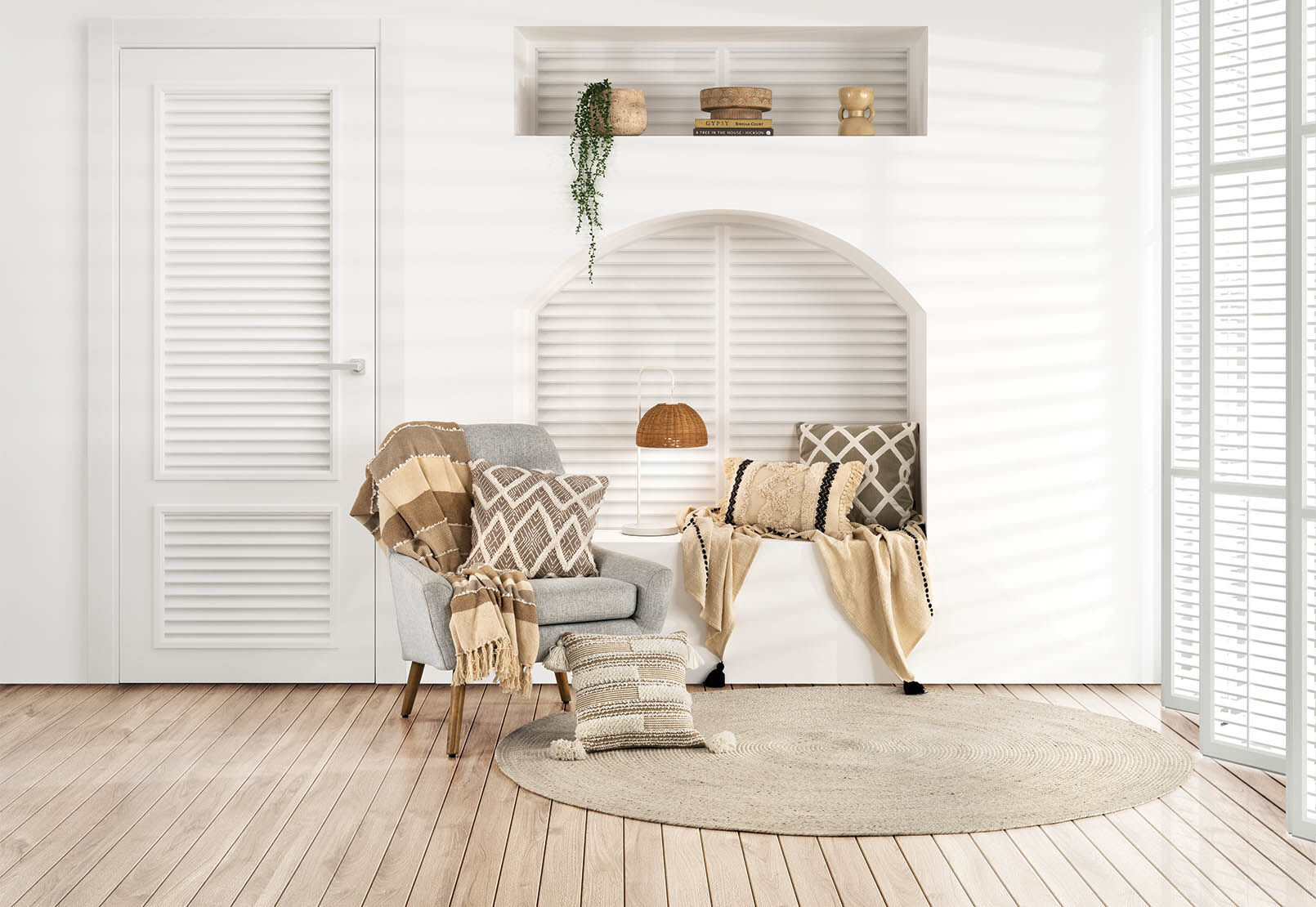 The Urban Hampton
If you love the clean lines and modern feel of urban living Hampton style, then this one's for you. White is the theme of the day when it comes to recreating the traditional Hampton interior design style but with the urban Hamptons inspired feel, we dare to tread boldly with the incorporation of striking colours.
Create the Look:
Match a gorgeous navy blue wall colour palette against hard timber floors and colorful furnishings of yellow and mustard.
A matt black finish sets beautifully against modern day stainless steel appliances for a solid contrast.
Large furniture is modern, with a touch of the industrial look.
Hamptons Living Room
Create a luxurious Hamptons style in classic style for your living room space. While Hamptons style rooms prides themselves on elegance, sophistication and high craftsmanship, they also exude a relaxed, warm and inviting ambience.
Here's our guide to styling your home the Urban Hamptons Interior Design Style.
Living Room:
We start with a dark timber floor,beautifully stained finish for a polished look. A gorgeous rug with a bold pattern is preferred for a modern look.
White is the colour of the theme while classic style furnishings decorate your sanctuary. Choose a large comfortable lounge with ample room for relaxing in. Opt for a lounge in light gray, cream or neutral colours to keep the look light. Accent chairs like the Celeste Tufted Velvet are a wonderful addition too.
Layer your sofa with varying textures and fabric cushions like the Nena from the Perago Home range, throws and pillows for an inviting feel.
The centerpiece of any living room, the coffee table is a classic style white on timber. For a more striking look, black with brass accents are most welcomed. The same applies with your side tables. Aged brass and gold accents adds a touch of luxury like the Hammond White Gold side table.
Inspired by Baroque, large floor to ceiling french doors set against high ceiling beams are just a beautiful way to instantly enhance your home.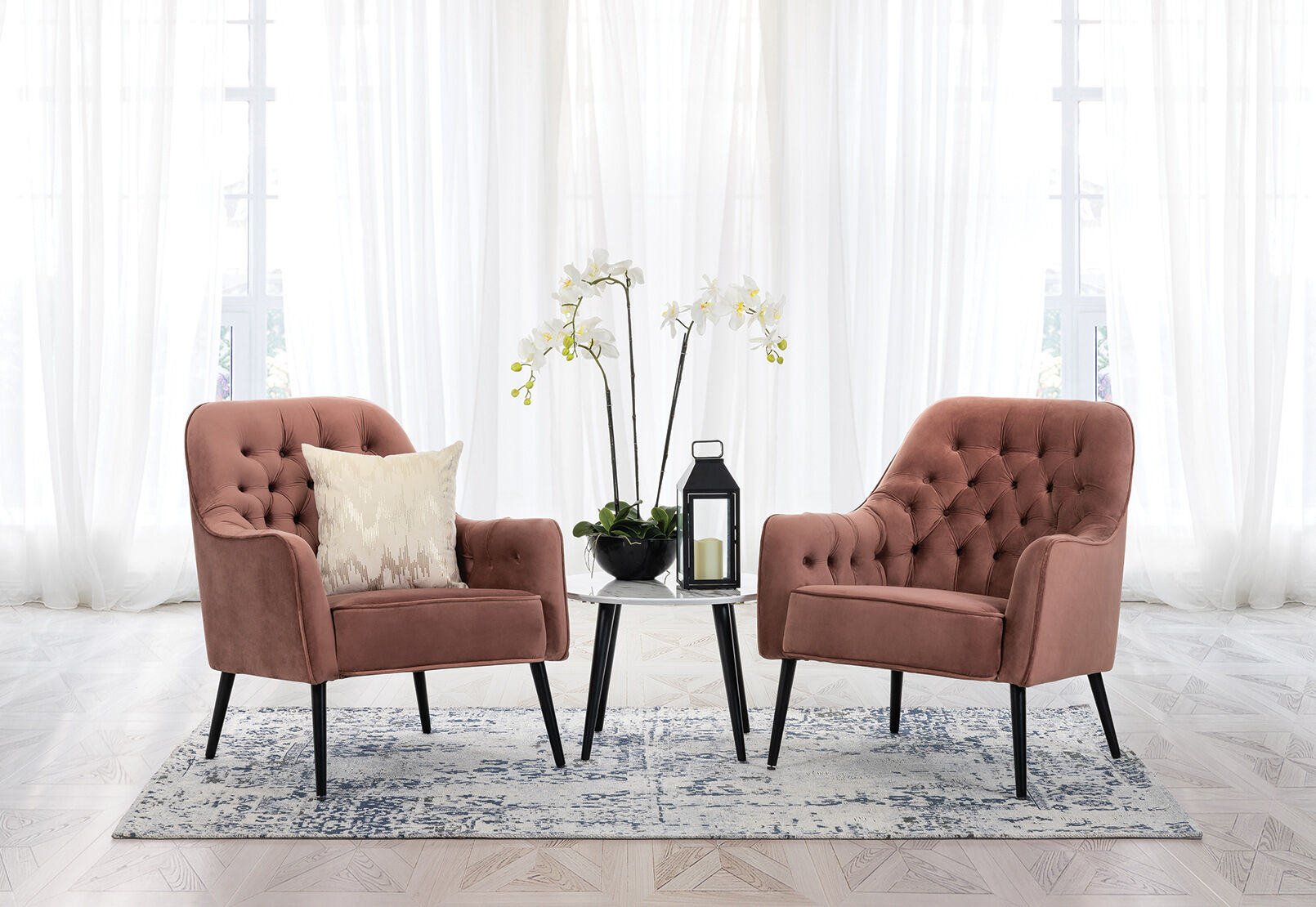 Dining Room:
We can never have enough white when it comes to the Hamptons style. White on white is a classic style but with an urban chic dining room, we pair the clean crisp white palette against beautiful bold colours and varying textures.
Channel the alfresco style of seaside Hampton Living with wicker chairs for beach like living or bring in the black accents for a modern chic style of dark wood furnishings with polished finish.
A gorgeous chandelier hangs over the dining room table as a beautiful statement piece in the Hampton Style decor.
Inspired by the French, accent chairs are an exquisite addition to any Hamptons Style dining room.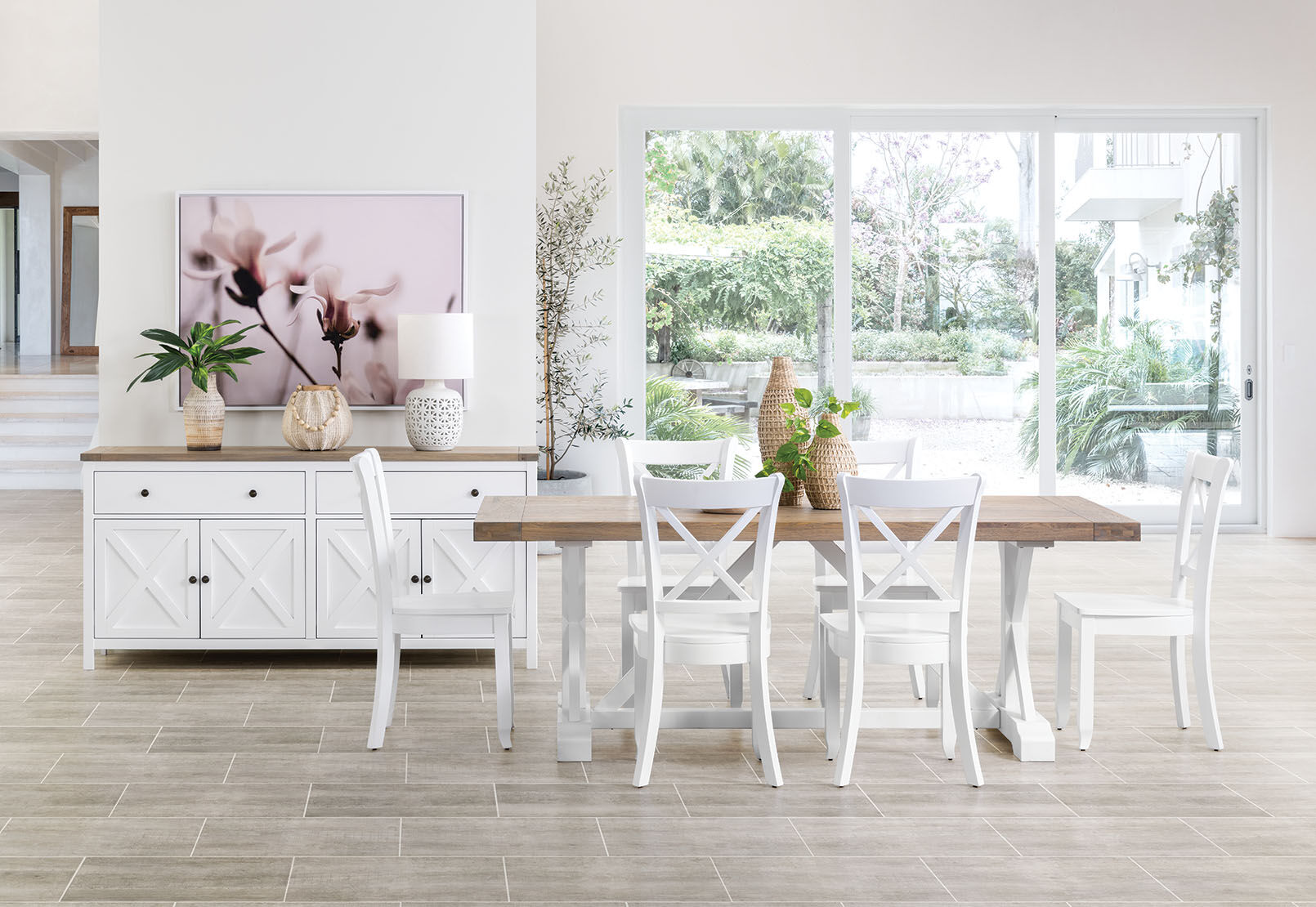 Kitchen Design:
Needless to say, we start with a deep brown timber floor as the foundation to any Hamptons style kitchen.
For a traditional Hamptons kitchen design, we prefer white cabinets with a beautiful glossy finish and brass fixtures for that authentic flavor.
A modern Hampton includes taupe walls and kitchen benchtops with tints of sandy brown for a warm feel.
Modern black appliances are a wonderful contrast to the white cabinetry for a bold appearance with a long lasting impression.
For a contemporary look, pendant lights do the trick merging the old with the new, to create a timeless look with minimal effort.
The Bedroom:
Set the mood right with darker colour tones on the bedroom walls for a more relaxing space. Duck egg blue or misty gray are just some suggestions on creating your sleeping sanctuary.
Layer different textures with the addition of an upholstered headboard. This Baroque inspired look adds a touch of soft elegance to your room.
Indulge in fresh linen sheets and high thread cotton for your Hampton bedroom. Natural materials are a huge part of Hampton decor.
Hamptons style is all about elaborate so go all out with masterfully crafted bedside tables, striking bedside lamps and even a chandelier if the mood fits.
We love sheer curtains to add a feel of lightness in the air for your Hamptons bedroom. A trim adds a modern touch to the fabric.
Dot your bedroom with warm metallics like aged brass to tie it all in for the modern chic Hampton inspired design.
Outdoor
When it comes to the outdoors, none supersede the luxurious beachside feel of Hamptons home design style.
Alfresco is the theme of the day. Outdoor dining is relaxed and breezy so enjoy your patio in the comforts of beautiful wicker furniture. Crafted for the outdoors and definitely made to last, these wicker sets are available from a simple 2 seater lounge set to impressive 9 seater dining table sets for the large summer barbecues. The natural wicker look positively adds to the seaside living.
Take inspiration from the sea and choose light coloured wicker furniture. Our go to choices include light gray, cream and beige for a natural look to emulate that beach holiday.
Accent your outdoor lounge set with a beautiful coffee or dining table of the same make. Topped with glass for a clean contemporary look, it's also easier to maintain so you'll be outdoors all summer long.
Office:
As more and more people work from home, setting up a home office base is highly recommended. Creating a Hamptons design office space is easier than one may think.
In classic Hamptons style, we choose a colour palette that's easy on the eye, not distracting and clean. Crisp white, light gray, morning blue and neutral colours are top favorite office wall colour palettes. It's functional and practical.
White storage furniture is a highlight of any office space. The quality workmanship, natural wood look against white and topped with brass features make for a very attractive Hampton design office. Enhance your office space with gorgeous bookcases, office desks like the simplistic Adelaide and chairs for the perfect Hampton office dream space.
The Hamptons design permeates every room, space and sanctuary with class, exquisite craftsmanship and durability. Whether you choose to style your home as a classic seaside Hampton beach house, or decide that Urban chic is your preferred design, with a little help from Amart and our Perago range, creating the Hamptons style in your very home is an effortless task. Live your Hampton inspired dream home now.