We all love having an outdoor space to entertain, garden, play with the kids but mostly, to relax and chill. Do you get excited at the thought of a gorgeous alfresco patio but you just haven't got the luxury of a huge space? Don't let a compact outdoor area cramp your style.
The best Outdoor furniture is cleverly designed to turn your small backyard into an outdoor sanctuary that everyone will want to enjoy, all year long. We present our expert tips on how to achieve the backyard of your dreams with minimal fuss and in no time at all.
Small Outdoor Space Ideas
We've all been there. After watching numerous home renovation shows, you're inspired to create your own little backyard oasis. You feel like you're up for anything, ready to transform your own deck or patio into a year round retreat. The only challenge? You're working in a limited space here.
Fret not, we have inspired small backyard alfresco ideas that will transform your outdoor space so beautifully, it'll be everyone's favourite hangout spot.
Maximising Outdoor Space
Possibly one of the easiest ways to maximise your small outdoor space would be to choose your outdoor furniture wisely. This means matching your furniture to the shape of your outdoor space. Whether it's round, rectangular or a simple square, picking the right shaped furniture to fit your patio and entertaining area is a huge step in the right direction. A perfect fit means no wasted space, so you'll have plenty of room for other intricate design features.
Before you buy outdoor furniture, consider the size and fit of your selected area. You can then check the dimensions of your favourite furniture choices to make the right fit. A bench in some cases is an incredibly effective way to create a seating area for many guests without taking up too much space in a small patio.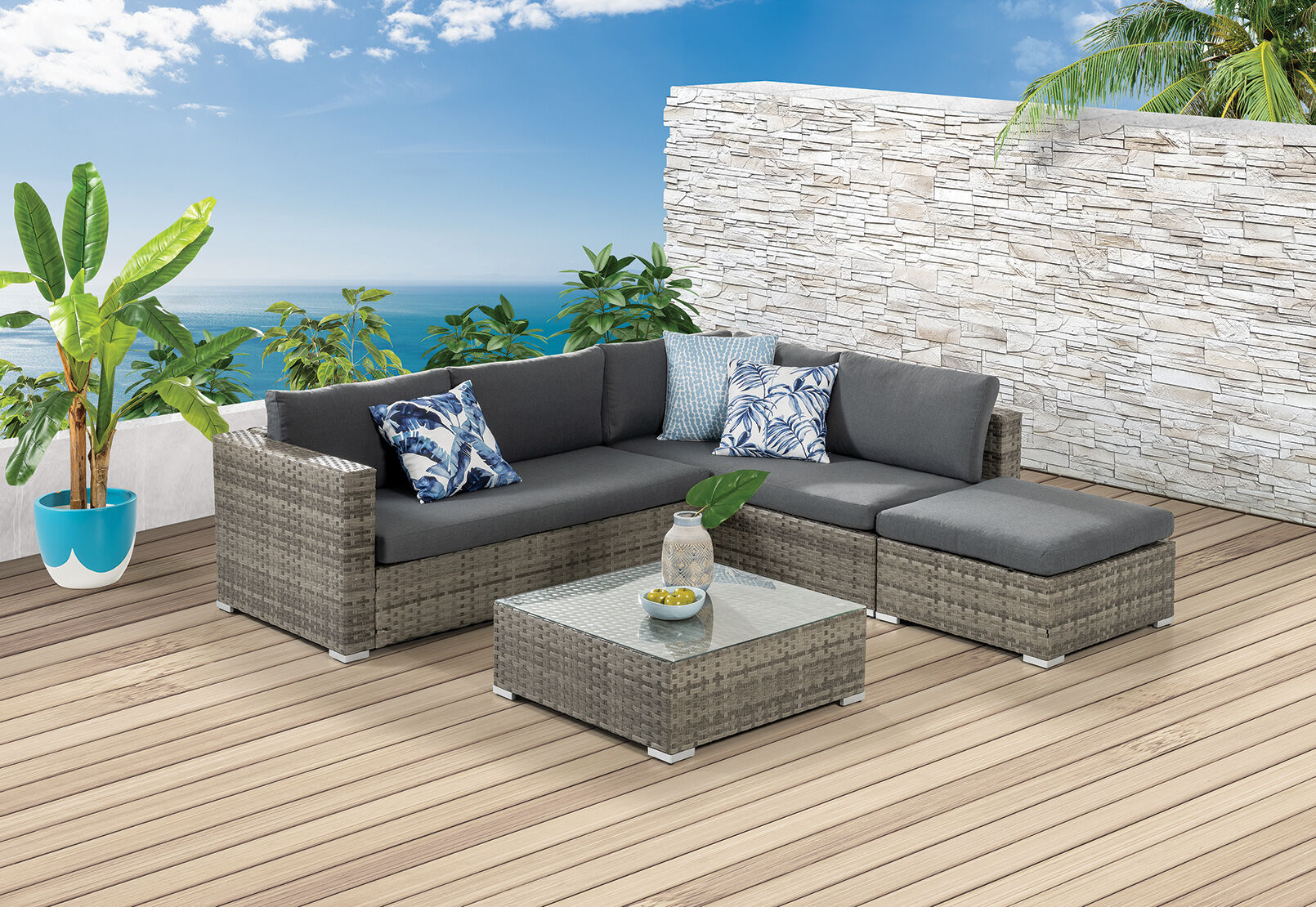 Create A Multipurpose Table
The size of your furniture is just part of the equation. Functionality is just as, if not more important and cleverly-made furniture is often both multi-functional without scrimping on style, so while you get more bang for your buck, your guests will most definitely be impressed by your patio design. A lounge area table is perfect for this and effortlessly used for multi purposes. As it's often the focal point of many backyard dining areas, it helps tremendously to have a multipurpose table that's both functional and visually striking.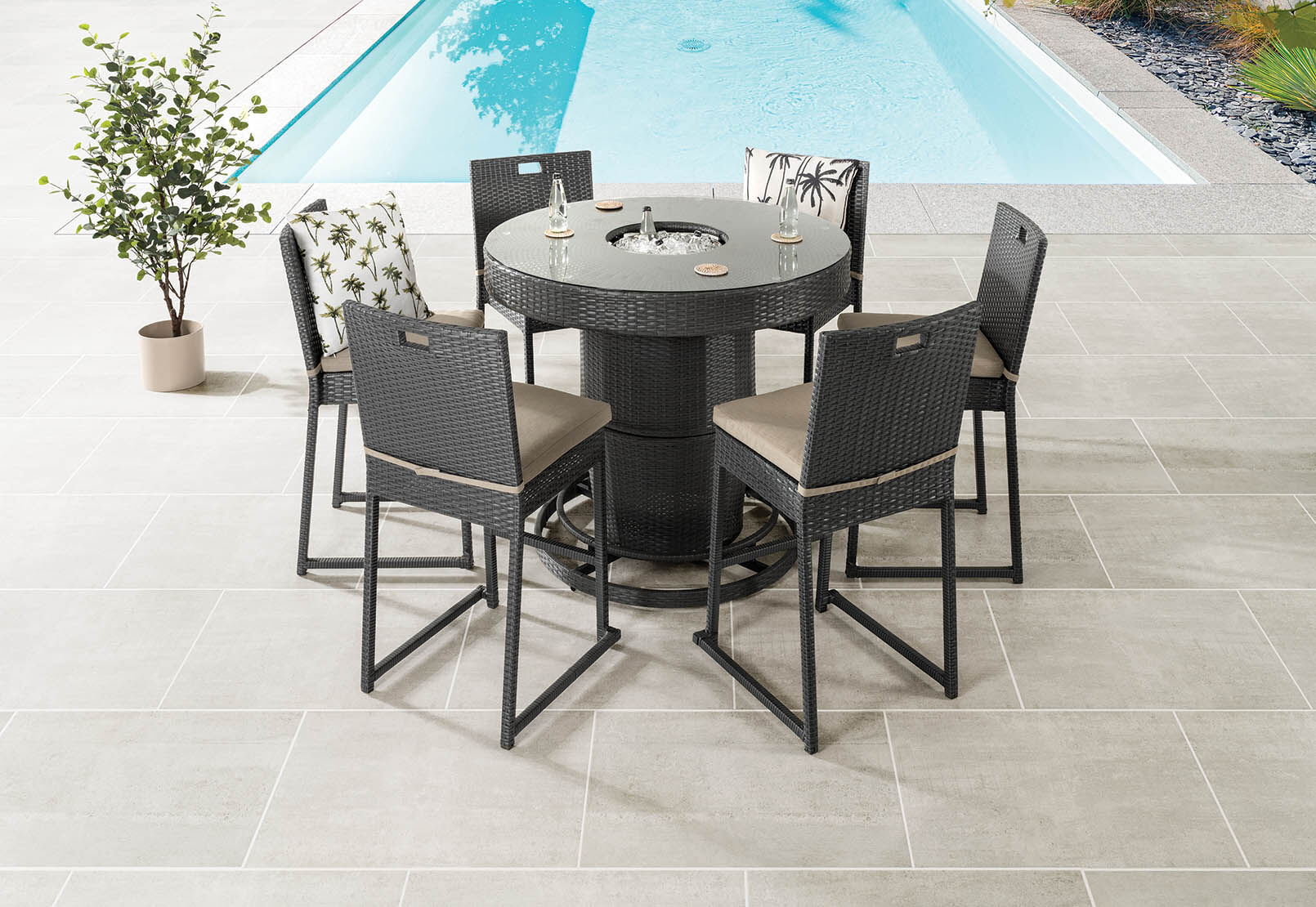 Fire Pit.
These tables often come with removable table tops to suit multiple functions. Purchase one off the shelf or you could have one custom made. When you're not cosying up to the fire, this converts to a table top suitable for dining in a flash.
A Cooler.
Quite the opposite to the fire pit, cooler tables are a wonderful way to keep your drinks chilled during those summer backyard parties. Not only is it functional, it's also visually aesthetically pleasing.
Storage.
The most practical way to get more storage into your central table. This space saving gem hides away extra blankets, board games, even the extra dinnerware and utensils for when you have a barbeque.
The possibilities are endless when it comes to achieving maximum function and value from your outdoor pieces. You might also like to use a stool or an ottoman as a side table, or large sofa cushions made from attractive, heavyweight fabric as floor cushions too.
Invest in Space Saving Furniture that folds away
Furniture designs and home decor are constantly evolving to suit our busy lifestyles. Designers understand the increasing need for quality outdoor time and have masterfully created pieces that fulfil these needs while providing a stylish contemporary solution that's not only easy on the eye but also able to withstand the elements. These furniture pieces are here to set the scene for an outdoor living room.
Having furniture that easily folds away is a practical solution to so many outdoor challenges including space.
The clever Nobby 11 piece outdoor dining setting doesn't scrimp on features. It's a rectangular dining table complete with six cushioned dining chairs and four, square ottomans. The best part? They all fold away under the table for a space-saving solution. Why not sink into one of the chairs to read, browse the internet, or have a quiet drink, after guests have departed, or when you want to enjoy your own, precious, leisure time.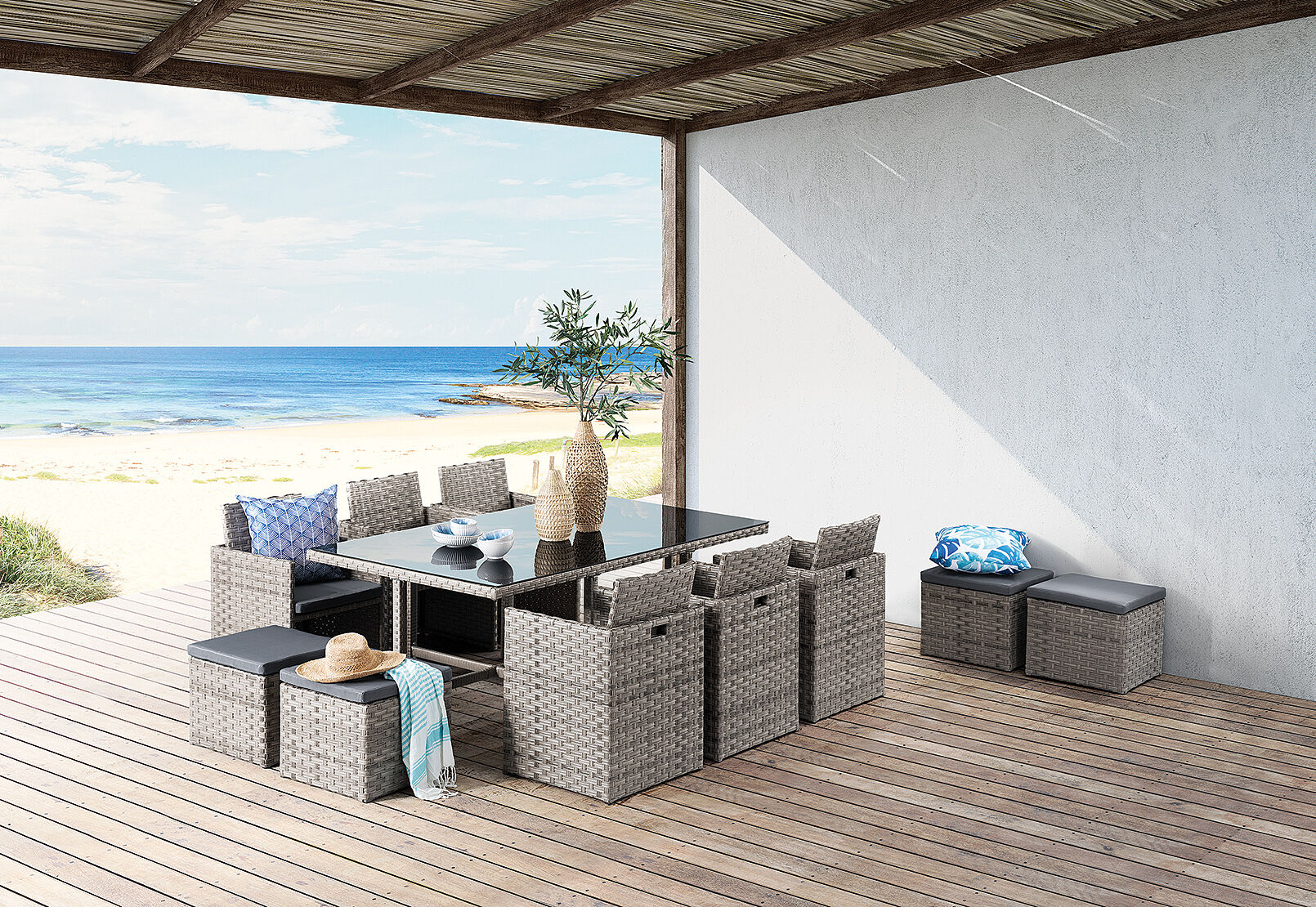 Stackable Space Saving Furniture
When your small outdoor space is at a premium, you might want to work your way upwards, like literally. Having stackable furniture is a lifesaver in small patios. They're easy to assemble for a party but once the guests have gone, you simply stack the tables and chairs away into a corner of the deck, garage or shed. Stylish but lightweight furniture that comes with stack-ability are often manufactured from plastic, wicker or aluminium pieces which are lighter than timber and easy to carry. It's great news for storage or if you're someone who enjoys rearranging your furniture to refresh your patio look from time to time.
The JULIA 3 piece balcony setting features a sturdy steel frame and on-trend white wicker finish that is instantly appealing. Design-wise, it's an unbeatable style that says lazy, tropical days with a refreshing beer or cocktail and a summer vibe. Even better, the chairs are stackable when not in use.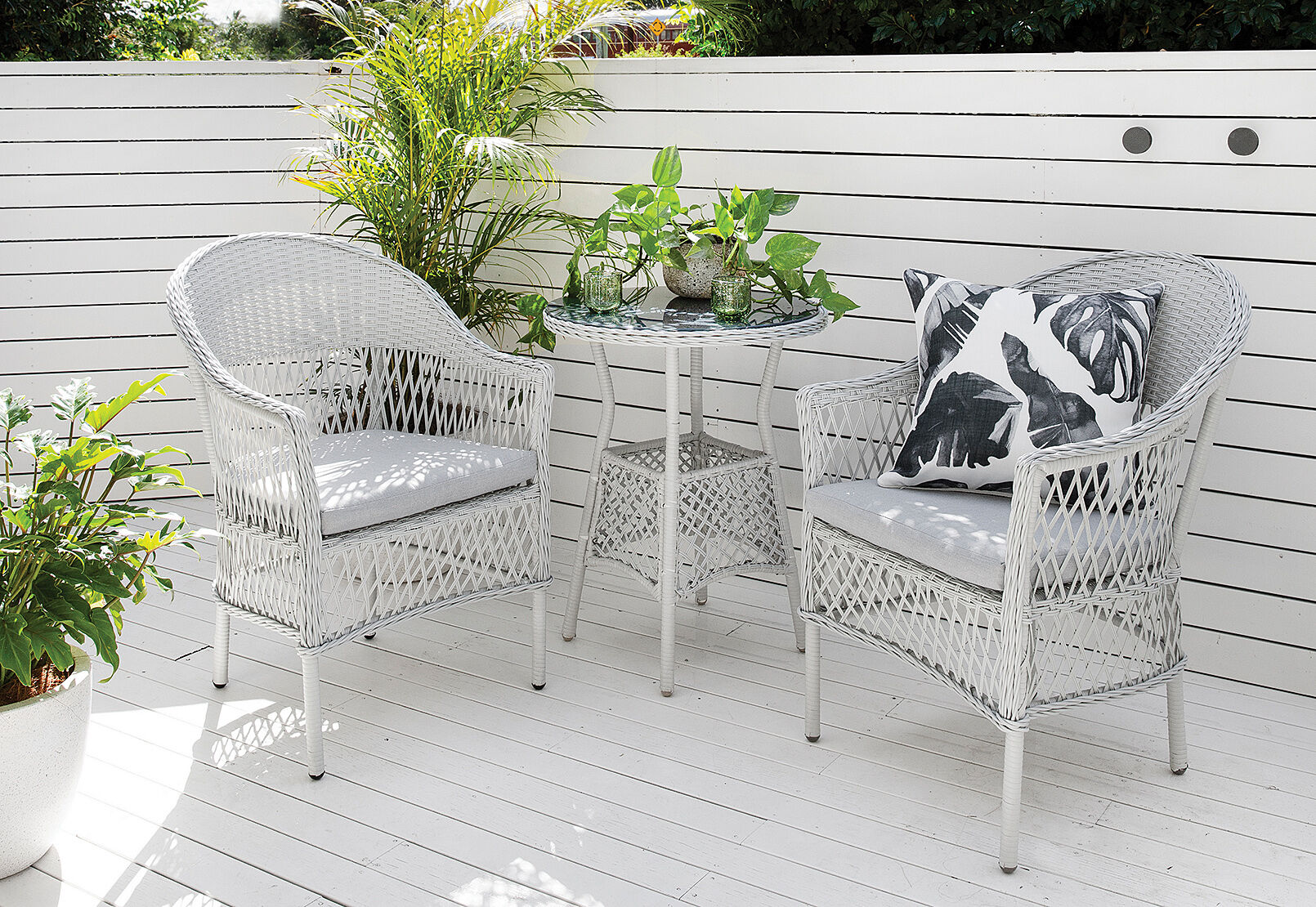 Decorating Ideas
The right tips and design tricks will help transform your small backyard into your dream oasis. Take on some of our helpful hints to get you started in your outdoor area.
Create A Cosy Atmosphere.

An outdoor rug does wonders to adding colour and a soft touch to your dedicated outdoor area. Place your rug, like the exquisite Corfu under your dining table, coffee table or have it strategically positioned near your fire pit for added ambience. The striking blue adds a burst of much needed colour while the rectangular frame defines the perimeter of the space which is especially helpful for a small area.

Hang String Lights.

No matter how small your backyard is, hanging string lights instantly adds a welcoming, gentle atmosphere that will have you relaxing in no time at all. This inspired look is a simple yet effective way to mimic your own little secret garden.

Vertical Gardening.

If you think having a small space means having to give up on all your great patio garden ideas, well then, think again. A vertical garden is the ideal choice for small outdoor spaces. Utilise what you have to its maximum potential. Grow herbs or climbing plants. You'll add flavour to your cuisine while automatically decorating your garden wall. And if you weren't born with a green thumb, artificial plants will do just the trick.

Invest in a Shade Sail.

These attach to your home to create a canopy that doesn't get in the way. A space-saving sunshade that folds up after use is also a great idea. Enjoying your outdoor escape even on the hottest morning or afternoon is also an essential way to maximise space in your dream backyard.

Hidden Storage

You can never have enough storage and this is especially true on a small patio. Choose your outdoor seating which doubles up as a storage bench to house your firewood for the upcoming winter. Besides wood, store extra blankets, shows, dinnerware and much more.
Small Outdoor BBQ area Ideas
A small outdoor space doesn't mean you'll have to miss out on the good ol' summer BBQ. With a few delightful tweaks, you'll easily transform your patio into an inspired BBQ area that will have you cooking up a storm.
Increase Storage with Shelving

Having a designated barbeque space can take up a fair bit of room especially on a small patio. By installing or creating shelves to house condiments, sauces, tools and extra bits and pieces, you'll transform a garden wall into a stylish and practical storage for your BBQ area. This leaves more room for your dining table and chairs to be positioned up front.

Add Some Greenery

Planter boxes and vertical gardens are your best friends in your little outdoor space feel. They add levels of lush greenery to your backyard BBQ area, without taking up any ground space, which means more space for guests to enjoy themselves. The big bonus? Having your herbs handy is a delightful addition to your summer lunches.

A Mini Barbeque

The perfect solution to tiny spaces. A mini bbq that attaches to railings works wonders for those with small balconies. Hang up the space saving gadget and have your bbq working away as you dine by the moonlight, bistro style.

Create Levels in Your Backyard Space

Introducing levels into your small patio is a clever way to create zones for your backyard purposes. They not only separate the BBQ area from the dining area but tall walls and raised beds provide shelter from the wind as you cook over the grill. Likewise, having foldable furniture means you can store them away when you need the space for something else.

Built -In Fire Pit Grill

A big space saver, these fire pit tables with built-in BBQ grills are just the thing you need for a small deck. The biggest draw? It's a built-in dining room. You don't have to leave the dining table. Perfect for a garden party, you and your guests can enjoy sipping wine while relaxing on the Blaise outdoor cushion, as you cook up a storm.
All in all, having a limited space to work with shouldn't deter you from creating your own personal oasis. With a little inspiration combined with helpful tips and handy hints from our team here at Amart, we hope you too can create a warm and welcoming backyard that is fulfilling and thoroughly enjoyed throughout the year.