Bring joy to your little ones with the launch of our new and exciting Perago Home: Kids bedroom range. With Perago Home Kids room decor, we'll create a fun filled and functional living space for your child to build long lasting memories as they play, learn and grow. Inspire your child's creativity with a beautiful bedroom that fulfills their dreams, fuels their imagination and lets kids, well, be kids
How Can I decorate my child's bedroom?
Decorating your child's bedroom may seem a daunting task but the key lies in creating a thriving space that serves multiple purposes to meet the needs of your growing child. This task is a breeze with a little help from kids bedroom ideas Australia. First and foremost, the bedroom is a playroom, study and sanctuary, all in one. You want to create a space that allows your child to play to their heart's content, yet be functional enough to facilitate study and learning, while most of all providing a nurturing, comforting environment where they can rest their weary heads for a good night's sleep.
Here's a number of handy tips on inexpensive decorating ideas for kids bedrooms:
Wallpaper one side of the room. Wallpaper is a great option for instantly brightening up a room. To keep it cost effective, put a little twist on modern kids bedroom decor and simply wallpaper on one side of the room or just the ceiling. This creates a little more colour without the added cost of covering up the whole room.
Fabrics. It's time to break out the sewing machine. Introduce new colour and pattern to your kids bedroom by switching out textiles. You could repurpose your old sheets by turning them into new pillowcases. Better yet, jazz up your child's room with fresh sheets like the Bowie Double Quilt Cover Set.
Ceiling decor. Hanging up fairy lights is a great and inexpensive way to add a little sparkle to your kids bedroom. For a more budget kids bedroom decor ideas, make your own decorative garlands, from little poms poms to flags and even origami. Not only can it be your fun little project, it's a great way to bond with your kids.
How do you style a room for kids?
Creating a bedroom for your growing child marks a significant milestone in the life of a parent. It's an enjoyable project that can be experienced both by you and your child, and it's not without some challenges. Choosing how to style your child's bedroom is simple with kids bedroom decor Australia from Perago where we have design ideas for both girls and boys.
Top tips for kids bedroom decorating ideas for girls:
Colour. Choosing the right colour palette is key to creating the right atmosphere. Gone are the days when pink was the only colour option for girls. It's not uncommon for little girls to love cute prints and bold colour choices to adorn their bedroom walls. A lovely light sage or apple green works a treat as a blank canvas for your girls bedroom. Remember that kids are prone to changing their minds and so their favourite colours won't be their favourites for very long.
Choose a Theme. Fashion your kids' bedroom decor online on their favourite Disney character, playdolls, animation or Fantasy film. Line her bed with the Enchanted Garden Quilt Cover or if she's into the Princesses, she will love the Dreamy Bed Cover
Space. With girl bedroom decor Australia available from Perago, create a living space which meets their needs. A little desk and chair by the window is great for their arts and crafts. But leave plenty of room so she can still practice her ballerina twirls.
Decor. Kids love soft furnishings. Pillows, bus cushions, throws and soft toys like Deano are great for a cuddle and make affordable decor. Choose stick-on decals so you won't leave behind messy walls. Paint on chalkboard is a great way to create an area for doodling and crafts without taking up too much room.
Top tips for kids bedroom decorating ideas for boys:
Theme. Fulfill your little one's ultimate dream of sleeping in a truck with our highly popular bed the Dozer. Encourage his thirst for adventure and dress his bedsheets with Safari Dreams or if he loves dinosaurs, Prehistoria Quilt Cover Set will be an excellent choice.
Space. Just as with the girls, boys need a place with plenty of room to express their creativity while still being able to jump around and have fun. A little nook is handy, especially for reading, building or playing fort in their little teepee bed.
Decor. Keep it simple. Kids just want to have fun in a warm and inviting room with a few of their favourite things. Kids bedroom wall decor like the Greer or Hincs Cheetah Canvas is a great way to inject colourful images into your child's bedroom. Soften the bedroom style with a simple Darly Rug and accessorize with plenty of cushions, hangings and stick on decal, not to mention glow in the dark stickers for extra special nights.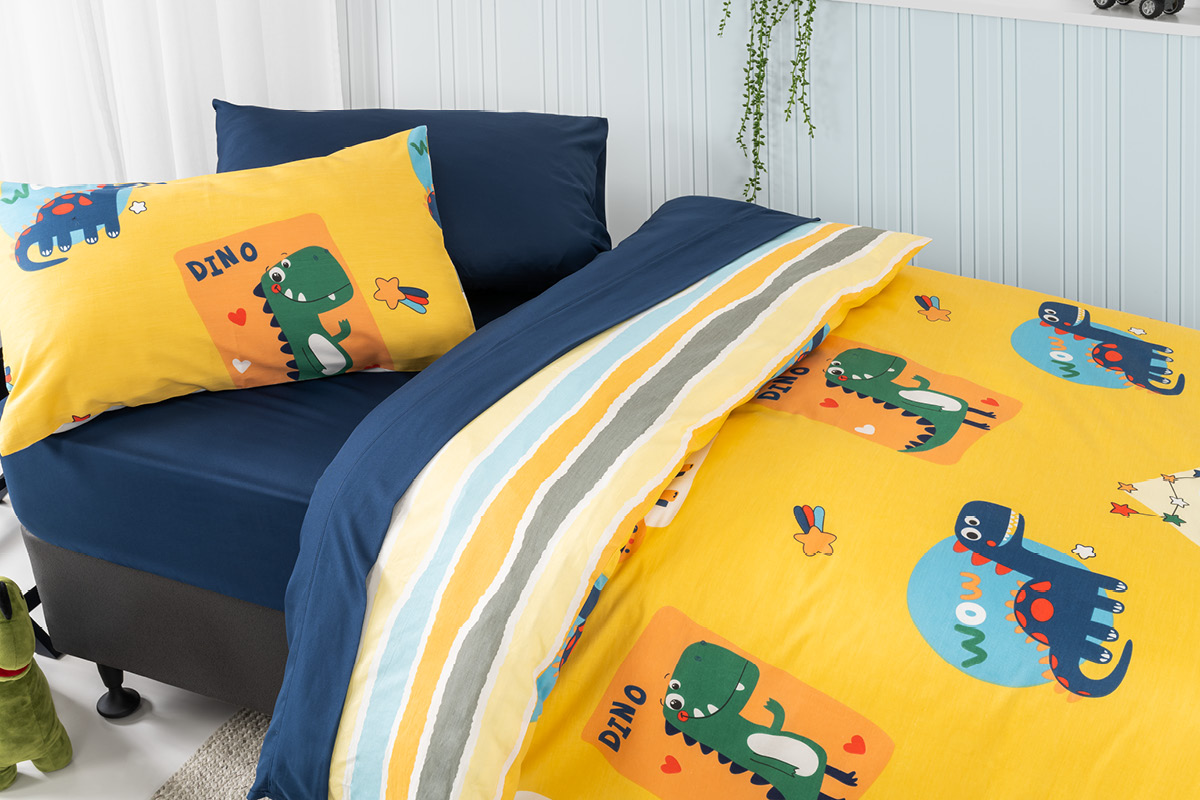 What Furniture does a child need?
With so many kids' bedroom decor ideas available these days, parents are spoilt for choice when it comes to picking the right kids' bedroom furniture. We present the top 3 pieces of furniture your child needs in his/her bedroom.
A bed. This has to be big enough to last a few growth spurts, but sturdy and comfortable with a great mattress so they always have a good night's sleep. With the Cubby House, your kids will definitely be looking forward to bedtime!
Storage. Need we say more. A wardrobe with multiple drawers and multi purpose cubby holes of the right height will be perfect for your little one. And if things are in reach, they're more likely to put their toys away once they're done playing. A little bookcase would look great in their bedroom too.
Tiny desk and chair. Perfect for when they start studying, painting, colouring, and so much more. Having their designated space to work in makes it all that more special for them while minimizing mess.
How can I make my child's bedroom cozy?
Your child's bedroom is a haven, we want it to be warm, cozy and welcoming. Having the right lighting will help create the right cozy ambience for your little one. Placing dimmer switches will help adjust lighting preferences. Keep brighter desk lamps for reading and crafts. Another great way to cozy up the bedroom decorations kids? Soft furnishings. A little woven rug to center the room, cushions and soft toys scattered in strategic positions around the room create a cozy and welcoming ambience for your child. So wait no longer and choose Perago Home: Kids for your little one's dream bedroom.