Outdoor living is one of the best parts of living in Australia. From enjoying your morning brew in the open air to entertaining friends under the stars, there's nothing like getting back to nature in your own outdoor living space.
If you're limited for room in your outside area, don't let it stop you from enjoying the fresh breezes and summer evenings. With the right outdoor furniture and some clever backyard ideas, even small outdoor areas can be transformed into the perfect place to relax with friends and family.
When you don't have much room, it can be hard to get everything just right. You want to have enough seating while still being able to walk around. You want to have some personality without overwhelming the area. Think about:
How your space will be used and how traffic will flow
What furniture you'll need
How to decorate your small outdoor space.
Here's how we approach outdoor styling for small areas.
Consider how your outdoor living space will be used
The first step to creating the perfect outdoor living space in a small area is to have a think about how you'd like to use it. This will help direct the flow of your space when planning the layout.
Will you be holding dinner parties outside, or will the space mostly be used for lounging about in a comfy hammock? Perhaps you'd like to use the area for both dining and sitting, but you're not sure how to accommodate each need in your small space?
Creating a multipurpose living area without much room is easier than you might think. You just need to find the right furniture to suit your outdoor lifestyle.
Choose the right outdoor furniture for your small space
Sure, that huge outdoor daybed might be comfy, but if it takes up your entire outdoor living space, it's probably not the best choice for your home.
Keep the size and layout of your yard, deck, gazebo, pergola or patio in mind when choosing your outdoor furniture. Choose pieces that accommodate your needs while complementing the space you have to work with.
Outdoor dining furniture for small spaces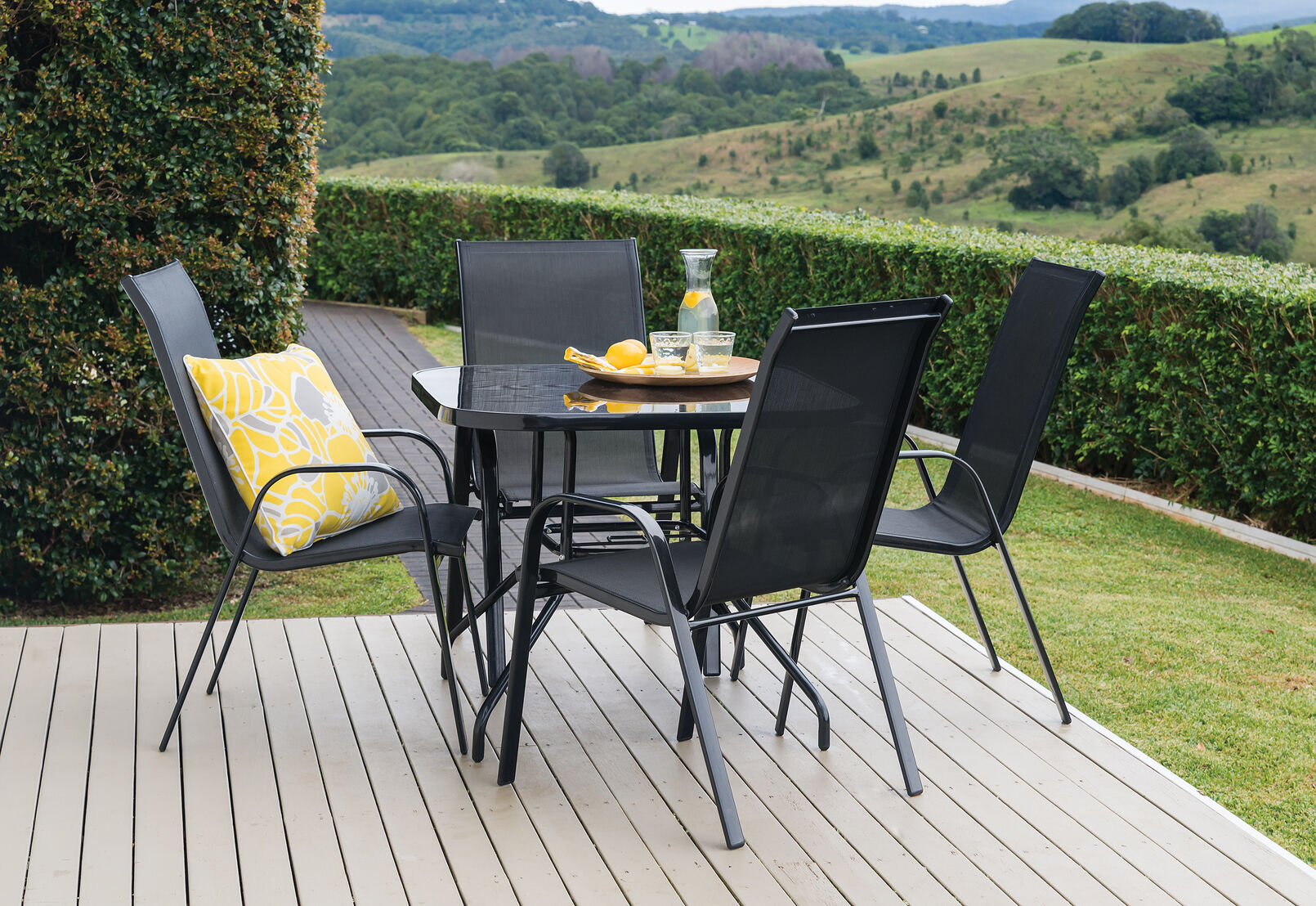 Want to enjoy your meals outside without having your dining table hog all the space? Square and rectangle outdoor dining tables are a great solution for small areas. They fit neatly into a corner and out of the way when you need the floor space for something else; it's like playing a game of furniture Tetris!
Outdoor lounges for small spaces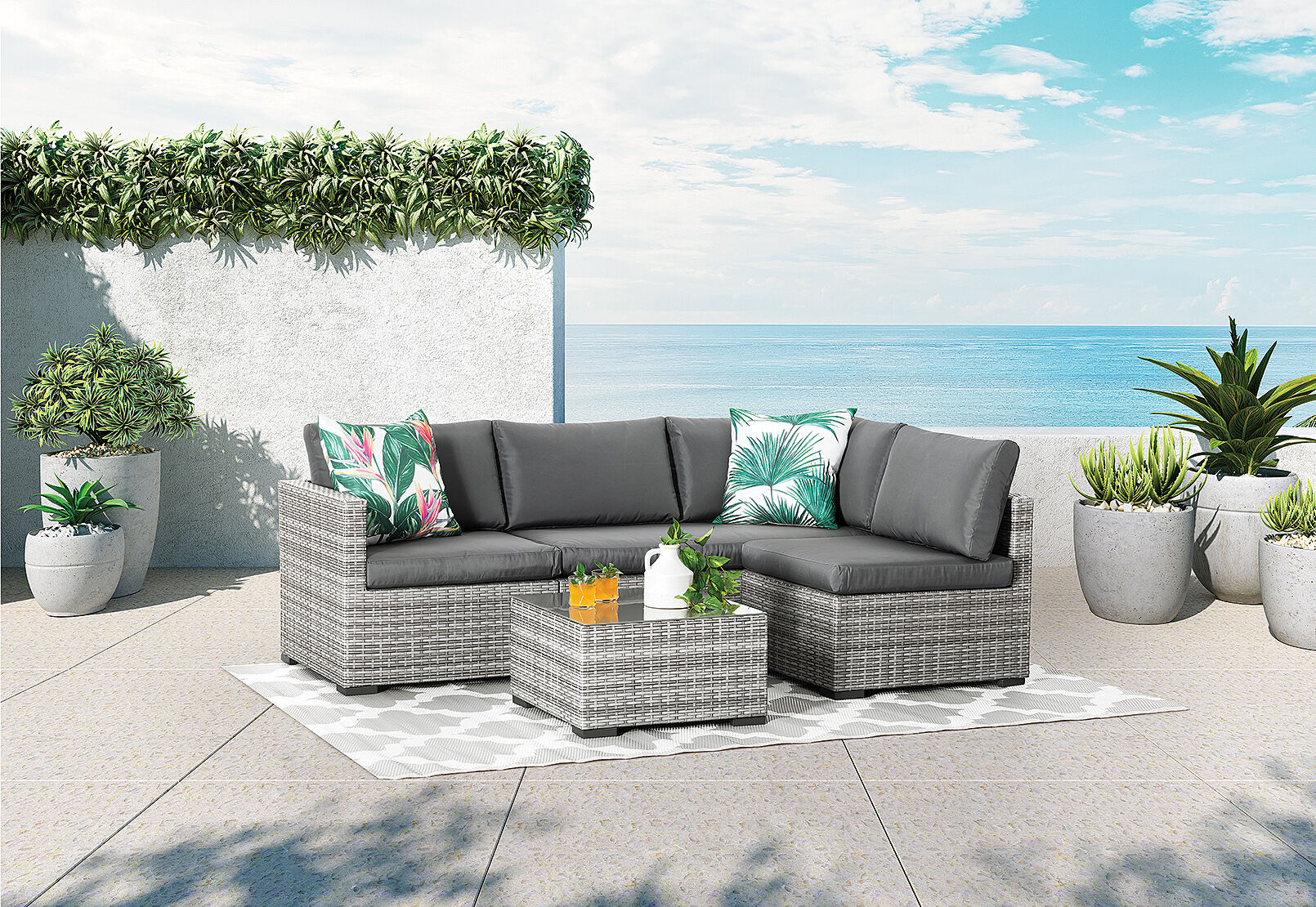 A comfy outdoor lounge is a must for sitting back and relaxing after a long day. If you're limited for space and can't quite fit an outdoor lounge set, an outdoor chaise lounge is a great alternative.
Chaise lounges and corner lounge settings can fit plenty of people without taking up as much space as a set of several lounges. They also make for a more intimate atmosphere where you can enjoy casual conversation with your friends and family or just spread out on your own for an afternoon nap in the sun.
Top tip for small spaces: If you don't have room for a dining setting and a sitting area for entertaining, opt for a dining table with benches. The benches can easily be tucked under the table after your meal, giving you plenty of space for a standing, cocktail-style party or gathering.
Other outdoor furniture for your small space
Once you've got your dining and/or seating sorted, there are a few additional bits and pieces that can really help enhance your small outdoor living space, such as:
Outdoor umbrellas – This is an easy way to add shade and style to an area without compromising on space.
Outdoor storage boxes – These can hold anything from barbecue tools to outdoor cushions, and can double as extra seating.
Outdoor hammocks – Once you've got your hammock hooks in place, you can hang your hammock up and take it down as you please. Keep it in your outdoor storage box while not in use (see how handy those things are?).
Outdoor fire pits – You don't need a roof over your head to enjoy your outdoor space. If you have some yard space, expand on your small patio or deck by extending your living area into the backyard. Adding an outdoor fire pit and a couple of benches is a great way to maximise your small outdoor living space.
How to decorate your small outdoor living space
This is the fun part. Decorating your outdoor space allows you to inject some personality and really make it yours. If you're stuck for ideas for decorating your outdoor living space, you've come to the right place. We've got outdoor décor ideas coming out of the wazoo.
Artificial Grass
Forget what you know about fake grass. There are plenty of modern and authentic-looking styles out there, making it a popular choice for outdoor areas. It helps dress up your concrete to bring a garden feel to an outdoor area – without having to run the sprinklers every day.
Hanging Plants
Plants bring a space to life, adding texture and pops of natural colour. Hanging plants are perfect for smaller spaces as they bring lush greenery without taking up any floor space.
Lights
Who doesn't want to feel like they're in a magical fairyland when they're eating outside? Outdoor string lights or fairy lights are great for adding a touch of sophistication to any outdoor party. We love them strung from the roof or wrapped around the posts of a pergola.
Outdoor Cushions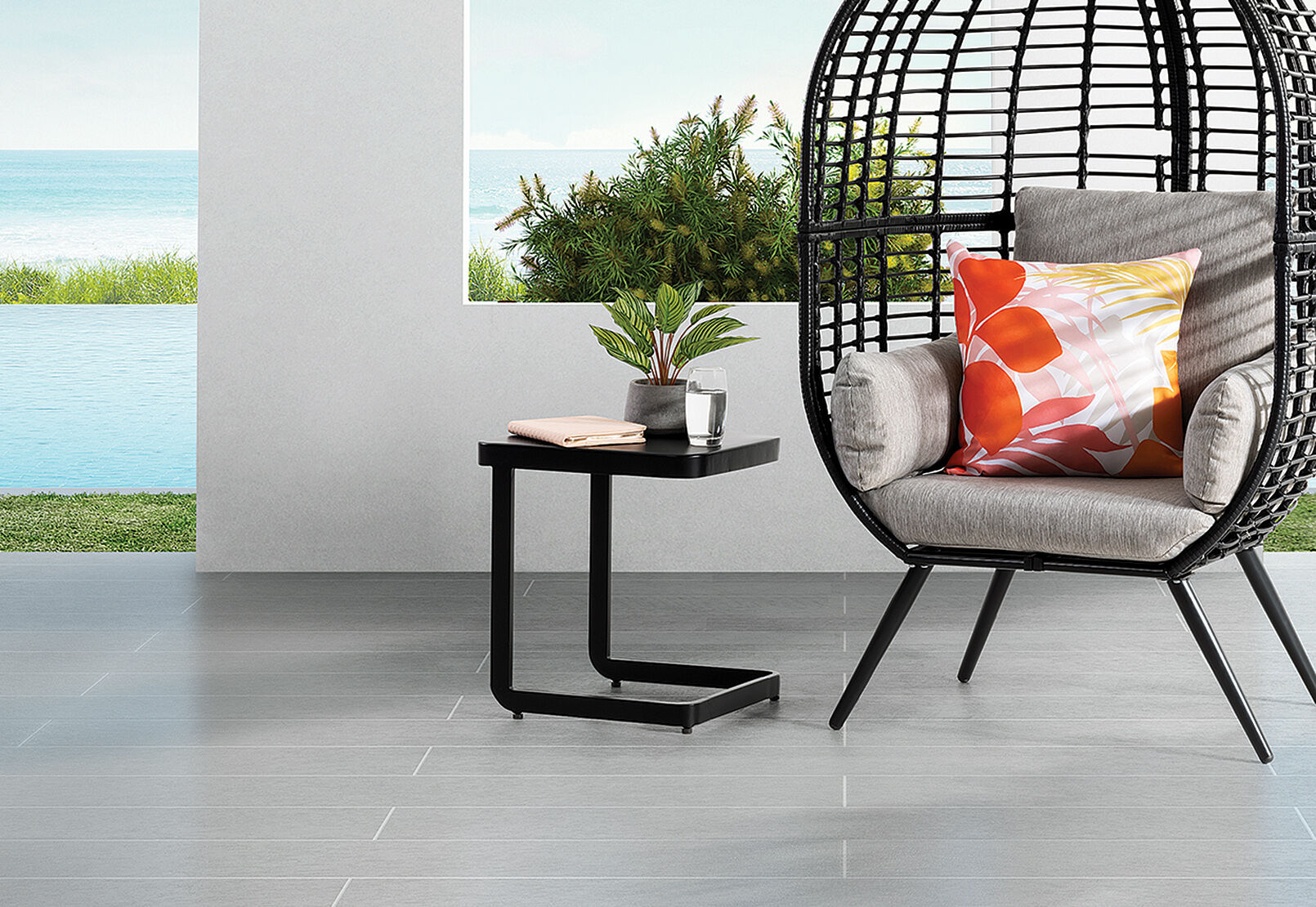 Play with different sizes, colours, and textures to dress up your outdoor chairs or lounges. Outdoor chair pads are another great décor item to add to your list (and they'll help transform your outdoor storage box into comfy seating in no time).
Outdoor Rugs
Outdoor rugs bring warmth and comfort to any space. They're also great at separating different zones in your outdoor living area. Your feet will thank you.
Outdoor Accessories
These final touches, though small, make the biggest impact on your outdoor living space:
Vases – Tall, narrow vases make beautiful centrepieces on small outdoor tables without taking up much room.
Planters – These make a great alternative for a herb garden if you don't have the space. Keep one on your table for a fresh sprinkling of home-grown parsley come mealtime.
Candles – Tea light candles are tiny yet effective. Bust them out when you're entertaining outdoors.
Lanterns – Many styles of lanterns are able to be hung from the roof, making them perfect for bringing light and ambience to small area.
Placemats and table runners – These are practical and add style to any space.
Outdoor wall art – Adds interest without taking up any floor space.
Seriously, your outdoor living area isn't complete if you haven't added a few Outdoor Accessories. You'll be amazed at how much character these guys can bring to the party. Just be careful not to overcrowd your small space – try to only commit to your favourite pieces.