For an inspired look in your dining room that's guaranteed to make a lasting impression on your dinner guests, take a leap into the world of the eclectic and chic. We're talking about mixing it up. That's right, mixing and matching your dining chairs is just about the hottest trend taking over the world of home interior design.
As unconventional as it may sound, embellishing your dining space with seating selections that look nothing alike is a sophisticated way to jazz up your dining room. This is a far cry from the traditional style of decorating in the dining suite where all the pieces of furniture are identical in design, make and colour. Take a walk on the wild side and explore the endless possibilities that mismatched dining chairs have to offer.
The Art of Mismatching Dining Chairs
Who would have thought that the idea of breaking the rules of home decor would result in a beautiful configuration of mismatched chairs that create an inspired look to reflect one's own tastes. It's a wonderful way to display your love for design while injecting a sense of personality to your space. While there are no hard and fast rules for the art of mismatching dining chairs, there are a number of do's and don'ts to adhere to for a finished look that gels together harmoniously.
The Dos and the Don'ts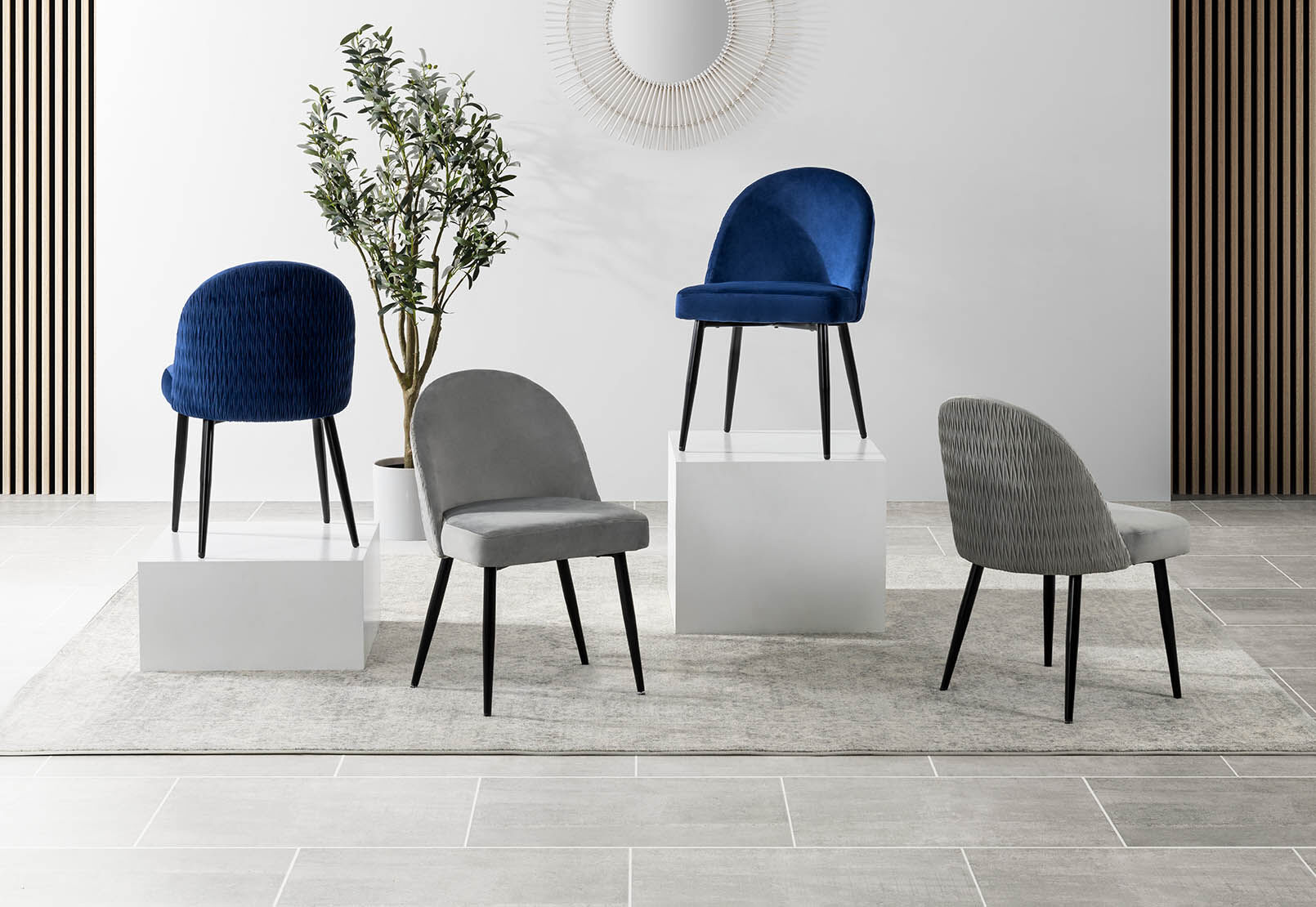 Don't Break The Golden Rule of Mismatching Chairs. While there may be varying slants on the art of mismatching dining chairs, one thing most experts agree on would be keeping the height of your chairs consistent. Having your dining chairs' seat height the same as each other is vital to creating a polished end result. We think of the notion, poetry in symmetry for this elegant finish.
Do Experiment with Colours. One approach to mismatched dining chairs is to keep the style of the chair consistent while playing around with the colour scheme. It's a simple but effective way to imbibe a burst of colour into your dining space. This method works well with classic chair design. If that doesn't tickle your fancy, the opposite may work better for you. We suggest having a set colour scheme and finding chairs of different makes and style to suit it. You'll be pleasantly surprised by the variety of chair styles that you come up with for mismatched dining chairs if you try sticking to one colour range. For those of you who love the dynamics of black and white, fret not, for this is a style that will complement nicely either way.
Do Match in Pairs. If you're new to this mismatched dining chair trend, a simple guide to follow for creating a cohesive look is matching your chairs in pairs. The easiest way to do that is to change the two chairs at the head of the table. You'll find the finished look to be eye catching, yet comfortably symmetrical. For an eclectic look, you could place a pair of chairs along one side of the dining table. It makes for an interesting mixed styling arrangement.
Don't Steer Away from Form. As much as we want to mismatch our chairs, we do want to be mindful of the overall presentation of our dining chairs. Pair chairs of similar design and shapes for a more congruent feel. By focusing on the design aspect, while ensuring the visual weight is consistent, you're more likely to create a harmonious and inviting dining space that's definitely a conversation centrepiece.
Reasons To Love This New Trend
It's Unique
The art of mismatching chairs is an effortless way to add your own personal touch to your dining room or even your outdoor seating. It enhances your interiors as well as creating an eclectic chic ambience that will stand the test of time. Because it's your personal style, and no two pairs of chairs are the same, you could almost say, it's unique to you and you alone.
Create Varied Textures
This clever styling arrangement is perfect in any home. Whether you're looking to jazz up your 4 seater dining set or simply wanting to shake things up a bit. From hard wearing timber like the Romulus Dining Chairs to plush and exquisite fabric, the mismatched dining chair trend works with a wide array of materials. Arranging a mix of chairs, constructed from similar materials around your dining table will give the room a hint of ramshackle charm. Imbibe the industrial feel with a number of differently styled wooden chairs combined with steel structures. While the individual chair designs might differ, the construction elements synchronise them perfectly for a complete dining look of great visual weight. The industrial element flows effortlessly throughout the dining space
To take it up a notch, use chairs made out of different textures to produce a style of varied textures that simultaneously clash in harmony. This is yet another approach to creating a haven of varied textures. Bring wood and fabric together in joint harmony, Marry the warm inviting tones of hardwood chairs against the soft delicate nuances of linen lined chairs. The result? An absolute merry concoction that will bring delightful visual interest to your dining guests.
Create the Look
If you're keen to have a go at mismatching dining chairs but are having a little trouble knowing where to begin, well then you've come to the right place. Here are a few handy tips on how to create the look in your own home.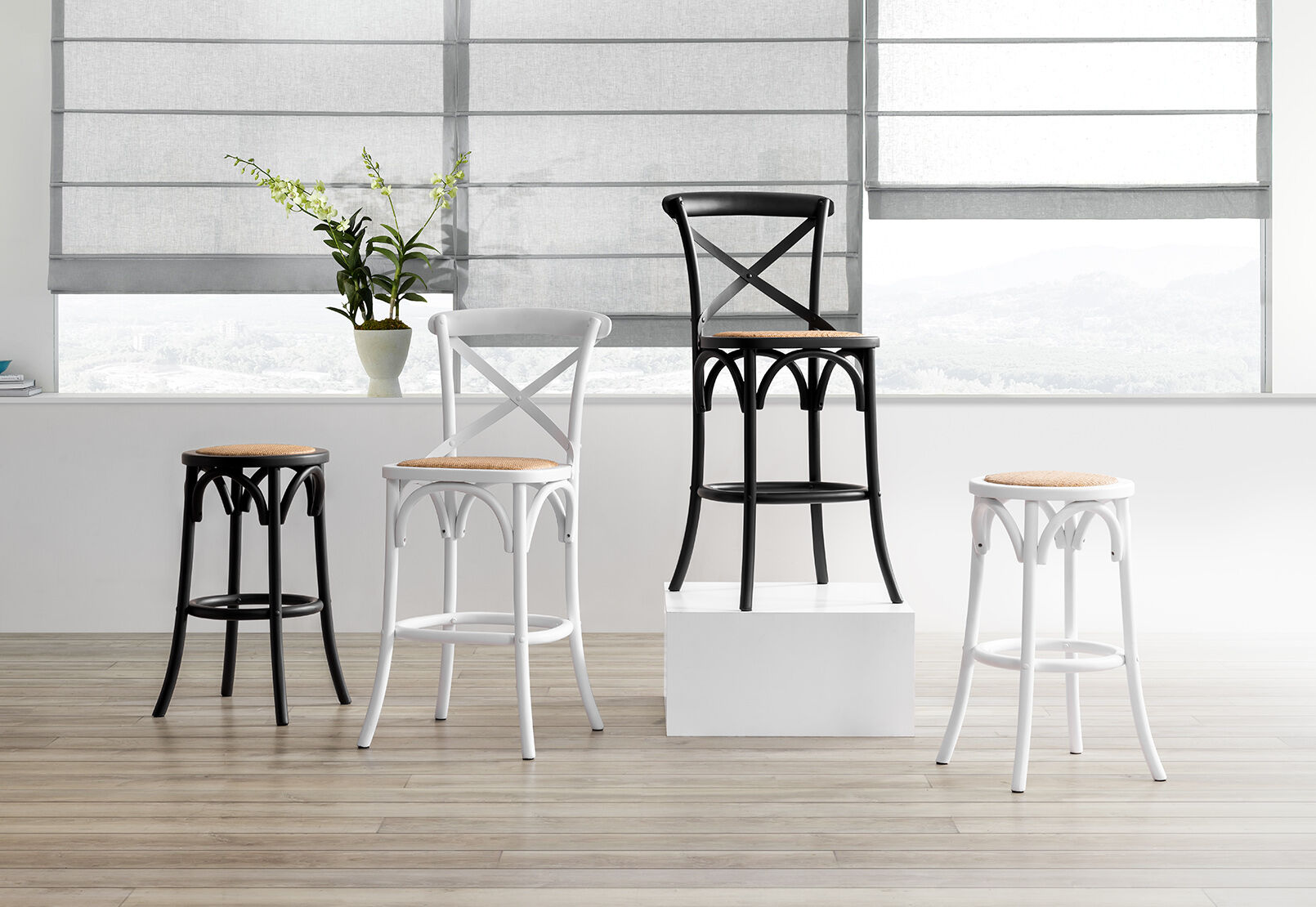 Start with a Table. Your dining table is the cohesive glue that brings it altogether. Once you find your suitable dining table, whether it's a little round table for 2 or a family size 6 seater dining table, you'll have a better idea of how to mix and match chairs to suit your arrangement. Your table centres the tone you're going for and determines the height, style and make of your chairs. Aim for a table that doesn't steal all the limelight, it should enhance the finished look while keeping the focus on the chairs.
Comfort is Key. As much as style takes precedence in any home interior design, functionality and substance are just as if not more important. When arranging different chairs to adorn your dining table, be it a 4 seater or a generous 8 seater dining set, we want our guests to be comfortable. This means putting care and thought into ensuring the chairs you select are comfortable no matter what they are made of. We don't want disgruntled guests shifting uncomfortably in their hard steel chairs glaring at the lucky guests who snagged the faux leather bound chair like the Tangier before them.
One Chair, Different Colours. Possibly one of the easiest ways to mismatch chairs. Find a chair design you love and get it in 4 different colours to mix it up. A huge advantage of this method, you don't have to worry about the design or the heights of the individual chairs. There's a sense of uniformity but with just the right tinge of bold to make a colourful impression.
Chairs of the Same Style. If you have an existing theme in mind, this combination of different chairs in the same style might just be the one for you. Pick your theme of choice before hunting and gathering for your prized dining chairs. Whether it's a Victorian style chair from an antique store, a preloved chair from the weekly flea market or a brand new stylistic contemporary piece staring back at you from the window display store, the differing histories of these chairs merge into the background as they cohesively take centre stage to form one splendid arrangement.
Combine Vintage with Modern. Prepare to be stunned with a wonderful and daring approach to the mixing and matching chairs. While this may not be the preferred style for everyone, some have fallen in love with the idea of mixing vintage with modern. The best way for this method to work? Pick a single common feature that is present amongst all your chairs. It could be the colour, texture or style. We leave that to you.
Bring in a Bench. This ingenious idea of placing a bench on one side of the dining table is rapidly gaining popularity and for good reason too. We want plenty of seating options at the dining table for family gatherings, dinner parties and drinks with friends, well the list goes on. Having a bench on one end is aesthetically pleasing while being a practical solution to seat an array of guests. You decide if you would like to have your bench match the rest of the chairs or have it upholstered for added comfort.
Highlight with Accent Chairs. Accent chairs at each end of the dining table are a great way to make a bold and stylish impression without too much effort. The head of the family traditionally sits at the head of the table, so having stand out chairs on either end of the table adds a bit of drama and flair while injecting a burst of colour onto the scene. If your >dining room set is missing a chair or two, it may be a good opportunity to add a couple of accent chairs for a complete and polished look.
Pick One Colour. For a completely different slant on the trend, perhaps try a monochromatic coloured theme across all chairs. Pick your favourite colour, choose your chair design of choice and subtly introduce different tones of your selected colour to your dining set with the use of mid tones and neutrals. It's creatively sophisticated.
In Conclusion
The art of mixing and matching your dining chairs is one which opens the gateway to plenty of creativity. Embrace the interior designer within you to create a gorgeous dining room with bold features. For more inspiration, check out Amart furniture now to achieve the seating aspirations of your dreams.