Even if you have don't have much space in your home, it's easy to create an inviting, functional and stylish kid's room. Whether you choose to do it with cleverly selected furniture or with space-efficient styling, there are countless ways to re-work a smaller room to give it the feeling (and usefulness) of a larger one.
Here are some of our favourite kids' room ideas you can use to make the most of your converted study or extra bedroom.
1. Styling Your Small Space
Clutter can come from anywhere, especially in a kid's room. And the styling choices you make will have a big effect, either accentuating or minimising the size of the room. This is important to consider as you put together your ideas for your kid's room.
Natural Light
Shadows can cramp any area, and if there's poor lighting, it can smother a room and make it feel even smaller. Large windows with fully-retreating blinds invite the playful light of the sun into the room. So if you're looking for low-cost lighting ideas for your kid's room, think about making use of all that free light coming from the sun.
Kid's room tip: If your small room doesn't have a big window, a warm-coloured floor lamp can take its place.
Neutral Colours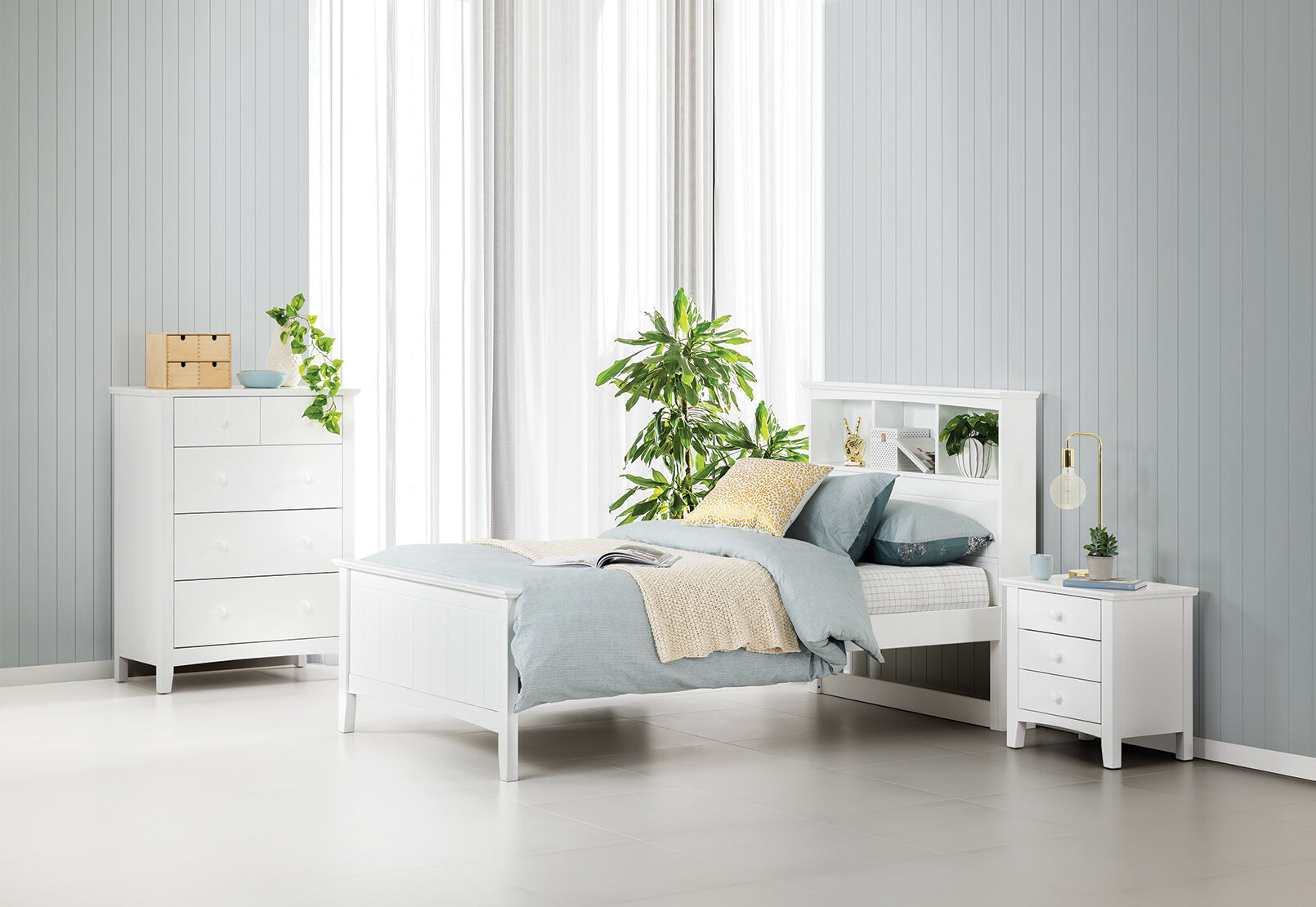 One of the best ways of brightening up a small space is with colour – or more specifically, with muted colours. Dark or overly bold colours can suck out the airiness of a room and make the space feel more closed off, but lighter colours will bounce light around and wake up the whole room.
If you're looking for kid's room paint ideas for the walls, stick to whites or soft colours, and if you're going to add some feature prints, always keep to neutral patterns. Otherwise, you can style the room with white kid's furniture and other pale-coloured decorations. Using neutral colours will also make the room easier to repurpose into a study or office once you little ones have outgrown the room.
Kid's room tip: A grey bed frame with a bright bed cover will work wonderfully in any small space.
Minimalism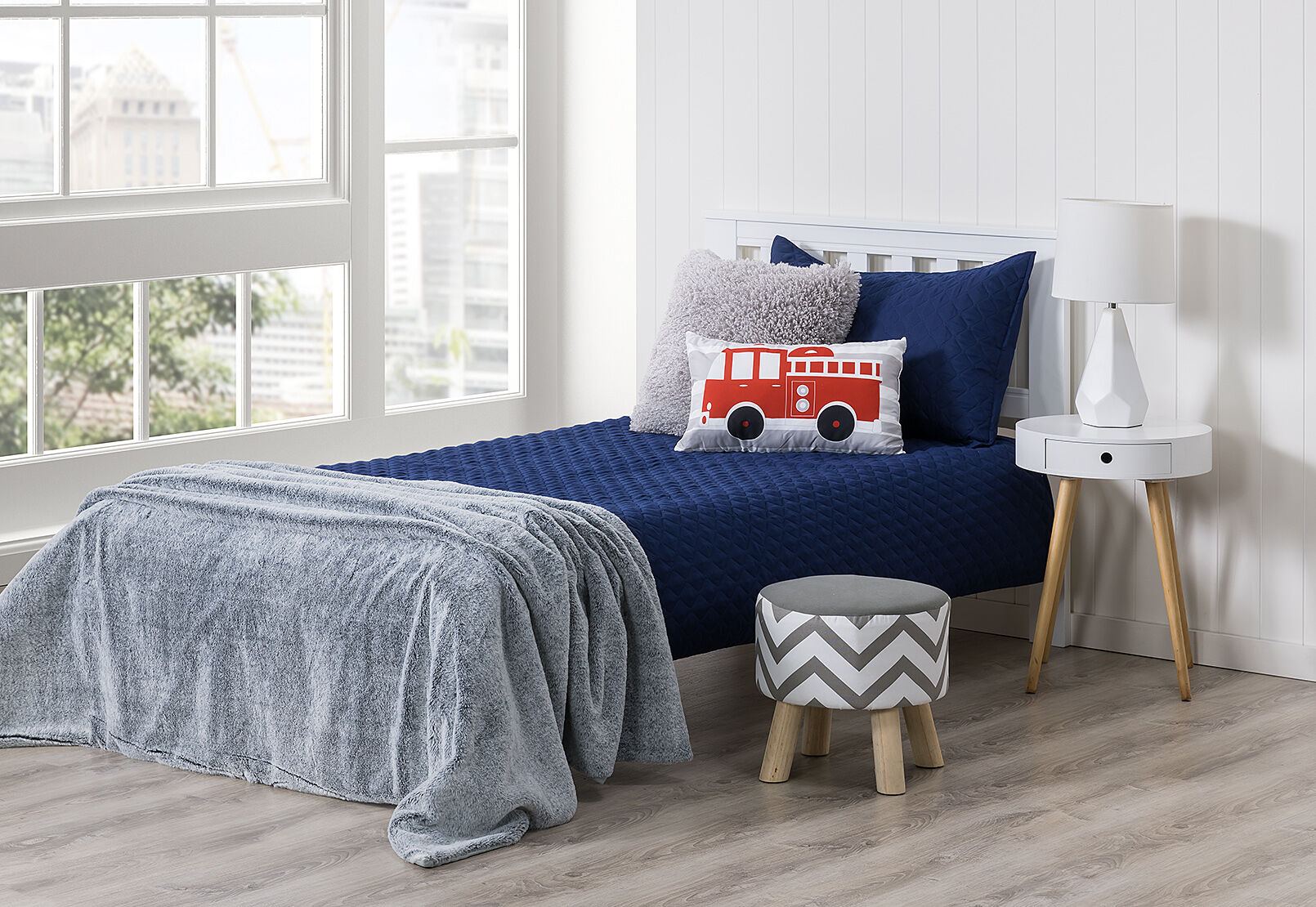 A good way to start styling a smaller room is by choosing the right furniture. You don't want bulky items in the way, which is why a minimalist style works wonders. The style is both efficient and modern, and will work with almost any type of décor you decide to go with. Even just a minimalistic style bedframe along with a simple study desk will look incredibly smooth.
The minimalist approach is also great for toddler's room ideas. It keeps the space feeling bright and open, which is essential as you'll be spending a lot of time in there as well.
Kid's room tip: Vintage kid's style furniture can look incredible in a small space. And it won't go out of fashion.
Layered Design
When using a small space for a kid's room, you may feel limited by its size; but as the experts will tell you, the more limitations you have, the more imagination you can use to bring your design ideas to life – especially ones that can help you better utilise the space.
One of these ideas is layering. There are three main layers you'll need to think about:
Low: Under bed storage and chairs
Middle: The bed's mattress and everything on top of the desk
High: Wall shelves, framed art and the top part of a wardrobe.
Working each of these spaces into its own entity (e.g. for storage, beds, and everything else) is an easy way to make the most of a small bedroom.
Kid's room tip: Keep your tall pieces of furniture on the opposite side of the window to ensure the whole space is full of natural light.
More mirrors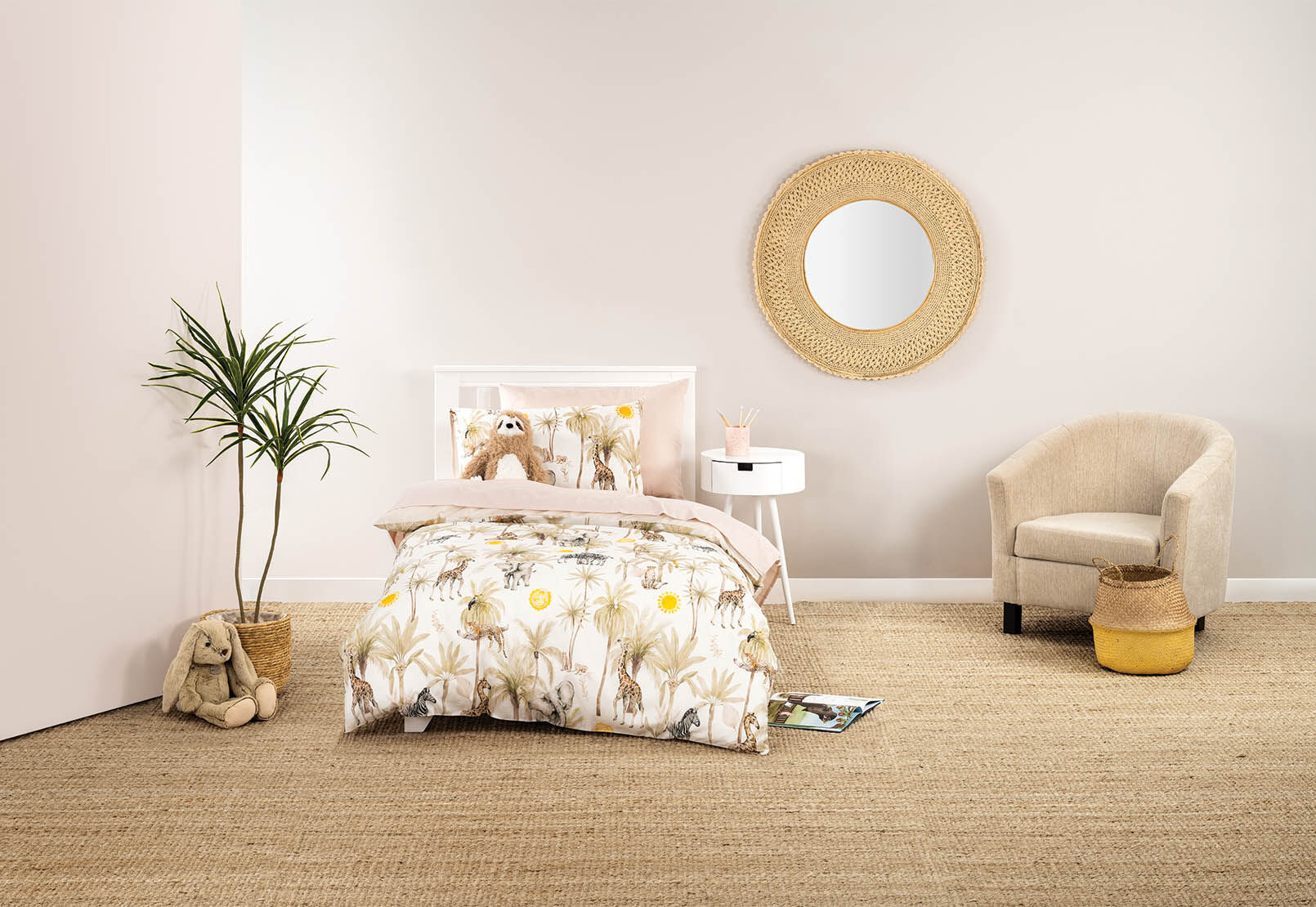 Formerly a magician's secret, using mirrors is now a trendy way to open up a small space. Whether you stick a mirror to a wall, or install a mirrored wardrobe, a large mirror can double the perceived size of a space and more effectively distribute light.
Kid's room tip: A sliding mirror wardrobe is perfect for a tight area. Its sliding doors make sure no one will have to pull a door open into the space.
2. Finding the Right Bed
In any kid's room, the right bed makes all the difference. And when you're working with a small space, the room design ideas you go for should take advantage of the bed's size and footprint. So, from bunk beds to metal beds with huge under-bed storage potential, it's easy to find one that fits your space-saving needs.
Bunk Beds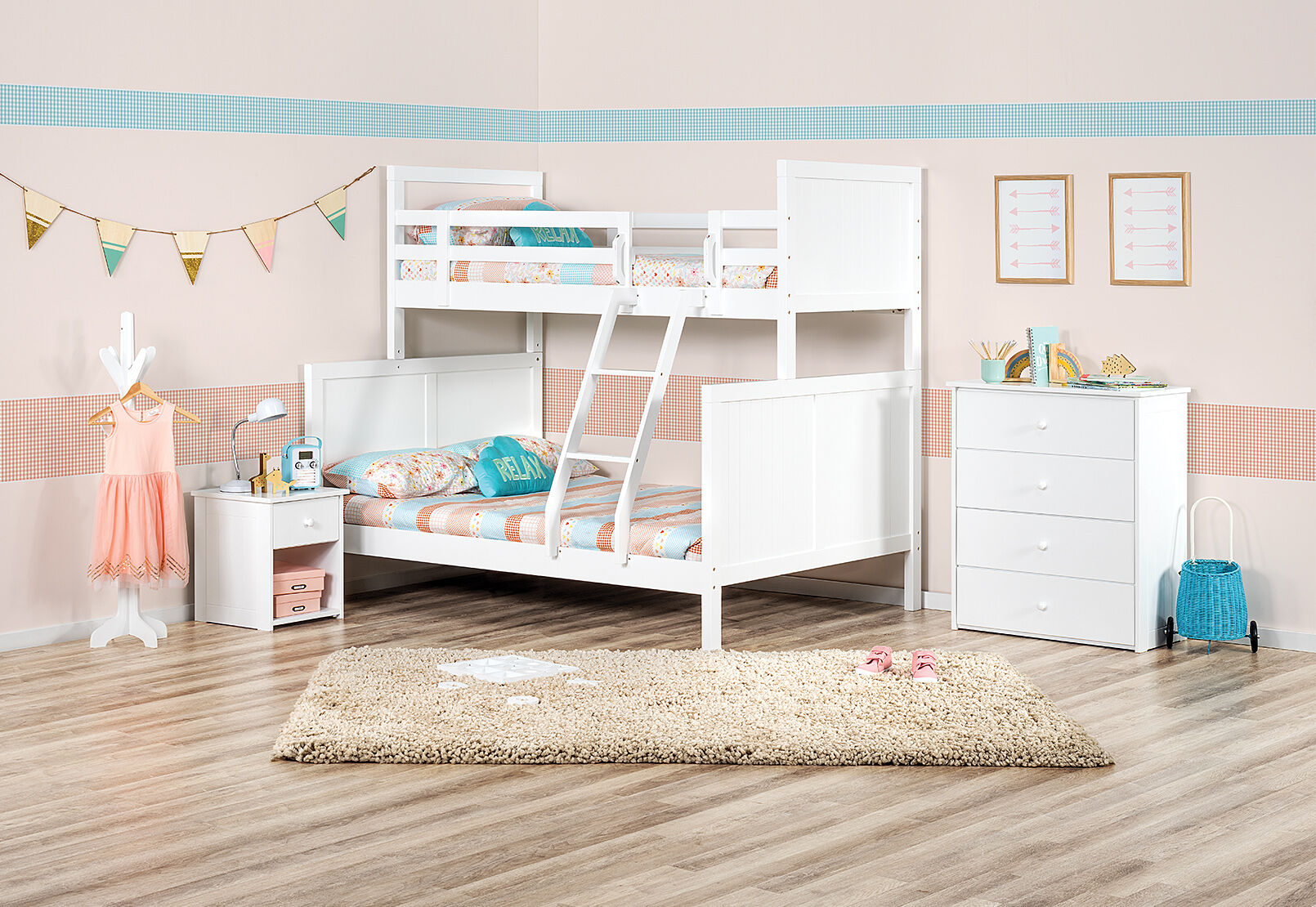 Bunk beds don't need to touch the ceiling. A low-line bunk bed can do the job well in a room that doesn't offer much space. Whether the room will be a shared, or just needs a handy spare bed for sleep-overs, bunk beds are still an excellent space-saving option for children.
Kid's room tip: A king single bunk bed is perfect for younger children, but for older kids, a bunk bed frame that fits a larger mattress on the bottom is a great option.
Loft Beds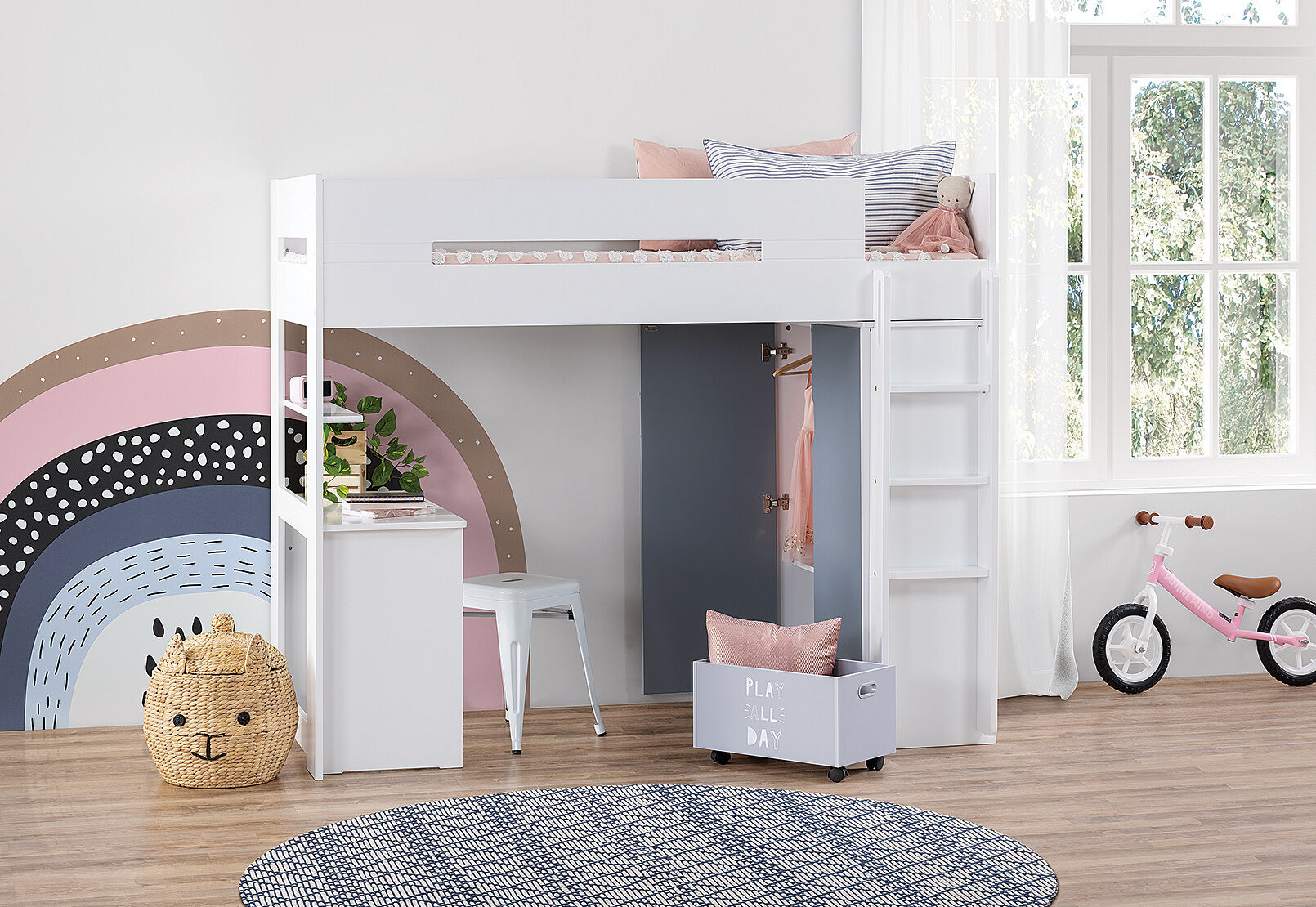 Loft beds are one of the best school-aged kid's room ideas. A loft bed elevates the mattress and allows the underneath space to be used however you wish. A popular way to use this space is to turn it into a study nook (separate or integrated). A loft bed with a desk ingeniously brings a tuck-away study that fits seamlessly into a small kid's room.
Kid's room tip: Wooden kid's furniture is popular for a reason. Bring the warm charm of a wooden loft bed to a kid's study and sleeping space.
Storage Beds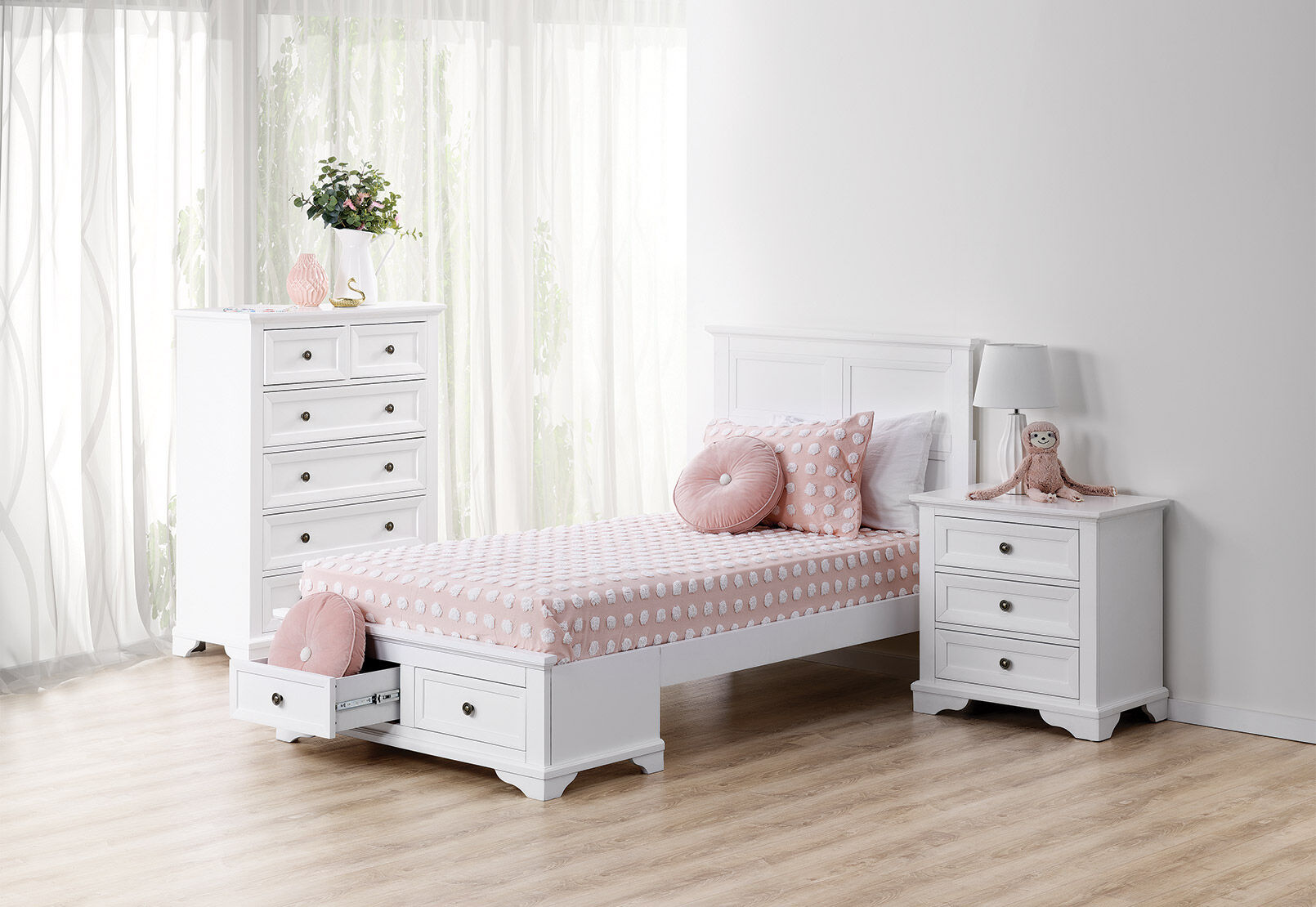 If you don't like the idea of a bunk bed, you can instead turn your kid's bed into a chest of drawers or a toy chest. Under-bed storage is an easy way neatly bring other pieces of furniture into one unit, without compromising space. This bedroom storage solution maximises small spaces and can look the part as either a girl's bed or boy's bed.
Kid's room tip: Open storage spaces make it easier to get out everyday essentials, like shoes, while closed storage spaces keep things clean and looking tidy.
3. Effective Storage
Kids need a lot of stuff. From clothes and uniforms to toys and sporting equipment, you'll need a clever bedroom storage solution. Without effective storage, a small space runs the risk of getting cramped and dangerously messy.
Open Wardrobe
Fitting a wardrobe into small kid's room can be hard to do, especially if you don't have a built-in robe. So why not consider an open wardrobe? An open wardrobe system provides a smart way to organise kid's clothes (from winter jackets to summer swimmers). Shirts and dresses are easily picked out and, along with wardrobe inserts, an open wardrobe with storage is one of the ultimate kid's storage ideas.
Kid's room tip: Wardrobe organisers can hold more than socks and shoes; they can also act as toy boxes.
Cube Storage
You might not be able to fit a full 8-cube storage unit into your child's room, but a few cubes can make a big difference. This storage idea is great, because you can place large toys or lamps in the open spaces, or use baskets to keep a bunch of things together.
Kid's room tip: A row of cube storage can act as a large toy box. And it can also become a play space for teddies to live in or toy cars to park.
Wall Shelving
Defy the limitations of gravity by fixing shelves to the walls. These highly stylish kid's bedroom designs raise books and toys above kid's desks and beds to use a space that many rooms don't. Just make sure they're safely attached to the walls and don't become an impromptu climbing frame!
Kid's room tip: Wall shelving gives makes a fun 3D look. So, have fun with its decorations – superheroes can fly above a boy's bed or ballet shoes can sit above a girl's bed.
There are thousands of kid's room ideas for small spaces, but each are providing their own solution to a common challenge: to utilise a small space without sacrificing character or function. So, as long as you have an idea of what you want to achieve, then you're halfway to creating a fantastic room that your kids will love.
For some amazing ideas on kid's study spaces, check out our style guide to kid's desks.