Beds are often the visual "feature piece" of a bedroom, but with our homes shrinking and space coming at a higher premium, they're increasingly playing a couple of other roles too.
Your bed doesn't have to be limited to one purpose. It can gently carry you to your dreams each night, and it can also be the ultimate bedroom storage solution you've been looking for.
Beds that feature the capacity for storage come in a range of types. From purpose-built drawers to basic "under the bed" space, there are almost unlimited ways your bed could provide the answer to maximising your storage space.
What You Can Store Under Your Bed
Although there's often a limited amount of space to work with in a bedroom, beds now come in more innovative shapes and designs than ever before, which makes it easier than ever to make use of a part of the room that often gets overlooked.
You can choose to store whatever you want under your bed. But here are the most common items people choose to store:
Spare pillows
Decorative cushions
Winter blankets
Linen and towels
Shoes and clothes.
Types of Beds with Storage
Whether you're after a space under your bed for a spare mattress or for your winter clothes, you'll need to choose the right bed frame to start with. Here are some of the different types of bed storage solutions you can choose from to transform your bedroom without compromising on style or functionality.
Hidden Drawers
One of the most popular bed storage ideas is to incorporate hidden drawers. These drawers slide just under the mattress and are completely unnoticeable when they're closed. This tidy solution keeps your stored items a secret and out of the way.
Bed storage tip: If the drawers are well hidden, they may provide a safer space for your valuables (compared to a dresser).
Bold Drawers
Your bed storage doesn't have to be understated or invisible – it can also be loud and stylish, like a beautifully crafted bed frame with drawers. Dresser-like drawers on a bed can provide a lot of character to a bedroom, while also giving you plenty of handy space for your pillows or work files.
Bed storage tip: Matching the drawers in your bed to the ones on your dresser can bring your bedroom together under one rich style.
Open Storage Space
If you've decorated your bed with cushions or other items to make the room "pop", don't hide them away. Keep them on display with an open bed storage idea. This type of space allows the accenting colours of anything you store to add to the room's overall look and stylistic theme.
Bed storage tip: Pillows and cushions can slot right into these spaces, but for the more fiddly items, try an open-top basket or a bed storage box.
End of Bed Storage
Although under-bed storage is becoming increasingly popular, you can also use the space at the end of your bed. There's nothing easier than extending the end of your bed frame with shelving, or an end-of-bed storage box or chest. This gives you the perfect place to conveniently store your bedroom essentials, or any other bulky items that won't fit on a shelf.
Bed storage tip: Cube storage can do wonders under your bed. Their flexible shape can be the perfect space for anything, from shoes to text books.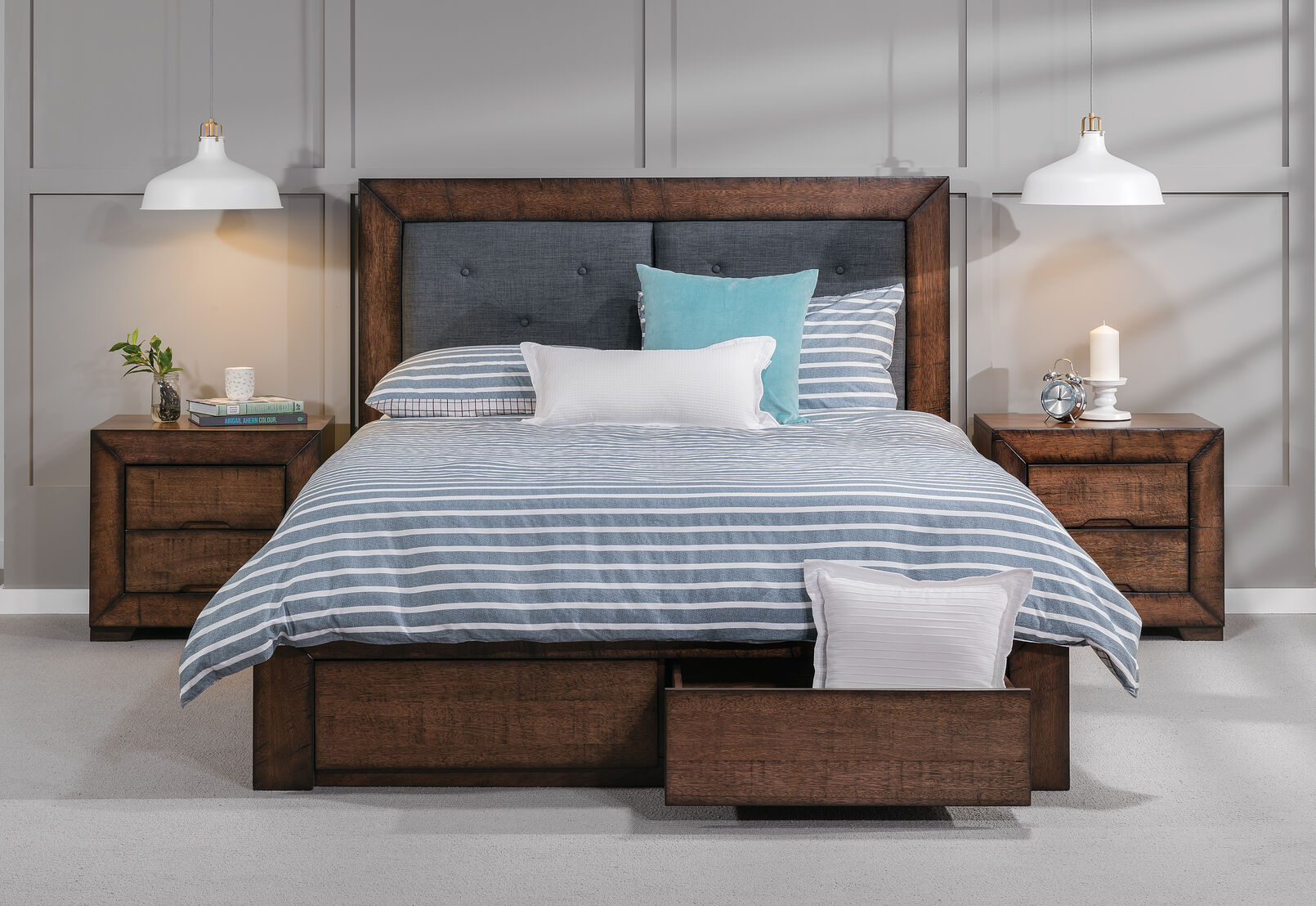 Spare bed
A bed can take up a lot of space in a bedroom, so when you need to store a second one, it can be a nightmare. If you do need two beds, however, one of the simplest solutions is for them to put one under the other. Trundle beds are a far sleeker option than bunk beds – and also make for easier sheet changing.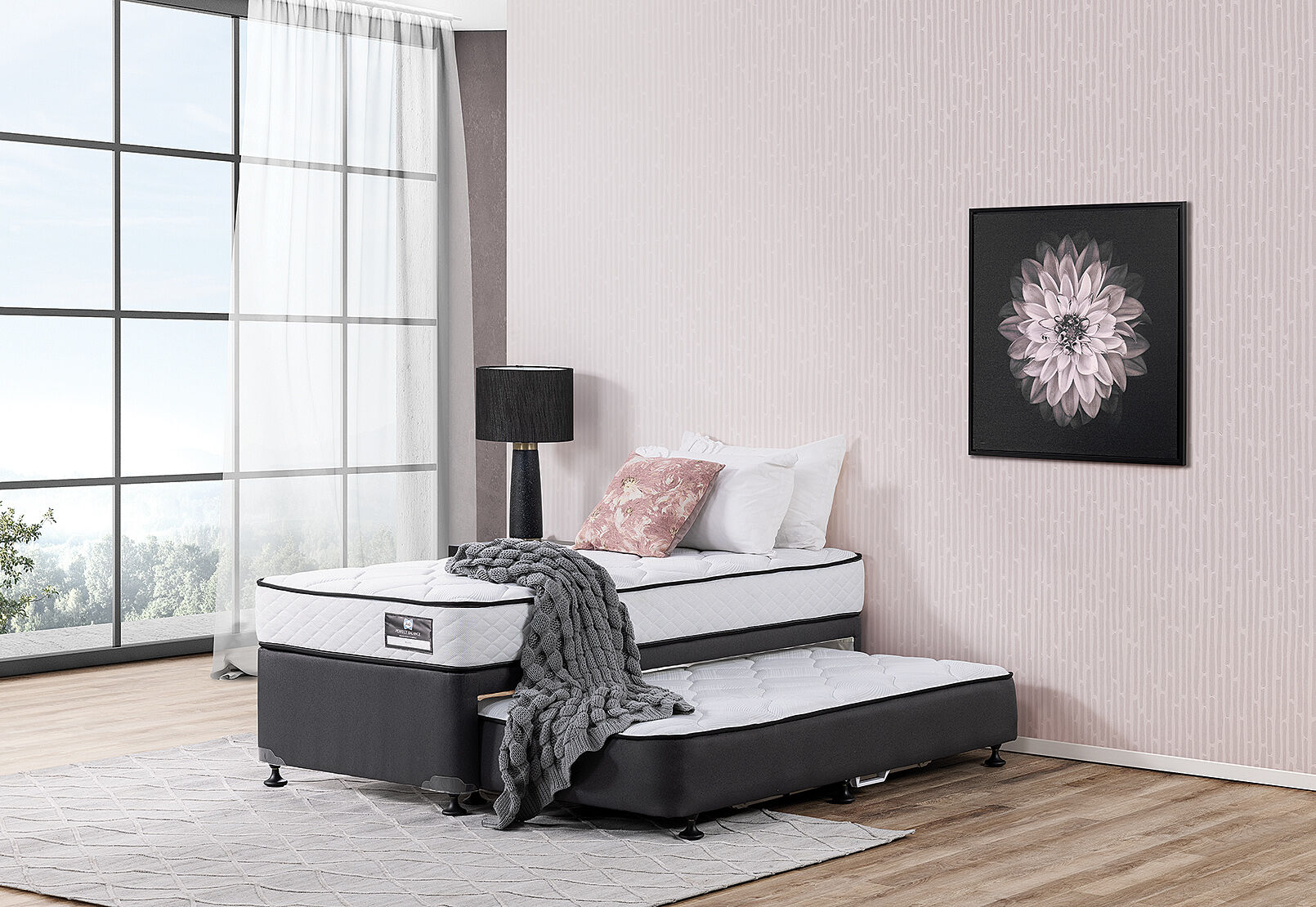 Bed storage tip: Storing a second mattress on a wheeled frame makes it quick to prepare and tuck away.
Under-Bed Storage Containers
If you already have the space, use it. There are many flat storage containers that can easily fit under beds to give you that easily accessible storage you crave. These are also the perfect idea for efficient shoe organisation, or for toys.
Bed storage tip: Sliding containers are great, but wheeled ones will protect your floors and make heavy stored items easier to move and access.
Hydraulic Storage
If you want just one large storage space under your bed, then a hydraulic bed could be just the thing for you. The options are endless on what you can store, as you have a huge and easily accessible area to work with.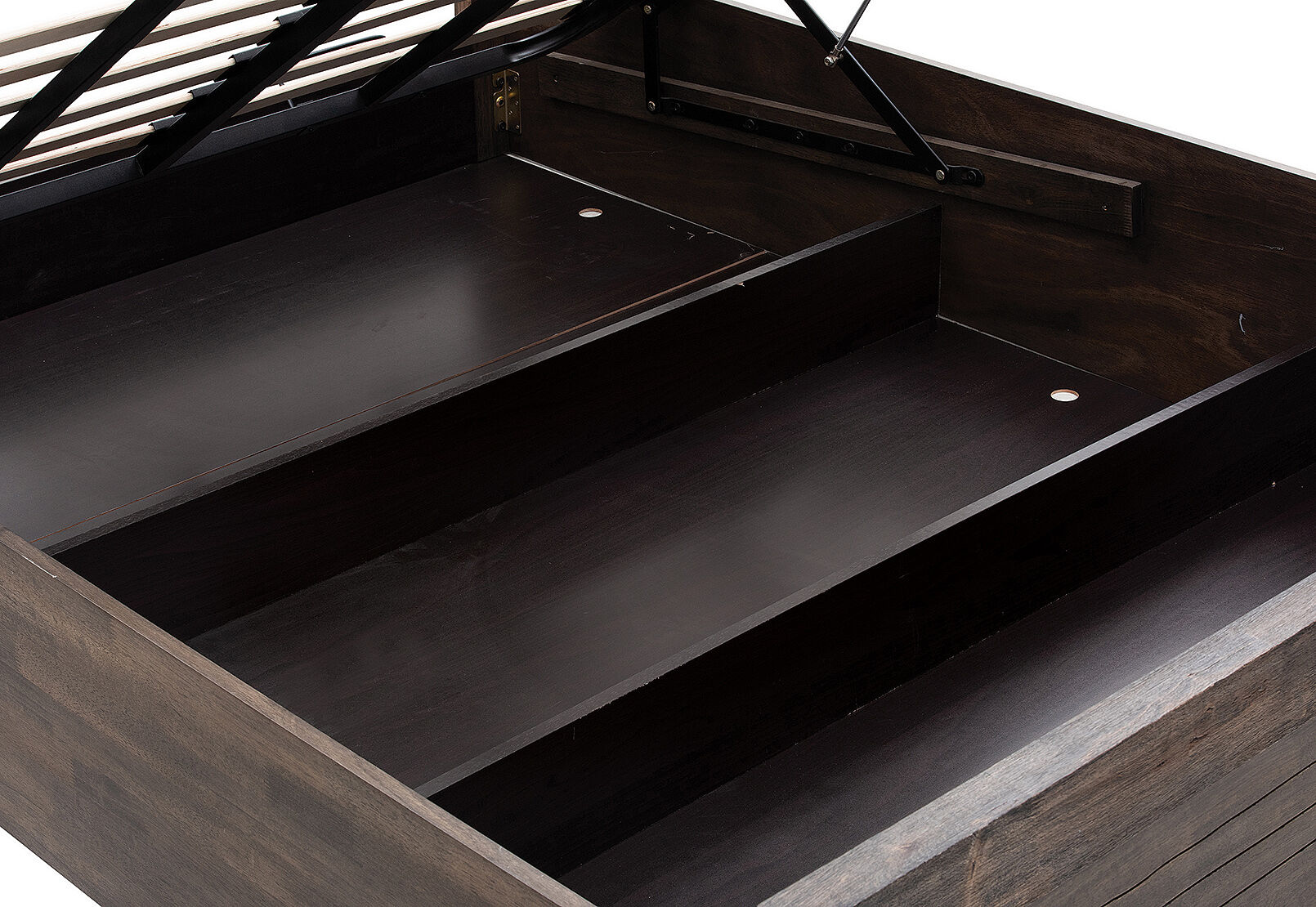 Bed storage tip: If you share your hydraulic bed with someone else, don't store anything under it that you'll need in the morning. If they'd rather sleep in, they may not feel inclined to move.
Kids' Beds With Storage
Keeping a kid's bedroom tidy isn't an easy task. But a bed with storage can help keep it well-organised. Whether a kid's bed becomes a toy chest or a clothes drawer, these types of beds minimise clutter whilst reducing the need for more furniture.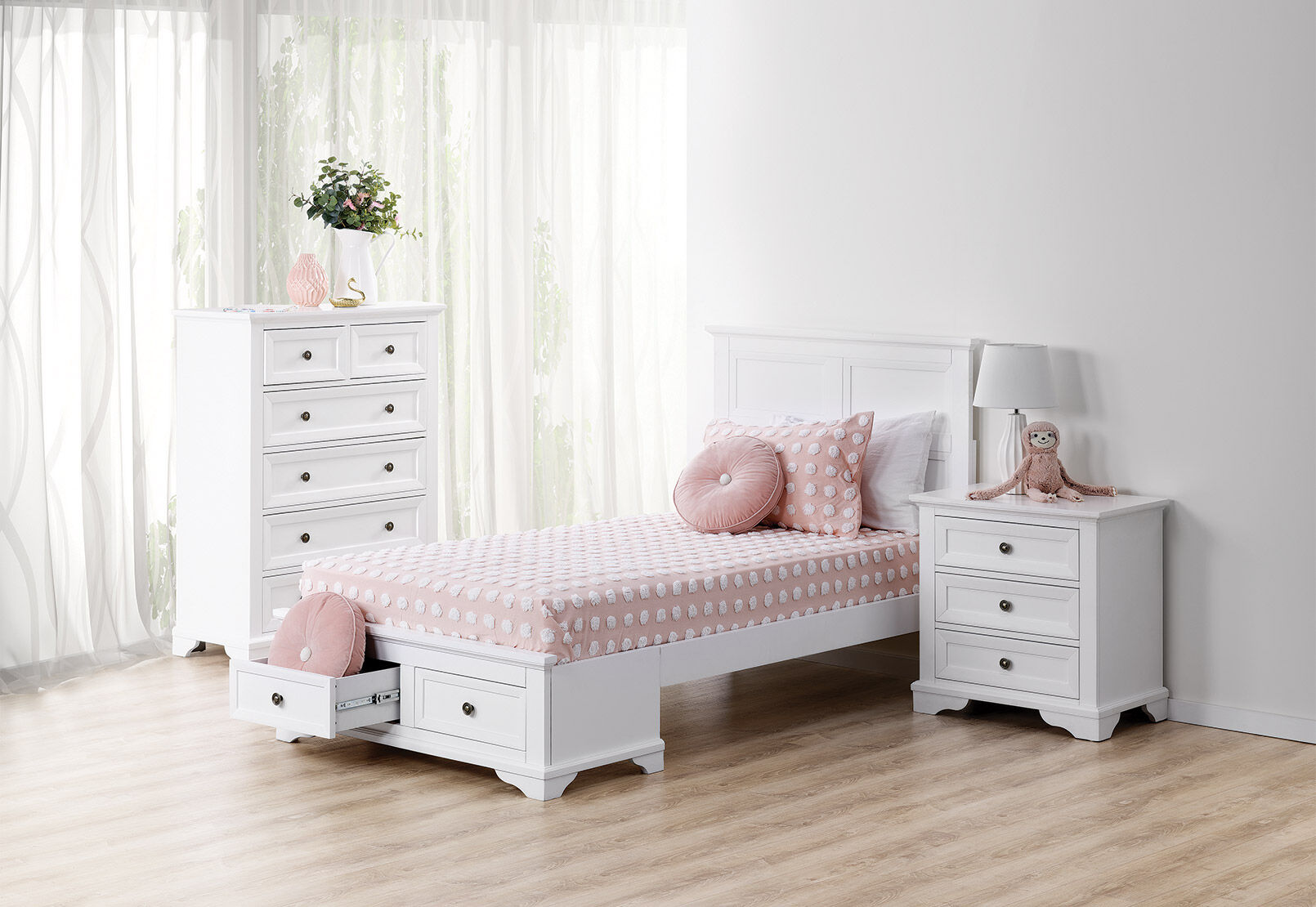 Safe Bedroom Storage
Just like with your pillows, mattress and sheets, keeping your stored items clean is essential in minimising dust mites and the effects they can cause – especially if the family pet also uses your bed and blankets. You can achieve this regularly washing your materials and by packing your cushions and manchester in plastic bags (for extra space, use the vacuum-sealed type) or closed containers.
Bed storage tip: Even if your stored bed sheets haven't been used, wash them at a hot temperature before fitting them on your bed.
Now that you have the answer to effective bedroom storage, it's time find your favourite bed style. Get inspired by the incredible options out there with our
ultimate bed style guide
.