Known by many names, the deck, patio or outdoor balcony, one thing remains clear, it is an all too important extension of the home. We're spending more time on the deck relaxing, enjoying the weekly barbeques with family and entertaining friends and it shows in our outdoor furniture choices and outdoor accessories.
Outdoor furniture has come a long way since the garden loveseat was first created. These days, we have a plethora of high quality outdoor furniture pieces that are carefully manufactured to withstand the harsh elements of nature. We have so many to choose from like wicker sun loungers, metal deck chairs, PVC dining sets and UV resistant daybeds, just to name a few. As indestructible as they might seem, outdoor furniture protection is essential and to keep your outdoor furniture looking guest-worthy, or just Insta-worthy, it doesn't hurt to give your furniture some much needed TLC on a regular basis.
Although it's not difficult to maintain your outdoor furniture, understanding how to clean and care for your prized possessions significantly aids in extending their lifespan so you can enjoy them for as long as possible. We present a number of useful tips and general rules to apply when caring for your outdoor furnishings for the optimum outdoor furniture protection. If in doubt, remember to always consult your manufacturers' manuals for the best care of your specific products.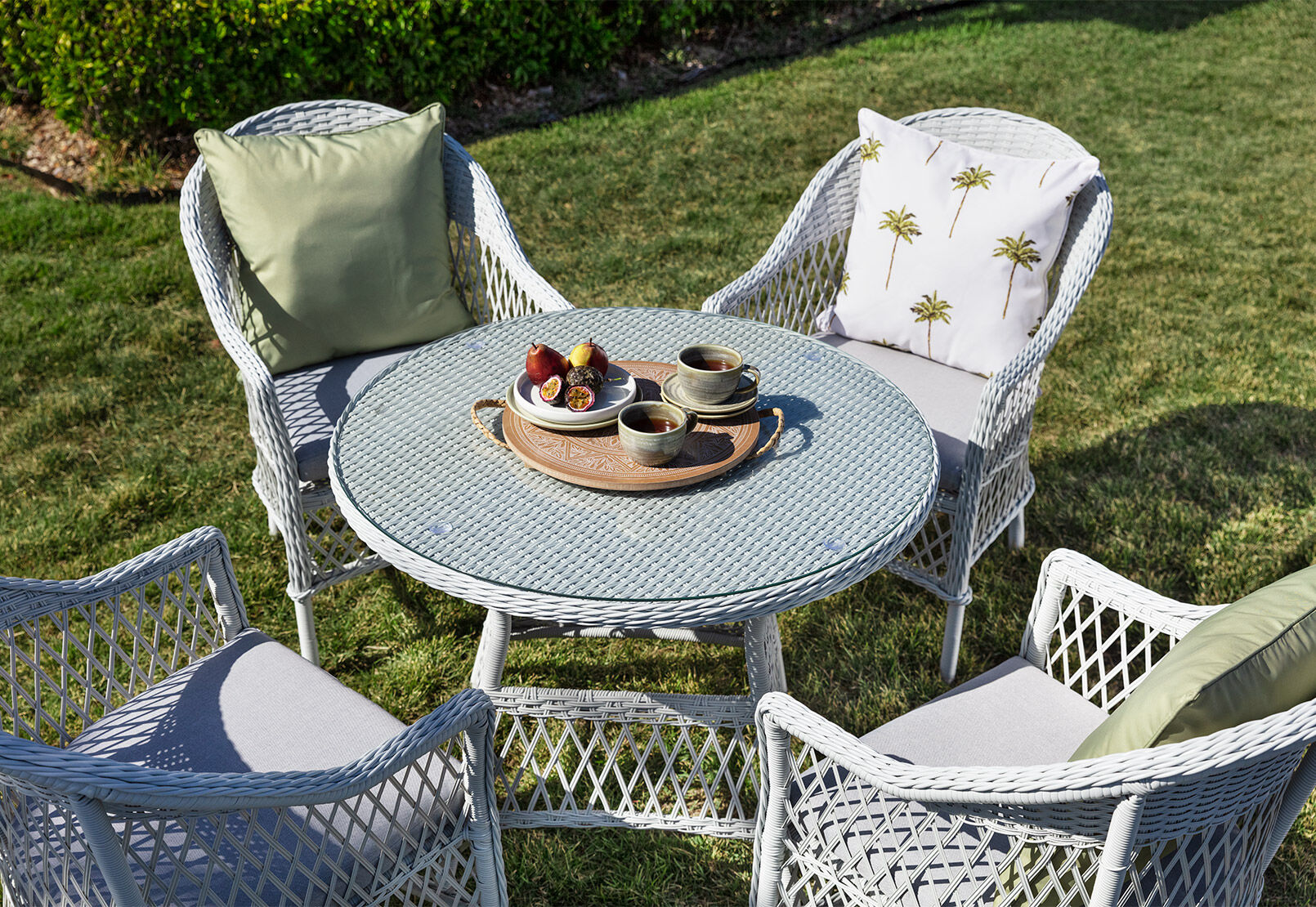 To get the best out of your carefully selected pieces, we recommend some simple guidelines to ensure your outdoor furniture is always in tip top condition.
Buying. Before you purchase, carefully consider your outdoor furniture pieces. Some materials are easier to maintain than others and if you're pressed for time, choosing a fuss free option might be the best move forward.
Storage. We highly recommend storing your outdoor furniture undercover, especially in winter, or when it's not in use.
Space. Choose a storage space that is cool and dry. The lack of moisture helps to reduce build up of mould, mildew and rust which in turn extend the longevity of your furniture.
Protect. Use a waterproof cover, quite like the outdoor cover to protect your pieces – an even easier solution than storage. Simple protective gear like umbrellas are wonderful and effective in protecting your furniture from UV rays.
Moisture.Make sure cushions and other fabrics are dry before you put furniture away.
Research.Be smart about your purchases. That means sourcing for UV-protected outdoor furniture or rust-resistant furniture manufactured from weather-hardy materials
Before choosing the furniture for your outdoor area, check out our guide on How to choose the perfect outdoor furniture | Amart Furniture.
Why You Should Clean Outdoor Furniture
Cleaning your timber, wicker, aluminium, or plastic outdoor furniture will extend its lifespan while increasing its appeal immensely. A dirty chair or a moss covered outdoor dining table aren't exactly inviting, especially when it comes to social gatherings.The good news is you don't have to make a big production of cleaning them. With the right tools and techniques, achieving outdoor furniture protection is easier than you think. No matter what type of furniture you have, always start with a soft cloth or brush to remove debris.
Read on for a more detailed guide to maintaining and restoring your furniture.
How to Clean Outdoor Wooden Furniture
Wooden outdoor furniture remains a top choice for many and for good reason too. The warm earthy tones of wooden outdoor furniture is a comforting and inviting addition to any patio or deck. Majority of wooden dining tables, quite like the beautifully crafted Luau Range, are made from hardwoods that can be cleaned and maintained in a similar manner. Simply put, it shouldn't take more than some mild soapy water and a sponge. Here's our step-by-step guide: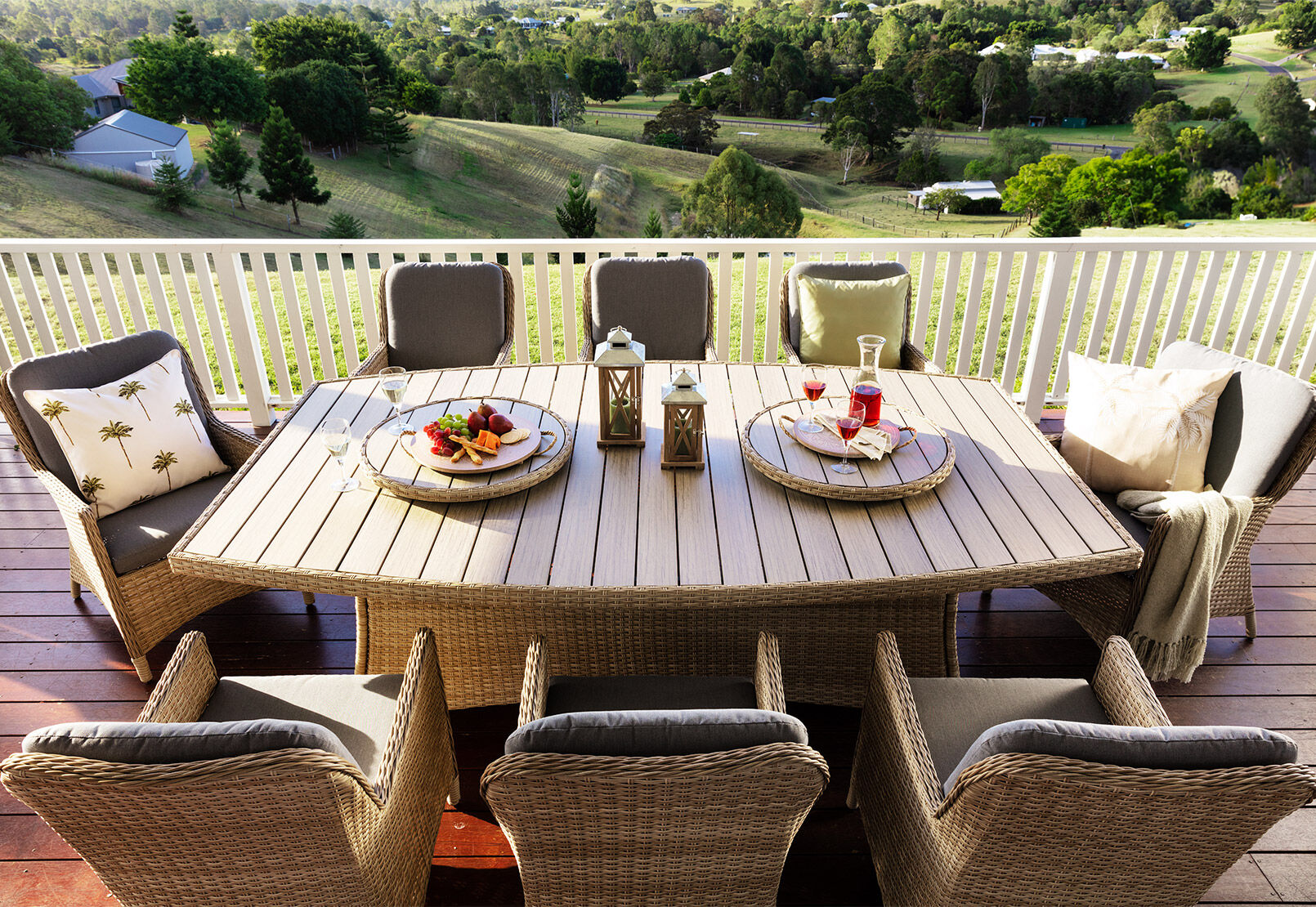 Use a soft nylon bristle brush to remove light debris
We recommend cleaning the surface using a sponge or damp cloth with a solution of mild soapy lukewarm water.
Remember to soak up any excess water with a microfibre or lint-free cloth.
After cleaning, do allow the wood to dry naturally either under the sun or in an area with plenty of ventilation.
If your outdoor wooden furniture has a high-density PU coating, much like the Replica Adirondack side table, use a mild soap to clean it. An abrasive cleaner is more likely to damage the protective polyurethane layer. The PU coating works well to protect your furniture against harsh UV rays. Gentle cleaning will help ensure this layer remains intact.
A sealant on wooden furniture helps maintain the colour of wood, protect it from wear and tear, as well as the occasional spill. Sealing the wood helps protect it from UV rays, excess moisture, dirt and of course preserving the restored colour. This coating provides wood protection from liquids, however if not cleaned up immediately, spills will eventually stain your wooden furniture. If your timber furniture is uncoated and left unfinished, overtime the wood acquires a grey-silvery patina, This uncoated result is very low maintenance however, if this isn't your cup of tea and you'd like to opt for a more polished look, timber wax is a great sealant for your outdoor wooden furniture.
Mould: For the removal of stains or mould, we recommend using a solution of powdered oxygen bleach mixed with hot water. After a light scrubbing of the area with a soft brush, rinse and proceed with removing rust or stains by gently sanding along the grain. This helps to restore your wood furniture to the original colour for a smart polished finish.
How to Clean Aluminium/ Steel Furniture
When it comes to aluminium and steel furniture, we recommend rust-resistant and galvanised steel products like the charming Bayview range. They are easy to care for and require minimal fuss, making them an ideal choice for outdoor furniture protection so you spend more time leisurely and less time on upkeep.
Like with most outdoor furniture, cleaning aluminium furniture requires hardly more than the use of gentle soap and warm water. To keep aluminium or steel looking its best, polish it with a soft cloth and a non-abrasive cleaner. The material itself is prized for the ease it's moulded into a myriad of patio furniture. It's sturdy and lightweight, although it does come with a drawback. Aluminium does dent more easily than other materials and care should be taken when moving aluminium furniture around for cleaning or storage. Dents on aluminium furniture not only diminish the protective coating on the furniture, it also can jeopardise the strength and integrity of the furniture.
For the ultimate in easy care, have a look at the contemporary Tangalooma package that features an on-trend combination of rust-resistant aluminium frame and Weathergrain, made from recycled plastics.
In the instance of rust on your steel furniture, a light sanding using fine grit sandpaper should do the job of removing rust. Wipe dry and follow this up with several thin layers of touch up paint. White vinegar is also effective because of its acidic properties. Dab the metal furniture with white vinegar. Leave this solution to soak for about 10 minutes, then wipe it off cleanly with a cloth.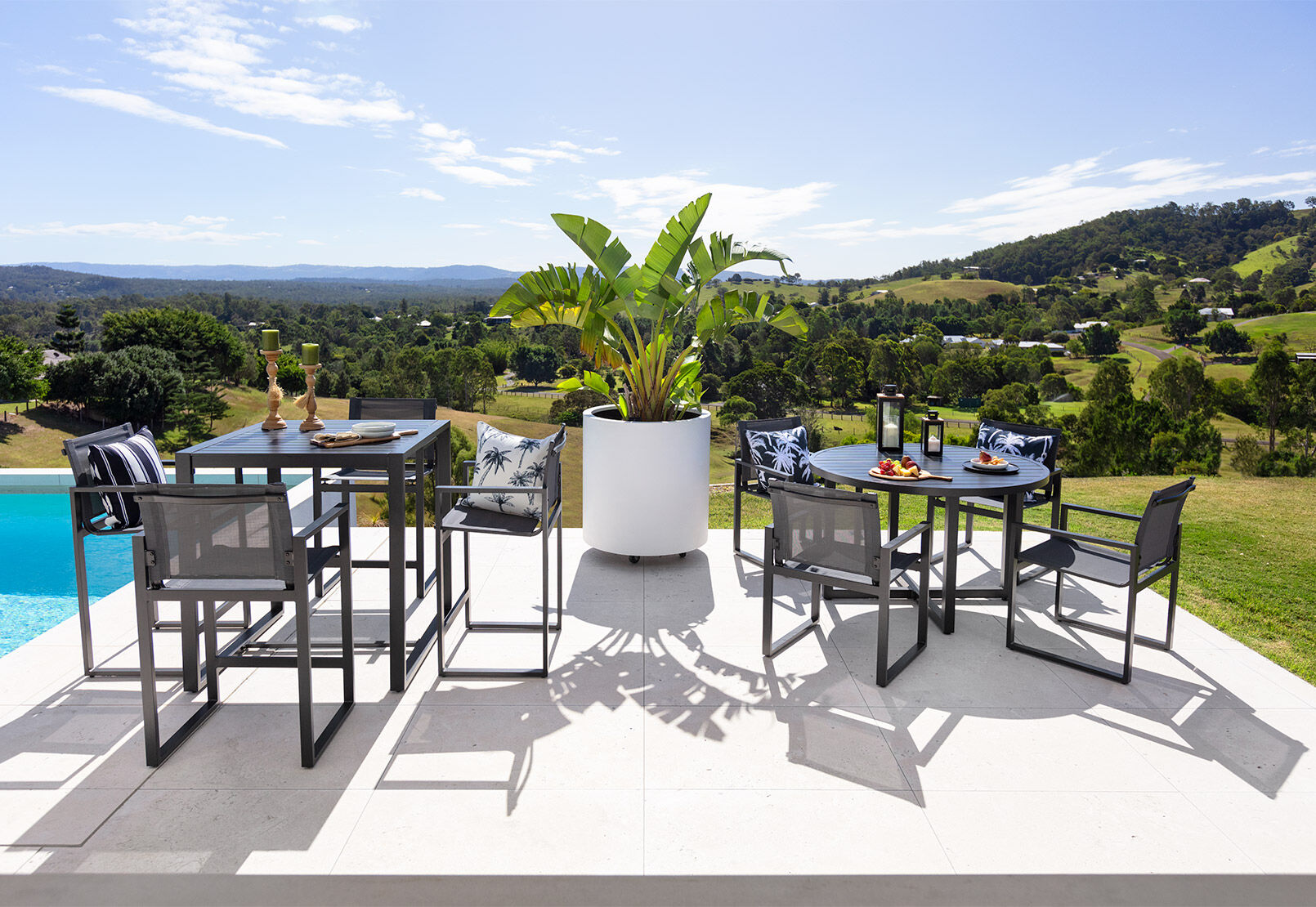 How to Clean Wicker Furniture
Wicker furniture has never been more popular. It's made a comeback and for good reason too. It's a classic weave patterned furniture that never goes out of style. Often constructed from rattan, split reed or in newer cases, steel framed PVC, wicker furniture is often coated with a layer of protective varnish for long lasting water resistant properties.
Cleaning your wicker furniture is simpler than you could imagine. Remove dust from your wicker furniture with the use of the bristle brush attachment on your vacuum. Use a toothbrush to reach tighter spaces. Follow up with a wipe down with mild soapy water. If your wicker is synthetic, you have less to worry about. Hosing down your wicker furniture is an effective way to get your furniture clean. Water warps natural wicker. Do remember to always dry your wicker furniture completely. .
The European-styled Lacy 3 piece outdoor setting features the best of both worlds. It consists of hardy, synthetic wicker seats complete with a sturdy, steel frame. So you'll be guaranteed a relaxing time for a long time to come.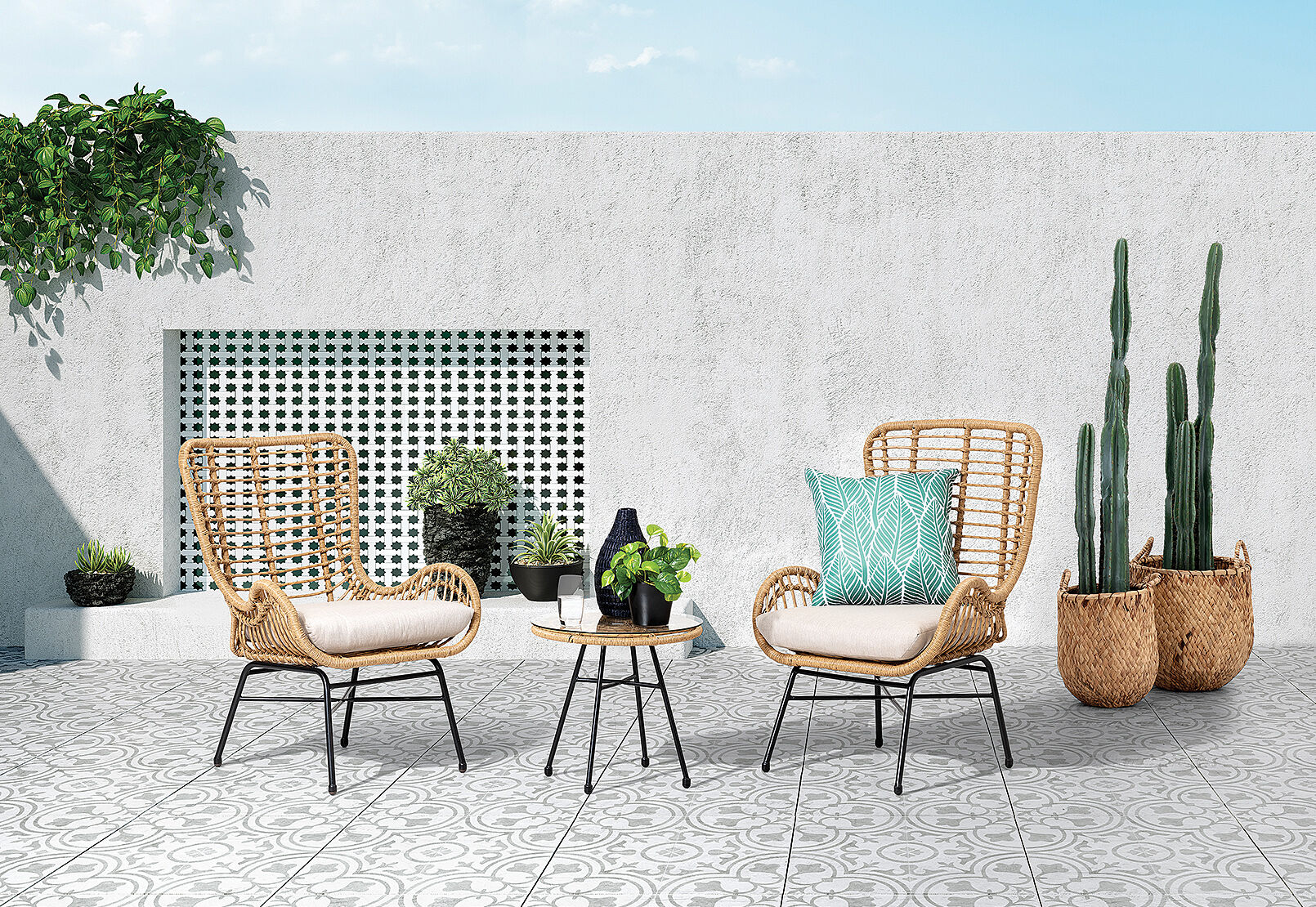 How to Clean Plastic Furniture
Plastic furniture is quite possibly the most low maintenance outdoor furniture on the scale. All-weather furniture is generally composed of polyvinyl chloride (PVC) or polyurethane (PE). Their make up of chemical additives and ultraviolet stabilisers allow for them to be shaped to mimic wood and wicker furniture.
They're minimal fuss and easy to care for. For a deep clean, all you need is a wash with baking soda and warm water for white furniture, or vinegar and warm water if it's coloured plastic. You will only need about one cup of either in a bucketful of water.
If you discover a stain that doesn't come off with a wash, apply the vinegar or baking soda directly, on a rag. Don't be tempted to use bleach on your white plastic as it will erode the material. Sunscreen residue is known to stain plastic furniture to be sure to wipe your furniture with a wet cloth soon after exposure to prevent staining.
How to Clean Weathergrain
Essentially Weathergrain is plastic, the only difference, it's constructed to have the appearance of wood. And while you get the look of timber, it is made from recycled materials, hence having a smaller carbon footprint so in a way you help save the world. Cleaning weathergrain is basically the same as cleaning plastic furniture.
How to Clean Fabric
The fabric for outdoor furniture is the glue that ties everything together. It's no ordinary fabric. After all, it's your outdoor furniture covers that are needed to withstand the elements. Quite often, material that is for outdoor use is resistant to sun damage, staining, moisture and mould. Depending on the fabric composition, most outdoor fabric is less prone to fading and can handle tougher cleaning solutions.
To clean your removable fabric cushion covers, a simple machine wash in cold water and detergent should suffice. Air dry for best results. For regular care, always remember to brush off dirt and debris and rinse as needed. Clean all spills as soon as possible to prevent staining. Last but not least, most fabrics come with a water repellent finish which can be restored with the right fabric protector.
And there you have it, the guide to looking after your outdoor furniture. With these simple tips from Amart, now you can enjoy your dream backyard and beautiful deck setting for a long time to come.