What is Bohemian Style?
Give your home a whole new decor facelift with inspiration from the world of eclectic and creative flair that is Bohemian style. The Bohemian style of decoration is not a modern invention. In fact, the history of its inception traces back to French Bohemia. They were a counterculture which made their appearance in the late 18th century in France after the French Revolution. It was an era that saw many artists and creative people alike plunged into poverty, due to deprivation from the former system of patronage.
From this emerged a rebellion, if you may, resulting in an unconventional style, combining the essence of free spirit, embracing multiple layers of colour including the eclectic language of décor and fashion that we have come to now know as Bohemian style. Boho decor, as it is also known, is unafraid of expression. It's bold, beautiful, modern and vintage all in one. Initially confined to the artists who created this style, bohemian style decoration and ideas have now grown extensively popular with interior designers and is predominant in so many beautiful homes all over the world.
What are Bohemian Colours?
Bohemian decor loves colours, patterns and textures. Inspired by nature and natural elements, we have earthy tones incorporated into the vivid colours of the rainbow. Think of the lovely warm hues of rustic green, deep browns, camel, and gray interspersed with vibrant colours such as striking red, cool turquoise, electric blue and glowing orange. They interweave with multiple layering to form a colour palette like no other.
And then you have modern boho chic, where the colour palette changes to be more neutral, when dominating shades of white and beige combined with clay to create a more subtle feel but without compromising the essence of boho chic.
Bohemian Decor Ideas for the Living Room
The Bohemian aesthetic emphasizes the freedom of expression and individual style. There is a lack of structure when it comes to Bohemian decor style which is very personal and relaxed. Colours and patterns mix and match in a flurry and things aren't always black and white. Be that as it may, each Bohemian style element has been well thought out in the process.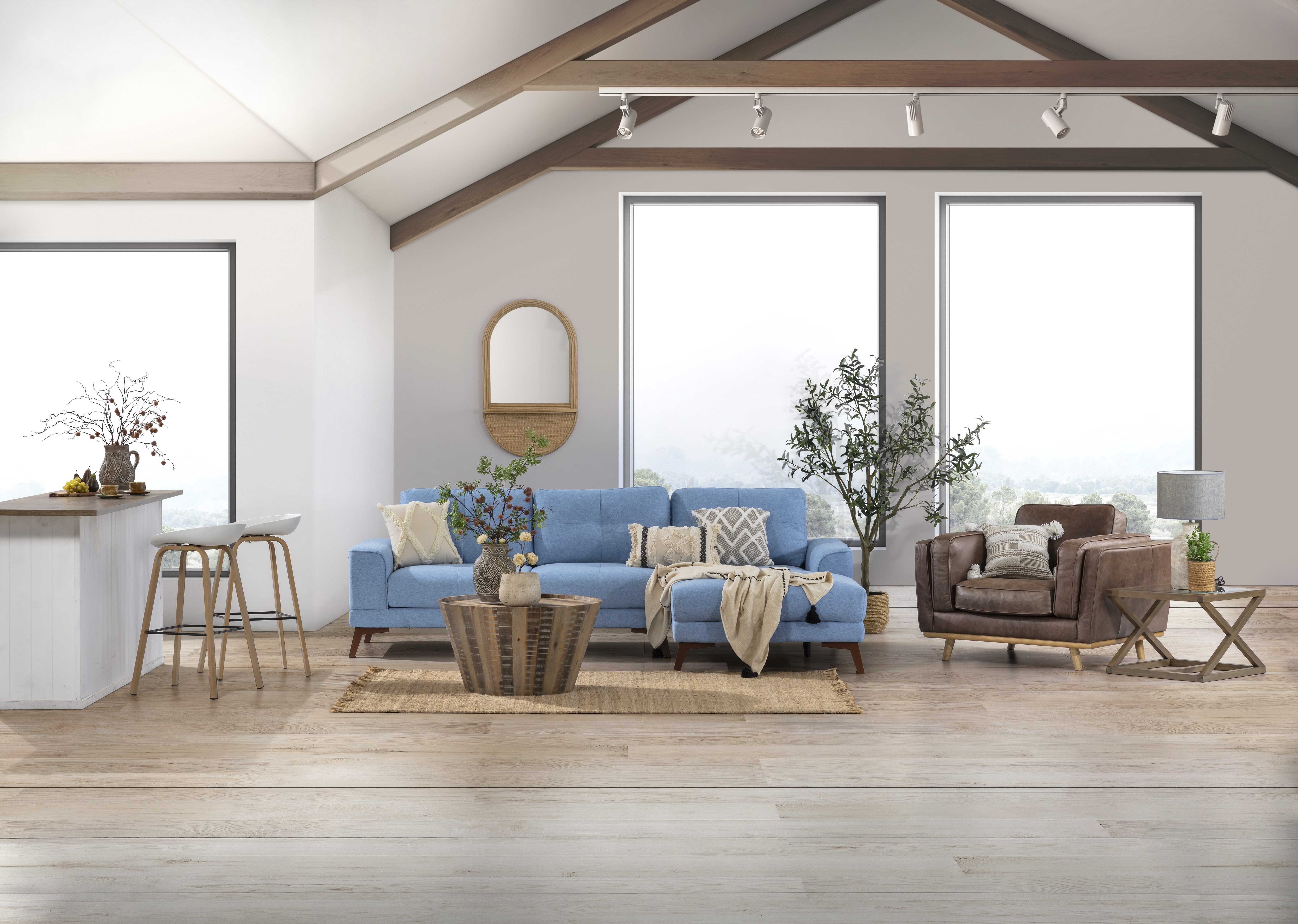 Here's our guide to creating a Bohemian oasis in your home with our Bohemian home Decor Ideas for the Living Room.
Create a Colorful Palette
Possibly the most important focal point of any living room. Choose a large sofa or lounge set, it's an ideal option for the whole family to pile into. However you position it in the living room, the sofa remains the object of affection in your living space. For the boho feel, select a sofa made of natural material with elegant wooden finishings. The leather sofa is pretty much out of the question when it comes to Boho decor.
With a sofa chosen, this is where the fun begins. Boho decoration ideas revolve around layering your items of furnishings. Create a warm and inviting ambience by piling on colorful throws and cushions onto your sofa. Large floor cushions are a must-have for every bohemian living room.
Take inspiration from the Persian and Ottoman empires by incorporating beautifully woven floor rugs to draw attention to the center of the room. Intricately weaved tapestries like Ikat and Batik from Java, colorful wall hangings inspired from India and macrame are essential to creating the Boho ambience. Mixing and matching colours are of minimal importance. In fact, the opposite is true. 'More is more' is the motto of the day.
The Sofa.
Cushions And Throws.
Exquisite Rugs and Wall Hangings
Decorative Materials
Incorporate a good mix of eclectic decorative items of different materials, form and structure to create a textured artwork in your Bohemian Living Space. Woven baskets made from sisal and flax are gorgeous additions to your furnishings.Linen throws add a soft earthiness like nothing else can. Accent your room with brass decor items and accessories from incense holders, ornate vases to drumming bowls and salt lamps. Mix and match your brass table lamps for a degree of rustic charm.
Natural elements are fundamental to creating the Bohemian style. Furnishings, whether they are new or vintage are the best way to incorporate this element of wood into your surroundings. Rustic timber provides warm inviting tones to your room. After the sofa, the coffee table is quite literally the next item of importance. Choose a low level coffee table with eloquent trimmings. The lower level allows for floor seating with the aid of cushions, a much loved trait of boho decor. A lavish table runner is the perfect way to accent your coffee table or dining table. It ties all the elements together whilst maintaining the aesthetics of individual pieces.
Your Boho inspired living room is not complete without plants. Bohemian style embraces nature in so many ways and plants are such an easy and versatile way to elevate the look of your living room. It brightens and freshens your entire living space all at the same time. Choose suitable sized potted indoor plants for easy maintenance. Or better yet, keep it simple and fuss free with a number of artificial plants. Create a natural wall hanging composed of climbing vines for an aesthetically pleasing look. Bamboo is another great feature, stack bamboo poles for added texture and height or have a bamboo divider in the room for style.
Another key element to boho decorating is the harmonious mix of vintage and modern. Modern new furnishings and accessories sit alongside quite nicely against gorgeous textured vintage pieces creating a nice bohemian flair especially in the dining room. Vintage pieces add a story to the room with their textured past, the distressed appearance and the history that come with it, all while adding to the warmth of the living area.
Implement Timber
We love Greenery
Vintage and Modern
Bohemian Decor for Bedroom
The bedroom is just the perfect place to style in Bohemian fashion. The elements of Bohemian style decor in Australia are highlighted in the same manner. We want the bedroom to be an inviting space, a colorful retreat, where you can lay in bed and relax, be yourself and recharge for the day ahead.
Bohemian decor loves natural fabrics. Think hemp and flax. Smother yourself in quality bedding of rich Egyptian cotton and breathable soft linen. Layer your sheets with textured colorful duvets. Lace and trimmings are most welcome as are tassel bedding, pom pom throw pillows and much more. Layering is key to creating a lovely inviting space.
No Bohemian bedroom is complete without numerous floor rugs. Spoil yourself with an assortment of floor rugs of different sizes, colours and textures to enhance your Boho delight. Faux fur rugs add a dimension of soft luxury while ornate Turkish rugs increase the colorful detail to the Bohemian decor room.
The Boho style is accentuated by furniture made of natural elements. Choose a good size king or queen bed, preferably made of light timber to complete the look. A canopy bed is the creme de la creme of the Boho decor world. A rattan rocking chair along with distressed bedside tables add finishing touches to the boho room.
Create your Boho mood in the bedroom with the use of ambient lighting. You want to be lulled into a state of relaxation and ease. The use of pendant lights are a great feature of ambient lighting using colour temperature and brightness to achieve your desired atmosphere. Dimmer switches are ideal for adjusting light brightness.
Ornate and large gothic style mirrors framed in beautiful oak and light timber are a wonderful accessory to the Bohemian bedroom. Having mirrors of different sizes strategically placed in your room gives it an appearance of being larger and more spacious than it really is. This is a great option for Bohemian decorating on a budget.
We just cannot get enough of colours when it comes to Bohemian decorating. Painting your walls is an effective and cost efficient way to inject life into your bedroom. Choosing the right colours will completely alter the tone of the room so go bold. It's Boho chic afterall. Colours are your friend. Sunset yellow, flirtatious purple and forest green are just a few choices. Or if you like, be subtle and keep the walls a crisp white to set off your colorful decorative cushions nicely. Once you have a fresh coat of paint, complete the boho look with must-have macrame wall hangings and dream catchers.
An absolute game changer when it comes to bohemian decor on a budget. This is quite literally the icing on the cake. Plants exude a subtle note of evergreen freshness like no other living thing can. Climbing plants add earthy tones to your bedroom making for a cozier and cleaner space.
5 Must Have Bohemian Decor Items
We bring you the 5 must have Bohemian decor Items to spruce up your living space and bedroom.
The Wicker Chair.

If you can bring only one piece of furniture into your space for your Bohemian dream, let it be wicker. This could be a wicker rocking chair, great for the living room or nursery. Better yet, a hanging egg basket chair is the ultimate Boho accessory to any room. Nothing quite like cozying up in your wicker chair with a book and cup of tea on a rainy day.

Wall Art.

This is a total must-have. It instantly changes the room with a burst of colour while being another focal point to the eye. It's a great conversation starter too.

A Floor Cushion.

This may not seem like much but trust us, a massive, embroidered floor cushion adds a level of softness, and warm reception to any space. It immediately begs one to have a seat.

Personal Pieces.

Having a personalized item, be it a trinket from traveling overseas to a family memento is key to completing your dream Bohemian space. Adding your personal touches makes this your space to love and cherish.

Moroccan Style Pendant.

Having the right ambient lighting is key to your Boho inspired space and little touches of quirky accessories and pendant lighting are just what you need to create the right level of cozy lighting.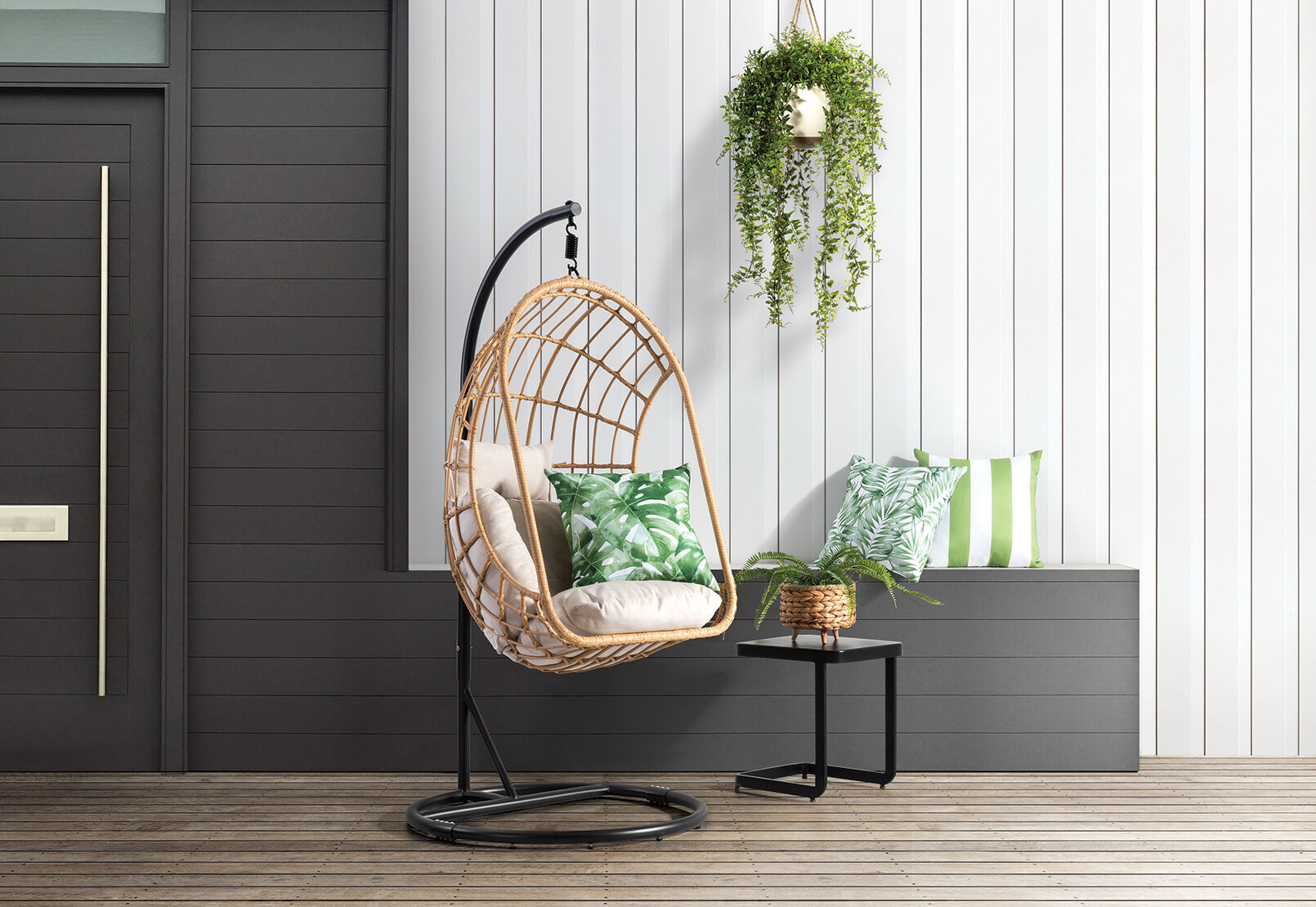 With a little help from us at Amart furniture, creating your desired Bohemian style living space is just a few short steps away.