Your home office is a space for getting things done. It's also a personal area that should represent your unique style and inspire your creative mind. From modern home office ideas to the timeless looks, we've put together 10 designs that will transform your work area into a stylish masterpiece.
Why Have A Home Office?
You don't need to work from home to justify a home office. There are dozens of benefits that it can provide – the most popular of all being that it's the ideal place to set up your computer.
A computer is a gateway to work, family, and the entire world. So having a space that's dedicated to using one comfortably makes a big difference. A home office is also:
An attractive asset for prospective buyers (if you decide to sell)
An efficient workspace for booking flights, budgeting, and sorting taxes
The most appropriate space to store personal information and file receipts.
Whether you need a space in your home that encourages productivity or you simply want a practical use for your spare room, a home office is the perfect solution.
Home Office Must-Haves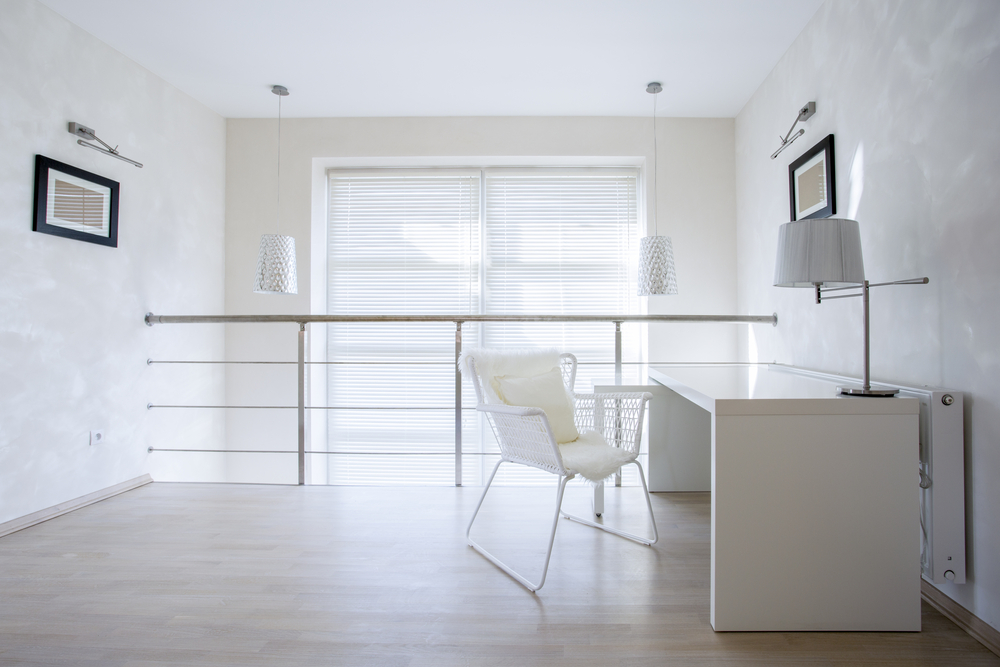 Everyone's personal style is different, so no home office will ever look the same or contain the exact same pieces of furniture. However, there are a few elements that every home office should have. These include:
A well-sized desk
A comfortable chair
Sufficient lighting
Internet access
Power outlets.
An easy way to capture the look you want is with a package. See our range of on-style Office furnitures to get the ball rolling.
And as for your home office décor? That's entirely up to you! Check out these home office ideas for inspiration.
The Bare Minimum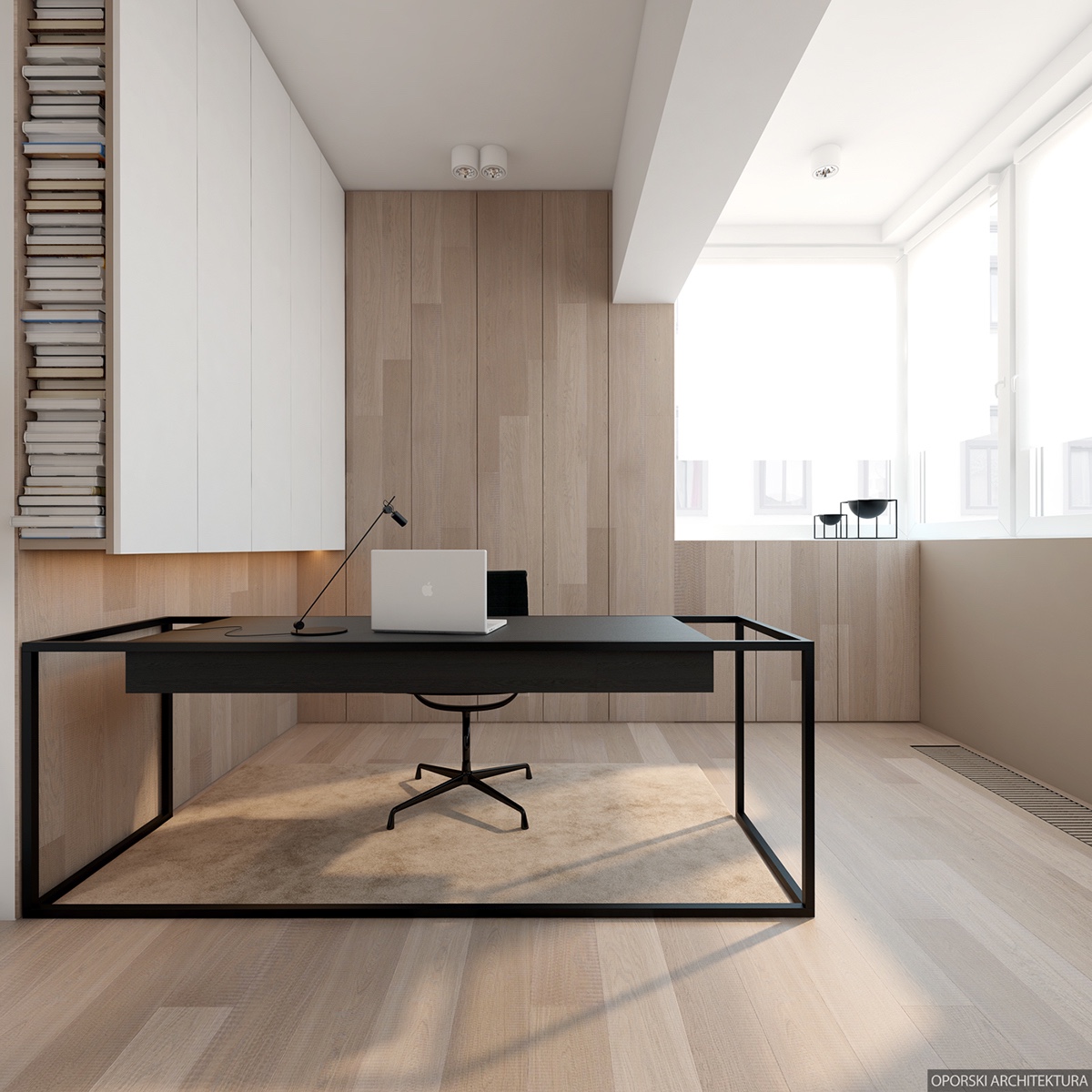 Credit: http://www.home-designing.com/2-super-simple-homes-with-light-wood-panels-and-matte-black-accents
You don't have to be a minimalist to appreciate the openness of a bare office. With the absolute minimum, you can enjoy a full breath of air and focus completely on the task you've put in front of you.
This home office design isn't plain either. Having only a computer desk and a leather office chair standing as the foundation, your room can be bold and visually striking. Like having one word written on a white page, your eyes will immediately find the feature pieces you choose set up. And if you do eventually decide to furnish it further, then it's a simple transformation.
Top tip: Other than the two main pieces of furniture, incorporate some neat-and-tidy office storage, like a chest of drawers or filing cabinet, for functionality and a simple lamp for better lighting.
A Plant Space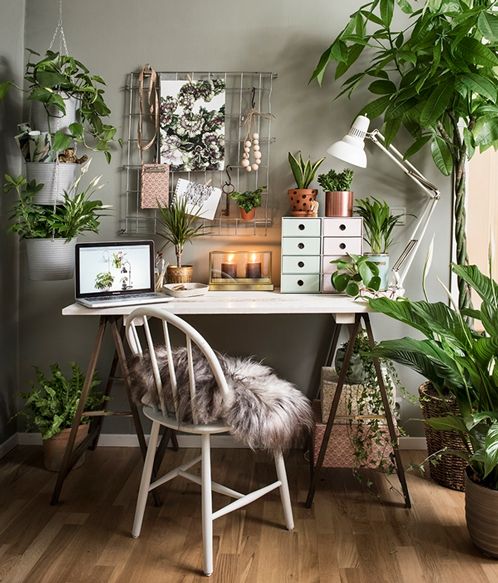 Credit: http://tankebubblor.blogg.se/index.html
Bring the vibrant energy of organic plants onto your wooden desk with this natural home study design. The outdoors is full of detailed beauty, so look outside for your inspiration and start incorporating different types of plants into your shelves and at the feet of your cabinets. This is a simple office decorating idea that's full of character.
Top tip: For a bright home office lighting idea, a warm lamp can complement a room full of plants. This allows the natural green from leaves to drip into your workspace, as if they were droplets hanging from a lamppost.
Your Hidden Work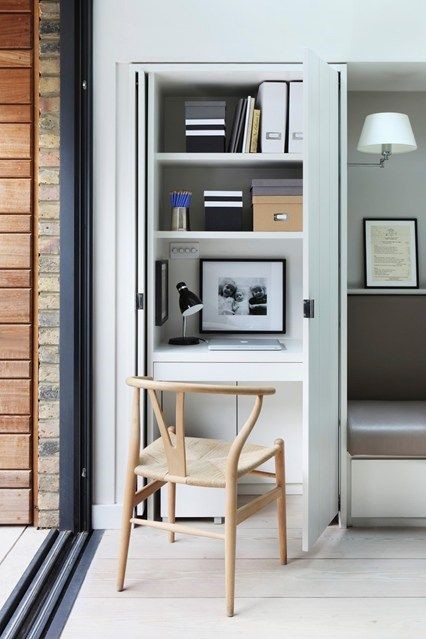 Credit: http://www.houseandgarden.co.uk/gallery/interior-design-ideas-small-spaces-flats
A home office doesn't need to fill a whole room. In fact, a small desk in a cupboard can be more than enough. If you don't spend hours working at home and would prefer to use your spare room for guests, then a hidden area is perfect. It's also an easy home office idea that conveniently disappears – so you can have it anywhere in your home.
Top tip: Secure the doors of your new work station with a lock. That way you can keep a desktop or laptop, and documents safely stored.
Window Light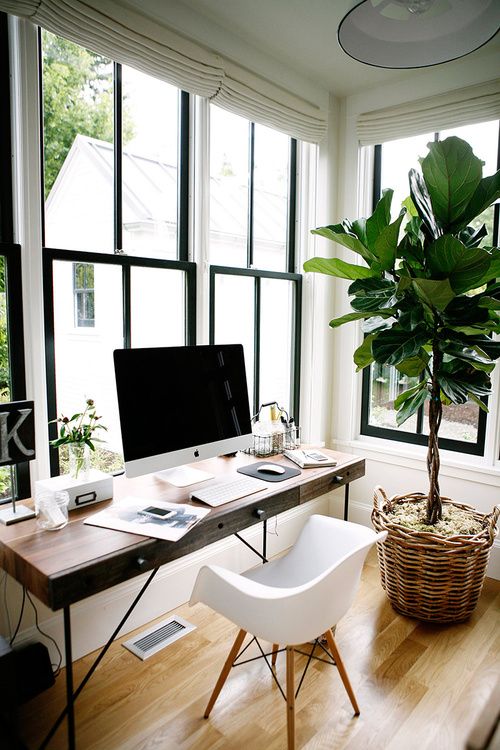 Credit: http://www.minimalcrafts.com/2016/05/how-to-stay-focused-when-you-work-from.html
Sunlight is the world's way of saying that it's daytime and it's time to work. So setting up your home office along a large window is a great way to get that natural motivation, free from outside. A well-lit workspace also animates your furnishings and allows their colours to bloom. Making your window the best and easiest home office lighting idea.
Top tip: Lighting will be different with each individual window. So take note of the direction of light throughout the day and place your furniture accordingly. That way, nothing will recede into shadows.
The Open Book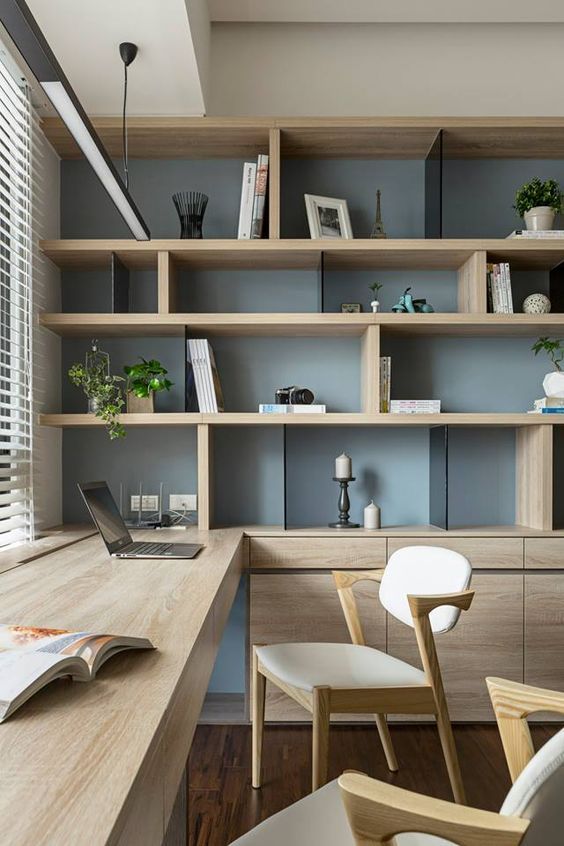 Credit: https://www.pinterest.com.au/pin/314618723960756345/
When it comes to home office décor, anything like textbooks, files and supplies can come in handy. In an open work area, office items can easily be displayed in ways that allow their character to emanate.
This aesthetic style can be achieved with a well-placed computer desk with storage, or a desk with a hutch. These pieces of furniture can increase the open layers of your office space and give you the exposed storing space you need.
Top tip: Cube shelves is one of the best ways to keep your things out in the open, yet in one convenient location. It can also take on the role of several pieces of furniture, from a filing cabinet to a bookcase.
Nooks and Studies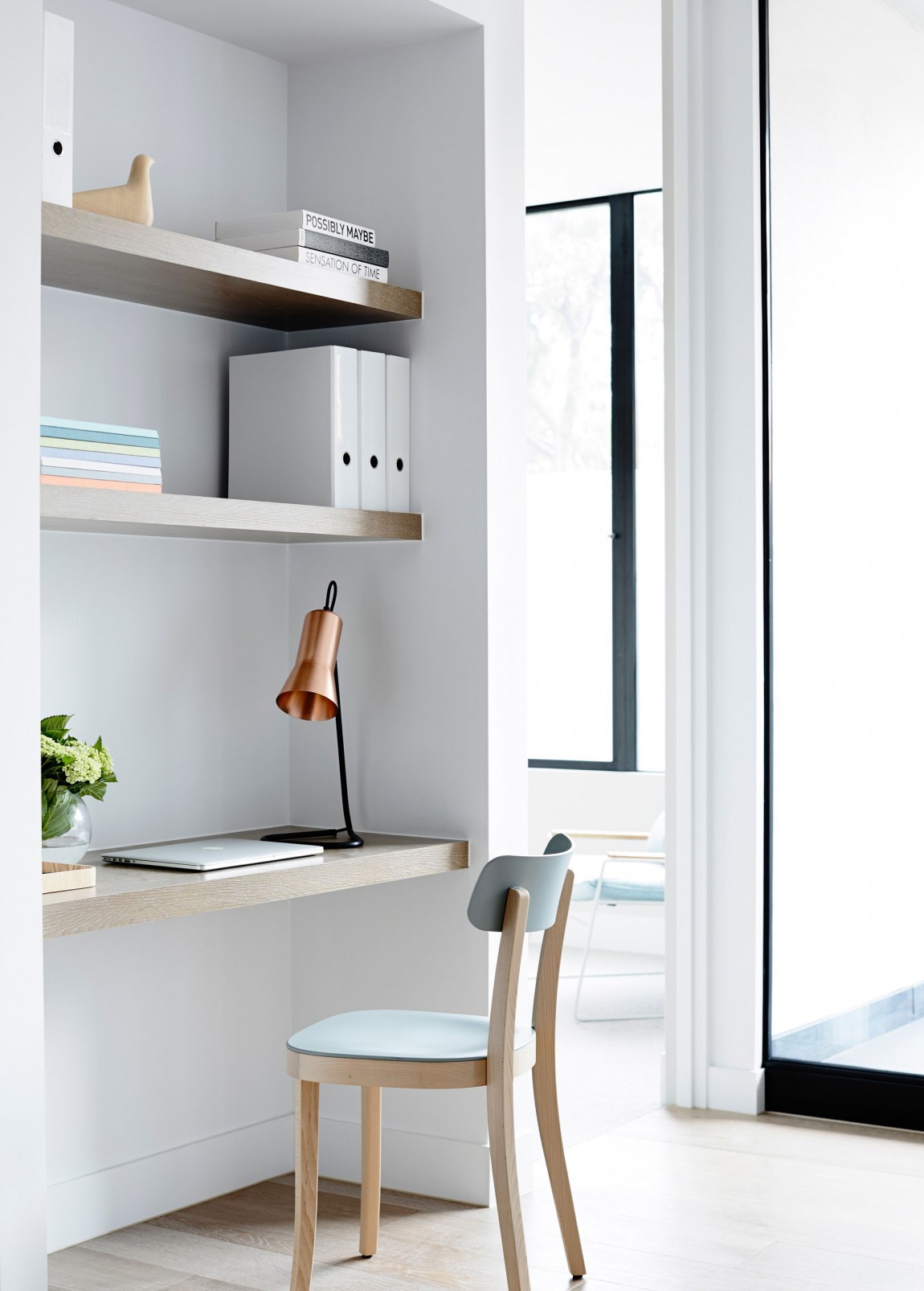 Credit: http://www.contemporist.com/small-home-office-idea-make-use-of-a-small-space-and-tuck-your-desk-away-in-an-alcove/
A lot of work can get done in a little space. Having a home office in a small space, like a nook in your home, keeps your thoughts collected and your documents filed. A study nook is the perfect space to set up a laptop, chair and any other essentials.
Top tip: If there's a lot of walking traffic around your little nook, don't stress about finding a tiny or foldable chair. Bringing in a comfy chair from the kitchen while you work can easily suffice.
Industrial Revolution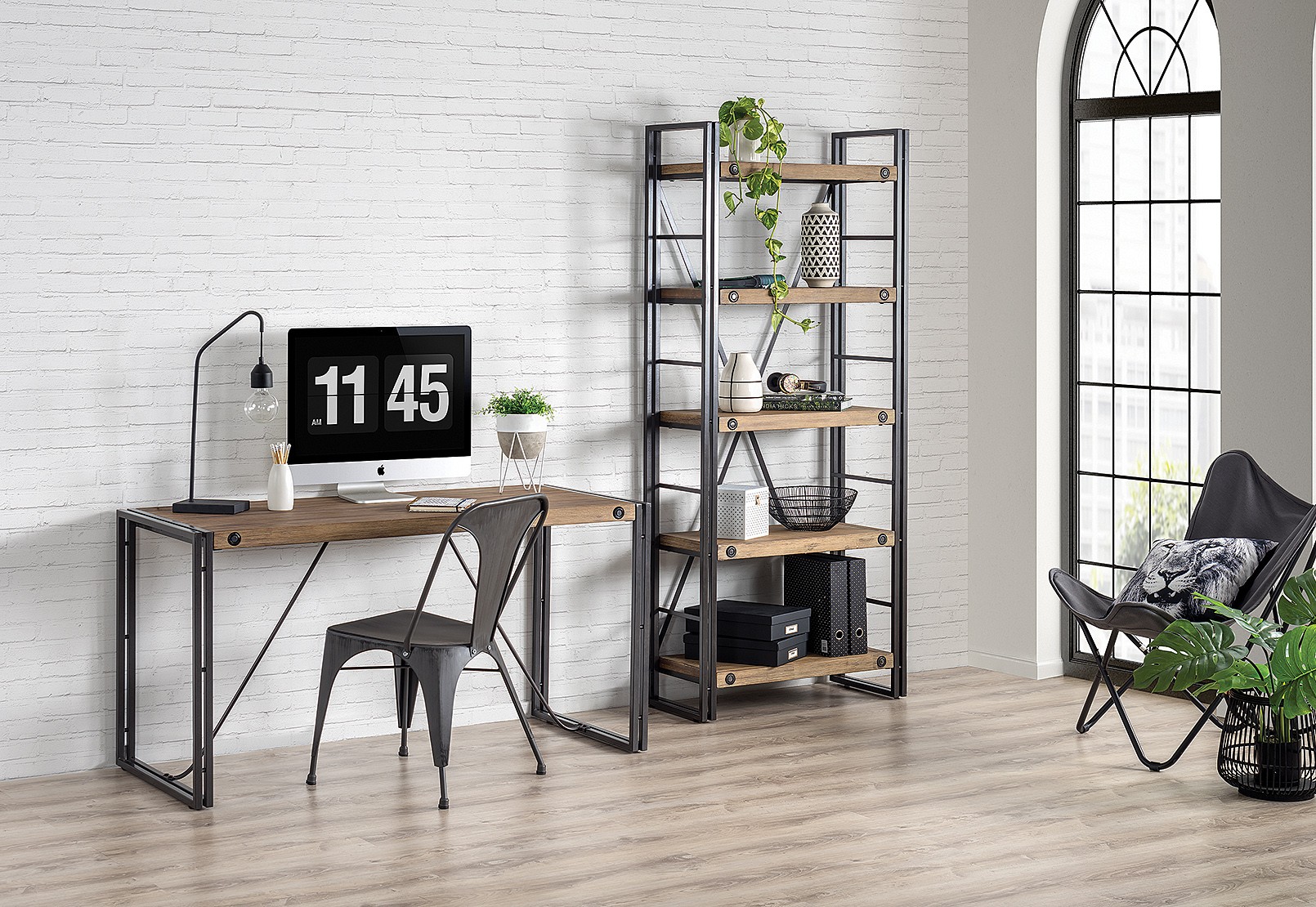 Give your office the mechanical and deep-wood charm of industrial furniture. The rich dark ness of these pieces has timeless class and raw appeal. This home office design can also easily spread throughout your home and bring together each room in one magnetic style.
Top tip: Break up the toughness of the look with some natural plants. Their soft green will give your space a completely new dimension.
Hers and His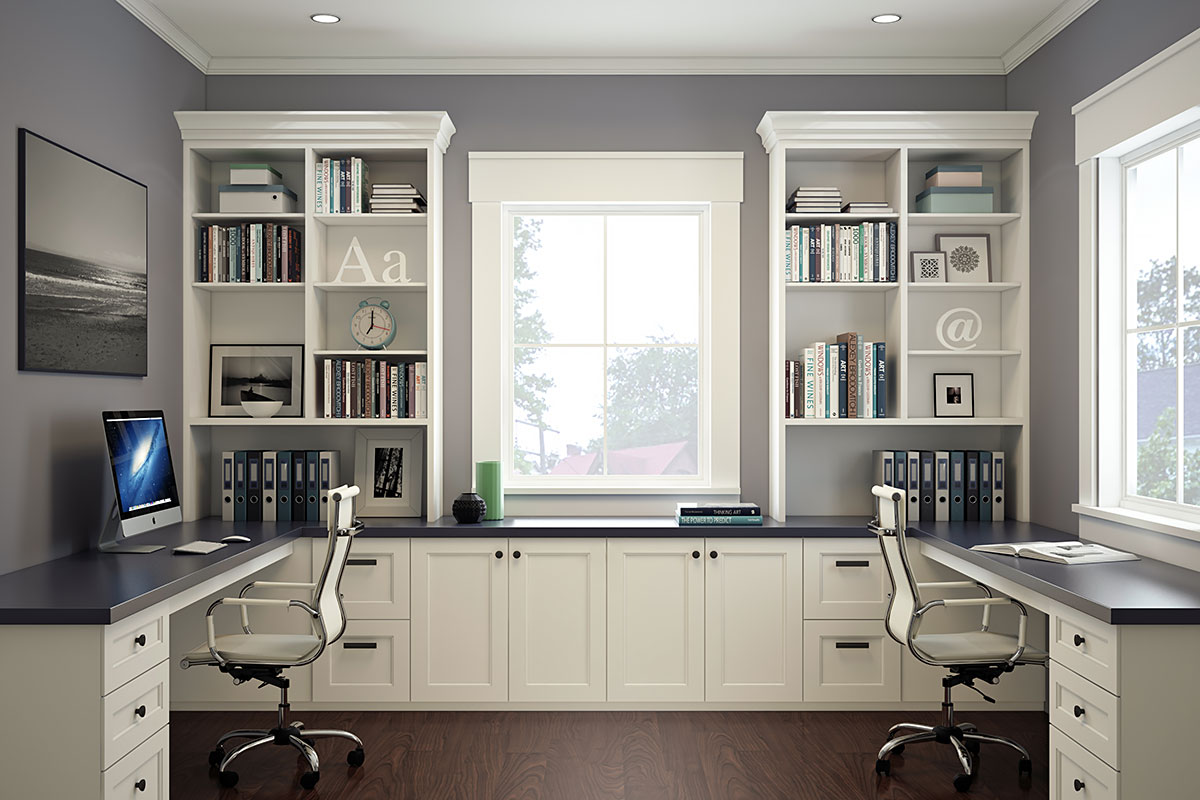 Credit: http://www.organizedinteriors.com/products/home-office-entertainment/
Sharing an office with whoever you're living with doesn't just save space. A double office can be a fun way to create a room with parallel styles. Whether you decide to go for the symmetrical look or go for wildly different, yet complementing looks.
A completely mirrored look will give your home office a personality that isn't possible in other areas of your house. You can still achieve this look even if you want to put some of your personal styles on each side.
Top tip: Having a chair with wheels will let you glide from one side of the room to the other. That way you can collaborate with your office neighbour – or just see what they're up to.
Go Ahead and Glam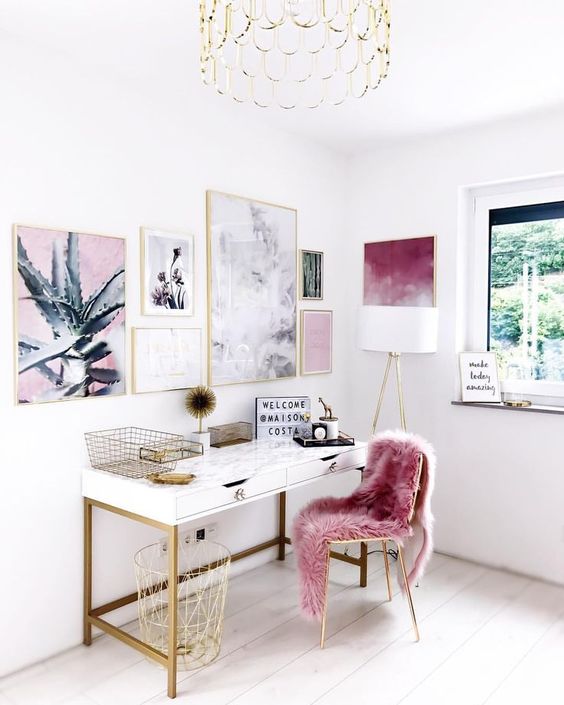 Credit: @fashionhippieloves
Designing your home office is your mission. That means you can make it look however you want. So if you've always wanted a glamorous space to truly feel like your special self, then go ahead and get that pink rug, golden desk and mirror.
Then have fun with your home office décor. As long as you keep to a limited colour palette, your space can be boldly glamorous while keeping a refined elegance. Although this is a modern home office idea, you can always spice it up with glam from the ages – we're talking Marilyn Monroe.
Top tip: Faux fur. A glam theme is one of the best home office designs that's sure to make you smile when you walk in. And a queen (or king!) on their faux fur throne can only smile.
Ocean Calm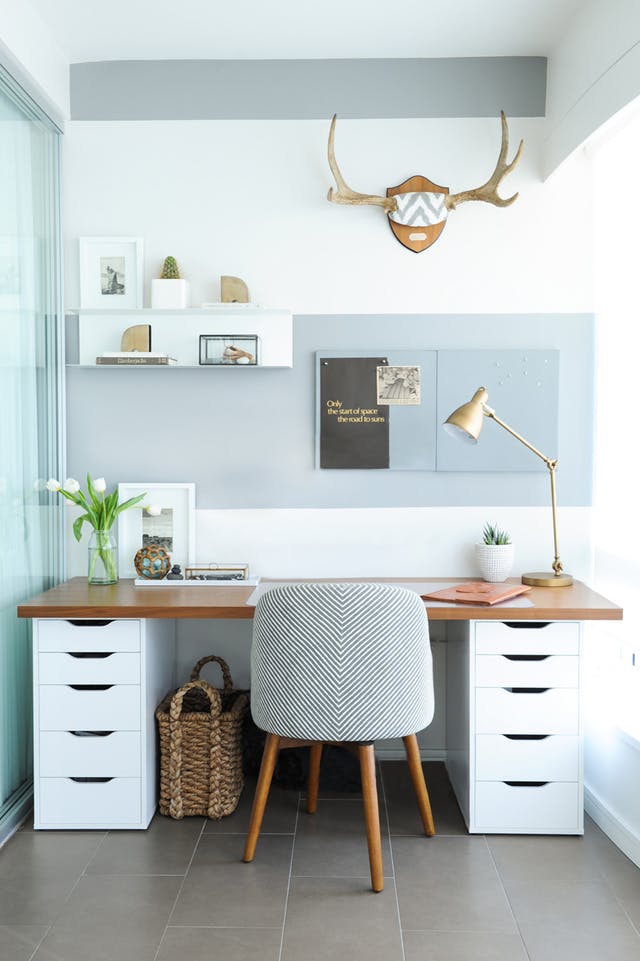 Using soft, pastel colours is a great way to make a calming space. It's also a cute home office idea. Soothing blues and simple textures can seamlessly lull you into deeper thought. No matter how you start your work, this office space will work its quiet magic on your loud mind.
Top tip: The more storage spaces you have that are easy to access, the less stress you'll encounter when you search for things.