During the hotter days of the year, your outdoor furniture gets put to good use – with morning sunbaking, afternoon barbecues, and twilight dinners. But what happens to your outdoor table and chairs when the summer sun sets and the colder months rise?
Find out how you can keep your outdoor settings safe from the elements and maintain their summer style.
Bring it indoors
If you've created an outdoor style you love, integrate it into your home. There's not much use having your favourite lounge or bench neglected for months on end, so change up your indoor design and welcome the new addition.
The colour and function of Outdoor benches brings a natural feeling to all environments they stand in. And if you clean them up, you can complement a wide hallway, sun room, or any space with it. The same goes for many pieces of outdoor furniture, even your outdoor bar.
Top tip: Be mentally prepared for the fact you might want to permanently keep it inside, even when summer shows up again.
Store what you can in safety
If you don't have plans to use your outdoor furniture in the next few months, then placing it in storage is the best solution. Storing furniture keeps it safe from most natural elements, which is especially important with large timber tables becoming discoloured from the sun and metal framed chairs rusting.
Whether you have a separate shed to fit your outdoor setting, or some handy space in the garage, you can store your outdoor furniture and have it ready for the return of summer.
Top tip: Have fun with the new space storing creates. Re-style your backyard to suit the winter mood or bring your greenery into focus.
Look after your cushions
Are Outdoor Accessories/cushions waterproof? That's a good question. Most outdoor cushions, including some seat cushions on outdoor lounges, are made up of quick-dry fabrics that prevent water from building up. However, if they're left outside and forgotten, they're quite vulnerable to mould and mildew building up. Possible solutions to keep your cushions safe include:
Storing them together in a weatherproof container
Waterproofing your outdoor cushions with a trusted solution
Bringing them inside to decorate winter living spaces.
Outdoor cushions bring a splash of colour and comfort to any outdoor setting. And looking after them ensures they bring the same tone and springiness to many summers.
Top tip: If you've decorated your outdoor lounge with regular throw cushions, bring them inside ASAP.
Keep it out, but cover it up
If you leave your unused furniture exposed, then rain, dirt and wind will surely make their mark. This can be water damage to your outdoor lounge or fraying of your Outdoor Dining wicker furniture. So, for furniture you can't store, investing in a cover will certainly pay off in the future.
You probably won't be having as many barbecues, which means outdoor dining furniture won't be used for a long time. In this case, an outdoor table cover is a great way to keep your table and tucked-in chairs out in the open, but protected from the burning sun and soaking water.
Acquaint it with your garden
Why not try something a little less conventional by combining your outdoor furniture with your garden design ideas. If you won't be using your outdoor area the same as you did in summer, then let the space evolve into something new. Here are a couple quirky ideas you could try:
Place a long row of pot plants along a timber table
Remove the legs of an outdoor bench and use it as a backboard for your flowerbed
Entangle your wicker chair with vines (It'll it sink into your garden as a unique feature)
Regardless of what you decide to do with your new garden furniture, creating a new style is fun and it means you won't look outside and see the ghosts of summer. And don't forget, these ideas don't have to be permanent if you take the right precautions.
Leave it where it is
A spring morning and autumn afternoon are amazing times to be outdoors. If you know you'll want to sit on your Outdoor Lounges, read and soak up warmth from the sun or a fire put, then just leave your furniture where it is.
If you do decide to leave everything, however, you'll need to maintain it. This means learning how to clean outdoor furniture, washing it at regular times, and applying coatings if needed. You should also remain mindful of it when it's out in the open, especially during storms – you may have to move it temporarily.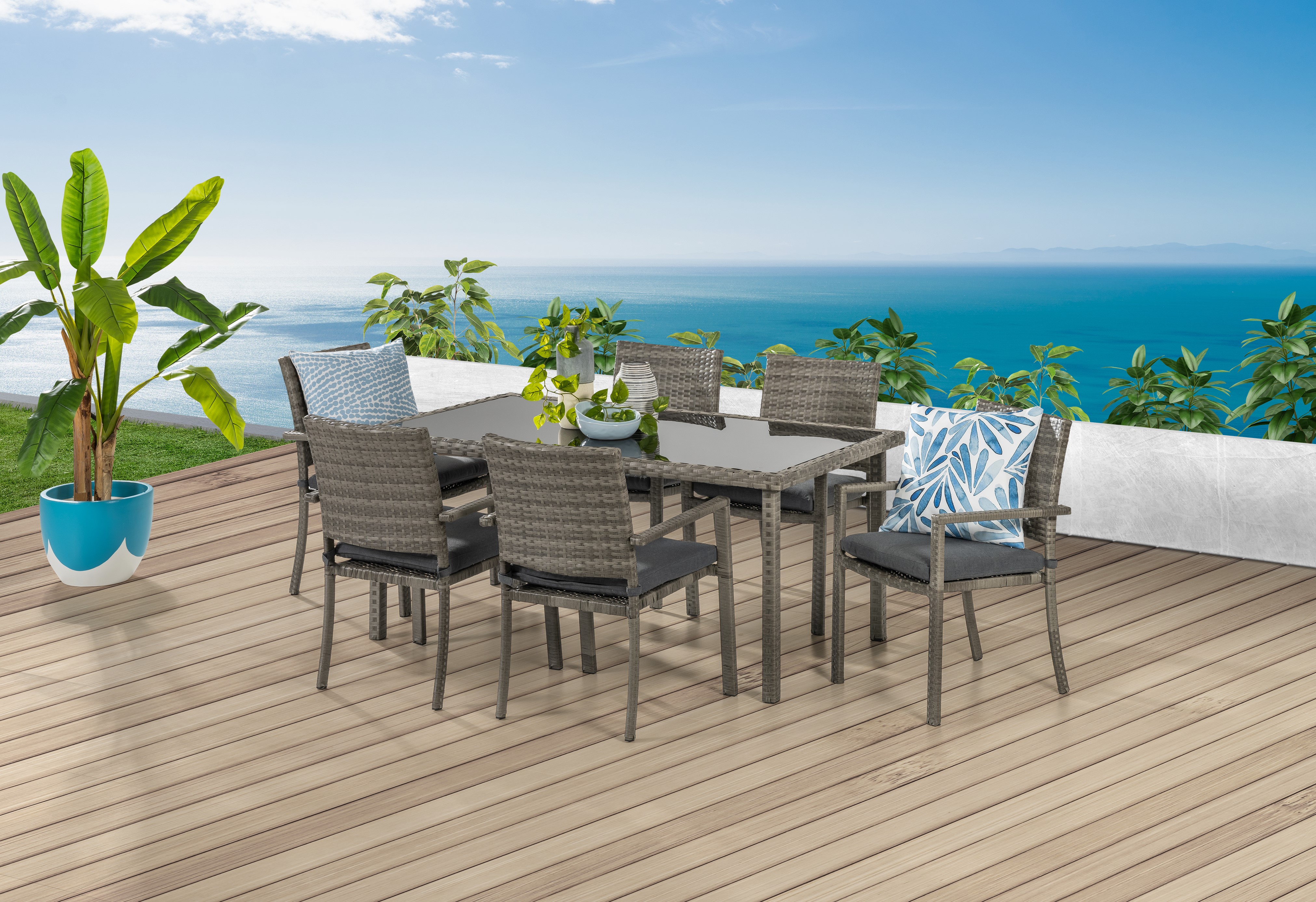 Top tip: Adding a big blanket to your sun chair or egg chair creates a very cosy place to relax.
Weatherproof timber
The natural look and feel of timber furniture connects you to an outdoor space. That's why you might decide to leave your timber outdoor dining set out free in the backyard. To make sure the weather doesn't diminish the deep brown of your wooden furniture, you can follow these steps:
Choose and prepare an oil, sealant, or stain
Smooth the timber surface with sand paper
Apply the coat (follow the instructions on your product).
Top tip: If your timber is painted, you'll need to skip the sanding. But there are sealants still suitable to use, that won't affect the paint.
Waterproof metal
Want your metal chairs to display their smooth texture and striking aesthetics when summer returns? Metal chairs and table frames are very popular to use as outdoor furniture, but these placements put it at risk of rusting – especially if you're dealing with aluminium or wrought iron.
Although the damage from rust might not be too bad, even a little bit distracts from the shape of furniture and distorts its texture, making it visually unappealing. Regardless of whether your pieces are constructed from a more weather-resistant solid steel, applying a waterproofing layer can safeguard a chair's style and structural integrity.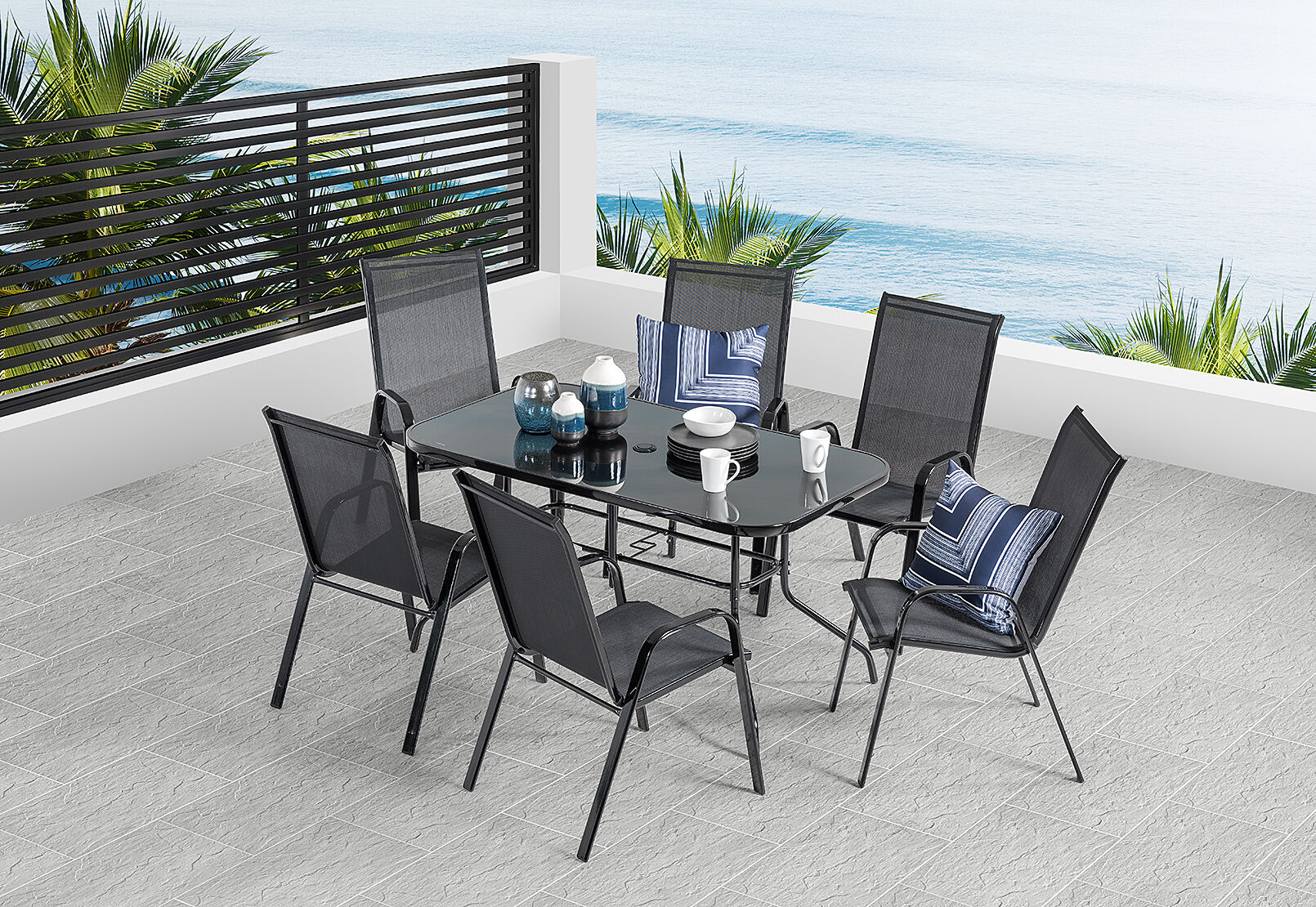 Top tip: Many pieces of metal furniture feature a glass top, this can be kept clean with warm water and washing detergent.
Protect wicker
A sneaky feature of your wicker furniture is that it's an expert at catching dirt and moisture. Dirt and grime can be brushed off, but moisture and sunlight can pose a big threat to that delicate wicker chair you love sipping your morning coffee on.
Wicker is usually full of natural oils that give it a beautiful gleam, however, these are oils can dry out when the sun sets its sight on them. A protective coat of varnish will get into the nooks of wicker and guard it from deteriorating in sunlight and soaking up too much moisture. This is essential in maintaining its durability and preserving its natural colour.
Coating your wicker Brushing your wicker seats or tables regularly will keep dirt and grime from building up during the colder months.
Top tip: Multiple coats makes a difference. Spray at least two times for the best results.
Want to keep your outdoor space stylish during every season? Check out Amart's collection of Outdoor furniture to discover modern and comfortable additions to your backyard.