Boasting ultra-luxurious comfort and endless features, the Cassius Range is the top-of-the-line lounge for home theatres and living rooms in Australia.
The Cassius Range - Gold Class Comfort at Home
Introducing the Cassius Range - designed to suit your needs and grant all your wishes. The Cassius Range is available in four convenient configurations with a variety of seats, each presenting high-tech features and supreme space without compromising on comfort.
Crafted in premium fabric in a variety of colours, the ultra-stylish Cassius Range will grace your living room or home theatre and complement your decor with its sleek buckskin suede in one of ten exciting custom colours.
It's cool. It's comfortable. It's worth us boasting about it - it's the Cassius Range.
Impressive & Innovative Technical Design Features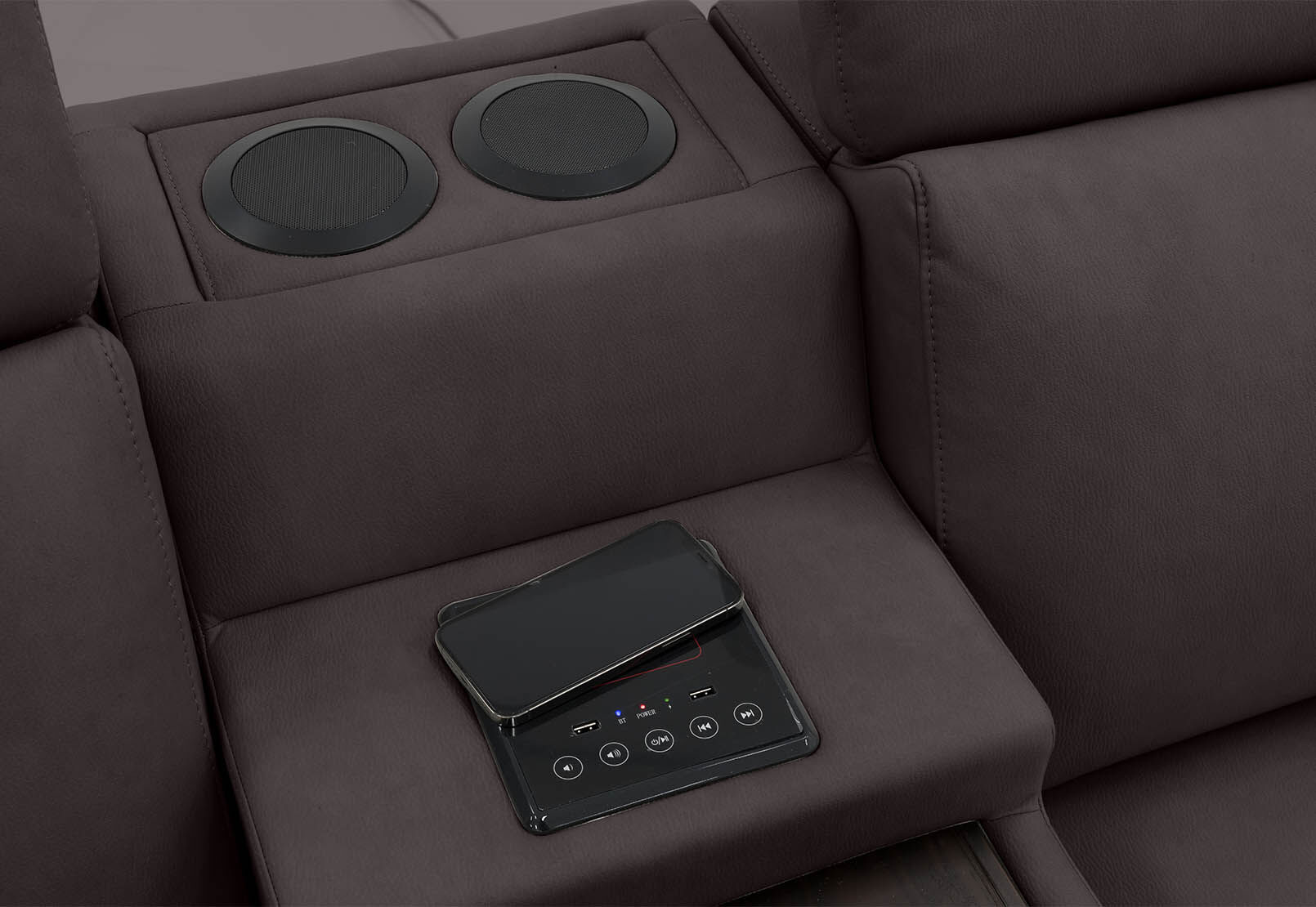 Seriously impressive technical features in this home theatre lounge are licensed to thrill tech-heads, movie buffs and gadget gurus, with a full set of fingertip controls driving:
Electric reclining motion
Manual adjustable headrests
USB charging ports
Blue LED light strip
Reading light
Centre console with storage compartment
Stainless steel pull-out cup holders
3-in-1 surround sound speakers with 30 watt base
Bluetooth connectivity
Wireless charging station
Side pocket with a solid Ash swivel table
Comfort Design Elements
The Cassius Range is the best seat in the house.
While it features gadgets galore for the full home theatre experience, it is also a piece of lounge room furniture built for premium comfort and the optimum choice for luxurious relaxation in living spaces.
Sit back, unwind and escape for a while as you sink into extra wide seating made of ultra-comfortable foam covered in durable, premium textured buckskin suede.
Sensational support is provided by low, wide armrests, adjustable headrests, electric footrests and an interchangeable side table - a stylish tray table made of solid Ash timber.
Configurations for Every Living Space
There is a space in every home for a Cassius lounge. The Cassius collection includes:
Cassius Recliner
Cassius 2 Seater with Console
Cassius 3 Seater with Chaise
Cassius Corner Lounge
Cassius Recliner
When you simply want 'your chair' - the one lounge chair in the house that is designated for you and you only, you need the Cassius Recliner.
A seat in this armchair will have you feeling like an astronaut! You're flying solo in this streamlined beauty featuring fingertip controls, manual and electric recliner motions and extra wide, ultra comfortable, full foam seating.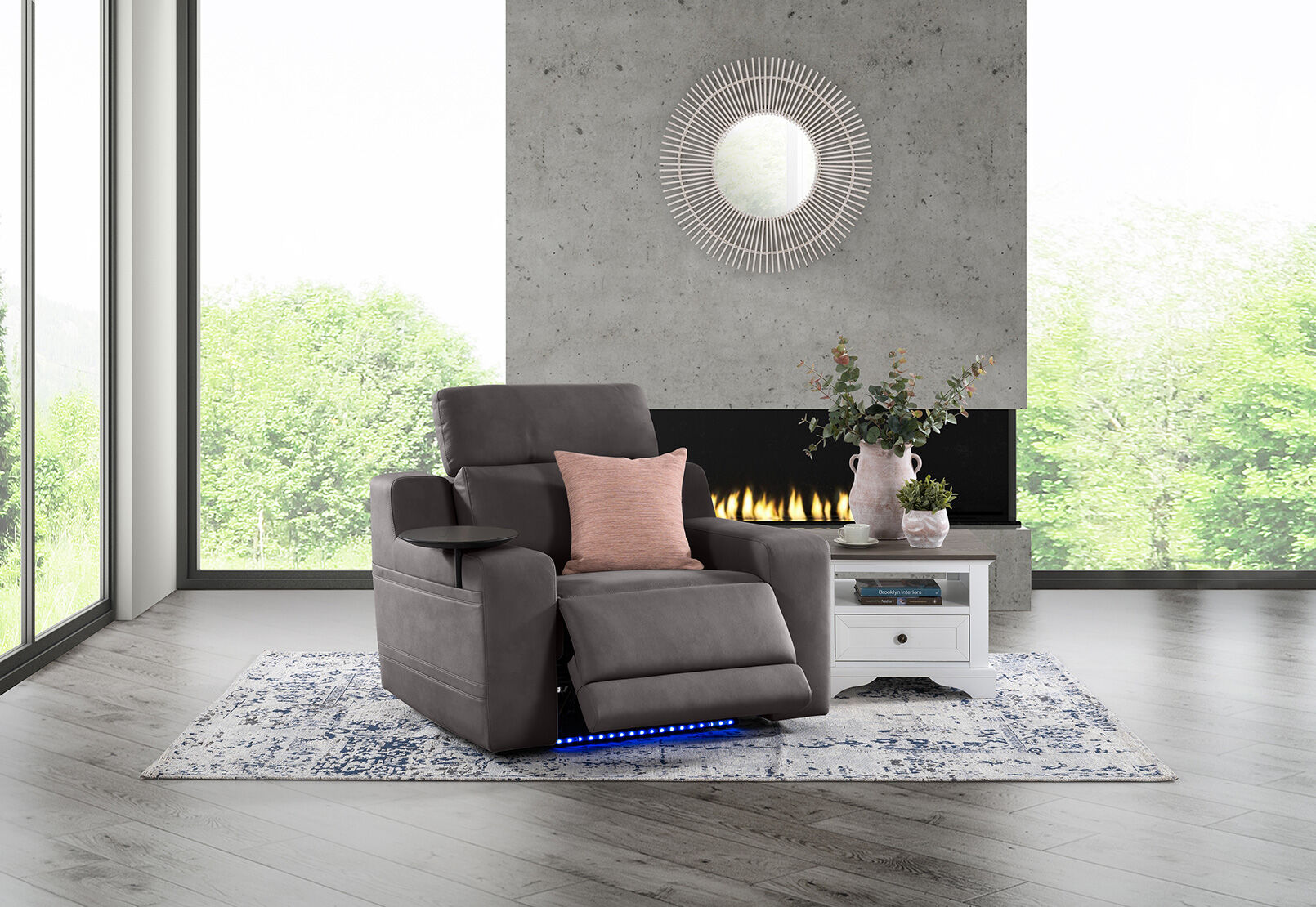 Compare: Recliner Lounges
Cassius 2 Seater with Console
Take your partner in crime along for the ride in the Cassius 2 Seater with Console, but first decide who's driving the show - are you the pilot or the co-pilot? The central console with storage compartment features fingertip controls for all the creature comforts built into the Cassius 2 Seater with Console.
Compare: 2 Seater Sofas
Cassius 3 Seater with Chaise
Your home theatre takes on gold class status when you install the Cassius 3 Seater with Chaise for ultimate viewing comfort and enviable style.
Adjustable headrests and electric footrests pop you into prime position for epic family movie nights, popcorn in hand. Blue LED lights across the base of the lounge mean no usher is required to show you back to your seat if you pop to the loo during a brief intermission.
With the Cassius lounge in your home theatre, it is gold class all the way, baby!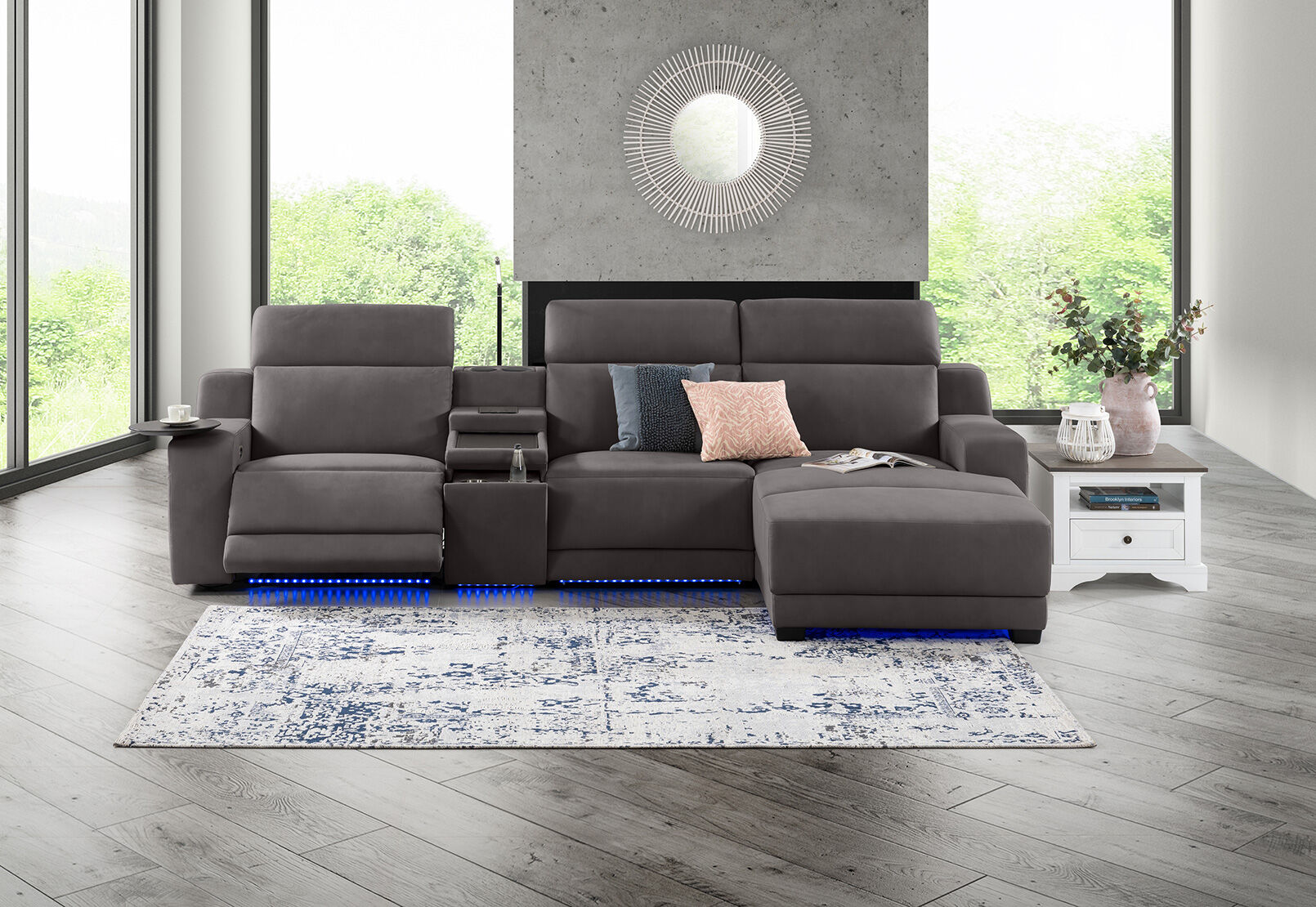 Compare: Sofas and Chaises
Cassius Corner Lounge
A five seater, luxurious corner lounge with comfort features in every seat! Perfect for families, the Cassius Corner Lounge combines relaxation, inclusiveness and high quality style.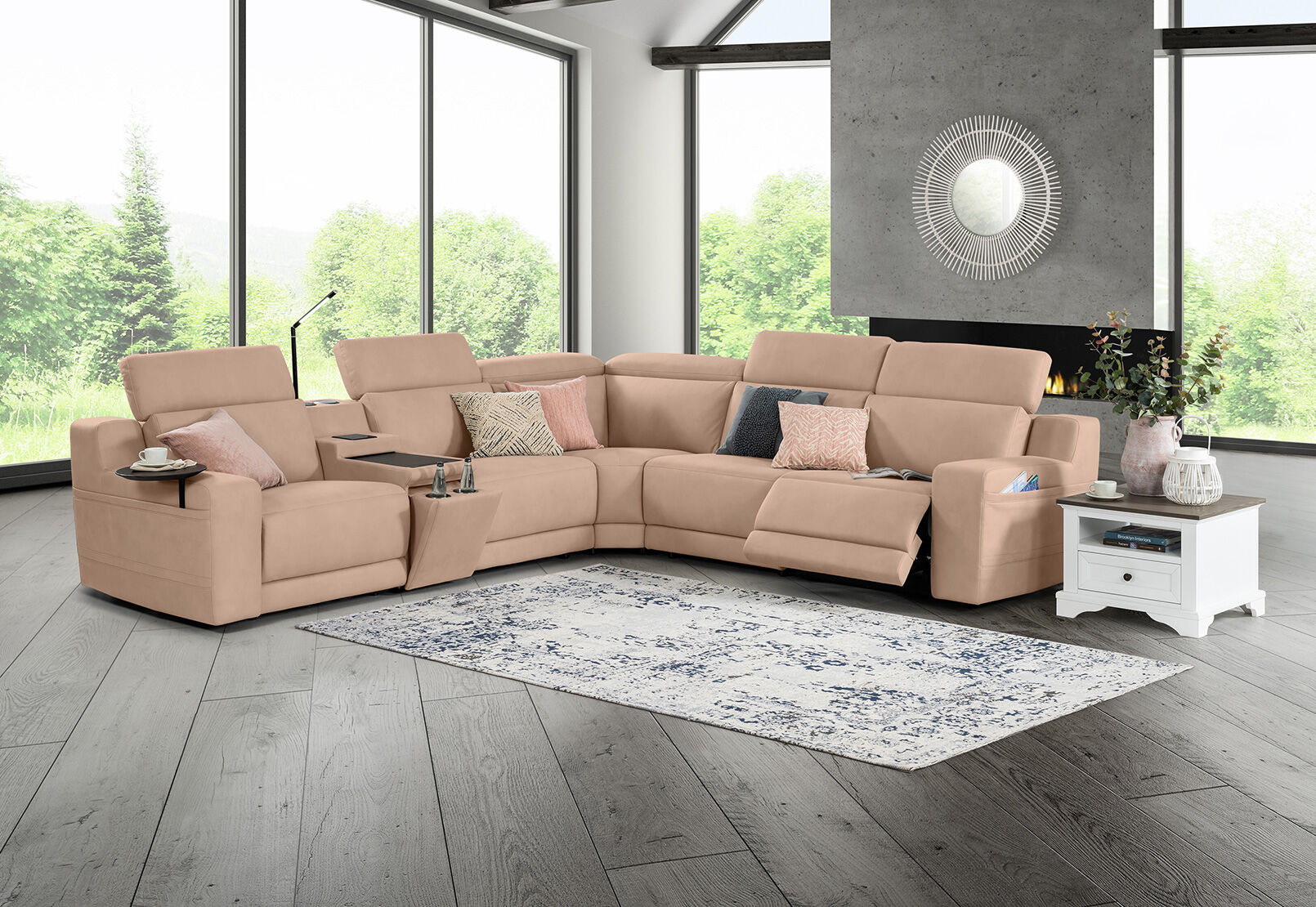 Compare: Corner Lounges
Matching the Cassius Range to Your Decor
Inspired design delivers a lounge showcasing classic modern styling in a versatile range of colours.
Colour
The Cassius Range is available in a variety of colours from which you'll be sure to find your perfect match. The contemporary design features an on-trend variety of colours including:
Charcoal
Black
Brown
Tangerine
Grey
Taupe
Light Grey
Green
Stone
Blue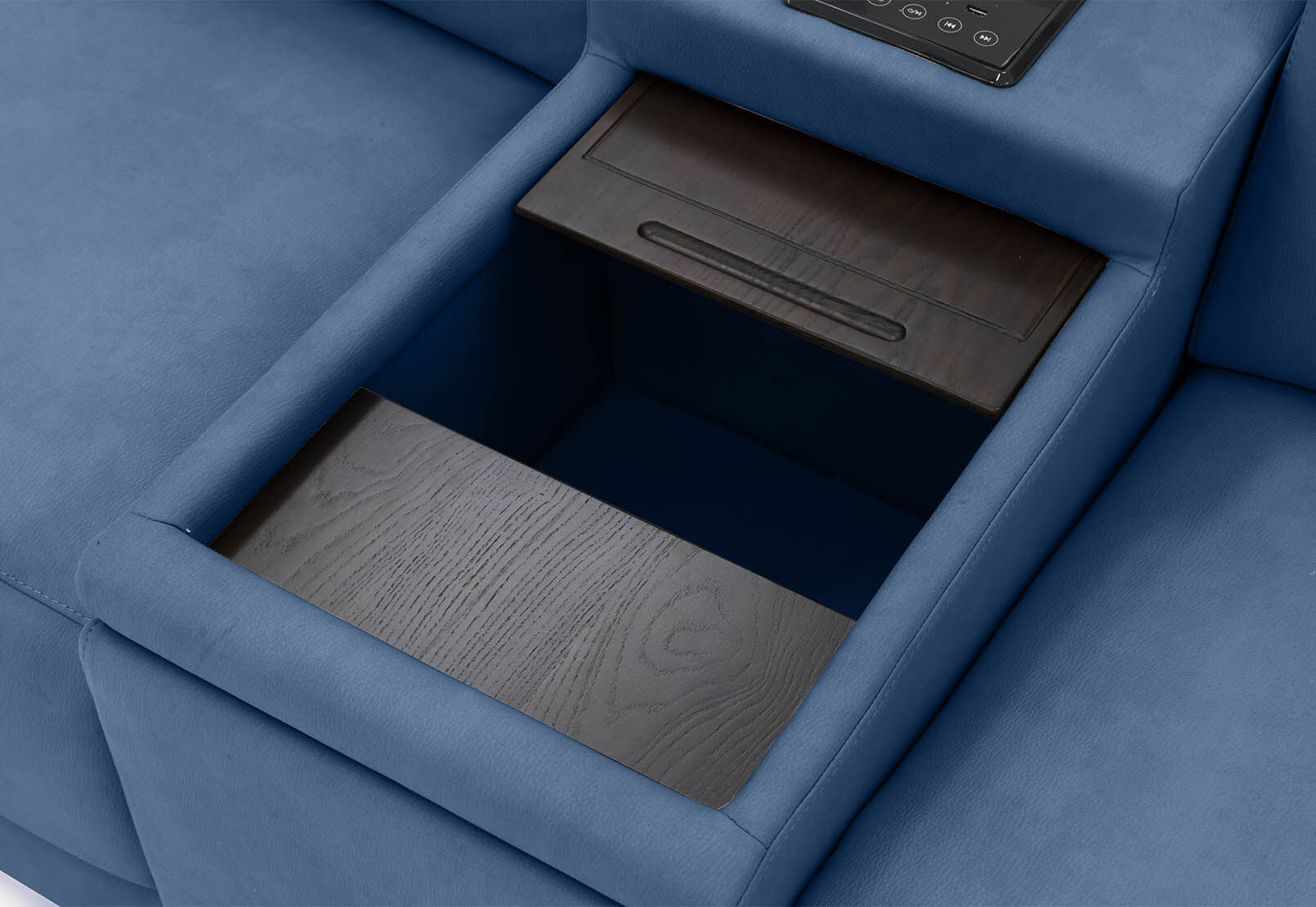 Displaying the coolest colour palettes showcased in current interior design trends, there is a colour to love and a colour that works with your home decor in the Cassius Range.
Against all-neutral decor, you'll find Tangerine, Green and Blue will add a splash of colour to any space.
Charcoal, Black and Grey are bold and practical shades for use in family homes, providing a striking contrast against light colour schemes.
Brown, Taupe, Stone and Light Grey blend easily into most interior styles with the textured buckskin suede fabric adding interest.
Style
The Cassius Range features a unique blend of classic and contemporary style.
Square-set with straight lines, the Cassius creates a sleek, modern vibe in living spaces with extra wide seating. Full foam cushioning adds the support and durability comfort we expect from classic, modern lounge design.
How to Accessorise the Cassius Range
The Cassius Range certainly adds luxurious style to any home with little adornment. You can further enhance its beautiful presence and good looks with the following style tips:
Featuring a ten year quality guarantee, the Cassius Range is the perfect solution for those seeking a high performing, ultra comfortable and supremely stylish lounge for home theatres and living areas.